The classic flavors of Chicken Cordon Bleu in this super tasty baked pasta dish will win your heart over!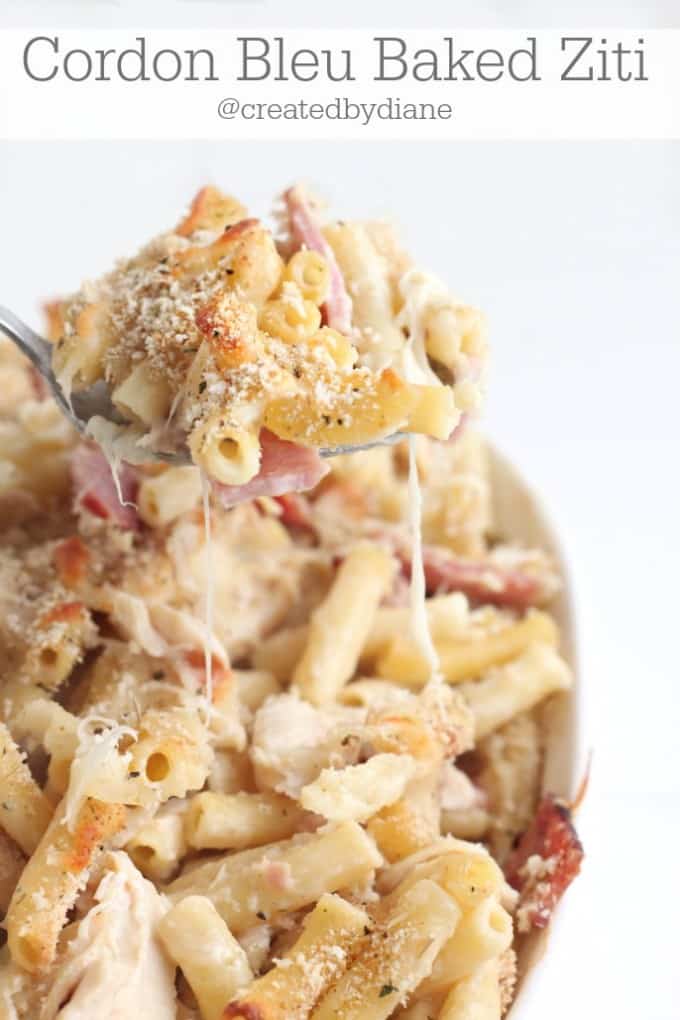 Cordon Bleu Baked Ziti
Don't miss one delicious recipe and get my FREE e-cookbook click here!
This creamy delicious baked pasta dish is a favorite around here.
I can't recall the first time I ever had chicken cordon bleu, but I always remember it tastes so good.
I decided to combine those same great flavors into a baked ziti.
BRILLIANT!
Yes, that is what everyone said as they took the first bite.
I just love when that happens.
The weather has been unusually cold this winter in Southern California and a cheese baked pasta dish seems like a NECESSITY!
It's no secret how much I love pasta, and baked ziti is always a favorite, whether it's Classic Baked Ziti, Chicken Baked Ziti, Mushroom Baked Ziti, or Buffalo Chicken Baked Ziti and now with this recipe it just gives us more options for delicious meals that will not only feed the family, often there are leftovers…
my family loves when they get to enjoy dinner all over again the next day. Which usually means as soon as they have finished breakfast they will be ready to eat them.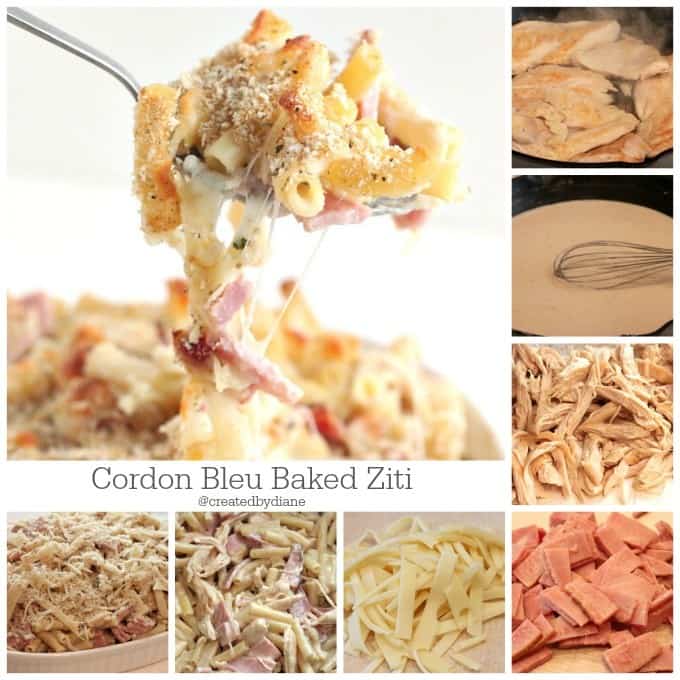 This recipe would great if you have leftover chicken or ham but only takes a few more minutes to make if you are cooking the chicken right before assembling the dish.
The hotter the ingredients before they go into the oven the quicker it will bake.
I made an easy sauce for this and here is my post on How to make a sauce if you need more info. For this recipe, you will just need half the recipe in that post. I've included the info in the printable recipe below that you need, the post will give you step by step instructions with photos and more detailed info especially if you haven't made sauces  like this before.
Cordon Bleu Baked Ziti
Ingredients
1 lb ziti noodles
1 lb cooked ham, I used thick sliced ham and cut it into smaller pieces
2 lb chicken (precooked or cook chicken when you are cooking pasta)
6 oz swiss cheese, cut into strips
3 oz mozzarella cheese grated
1/4 cup Italian bread crumbs
1/2 teaspoon oregano
1 tablespoon butter
1 tablespoon flour
2 cups milk
2 teaspoon chicken flavor/Boullion
Instructions
Cook ziti noodles according to package directions.
While the pasta is cooking cook chicken if it's not already precooked.
SAUCE In a skillet on medium heat 1 tablespoon butter with a tablespoon flour then slowly whisk in the milk and add chicken flavor. simmer on low for a 3 minutes.
In a large bowl mix pasta, chicken and ham with sauce.
Layer that mixture in two portions in a 13x9 casserole dish adding half the bread crumbs, oregano and cheeses to each layer.
Bake at 350 degrees 20 minutes or until it's heated through fully (160 degrees on meat thermometer)
Thanks so much for stopping by to see this recipe!
Sharing this post is appreciated and encouraged. Use the share buttons at the top and bottom of the post, there are many options to all your favorite social media channels and you can also email it to a friend. Print out the recipe to enjoy it on your next kitchen adventure. Please don't copy and paste the full post, it's prohibited without written consent from me. Recipes including wording and photographs are Copyright of createdby-diane.com.
Please enjoy this recipe and click here to sign up for email updates to receive recipes in your inbox.
~Diane