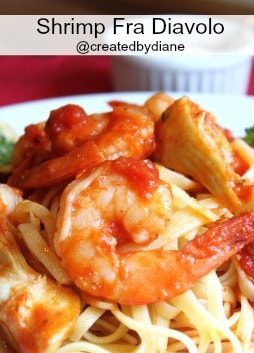 This is one DELICIOUS dish that should be at the top of everyone's must make list!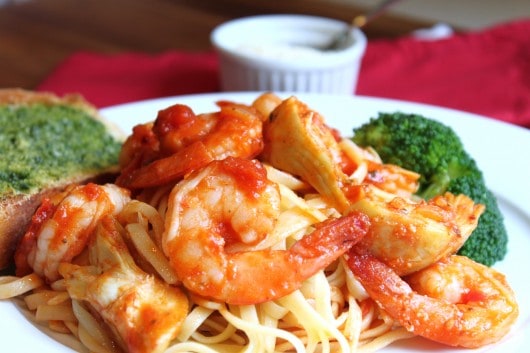 Shrimp Fra Diavolo
I've loved shrimp or as long as I can remember, as well as clams lobster and scallops. I often order seafood when I go out to eat. I typically think to myself, I make chicken at home. Since my kids don't prefer all the seafood I do, it's the time to eat it while I'm out. This meal is a contradiction to that.  I do make seafood dishes but not as often as I'd like, because they don't prefer it. My kids say they like seafood, but have yet to down a full plate of shrimp, I can't say the same thing about clams. They do seem to like clams and eat clam chowder and linguine with clam sauce. As for lobster, well I'm pretty happy they don't love it yet. I can't imagine having to flip the bill for that yet for the whole family.
When I make Shrimp Fra Diavolo recipe for my husband and I, I do make chicken for the kids. It's really not any harder, I just cut the chicken small and cook it quickly while the pasta water is boiling. Then make the sauce and  mix the chicken in with the shrimp. When serving  the sauce, I omit putting shrimp on their plates. It doesn't seem like making two dinners at all, and everyone is happy.
Shrimp Fra Diavolo
Ingredients
1 pound frozen cooked shrimp (place in cool water to thaw)
1 pound Linguini
1½ cups Marinara Sauce
½ cup Marinated Artichokes
Grated Parmesan Cheese
2-3 Tablespoons Extra Virgin Olive Oil
4 cloves fresh garlic
¼ cup diced onion
½ teaspoon crushed red pepper (or more if you like)
3 Tablespoons fresh lemon juice
Instructions
While the pasta water is coming to a boil, do your necessary chopping and measuring. In a heated frying pan place olive oil and garlic and onion, saute for a minute on low. Add tomato sauce and lemon juice, and crushed red pepper. Next add shrimp and heat thoroughly on low temperature. (If you heat them on too high a temperature they will become tough). Add in drained artichoke hearts. Pour Sauce over hot pasta and serve with grated Parmesan Cheese.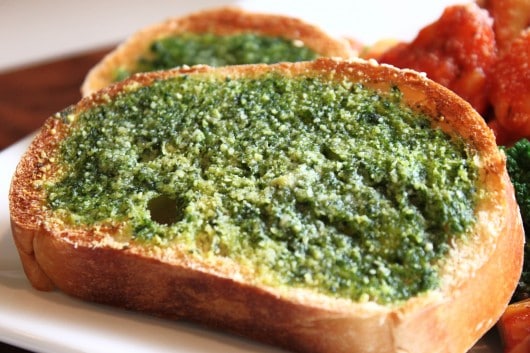 Pesto Bread: Slice fresh Italian bread, spread with La Romanella's Pesto Sauce and a sprinkling of La Romanella Grated Parmesan Cheese. Placed under a hot broiler for 3 minutes. I love hot bread with my pasta meals.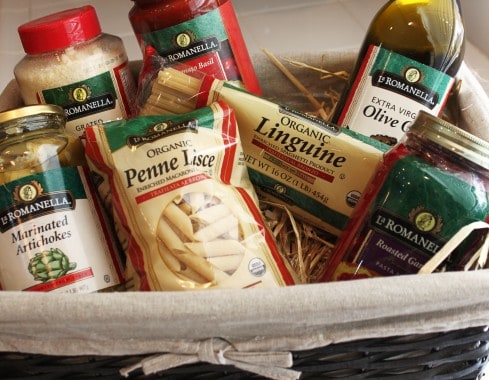 This project has been compensated as part of a social shopper insights study for Collective Bias, all opinions are my own, those are priceless.