Royal icing…the icing every cookier needs in their recipe box. This icing will dry hard, so you can easily stack cookies, this is great for icing transfers, (putting decorations on top of baked treats from cookies to cupcakes and more).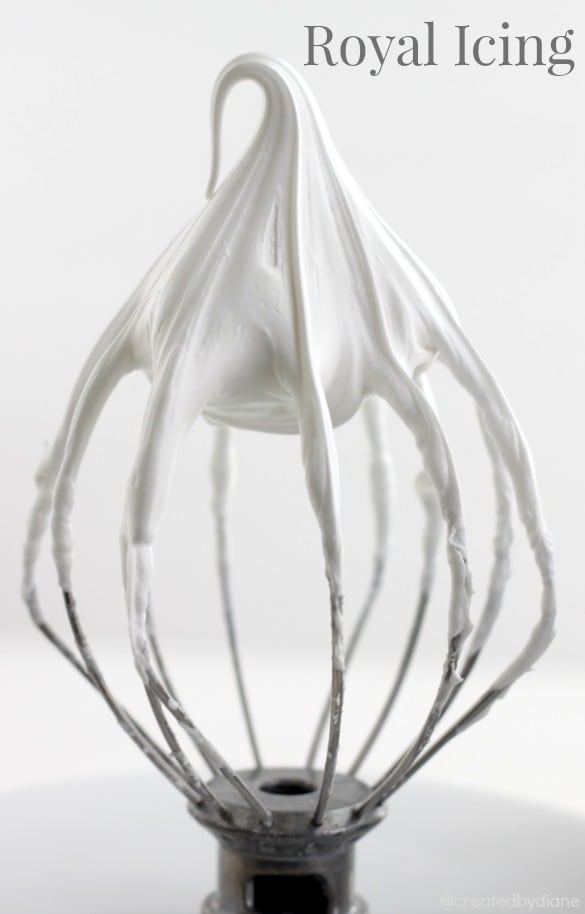 Royal icing is an icing that is great for decorating cookies, it dries hard so you can stack the cookies and even ship them. It's smooth and can be drizzled over cookies, you can use it to outline cookies as well as flood the icing in so the icing is smooth and solid on top of the cookies.
Royal icing is also great for making transfers to go on top of cupcakes, cookies, or other baked treats.
*I've included lots of photos and links where I've used royal icing in this post so keep an eye out!
Here I made pink ribbons, and you can see the possibilities are endless of what you can make with royal icing.
More ideas for adding decorations to cupcakes are these Gingerbread Men and Pumpkins.
You can also use royal icing to make cupcake toppers. Any simple shape can be made, in any color, you can imagine. Wow, the possibilities are endless. You can also put the royal icing toppers on brownies, cakes, and cookies. They really create a 3D effect.
You know those googly eyes that you see on crafts that kids make,
they wiggle and giggle and move all around,
well these may not wiggle and giggle but they look like them in candy form. Like candy buttons, you remember those…
right? the paper stuck to the back of those cute colored button candy dots.
HERE is the post on the red heart on top of the cupcake, SO CUTE!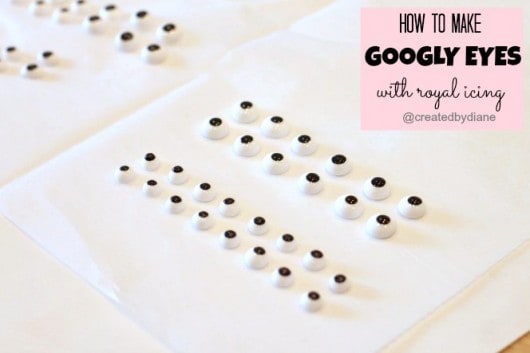 These are made out of royal icing, they are easy to make and the best part is you can make them ahead of time.
These are great to decorate cookies, cakes, and fun for any edible face.
I've made a few treats I'm going to share with you that used these royal icing googly eyes shortly and thought I'd share just how to make the eyes first.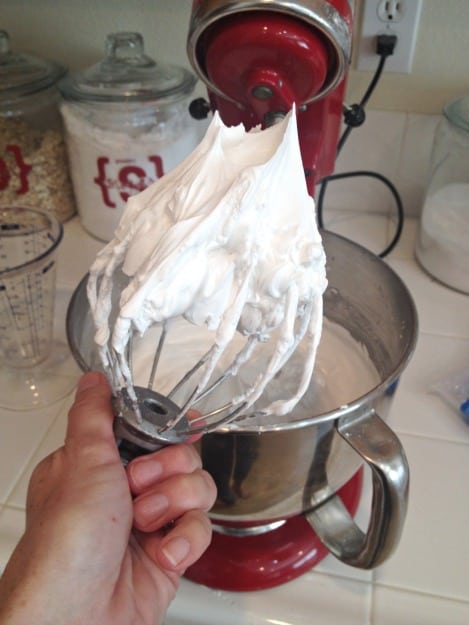 Begin by making a stiff royal icing.
Then adjust how thin you need it by adding water to the desired consistency you would like to work with.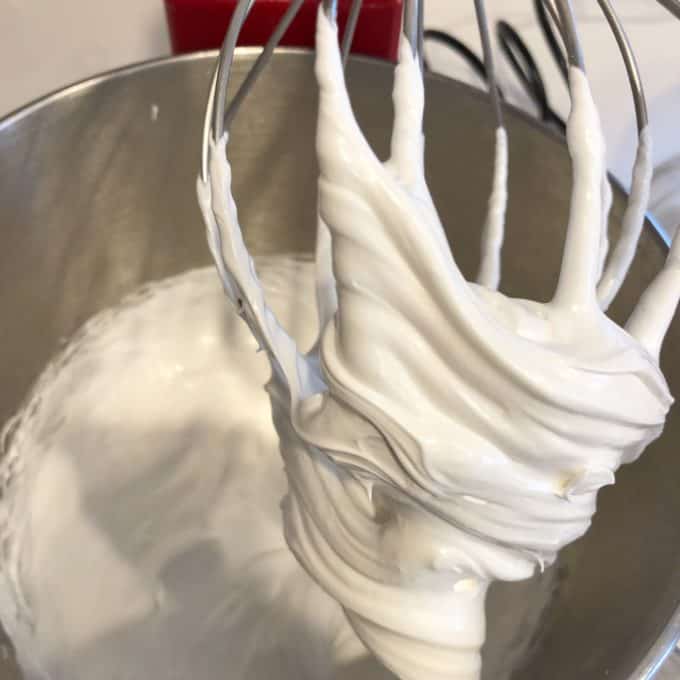 Adding drops of water and completely mixing before adding too much.
I use Americolor White food coloring and Americolor Very Black food coloring to create the colors.
Put the icing into piping bags or bottles fitted with a coupler and round tip, I used a #2 for the white and a #1 for the black.
When piping the eyes, if you pipe them out like the photo above and they don't lay smooth. They make peeks like chocolate chips, you will need to add a few drops of water and mix well until you pipe out the icing smooth.
Pipe the icing onto wax paper.
Allow the icing to dry completely before peeling it off the paper or they will crack.
I allow 12 hours for them to dry. I try to make any type of decoration like this a few days ahead so they are completely dried and I'm not fussing with them at the last minute for the project I'm working on.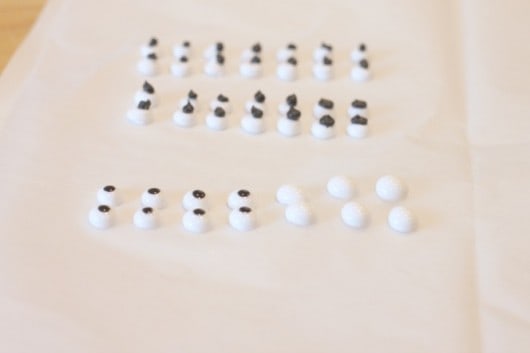 The icing should look smooth and shiny when piped onto the paper.
Have both white and black icing ready to pipe as you don't want the white to set up too long before piping the black or the black icing won't recess into the white and look smooth.
I've used these royal icing on THIS recipe and they look so cute!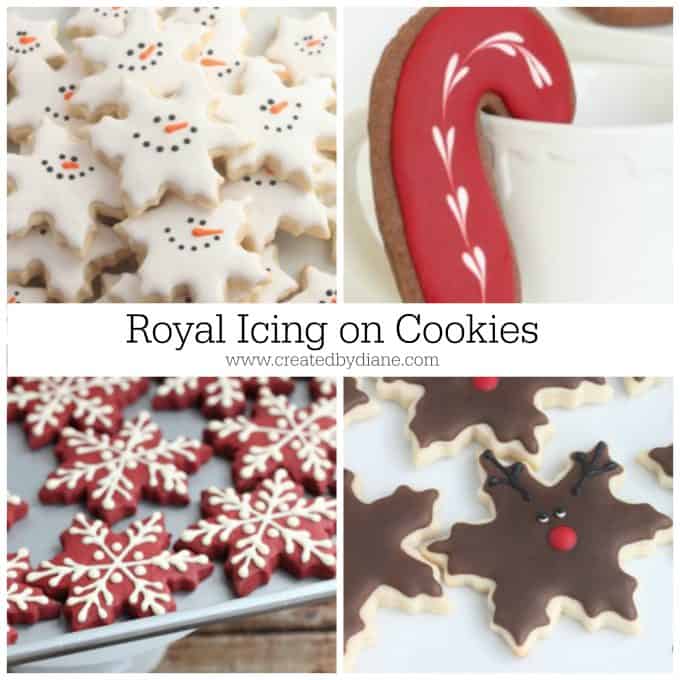 Here are some cookies I've used royal icing on.
Red Velvet Snowflakes, Chocolate Gingerbread Christmas Trees, Reindeer Cupcakes, Snowman Cupcakes, Snowman Cookies.
Be sure to check those out you may get inspired!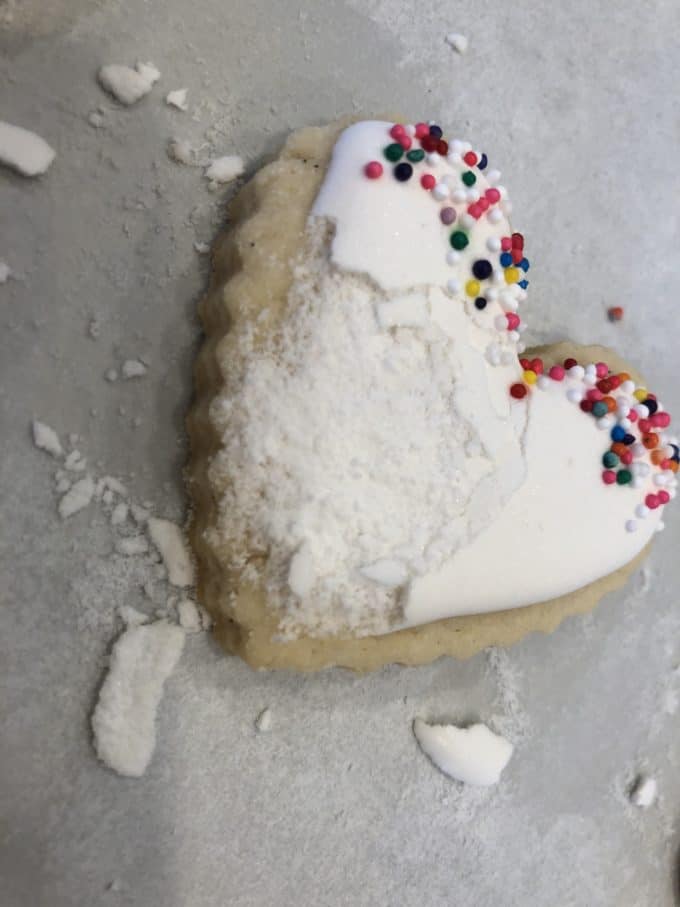 Let's talk about meringue powder. If you use it often this is not an issue. If you primarily use it only around the holidays (one a year) then be sure you are using "fresh" meringue powder. If you use old meringue powder you WILL NOT know it's "bad" until you've iced the cookies and the icing is dry… then it will crumble with the slightest touch and turn to a weird powder and the mess will go everywhere especially if you bit into the cookie… so I suggest purchasing meringue powder and keep it fresh, you wouldn't want to go through all the work of making the items you want with meringue powder and having it be a mess!
I've also found that over mixing royal icing will have a dryer result and crumbling. So I've started adding some corn syrup to the icing as I mix the colors and am happy to say the texture is really nice. So for every cup or so of icing, I added a tablespoon of corn syrup, the cookies dried with a little more sheen, less matte than usual, and didn't crumble or become cement hard. Biting into the cookies was much more pleasant.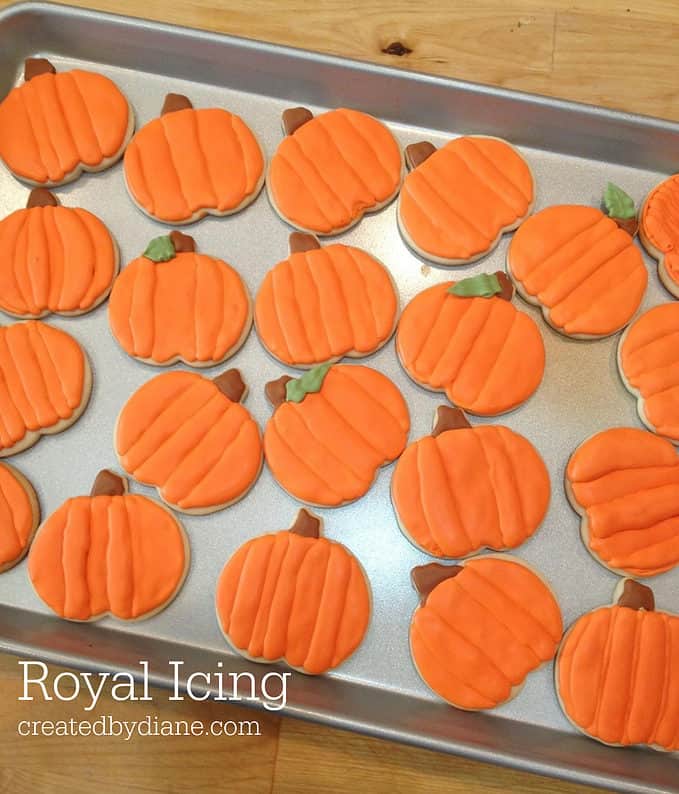 Royal icing is one of those things that takes a little practice, but once you would with it enough it gets easier, you become more familiar with how thick or thin you prefer your icing and how it pipes and dries as well.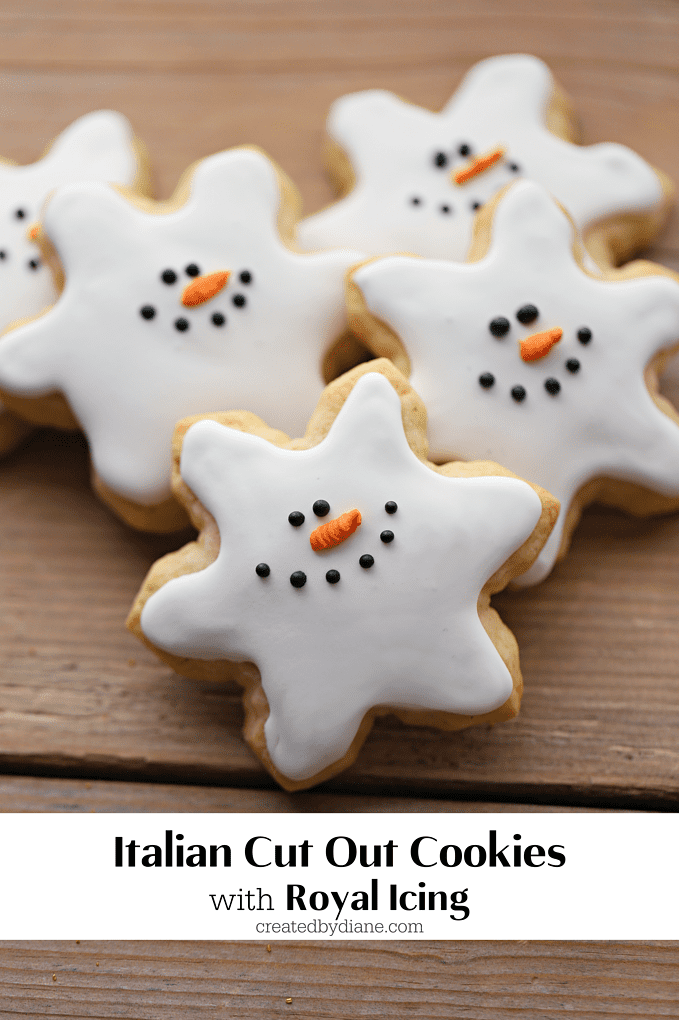 Be sure to check out my Italian cut-out cookie recipe as seen here with these cute snowman snowflake cookies.
Royal Icing
Ingredients
2 pounds powdered sugar (each pound of powdered sugar is about 4.5 cups of powdered sugar)
1/3 cup + 1 tablespoon meringue powder
3/4 cup warm water
1-2 teaspoons vanilla extract
Instructions
Mix powdered sugar and meringue powder on low for 1 minute until it's fully blended.
Add water and extract and mix on low until it's mixed well.
Then turn the mixer on medium and beat until the icing is nice and stiff, the peak will not fall easily when the whip blade is pulled out of the bowl if royal icing, about 8-10 minutes.
Add water to thin to the consistency you need.
You can store royal icing at room temperature or in the refrigerator for a few weeks.
Whip it if it becomes separated.
Notes
Recipe from
Sweet Sugarbelle
I use Americolor White food coloring and Americolor Very Black food coloring for these.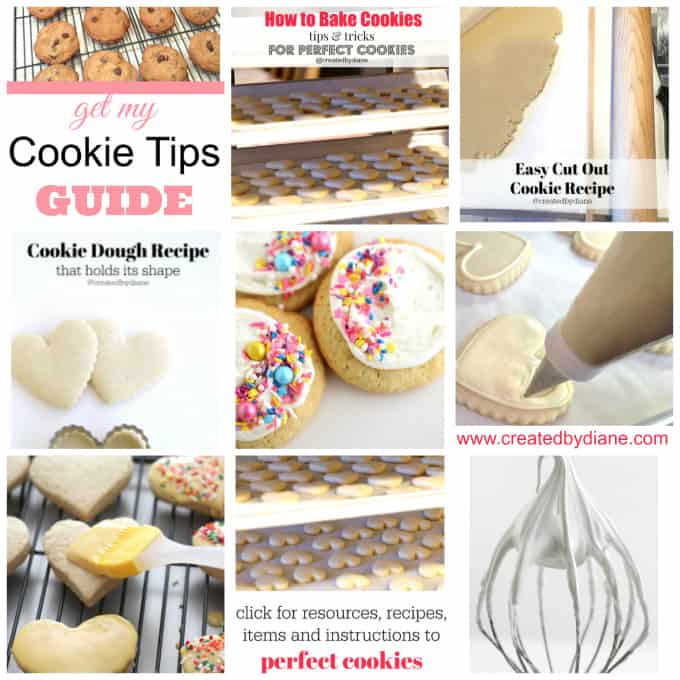 LOTS of info on baking cookies here: