Wouldn't it be fun if all snowflakes looked like snowmen when falling! These snowman snowflake cookies are sure to be the hit of your cookie platter.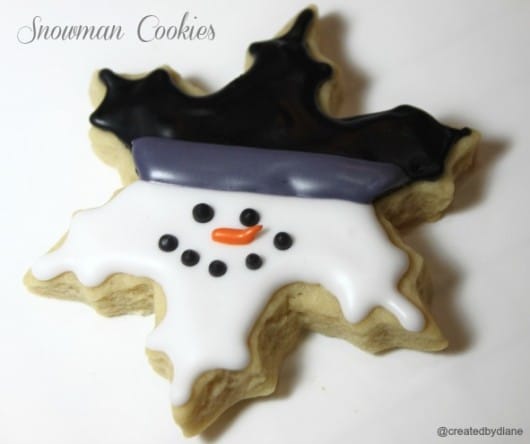 ALL Winter long these cookies will bring a smile to everyone's face, even if it's not really snowing.
The snowflake cutter makes these cute snowman faces extra cute don't you think!
This cookie recipe is for my Italian Cut Out Cookies, they are so delicious like you would find in an Italian bakery, not overly sweet, but just the right thickness to really sink your teeth into them.
The icing is a simple glaze icing, it dries with a pretty sheen and doesn't get rock hard like royal icing, but I've linked that icing here if you prefer it.
I wrapped the snowmen up in bags and cut snowflake type paper to trim them off with. I'm sure they will be gone as quick as a snowflake melts on a sunny day. Once they are delivered.
I love snowflake cookies, and these were really fun to do.
Tips for making these cookies:
Be sure to allow the butter to cool after you melt it, and to let the cookie dough rest after its' all mixed, these two tips will ensure you great cookies.
For this recipe, add flour as needed, there is a lot of butter and eggs in this recipe and you can add up to a cup of flour to easily roll out the cookies. 
I roll my cookies to 1/4″ thick, sometimes 3/8″ thick, I do find them puff up more if they are thicker, but they still hold their shape, they just aren't as flat on top.
Snowman Snowflakes (Italian Cookie Recipe)
Italian cut out cookies with a sweet glaze icing perfect for your cookie platters for holidays and beyond.
Author:
Diane Schmidt, Created by Diane
Recipe type:
Cookies, dessert
Ingredients
5 eggs
1 1/2 cups salted butter melted and cooled (10 minutes)
5-6 cups flour
1 ¾ sugar
2 tsp baking powder
3 tsp vanilla
glaze icing
2 cups powdered sugar
4 Tablespoons water
1 Tablespoon corn syrup
Instructions
In a large bowl stir together flour, sugar, and baking powder, make a well in the center of the dry ingredients and add the egg mixture then vanilla. Mix, until shiny. About 2 minutes. Cover bowl with waxed paper and let the dough stand at room temperature for 20 minutes. When rolling out this dough, don't be afraid to add flour. It will not make the dough tough.
Heat oven to 350 degrees roll out dough to 3/8" thick with flour and cut with a cookie cutter.
Bake 12 minutes
Makes at least 5 dozen (3 inch) cookies.
Let cookies completely cool before icing.
In a small bowl mix together until smooth add more milk/water if too thick or confectioners' sugar if too thin.
Add food coloring and mix well. I prefer Americolor food coloring.
When you pull up some icing on a spatula and drizzle it back into the bowl, the design should disappear in 10 seconds for the correct consistency.
Outline the cookie with a #2 tip and use a #3 tip to fill in the design.
Let icing set on decorated cookies before storing, this takes about 12 hours.
The cookies won't go stale, the icing is covering the tops preserving the freshness.