Wouldn't it be fun if all snowflakes looked like snowmen when falling!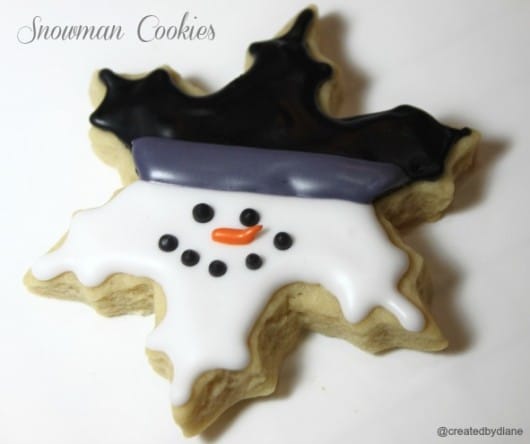 Printable Cookie and Icing Recipes
ALL Winter long these cookies will bring a smile to everyone's face, even if it's not really snowing.
The snowflake cutter makes this cute snowman faces extra cute don't you think.
Snowman Snowflakes (Italian Cookie Recipe)
Ingredients
5 eggs
1½ cups salted butter melted and cooled (10 minutes)
5-6 cups flour
1 ¾ sugar
2 tsp baking powder
3 tsp vanilla
Instructions
In large bowl stir together flour, sugar and baking powder, make a well in the center of the dry ingredients and add the egg mixture then vanilla. Mix, until shiny. About 2 minutes. Cover bowl with waxed paper and let the dough stand at room temperature for 20 minutes. When rolling out this dough, don't be afraid to add flour. It will not make the dough tough.
Heat oven to 350 degrees roll out dough to ⅜" thick with flour and cut with cookie cutter.
Bake 12 minutes
Makes at least 5 dozen (3 inch) cookies.
Let cookies completely cool before icing.
Notes
Icing Recipe
2 cups confectioners' (powdered) sugar
4 Tablespoons water
1 Tablespoon corn syrup
In small bowl mix together until smooth add more milk/water if too thick or confectioners' sugar if too thin.
Add food coloring and mix well. I prefer Americolor food coloring.
When you pull up some icing on a spatula and drizzle it back into the bowl, the design should disappear in 10 seconds for the correct consistency.
Outline the cookie with a #2 tip and use a #3 tip to fill in the design.
Let icing set on decorated cookies before storing, this takes about 12 hours.
The cookies won't go stale, the icing is covering the tops preserving the freshness.
I wrapped the snowmen up in bags and cut snowflake type paper to trim them off with. I'm sure they will be gone as quick as a snowflake melts on a sunny day. Once they are delivered.
I love snowflake cookies, and these were really fun to do.