It doesn't have to be snowing to have these SNOWMAN CUPCAKES any time you'd like!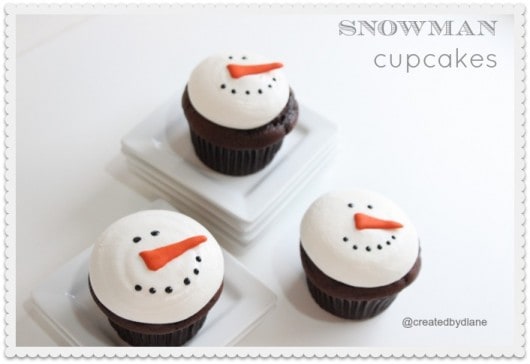 These cupcakes not only look like the cutest snowman cupcakes ever… they taste great too.
Chocolate cupcakes with vanilla frosting and icing for dots for eyes and mouth and royal icing noses… they are 3D, which makes them extra special!
It's been so cold I keep thinking it may snow… HERE in Southern California, it very very rarely snows here. Maybe a dusting every 10 years. BUT it sure feels like SNOW!!!!!
Chances are I'm wrong.
But, it doesn't hurt to hope.
I hope it snows…I hope it snows…I hope it snows..
Does it snow much where you live?
Do you get to go outside and make a snowman?
Well since there is no snow here, this is as close as I may get to making a snowman,
but if you ask me this is the best alternative!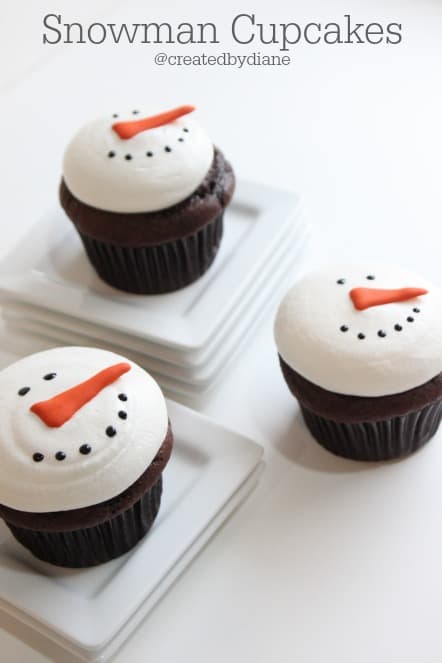 I'll just cuddle up with a glass of hot cocoa and watch Frosty the Snowman and eat plenty of these snowman cupcakes. That will help me get over the feeling of needing snow, and shoveling it, and wet shoes, and oh yea…this is the best alternative for sure.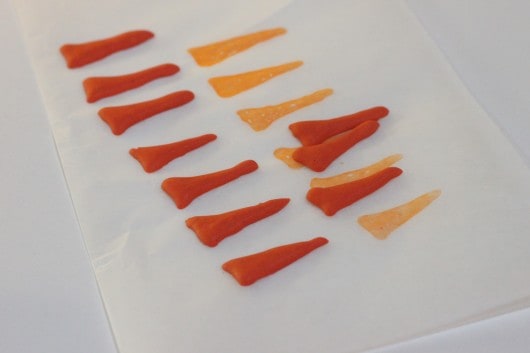 I piped stretched out triangle shapes for the snowman noses with royal icing the night before, so I was sure they would be dry in time to put them on the cupcakes. They peel easily off of waxed and parchment paper.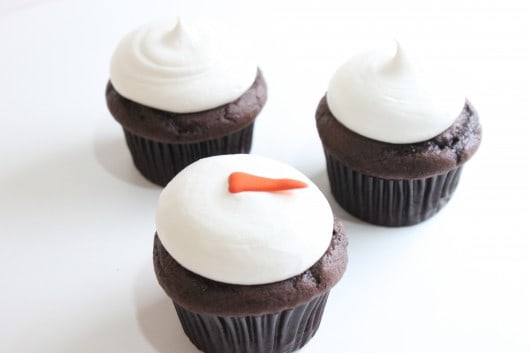 How to make Snowman Cupcakes:
You'll need cupcakes. I made chocolate cupcakes. Here is my favorite chocolate cupcakes recipe.
White Frosting. I used Italian Buttercream Frosting. You an substitute your favorite frosting. To make sure it's really white in color I suggest adding White Americolor Food Coloring, I can't tell you how much I love how great the results are with white food coloring.
Pipe the frosting onto the cupcakes with a large circle tip like #809, or cut the edge off the end of the piping bag. Keep the end of the piping bag about 1 inch away from cupcake and push frosting onto cupcake until the cupcakes is covered. Place the nose over the peek of the frosting.
Royal icing: You'll need to tint a small amount orange for the noses and another small amount black for the eyes and mouth. I piped the noses on wax paper with a #3 tip and piped the eyes and mouth on the cupcakes with a #1 tip.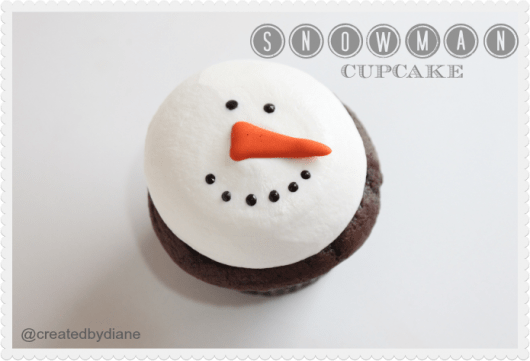 Ok, now it's time to sing-a-long….Frosty the snowman, was a jolly happy soul…I'm so glad you really can't hear me singing 🙂