This delicious chocolate chip cake is full of fudge filling and layered high for a really delicious cake.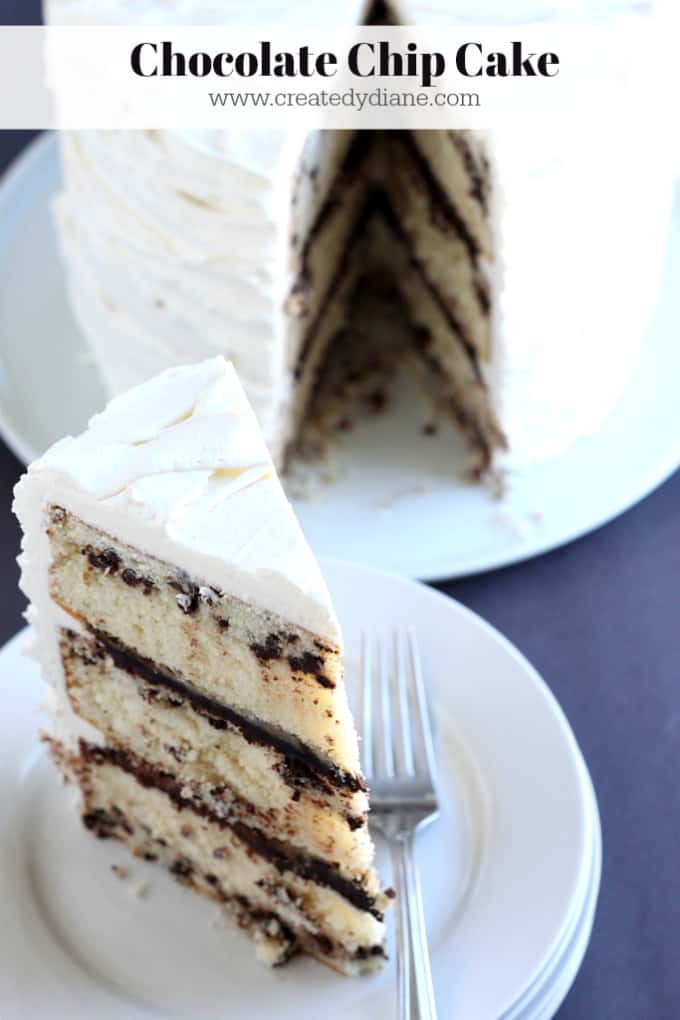 This three-layer cake is full of mini chocolate chips which happen to be MY FAVORITE!
You can make this cake anytime…
I happen to make it for Halloween and decorate it like a mummy.
Since Halloween was creeping up on us soon,
I wanted to make a cake that was a mummy, but knew I didn't want to do fondant on the outside.
I found this piping tip to be perfect with buttercream.
The edges look a little tattered, just how a mummy should look!
I used chocolate covered Oreos for the eyes and topped them with googly eyes made out of royal icing.
Let's get started with the cake part…
I wanted a chocolate chip cake,
since they seem to be everyone's' favorite cookie, I bet chocolate chip cake will be the next big hit. Do you think? Well, it sure is with me. This cake was delicious!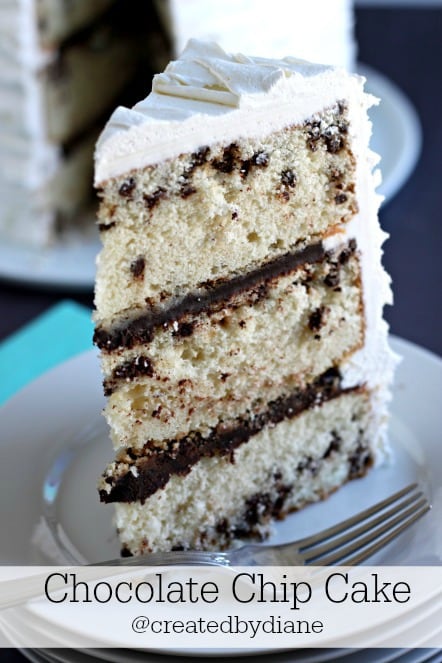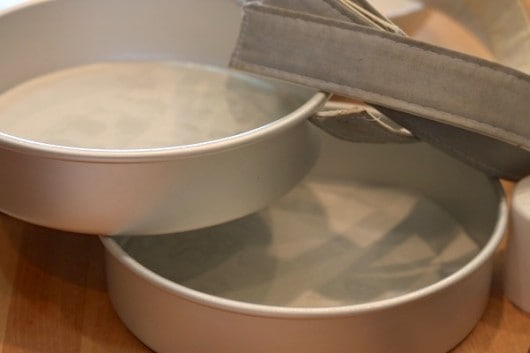 I prepare my baking pans with parchment cut into rounds for the bottom of the pans and spray them with a baking spray (Bak-Klene) then I wrap my pans with baking strips for the cakes to bake evenly. These are from Wilton, you wet them. Then the outsides of the pans don't bake the cake quicker than the center. It does help for a more evenly baked cake, which is great as I don't prefer to level cakes.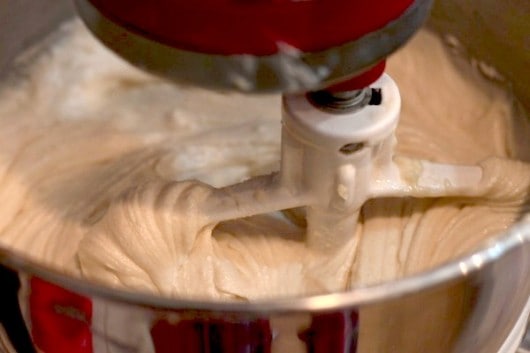 This cake is moist and delicious and makes plenty of batter for three nice sized cakes.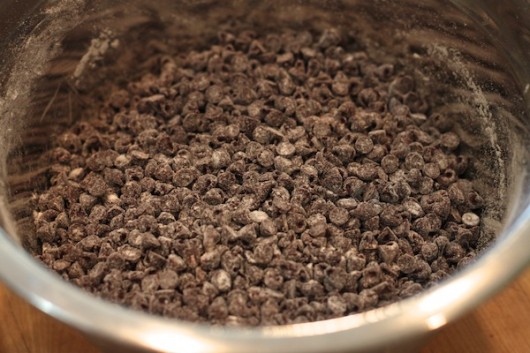 Place the mini chips in a bowl with 3 tablespoons of flour and toss them to coat them completely. This will help prevent the chips from sinking to the bottom of the cake.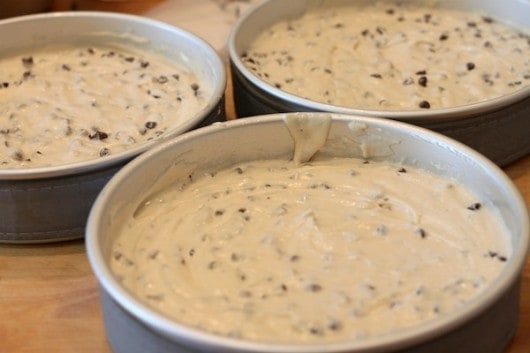 I mixed the chips into each layer to be sure each layer had the same amount of chips, you can do it this way or mix them by hand before separating the batter if you're not as concerned about every last chip like me. I'm a little nuts about things sometimes.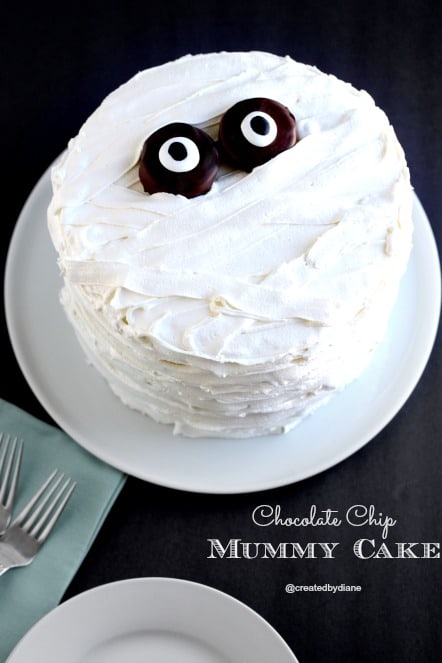 Chocolate Chip Mummy Cake
Ingredients
3 1/2 cups cake flour
1 1/2 cups whole milk (room temperature)
6 egg whites + 3 eggs (room temperature)
3 teaspoons vanilla extract
2 1/2 cups sugar
2 tablespoons baking powder
1 1/2 teaspoon salt
1 cup+ 2 tablespoons butter (cut into 1" pieces)
2 cups mini chocolate chips
3 tablespoons flour
2 oreos
1/4 cup chocolate chips melted to dip Oreos into
icing eyes-click for how to
Instructions
Make Fudge Sauce, link to the recipe in notes.
Be sure milk and eggs are at room temperature and take the butter out of the fridge now too.
place mini chips in a separate bowl with 3 tablespoon flour and mix to coat chips.
Preheat oven to 350 degrees.
Prepare 3 8" round pans with parchment and a baking spray.
Blend milk, eggs, and vanilla in a medium bowl.
In a large bowl with mixer add flour, sugar, baking powder and salt.
Mix on low and add butter until blended.
Pour half the milk mixture into the flour mixture and beat on medium for 2 minutes.
Add the remaining milk mixture and mix for one minute.
Separate batter evenly in the three cake pans.
I stir in the chocolate chips into each cake pan, I prefer to hand mix them in. If they are in the mixer they tend to start to meld and break apart.
You can hand mix them into the batter before separating it also.
Each cake has about 3 cups of batter.
Bake cakes for 25-35 minutes or until toothpick comes out nearly clean. Don't over-bake as cake dries out easily. Keep an eye on it testing each minute after 25 minutes.
Allow cakes to cool, then turn them out onto cooling racks to completely cool.
wrap cakes in plastic wrap and place in freezer to chill.
This makes it easier to decorate large cakes.
You can freeze them for an hour, two or overnight or longer if needed.
Unwrap cakes when you remove them from the freezer and allow them to thaw for 15 minutes.
To assemble cake:
Place first cake onto cake plate, )ideally on top of a swivel rounder for easy decorating)
Pipe around the edge of cake creating a damn for fudge to stay on the cake and not drip outsides.
Place 1/2 cup or so of fudge. Spread evenly with offset spatula.
Place the second layer of cake and repeat with frosting damn and fudge.
Then place the third layer of cake on top and crumb coat cake.
Place in the fridge so it firms up.
Spread a nice even layer onto the cake of buttercream frosting.
Place the rest of the frosting into a piping bag fitted with a #402 tip.
Hold tip so the curve is toward the cake creating a ruffle type of edge. Go around the cake from bottom to top, creating the mummy cloth-like look.
Then decorate the top.
I left space for the eyes and then piped over them once they were set in place.
Melt the chocolate chips to dip the Oreos into and place them on wax paper to set up in the fridge for 5 minutes or until set.
Place the Oreos on the cake.
Then added royal icing eyes on top of the chocolate covered Oreos.
Alternatively, you can create the eyes with anything you have, m&m's, frosting, any round cookie dipped in chocolate.
HERE
is the hot fudge sauce recipe
HERE is the buttercream recipe you'll need to make 2 batches.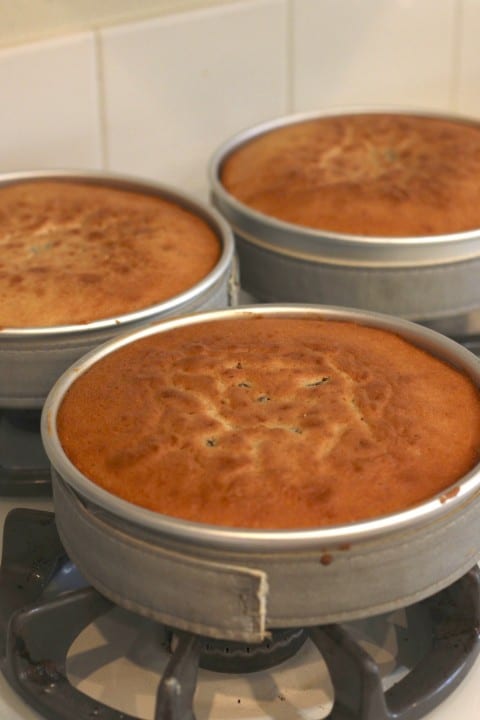 The cakes are cooling nicely. No crowning here, yippee!!!! I really don't like leveling cake, I always seem to make them more uneven than when I start.
I like easy stuff that looks impressive, but you already knew that about me, right?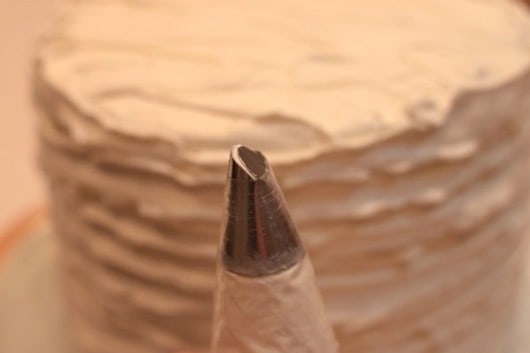 This is the Wilton #402 tip and it worked out perfectly for this cake.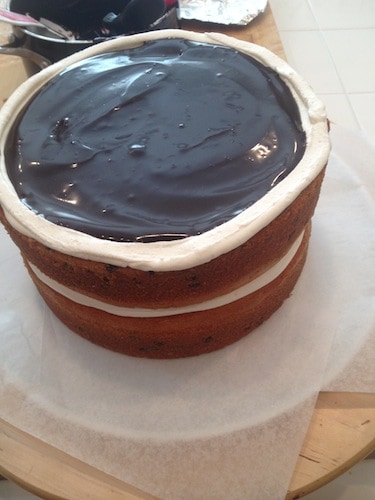 Oh and the fudge filling…..what's NOT to LOVE about fudge!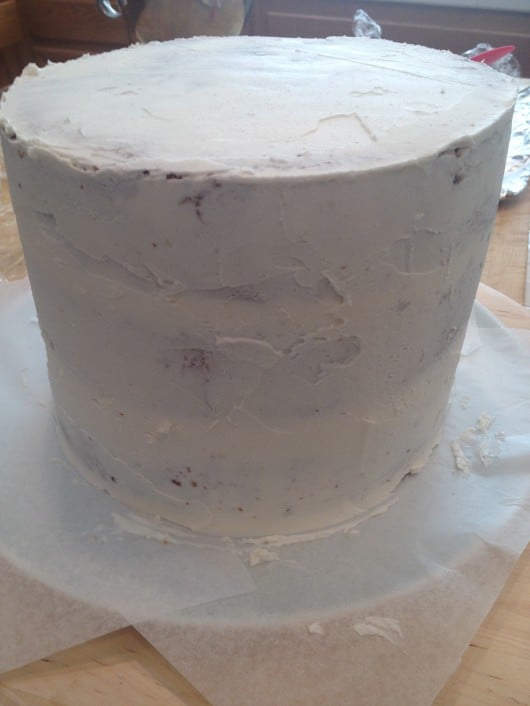 This is a big cake, just the way I like them. I like the slices to take over the plate!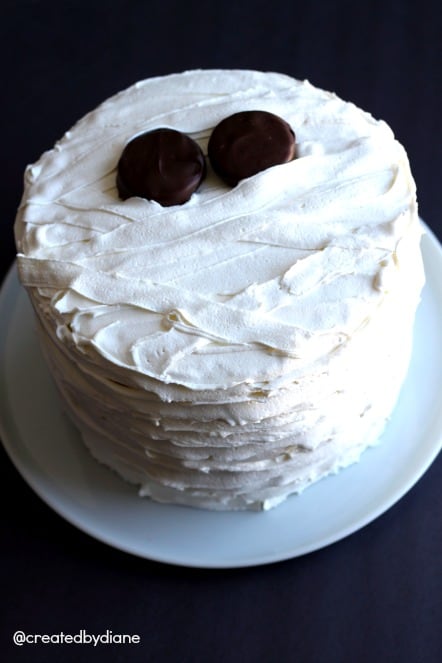 He's not a creepy kind of mummy, he's the cute type! Even if he's asleep!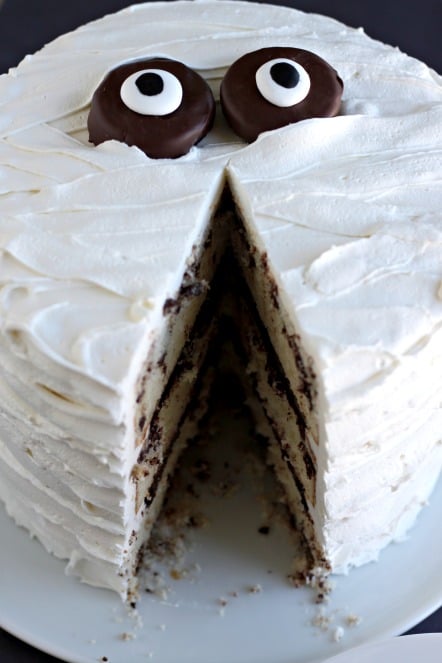 Here is the link on how to make royal icing eyes.
The fudge filling was perfect for this chocolate chip cake, simple and delicious and well, there was some left and eating it off the spoon made writing all this up go just a little better! Click here for Hot Fudge Sauce Recipe. It's great on ice cream, cake, and right off the spoon like I mentioned 🙂