As American as Apple Pie… or cherry, peach, lemon, or your favorite fruit pie flavor, these cookies can be easily changed up for any fruit flavor.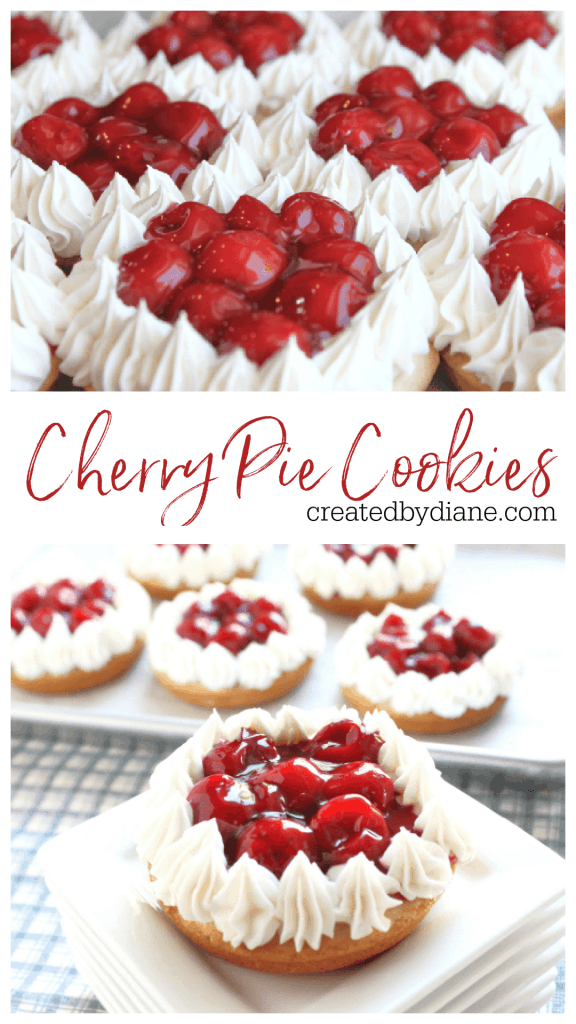 These deep-dish sugar cookies can be THE new item you bring to every party, any time of year.
Fruit-flavored pies are always a hit. And can be changed up seasonally, just make or buy some fruit filling with seasonal fruit and get baking!
The cookie bottom of these mini pies are baked in a Muffin Top Pan, which keeps them thick and delicious.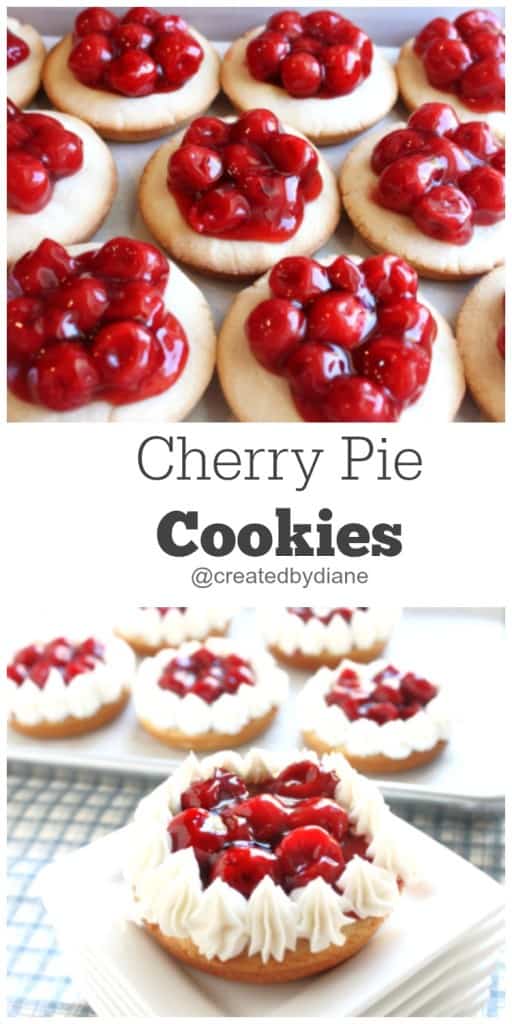 One glance and these Cherry Pie Cookies can be ready to celebrate… any holiday or occasion.
If there is one Muffin Top REcipe in your recipe box make it these Cherry Pie Cookies.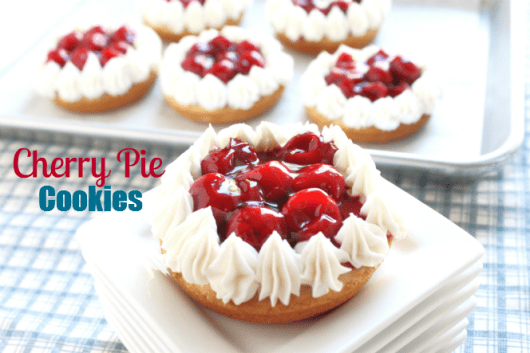 I have never been the biggest cherry pie fan, I am more of an apple girl, but I really like these in cherry, I even mixed the two flavors together for mixed fruit and they were yummy.
I've also made these mini pie cookies in lemon, pumpkin, blueberry and I can't wait to make more flavors.
The cherry cookies in particular are perfect for celebrating the 4th of July, or any summer gets-together. The color of them just makes you want to celebrate! I love how pretty bright red cherries are with the buttercream frosting edge on these deep-dish sugar cookies.
I baked the sugar cookie bottoms, in Wilton's Muffin Top Pan. I just knew it would give these mini pies a deep dish taste, one bite and I knew I had made a winner!
The cookie bottom is nice and flaky without being too sweet or heavy.
The Cherry pie filling is just the right amount on these and the filling is held on with buttercream frosting.
These are easy to make and assemble, which I just LOVE.
I love summer and spending days on the beach or at the pool, relaxing.
It seems when I think of summer the 4th of July always comes to mind.
I have one memory of when my husband and I were first dating which was 20 years ago, but some days seem like yesterday.
We met my parents on the beach to eat and see the fireworks go off.
My favorite part was the pie my mom brought. I am a pie girl through and through!
These mini pies will be great this 4th of July whatever we plan on doing.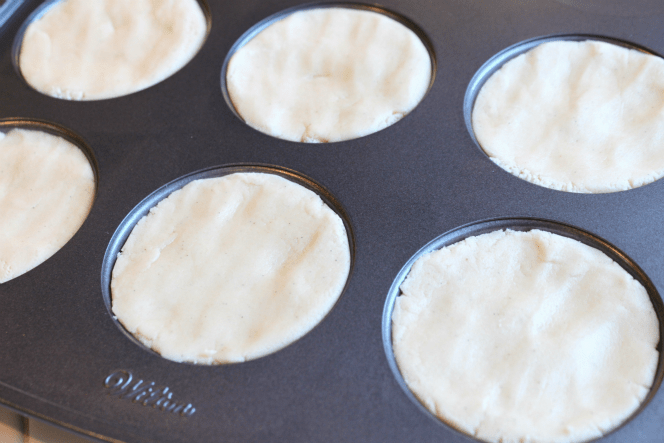 Press 3 tablespoons of dough into each section of the Muffin Top Pan.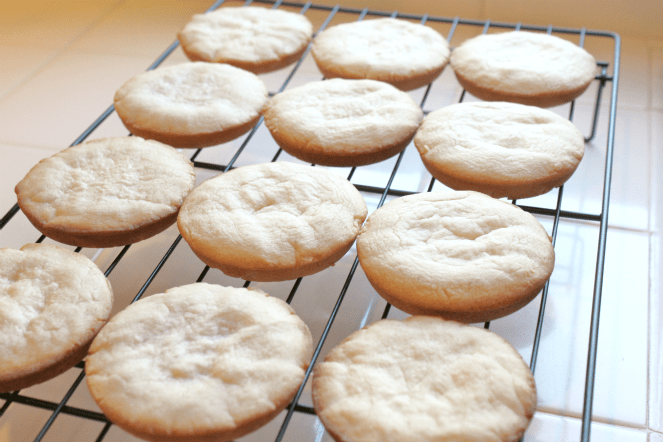 Bake cookies until edges are golden. Let cool completely before adding topping.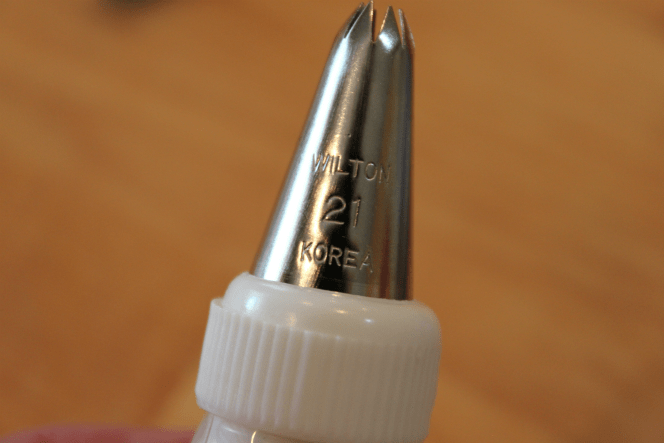 Place #21 tip onto a piping bag and fill with buttercream frosting.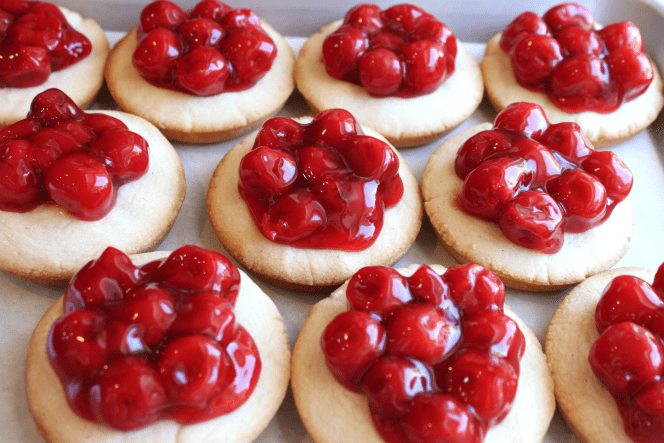 Place 8 cherries onto the center of each cookie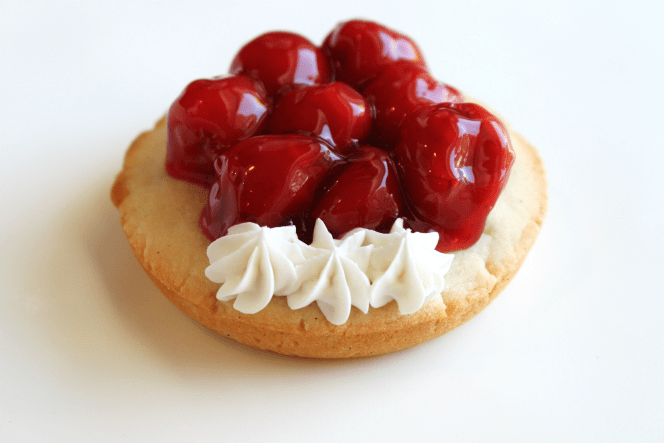 Begin to pipe the edge so the frosting can hold the filling in the center.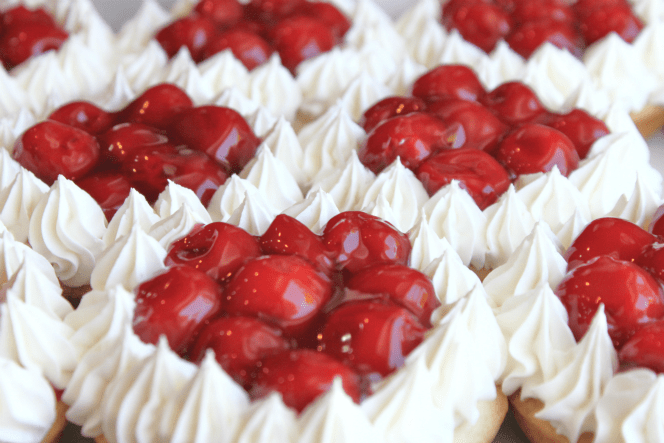 I just LOVE red and white together!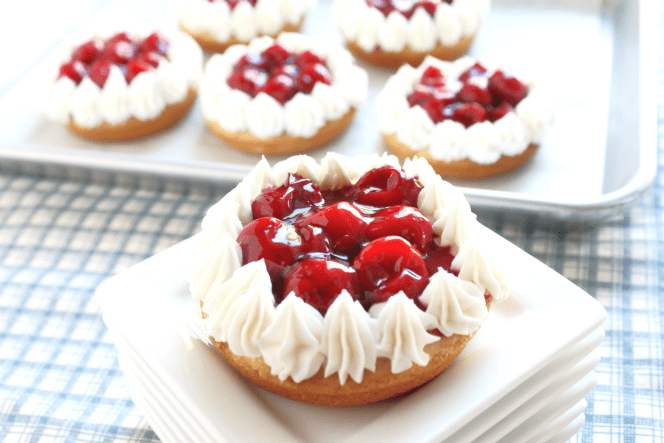 Refrigerate at the end of the day if they aren't all consumed by then. You can bake the cookies a day or so ahead of time and assemble the cherries and frosting the day of or the day before serving.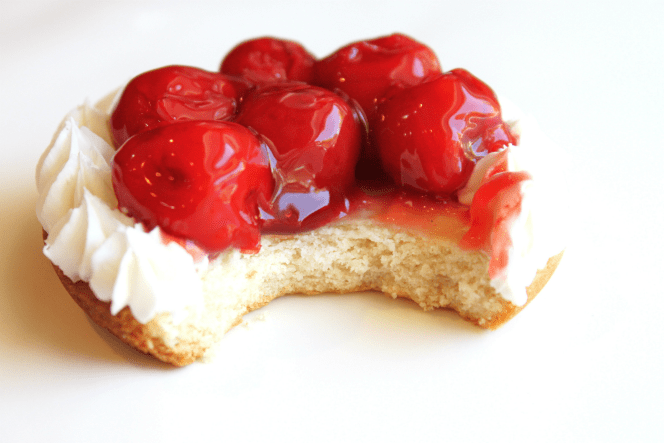 I LOVE how flaky the cookie is but hold up to the filling so well.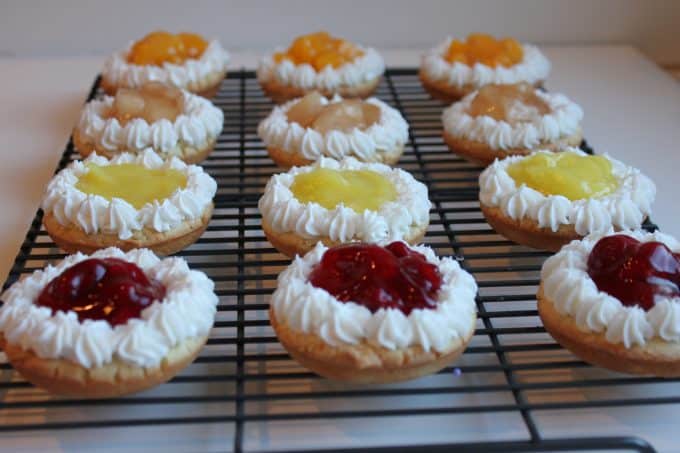 the decorative edge on the cookies of frosting holds the filling in place!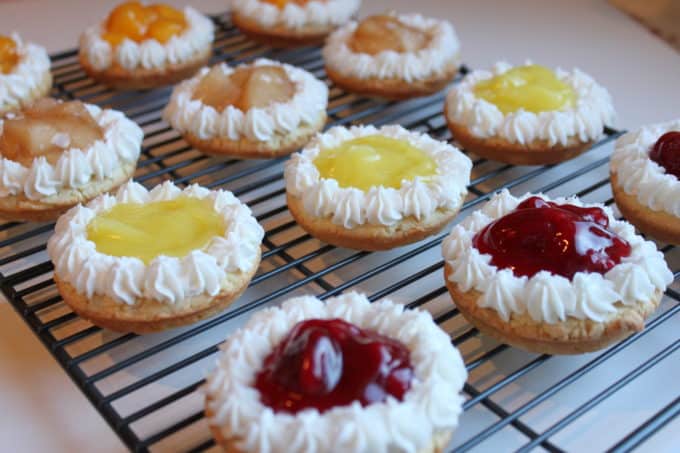 AND…. you can make these pies any variety you prefer.
peach pie, apple pie, lemon pie, cherry pie cookie flavors are easy with canned fruit topping.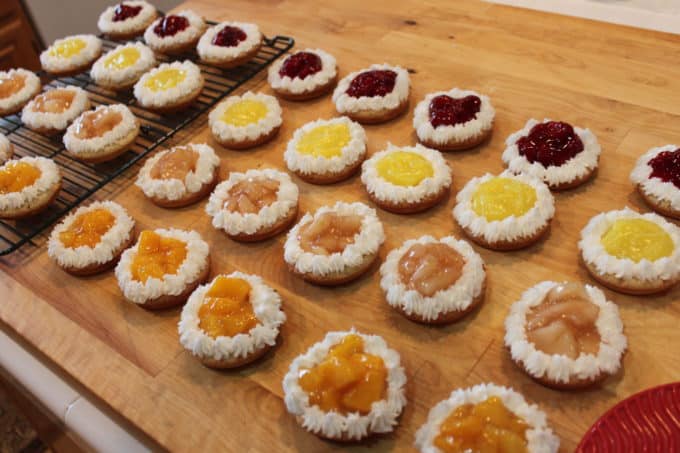 Pie Cookies… who would have thought how WONDERFUL they would be.
I've brought them to parties and they DISAPPEAR!
Pie Cookies... who would have thought how WONDERFUL they would be.Cherry Pie Cookies
A super fun cherry pie option that'll have everyone requesting these at your next get together! Use any pie filling flavor you choose to make these for even the non cherry pie lover. Blueberry, lemon, strawberry, peach, apple, or chocolate pudding.
Author:
Diane Schmidt, Created by Diane
Ingredients
1 cup butter
1 ½ cups powdered sugar
1 egg
2 teaspoon vanilla bean paste or vanilla extract
3 cups all-purpose flour
2 teaspoons baking powder
1 teaspoon salt
1 21oz. can cherry pie filling
Buttercream Frosting:
1 cup shortening
2 1/2 cups powdered sugar
2 tablespoons heavy cream
Instructions
Cream together butter and sugar.
Add egg and vanilla.
Mix in flour, baking powder, and salt.
Mix until the dough forms a ball on the paddle.
Press 3 tablespoons of dough into each section of the Muffin Top Pan.
Bake at 375 degrees for 10 minutes.
Let cool completely
Beat Shortening, powdered sugar and cream until smooth and place into a piping bag fitted with #21 tip.
Add 8 cherries to each cookie.
Pipe edge around each cookie with buttercream frosting.
If you're looking for more mini desserts, HERE are some Mini Fruit Pies.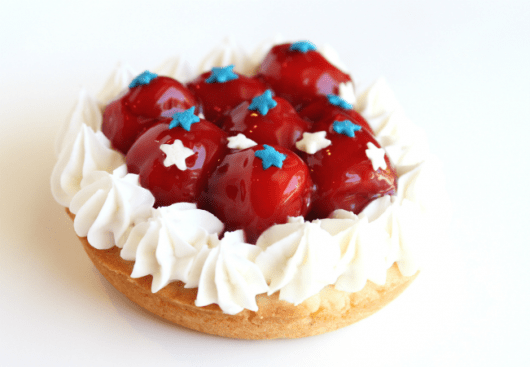 You can even add festive Star Sprinkles for the Fouth of July!
A few foodie friends are participating in a Create a Festive 4th with Wilton event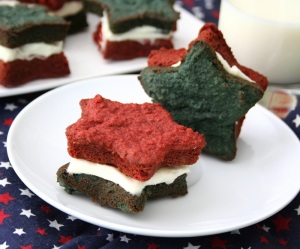 All Day I Dream About Food's Patriotic Star Whoopie Pies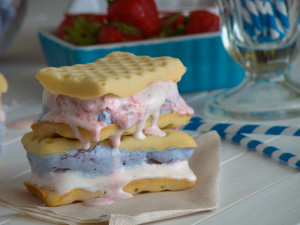 Budget Gourmet Mom's Festive Fourth Ice Cream Sandwich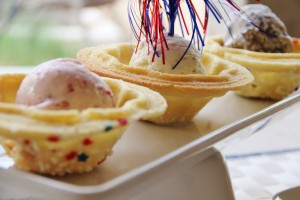 Around My Family Table's Festive Ice Cream and Cookie Bowls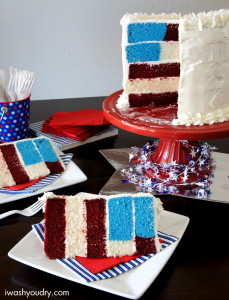 I Wash…You Dry's All American Cake
*Wilton provided me with their products to create this recipe. All opinions are my own.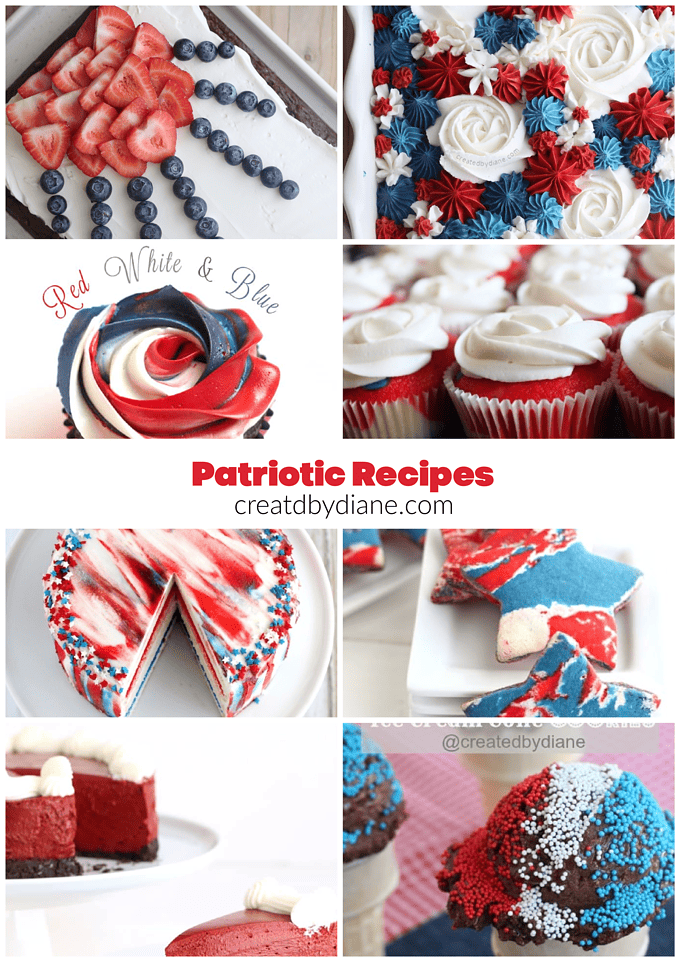 MORE Patriotic Recipes