Red White and Blue Spaghetti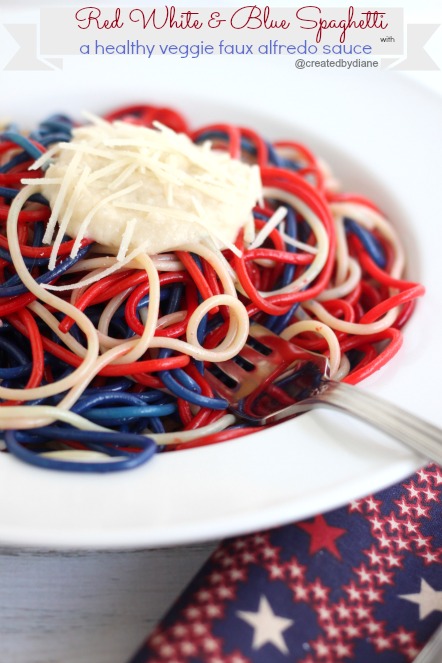 There can never be too much Red, White & Blue if you ask me.
So I'm bringing Americana to the dinner table with this fun colored spaghetti dish and a sauce that just may fool you into eating healthier.
Well maybe I will be able to fool you or maybe I won't. One thing is for sure I will keep you distracted long enough you will forget about the extreme weather across the US. It's been super-hot where we are and I know the East is getting pounded with rain.
So whether you are hibernating inside with the A/C cranking or you are taking cover from being pounded by water, maybe you'll have the time to make this…right?
I posted the base sauce I used to make this lightened up Alfredo Sauce starting with this Roasted Cauliflower Sauce. I added a tablespoon and a half of Romano Cheese to everyone cup of Roasted Cauliflower Sauce for this healthier, lightened up faux Alfredo Sauce. You can add more cheese if you'd like or even Parmesan Cheese. I love Romano Cheese, it's slightly saltier than Parmesan Cheese and has been my favorite since I was a kid. The amount of cheese I added won't "cover up" the cauliflower taste, so if you don't prefer cauliflower you may need to add more cheese, for me this was the right amount.
Now onto this super fun spaghetti…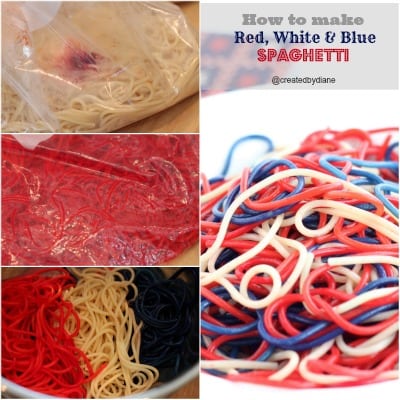 Now you have all the inside info to make your spaghetti fun for every AMERICANA celebration or for anytime you want a fun meal. I love that it only take a few short minutes to do this!  My kids loved this, they couldn't get over how fun the noodles looked. I think they even ate their dinner faster than usual, needless to say they didn't even realize the sauce was healthier! It was a a WIN-WIN!  I just love when that happens.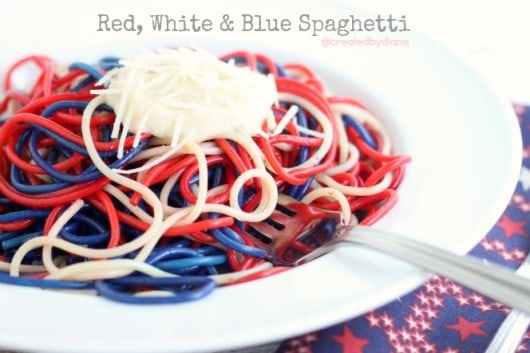 Want to see more Red, White & Blue items…..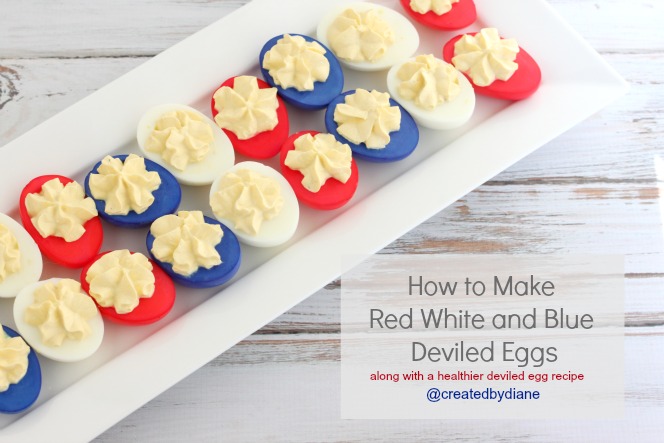 Here you will find my Red, White & Blue Deviled EGGS and that recipe is lightened up as well.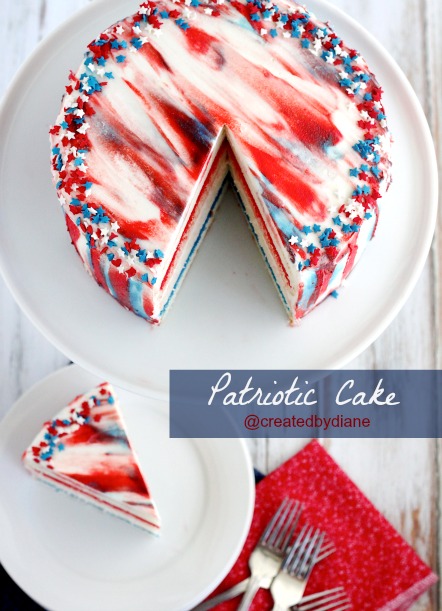 Here is a delicious Patriotic Cake with red white and blue frosting.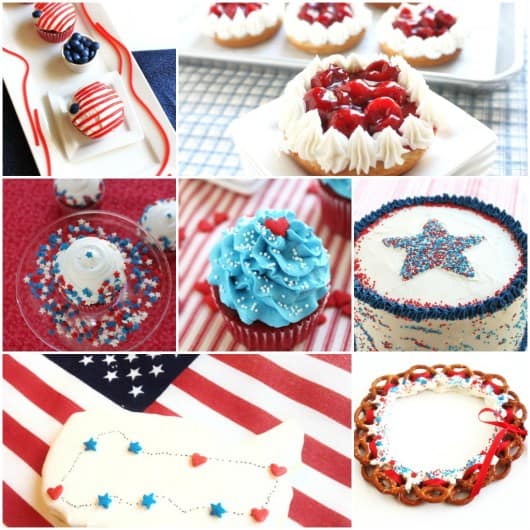 And….lots more ideas for July 4th here too.
Red White and Blue Spaghetti
Ingredients
1 lb cooked spaghetti
1 teaspoon Americolor Red-Red Food Coloring
1 teaspoon Americolor Navy Blue Food Coloring
2 teaspoons olive oil
4 tablespoons water
Instructions
Rinse 2/3 of the spaghetti in water, then separate the spaghetti in half into two-gallon size zip closure bag.
Place the red coloring into one, the blue into the other and mix each with two tablespoon water, blend gently until the colors are absorbed.
You can rinse the excess color off the pasta before mixing them together.
For the remaining 1/3 of the pasta, add the olive oil to it, so the other colors don't rub onto the natural color of the spaghetti.
Mix the spaghetti noodles together just before serving, if you mix them ahead of time the colors may transfer to the other noodles.

MORE PATRIOTIC RECIPES: