America's best all decked out in red white and blue frosting, it's the perfect patriotic cake.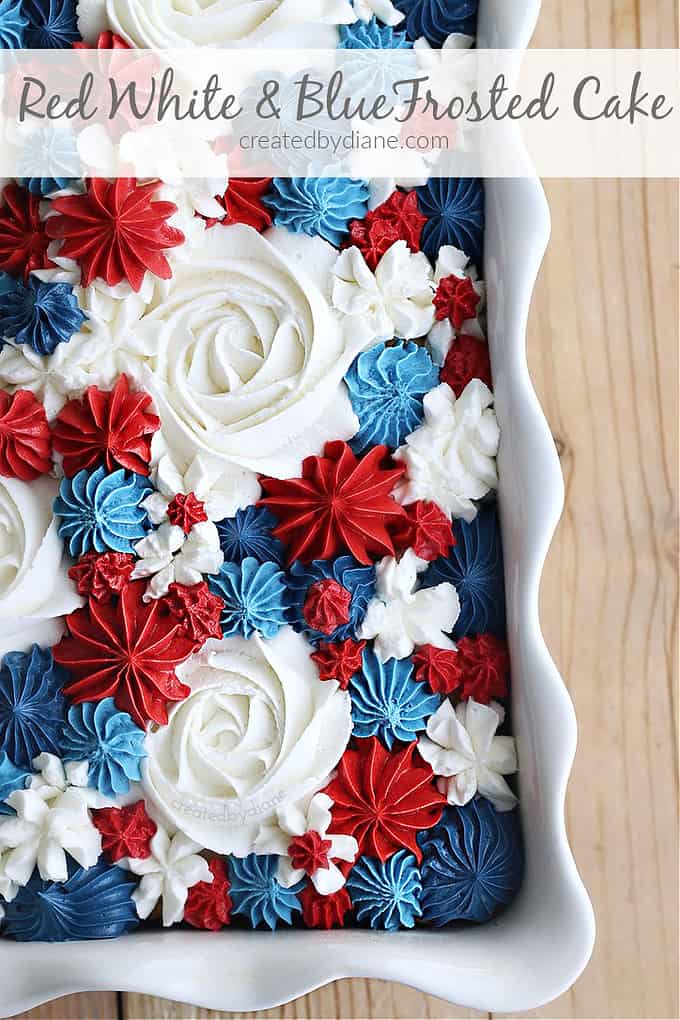 There are so many opportunities to serve this thick vanilla cake all decorated in red white and blue.
Cake is always a good idea if you ask me…
and this cake is something special, it's all decorated for all the patriotic celebrating.
If you like a filled cake, feel free to make some pastry cream and add it to the cake after slicing it in half to have two thinner layers. Other options are to fill it with frosting, cream cheese frosting or chocolate frosting will be delicious options.
This all starts with a 13×9 cake. This is an excellent sturdy 13×9 cake pan if you don't have a white fluted casserole dish.  I made a nice thick vanilla cake, if you want a delicious chocolate cake for this, you'll find that recipe here.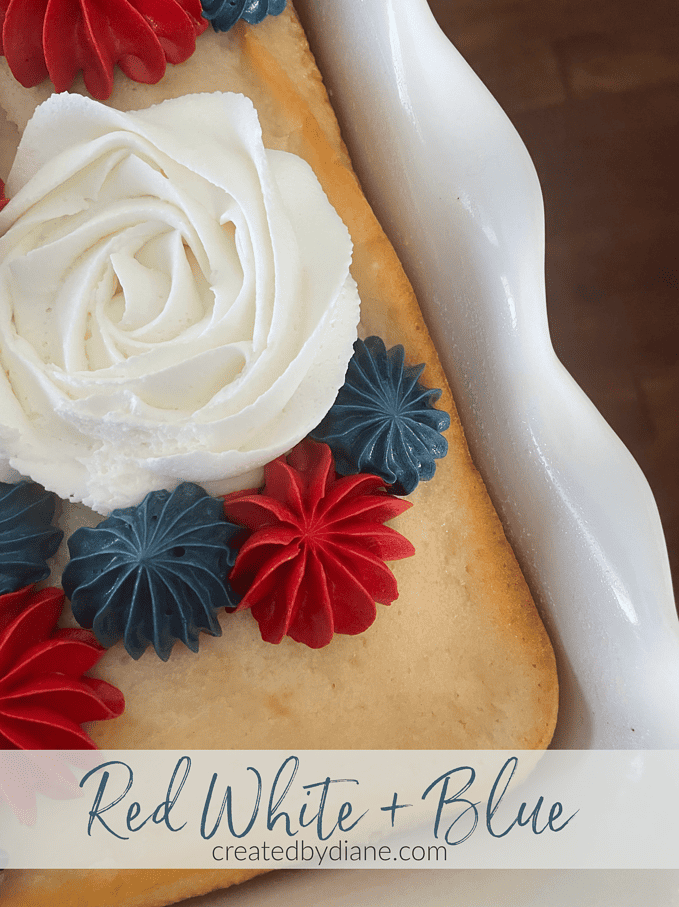 piping tips I used 
click on each to see them on Amazon. I also used a small 7-point star tip as well but there was no number on it. Any star or pointed style tips will work well to make little dollops of frosting.
Depending on how much frosting you want on the cake, you can choose to slather a layer of frosting on the cake before adding the decorative frosting. 
Take a look at this video of my simple tip for piping bags.
How to frost the rose shape –This video shows how I frost this style cake.
Another cake you might enjoy is this Almond Cake.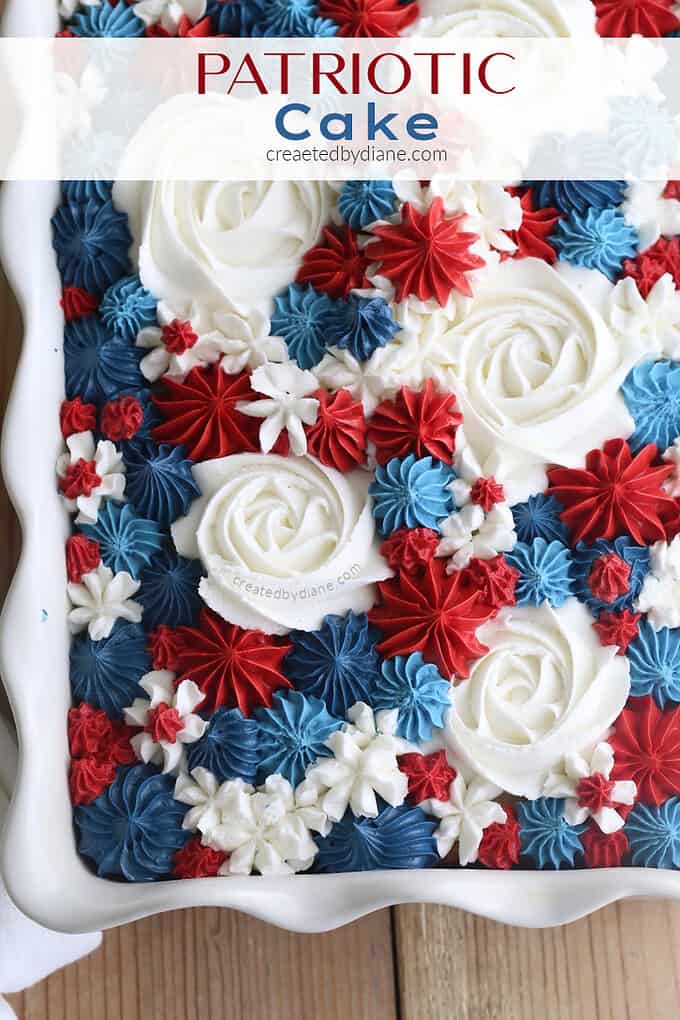 If you're looking for more 13×9 cakes check out the PINK CAKE and this LEMON SOUR CREAM CAKE.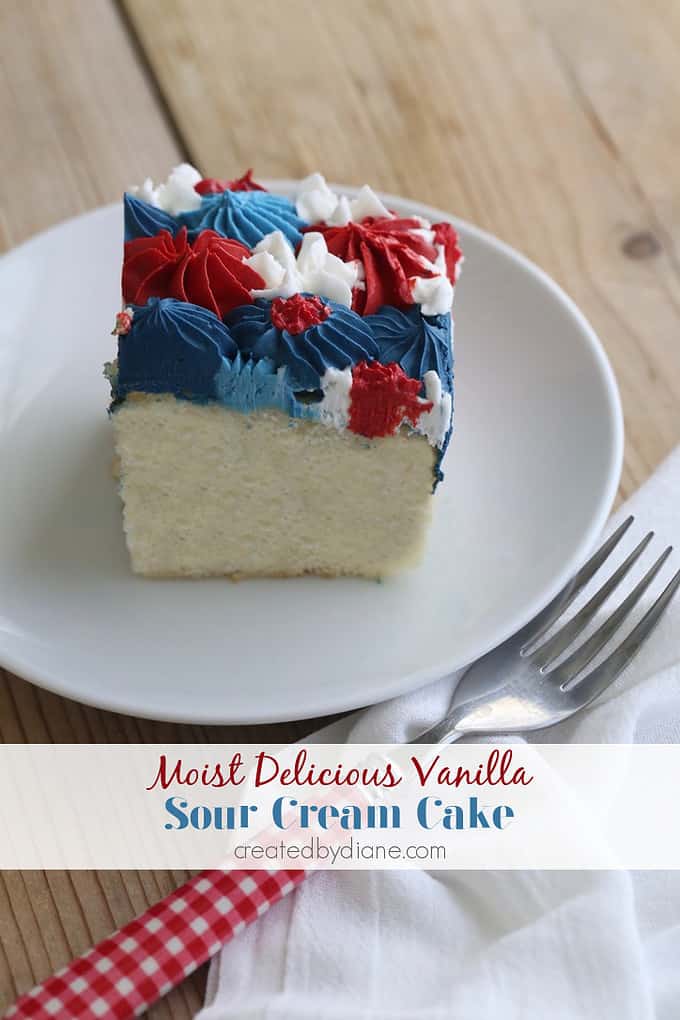 If you're looking for more sheet cakes give this 1 hour 13×9 strawberry shortcake a look.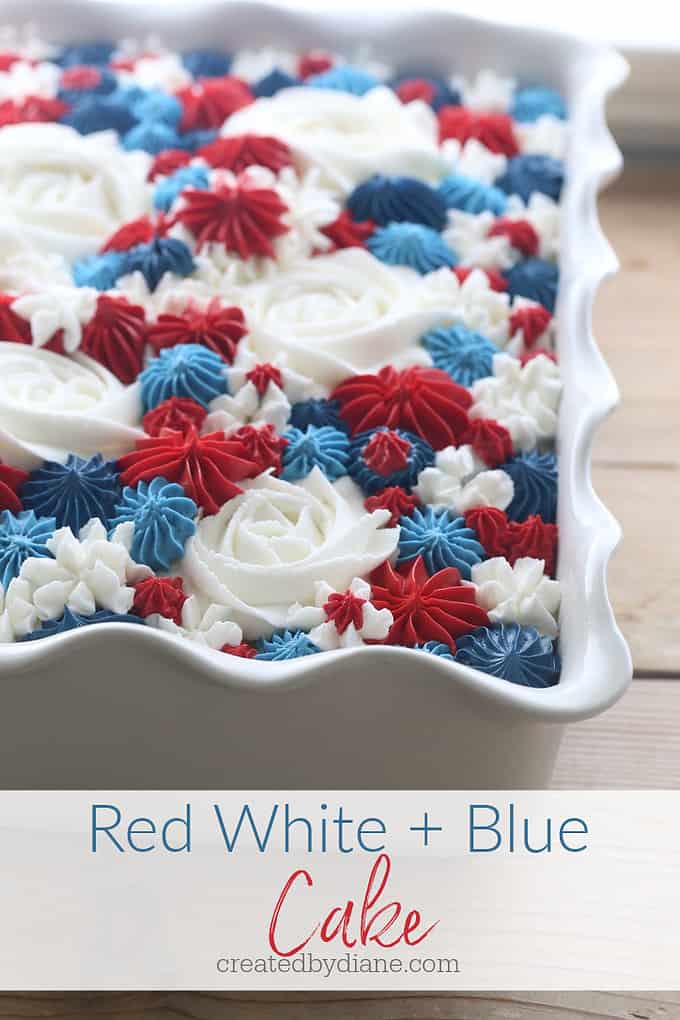 If you're looking for a small cake to serve give this single 8″ round cake a try this cake it's  decorated like the US Flag Cake, you can use the frosting recipe below and cut it in half if desired so you have minimal leftover frosting.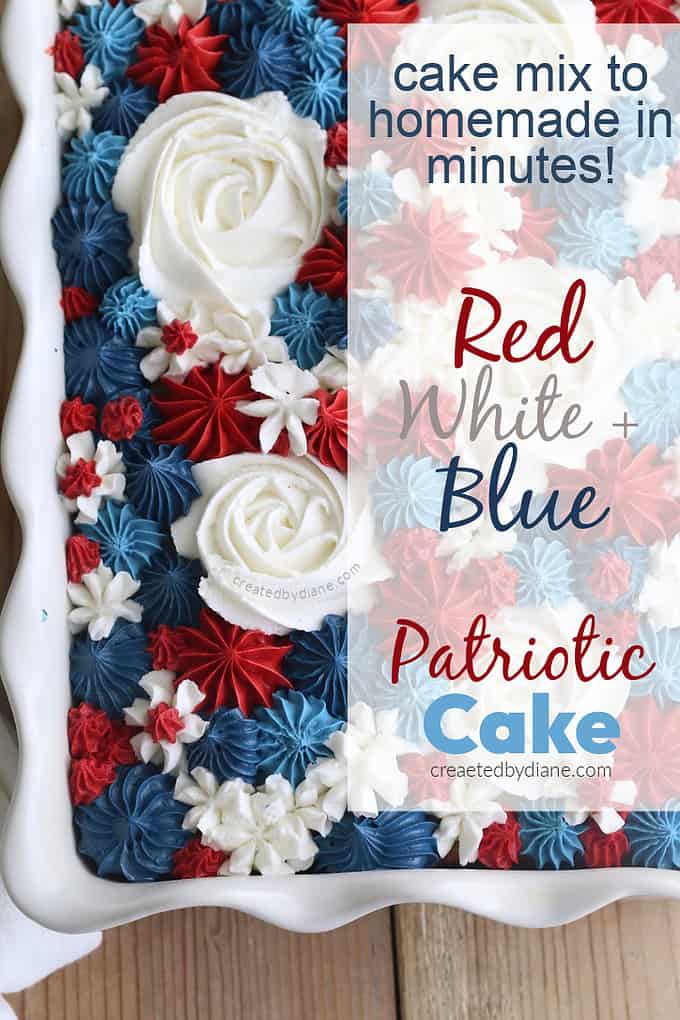 This cake a fun way to celebrate the USA!

Red White and Blue frosted Vanilla Cake
Thick 13x9 sour cream vanilla cake is a box mix turned homemade taste easily. This no-fail vanilla cake is outstanding. Moist delicious cake. Decorated for all your patriotic needs.
Author:
Diane Schmidt, Created by Diane
Recipe type:
Dessert, Cake
Ingredients
1 box white cake mix (Duncan Hines) Do not follow the directions on the package
1 cup all-purpose flour
1 cup granulated sugar
pinch salt
1 1/4 cups water
4 egg whites, from large eggs
4 oz (½ cup) butter, melted
1 cup sour cream
2 tablespoons oil (I use avocado oil, vegetable or canola would work as well)
1 tablespoon vanilla extract
Buttercream Frosting
1 cup butter, room temperature
3 cups powdered sugar ( can add an additional cup if needed or thicker frosting is desired)
1-2 tablespoons heavy cream or milk
food coloring
super red
navy blue (I use a small amount for the light blue and more color for the dark blue)
Instructions
In a large bowl with a mixer add all the ingredients in the order they are listed. Cake mix, flour, sugar, salt, water, egg whites, butter, sour cream, oil, almond, and vanilla flavors. For a more intense flavor cake you can use more vanilla or lemon, but with almond more is often too much.
Mix on low speed until the mix starts blending, then turn onto medium speed and mix for 2 minutes, scraping the bowl and under the beater after the first minute to be sure they combine fully, then continue mixing until well blended.
Pour the cake batter evenly amongst the two pans and tap the pans gently on the counter so the batter is level in the pans.
Bake at 335° (not 325° and not 350° for a well-risen cake that isn't dark in color). I have the oven rack set just above the center and it bakes evenly.
I start timing the cake at 40 minutes, then I test them about every 5 minutes if it's still loose in the middle, if it's just wet on a toothpick, test every 2 minutes. until they are just set and a toothpick comes out clean when tested in the center of the bake.
Remove the cakes from the oven, and allow them to cool completely before frosting.
I prefer to refrigerate the cake overnight so it stays moist, is firmer, and not quite so fluffy. Alternatively, you can wrap and freeze the cake.
Frosting
In the bowl of a mixer beat butter smooth so it's light and fluffy.
Then add the powdered sugar and heavy cream or milk, and mix on high until whipped and smooth.
separate the frosting into 4 bowls and color the frosting leaving some white, one red, and one or two blue (one light and one dark).
Decide how many piping tips you'll use and fill the piping bags fitted with piping tips.
Start with the largest piping tip (mine was the 2D tip and white frosting) and make the rose shares then add dollops of the remaining colors randomly around the cake until it's covered completely.