Pancakes are perfect for breakfast…right? These red velvet pancakes with cream cheese icing are going to have you craving these all day long!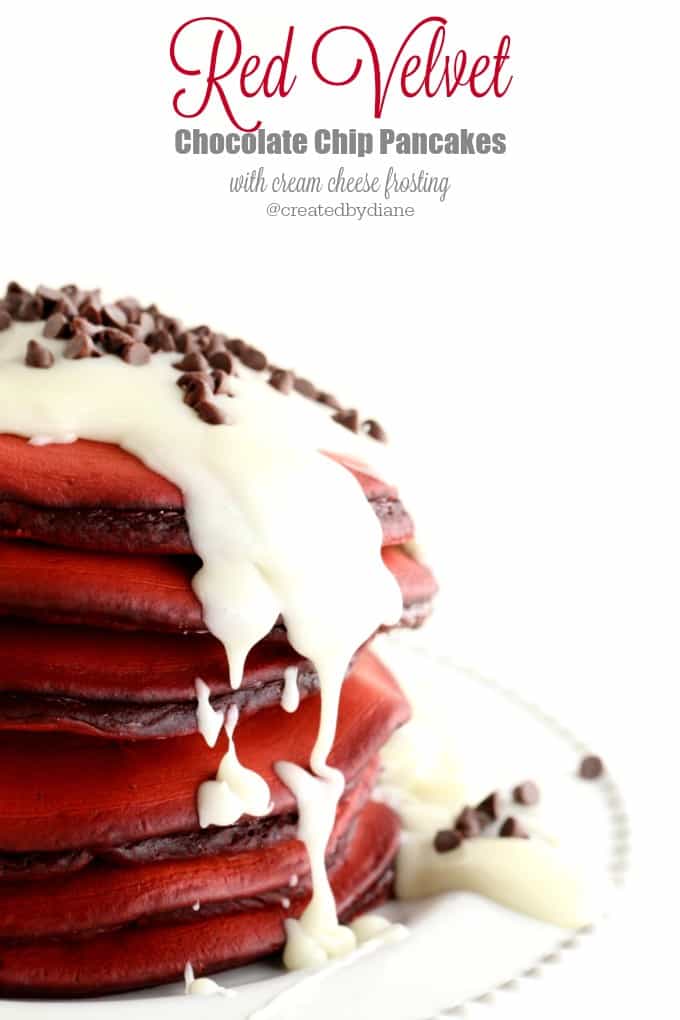 Red Velvet Chocolate Chip Pancakes with Cream Cheese Frosting
Don't miss one delicious recipe and get my FREE e-cookbook click here!
I've taken a well-known cake and made them into pancakes,
so for any red velvet cake fan, these are definately going to be their FAVORITE!
Not only are these great for breakfast… they make an incredible dessert too. Serve up a big plate of these and no one would see these beauties coming, I love surprises like that, don't you.
Well, I guess that all depends… who you ask.
for me, I like pancakes any time of day.
These are no ordinary pancakes.
I can't decide what time of day this is best for these,
so I'll let you decide.
Since it's pancakes, it screams breakfast, and chocolate chip pancakes are super fun…
then these have a delicious red velvet-i-ness that we all love about red velvet…
then pile on some cream cheese frosting,
oh yes…
that is why I'm leaving it up to you to decide when to eat them.
But I do insist you make them. They are wonderfully tasty and be sure to have enough ingredients to make another batch if they get devoured as quickly at your house as they do mine!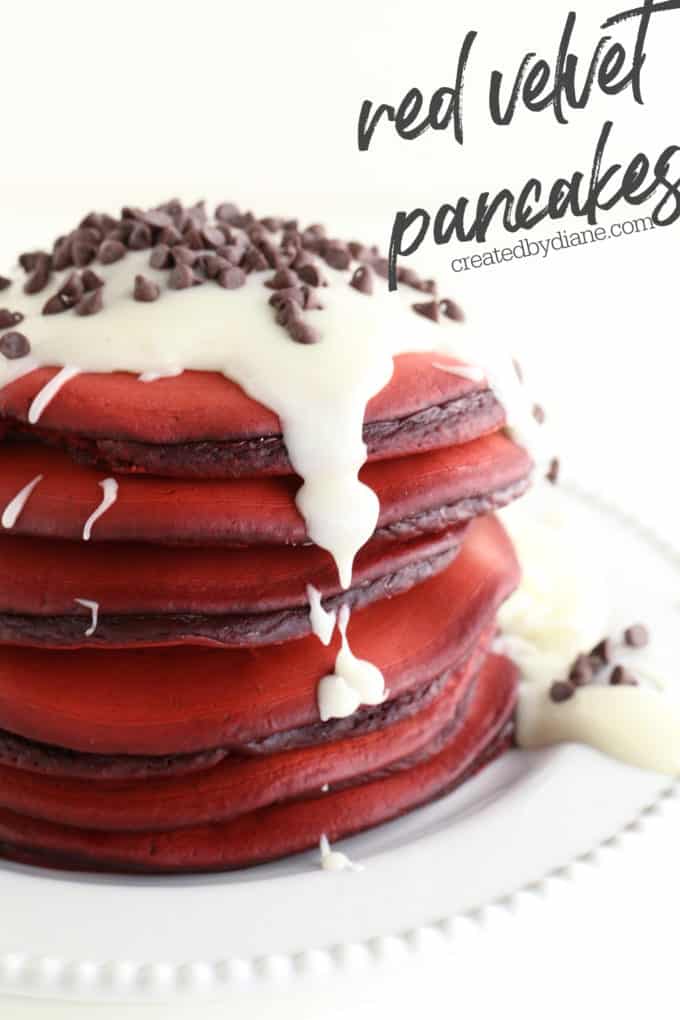 How do you make Red Velvet Pancakes from Scratch?
Simply follow the recipe, and in just minutes you'll have a plate full of delicious red velvet pancakes and the recipe for cream cheese icing follows, no red velvet item would be the same without cream cheese icing.
Red Velvet Pancakes
Serves:
8 medium pancakes
Ingredients
2 cups flour
1/2 cup sugar
1/2 cup cocoa
2 teaspoons baking powder
1/2 teaspoon salt
1 1/2 cup milk
2 tablespoons vinegar
2 eggs
1 teaspoon vanilla
1 tablespoon oil
1 tablespoon red food coloring I use a concentrated gel coloring
1/2 cup mini chocolate chips
Instructions
In a medium bowl mix flour, sugar, cocoa, baking powder, and salt.
In a separate bowl mix milk, vinegar, eggs, vanilla, oil and red coloring.
Whisk wet ingredients into dry ingredients until smooth. If the batter seems thin add a little more flour a tablespoon at a time, if it's thick add a little more milk, a tablespoon at a time. The thickness or thinness will depend on the type of food coloring you use and the type of milk. I used whole milk and the batter was thicker when I used skim milk it was slightly thinner. The batter can be easily adjusted.
Heat skillet over medium to medium-low heat.
Lightly oil skillet for the first pancake.
Place batter in center of skillet (I used 6 tablespoons for each pancake, two scoops from a 3 tablespoon scoop)
add a tablespoon of mini chocolate chips and cook pancake until edges are firm.
Flip pancake and cook until batter is firm usually 30-45 seconds on the second side.
Notes
Depending on what type of food coloring you use will determine how much you'll need to add. I use Americolor, it's a concentrated color. I like the look of the vibrant red, feel free to use less if you prefer.
Cream Cheese Frosting
Ingredients
4 oz cream cheese (room temperature)
4 tablespoons butter (room temperature)
2 tablespoons heavy cream
4 cups powdered sugar
1 teaspoon vanilla extract (clear)
Instructions
In mixer bowl beat cream cheese and butter until fluffy
Add in heavy cream and 4 cups powdered sugar and vanilla
Mix on low until all sugar is combined, then beat on high until frosting is smooth.
To pour over pancakes heat in microwave for 10-15 seconds alternatively you can pipe the frosting from a bag with the edge cut.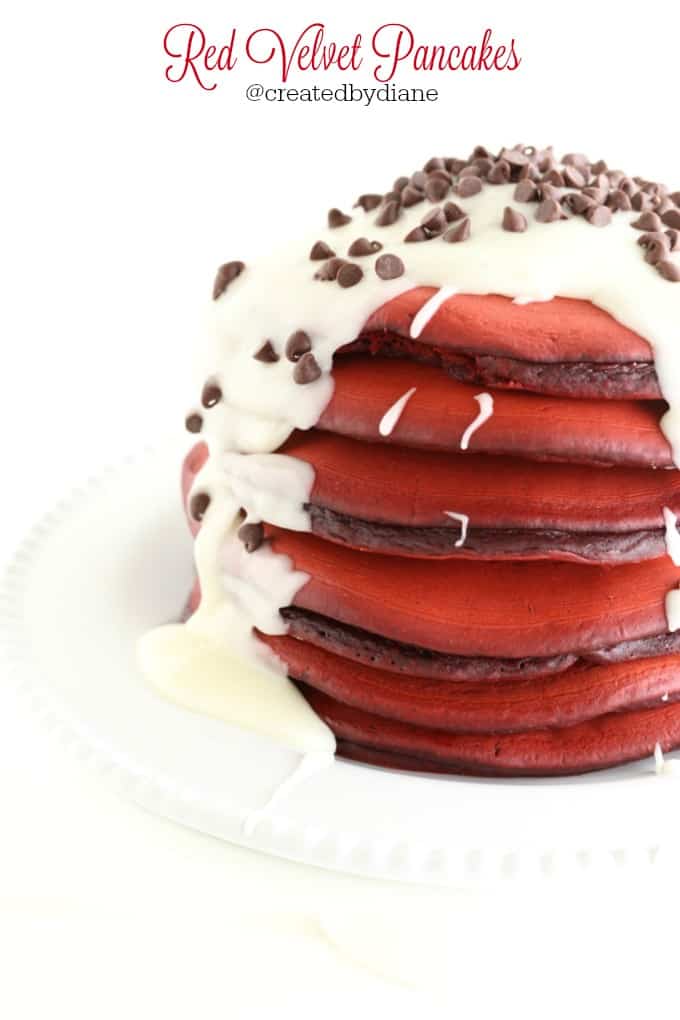 Thanks so much for stopping by to see this recipe!
Sharing this post is appreciated and encouraged. Use the share buttons at the top and bottom of the post, there are many options to all your favorite social media channels and you can also email it to a friend. Print out the recipe to enjoy it on your next kitchen adventure. Please don't copy and paste the full post, it's prohibited without written consent from me. Recipes including wording and photographs are Copyright of createdby-diane.com.
Please enjoy this recipe and click here to sign up for email updates to receive recipes in your inbox.
~Diane