There is something just so special about red, white, and blue. Give me all the Americana, flags, bunting, and all the berry topped flag cakes, here is an easy single layer vanilla American Flag Cake with whipped cream frosting.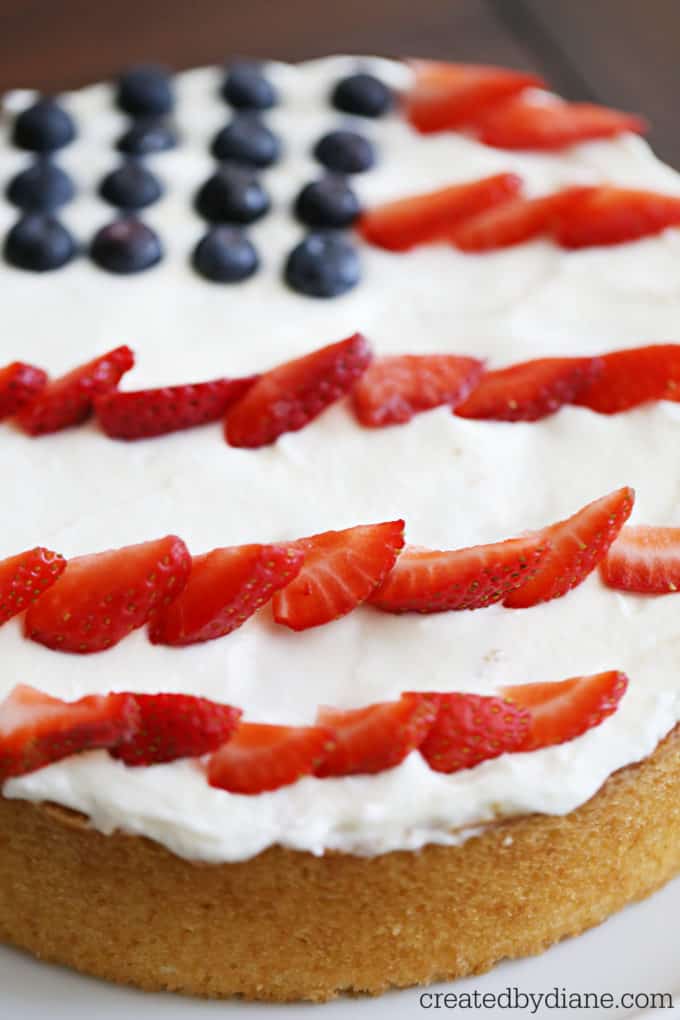 This flag cake will put smiles on everyone's faces…
and with smaller celebrating this cake will yield 8-10 servings that are a nice size without being huge, if you want large slices you'll get 6 slices.
I love simple recipe and this cake can be mixed with a bowl and whisk, and since it's not huge you won't need a few strawberries and a handful of blueberries.
The frosting on this cake is so delicious, it is made with whipped cream, but it won't go flat or watery… it's stabilized with a little cream cheese and OMG it gives the whipped cream a thicker texture and a cheesecake flavor that is so yummy.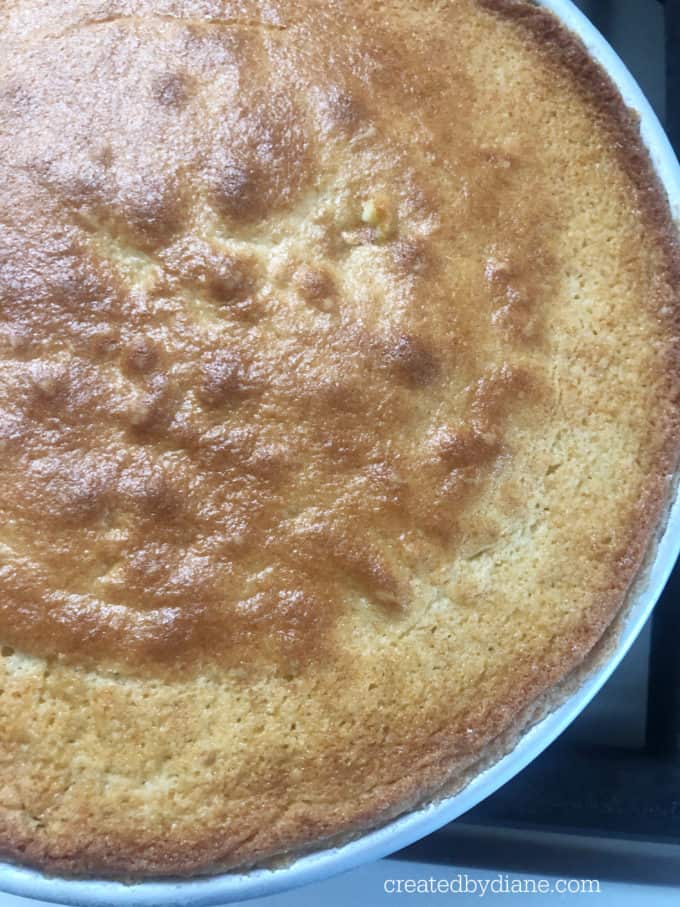 To ensure a level cake I use baking strips around the outside of the 8″ round baking pan, they work great and produce level cake every time.
I spread the frosting with a small offset spatula
THIS is the vanilla cake recipe I used for this cake.
Having everything ready and having the right tools makes it easier when you begin a project, I store my baking strips inside my cake pans, so I don't have to hunt around for them when I want to make a cake! They are easy to use, you just dip them in water and wrap them around the outside of the cake pan before you put it in the oven, it helps the cake bake evenly. I used to use strips of towels, these are far easier to put on.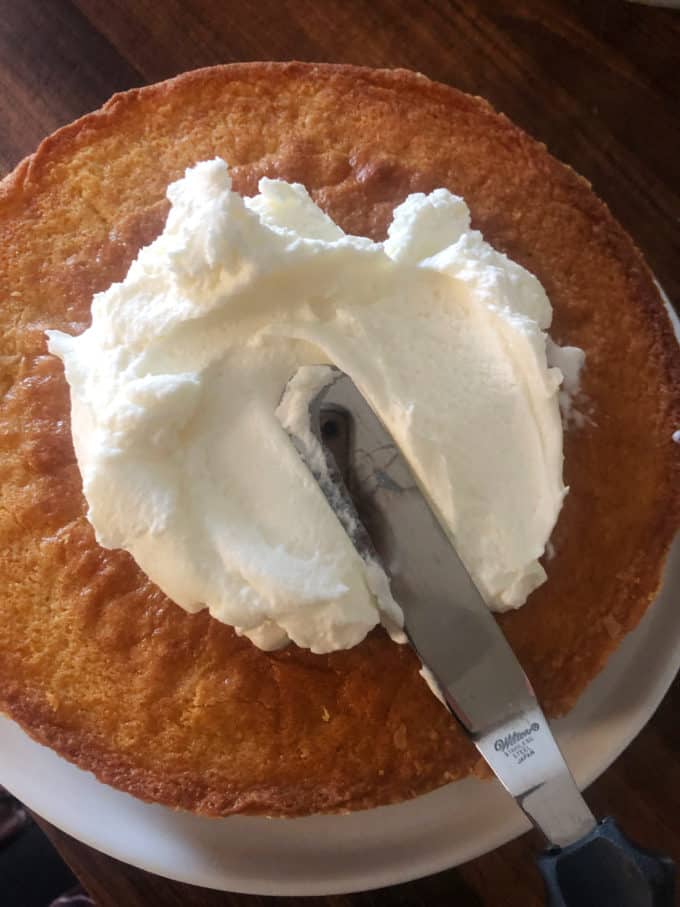 The frosting for this cake is thick and creamy without being overly sweet, and it tastes a bit like cheesecake, which is always a good thing in my book!
What you'll need for the stabilized whipped cream frosting 
5 oz heavy cream  
2 tablespoons powdered sugar
1 oz cream cheese
1/2 teaspoon vanilla extract
If you want to frost the sides of the cake you just need to add an additional 2 oz of heavy cream.
I use an immersion blender when I'm making a small batch of frosting, but you can use whatever mixer you prefer. 
First whip the heavy cream with powdered sugar, then add in the cream cheese and vanilla, this will ensure the frosting stays fluffy by whipping the cream first.
What size cake pan to use?
I baked this cake in an 8″ round pan, the pan is 2 inches high.
You can bake this in an 8″ square pan, the cake will not be as high and will probably take about 5 minutes less time to bake, and will look cute decorated like a flag as well.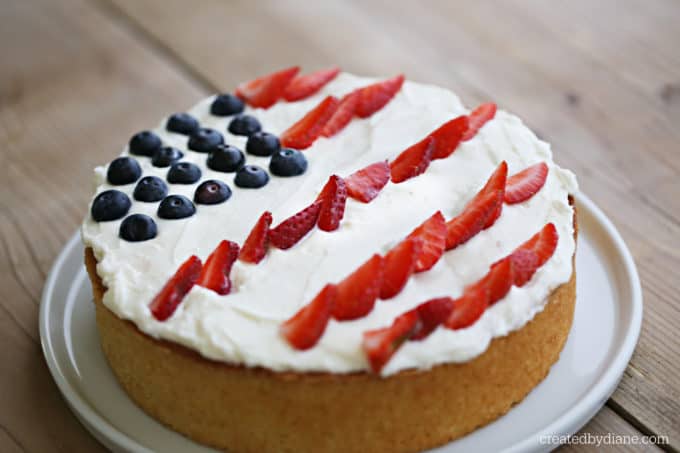 How much fruit should I need to decorate this cake?
Have about 1/2 cup blueberries and 6 or so strawberries to decorate the cake,
you can easily fit more berries if you prefer, make the stripes closer together, pile the blueberries on top of each other, leave the strawberries in lager pieces, cut them in half, replace strawberries with raspberries, or use blue and red m&m's to decorate the cake if you don't want to use berries, rows of sprinkles also work well too, gently place pieces of foil or wax paper to create a barrier to add sprinkle so they don't stick to the frosting area you'd like to keep white.
I find it's easiest to get the flag to look "even" is to slice similar size strawberries into small pieces and then lay them down so they are are "pointed" in the same direction, but you can certainly alternate the pattern for a fun effect or just slice the berries in half, you will need more berries if you do that.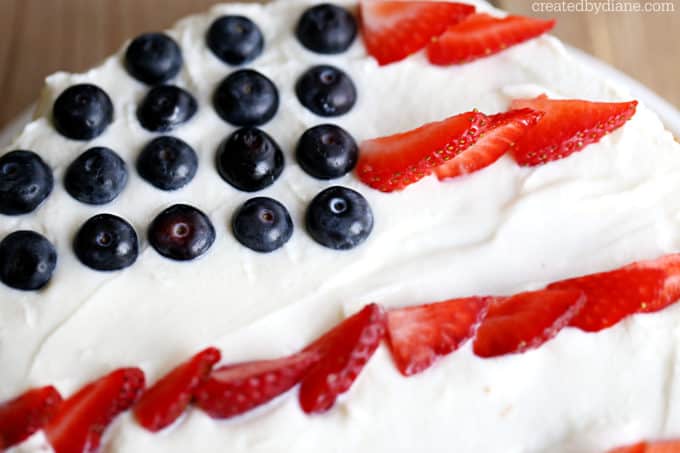 Be sure to print the recipe for the Vanilla Cake Recipe HERE.
stabilized whipped cream for American Flag Cake
cream cheese stabilized whipped cream, for a simple 8 inch round vanilla cake with strawberries and blueberries to represent the American flag.
Author:
Diane Schmidt Created by Diane
Ingredients
5 oz heavy cream
2 tablespoons powdered sugar
1/2 teaspoon vanilla extract
1 oz cream cheese, cut into small pieces
Instructions
I use an immersion blender (with the whip attachment) to mix small batches of frosting like this, but any mixer will work, or you can whisk it by hand if necessary, it's often hard to whip a small batch with a big stand mixer, a hand held mixer will work better.
First whip the heavy cream with powdered sugar until it whipped fluffy and thick and a soft peak forms when the whisk is pulled out of the cream.
Then add in the pieces of cream cheese and vanilla and mix until it's smooth.