Red, White, and Blue Tart
This may not be a classic dessert idea for the Fourth of July, but maybe it should be. It's red, white, blue, sweet and delicious. What else does it need to be… easy? Oh yes, it's easy to make as well.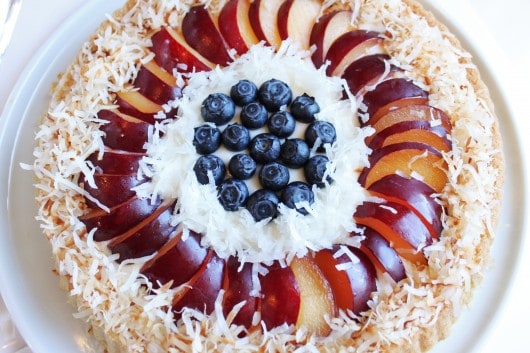 Wonderful memories of the Fourth of July began for me with my mom's blueberry pie, it really is a fabulous pie. She would most often make it deep dish style and at least once a year I insist she makes one and invites me over. Click on the link for the recipe, it really is the best I've ever tasted and I do always like when my teeth turn blue, but don't tell my kids I told you that, I don't like all the blue candy they like, that look isn't so pretty!
The base of this tart is sugar cookie dough, baked in a tart pan for 20 minutes. I used a box of Krusteaz Sugar Cookie Mix, you certainly can use any you have available or make it from scratch. Then it's topped with a sweetened cream cheese.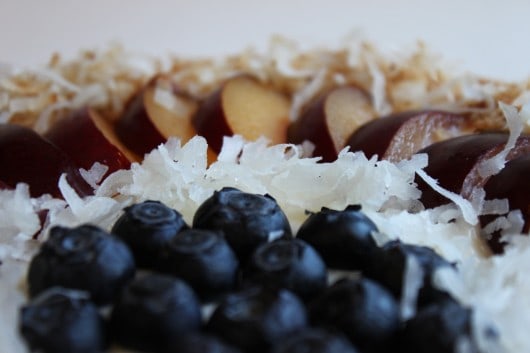 Oh, how I love fluffy white coconut!
Red, White and Blue Tart Recipe
1 package sugar cookie mix
6 plums
about 18 blueberries
1/4 cup coconut
1/2 cup toasted coconut
1 package 1/3 less fat cream cheese
1 cup powdered sugar
1 tsp almond emulsion (or extract)
Prepare your tart pan by spraying it with a baking spray (combination of oil and flour) for easy release. Prepare sugar cookie mix according to package and bake for 20 minutes. Mix cream cheese, sugar, and almond emulsion. Let cookie cool and release from pan. Once completely cooled, spread the sweetened cream cheese and top with blueberries in the center, followed by coconut. Slice plums and arrange them around the coconut and finish it off with toasted coconut.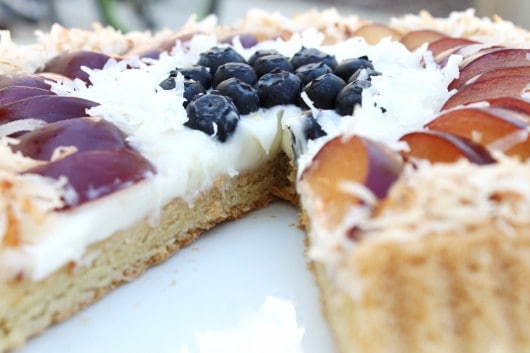 I could hardly wait to dig into this…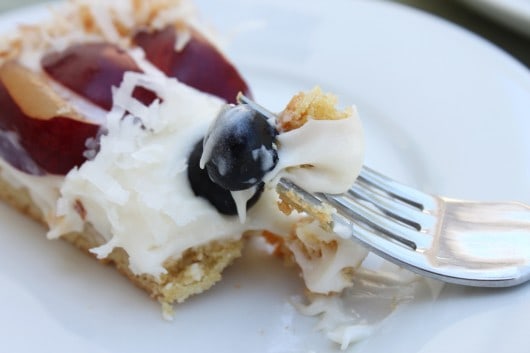 I barely got the photos taken!
I'm not going to tell you how good this tasted I'll just leave it to your imagination!
My BFF described it as to die for and so worth splurging on, if it meets her approval it certainly means the world to me. She is as fussy as I am when it comes to splurging, there is no sense eating it if you're going to regret it!