If you're looking for recipes with fresh cherries, you're in the right place. I have a delicious line up of great recipes made with fresh cherries.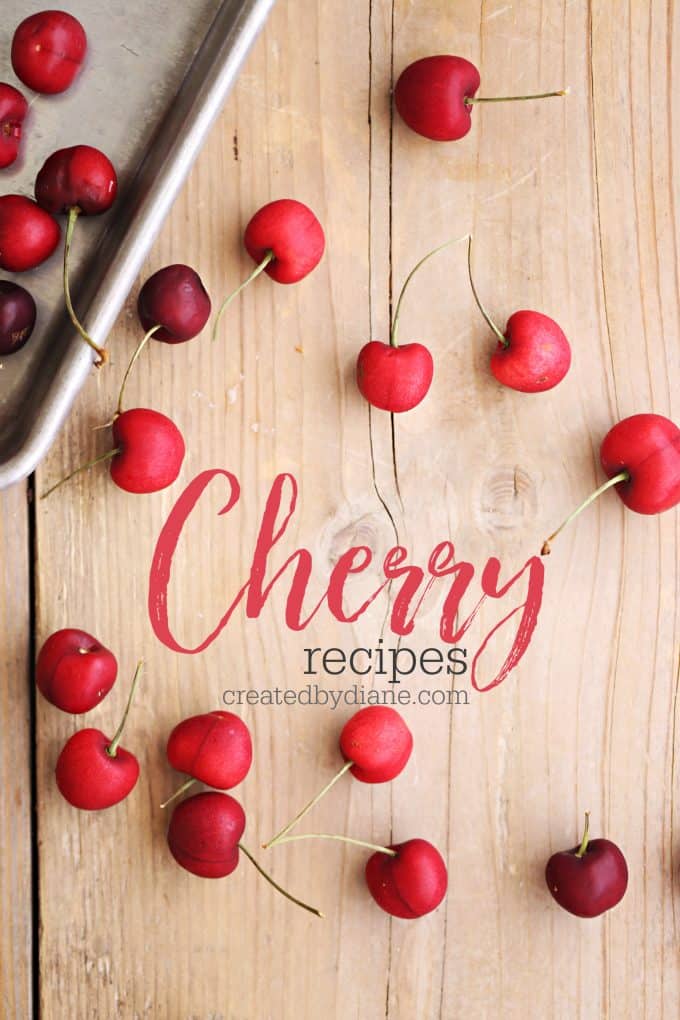 As soon as the hot weather kicks in it's safe to say cherries are in season,
and that means there is no better time to add some new delicious recipes to you must make list.
If it's super hot there are even some that require no baking.
In the summer I sometimes wait until the sun goes down to bake if you can't wait until sundown…
how about a delicious cherry drink or snack to tide you over until it's baking time!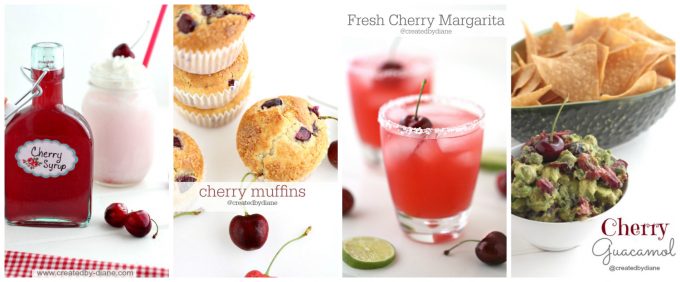 Cherry Syrup – so many uses, and you can make it on a hot day and be able to enjoy it without turning on the oven.
Cherry Muffin – really there is nothing better than a fresh-baked muffin, adding the fresh cherries in and it's a true winner!
Cherry Margarita – Nothing better than a fresh fruit flavor added to a margarita, and the prettiest color ever!
Cherry Guacamole – add some fun fresh fruit to sweeten up your guacamole and let the snacking begin.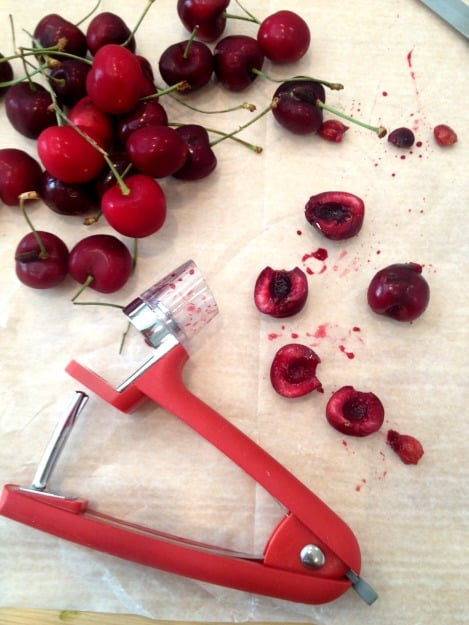 THIS is the Cherry Pitter I use to remove the pits easily from cherries (and olives too) it easily removes the pits and helps reduce the splatter with the clear guard.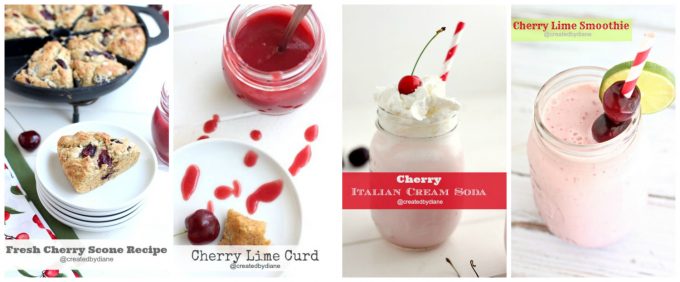 Cherry Scones – deliciously baked and taste amazing
Cherry Lime Curd – great on the cheery scones, but equally delicious on muffins, cake, toast, cookies too.
Cherry Italian cream soda – just about the most delicious homemade soda EVER!
Cherry Lime Smoothie – Wake up to this yummy breakfast smoothie or enjoy it for dessert.
And if you'd like to see more recipe with FRESH CHERRIES take a look at these great recipes
And if you're looking for recipes with cherry pie filling (fresh or canned) try these
If you're looking to make some other great syrups recipe take a look at these: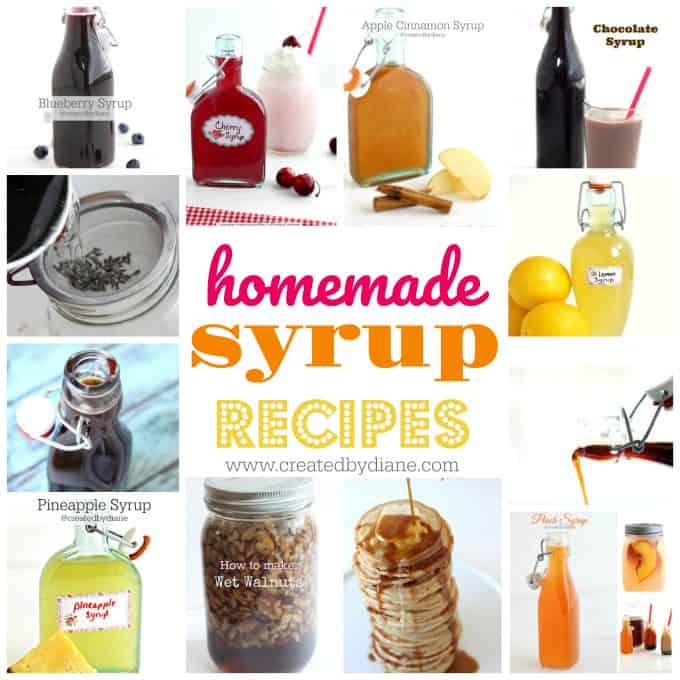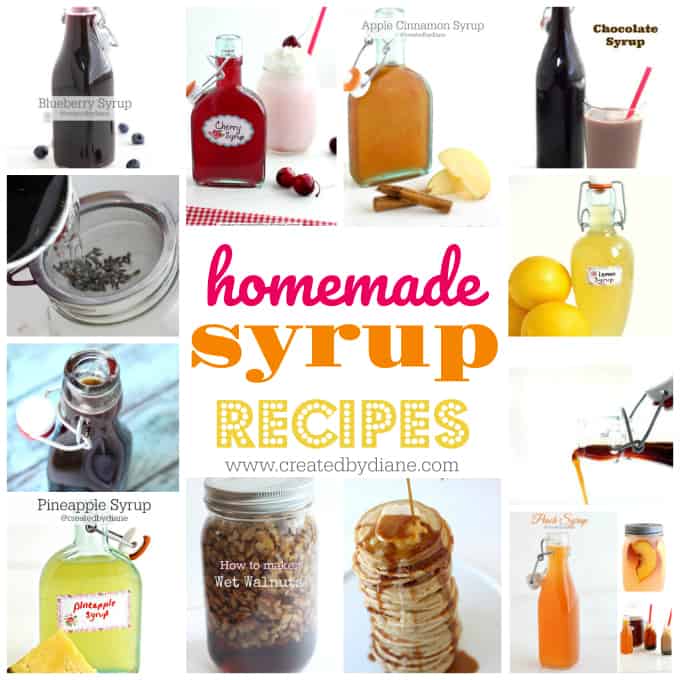 Blueberry Syrup

truth be told I should buy stock in blueberries, they are so fantastic!
Cherry Syrup cherry season isn't long so be sure stock up and even put some cherries in your freezer to be able to make cherry syrup after the prime season ends.

Apple Cinnamon Syrup

a deliciously warm and comforting flavor perfect in hot tea in the winter.
Chocolate Syrup OMG so yummy, you may never buy a bottle of store-bought again.

Lavender Syrup

a year-round perfect flavor!
Lemon Syrup a year-round perfect flavor!

Coffee Syrup

I think I became a true coffee fan after making this one
Pineapple Syrup perfect for the pineapple LOVER!
Maple Syrup Yummy and great with walnuts over ice cream
Peach Syrup one of my personal favorites
Blackberry Syrup one of my favorite cocktail mix-ins!
strawberry syrup so yummy and perfect all year long, great in cocktails