Cake with Strawberries and Blueberries are undeniably a must-make for all your patriotic celebrating!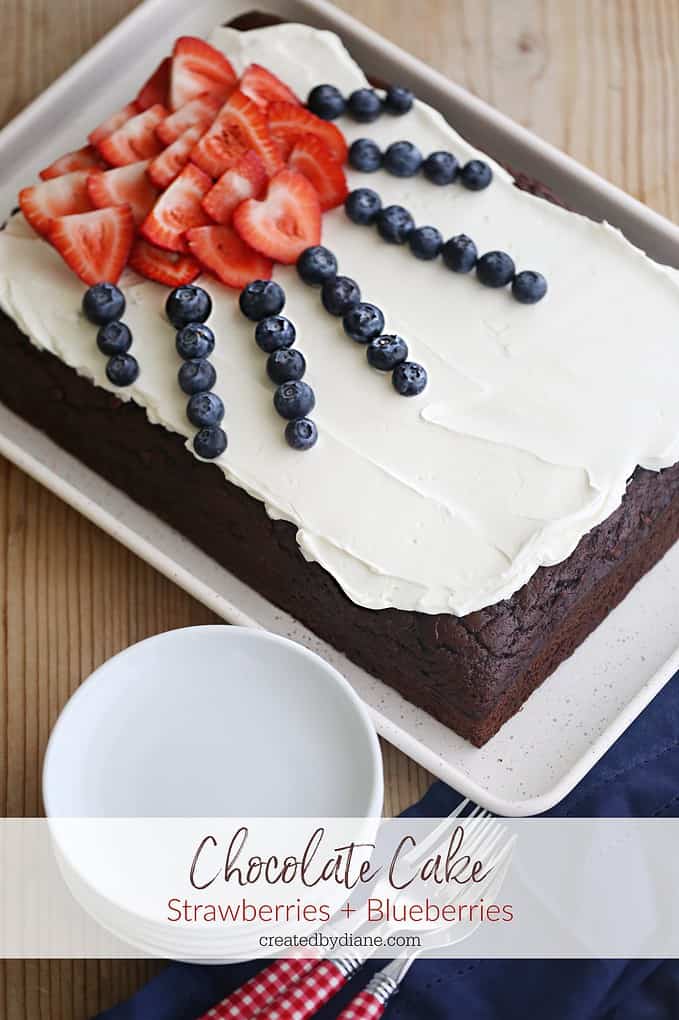 This one looks like a firecracker, all ready to enjoy while we raise our red white, and blue flags to celebrate our patriotism and feel all the love of the USA!
This delicious and easy chocolate chocolate chip cake starts with a cake mix, you can use this recipe if you want a great homemade chocolate cake.
Frosting choices are plenty
Remember with fresh fruit, the better the fruit the better the flavor.
You'll need about 10-12 strawberries and 30 blueberries.
If you're looking for… more strawberry flavor, slice the cake or make 2 13×9 cakes and add strawberry jam. filling homemade or prepared or this strawberry curd would be yummy as well.
Raspberries can be substituted for strawberries. You could use m&m's instead of fruit.
THis is a chocolate cake celebration but you can use vanilla cake if that's more to your liking, here is my 1 hour Strawberry Shortcake Recipe it's a wonderful vanilla cake.
A chocolate strawberry cake is a wonderful addition to your grilling and BBQ dessert table. Easy and fun desserts are the best in the summer. This chocolate cake with strawberries and blueberries will satisfy a crowd, double the recipe if you want a thick 2-layer cake. Use a brownie mix for a richer fudgier "cake". It's fun to have options!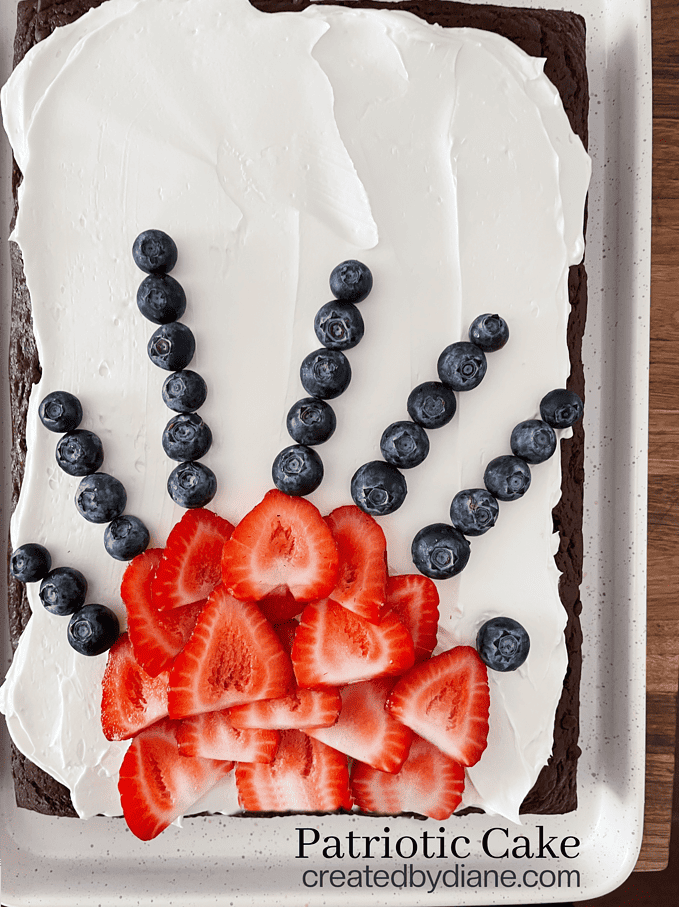 If you think the fruit will dry out if you assemble it far ahead of serving, brush warmed jam over the strawberries to keep them moist.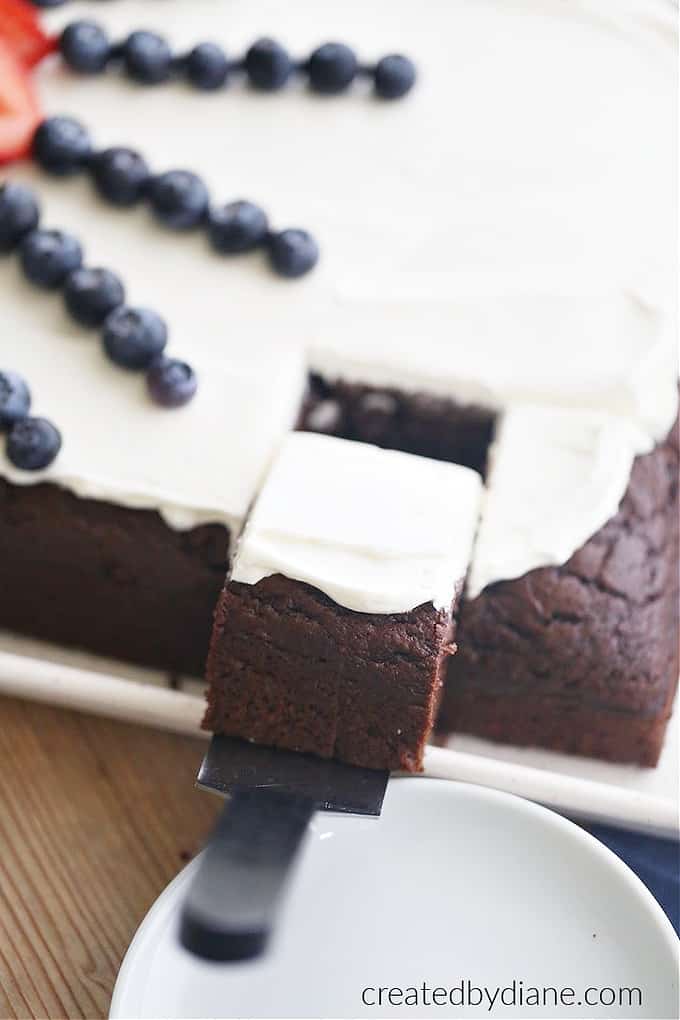 Keep this type of cake in the fridge if it's hot out until an hour before serving, then bring it to room temperature so the frosting tastes its best.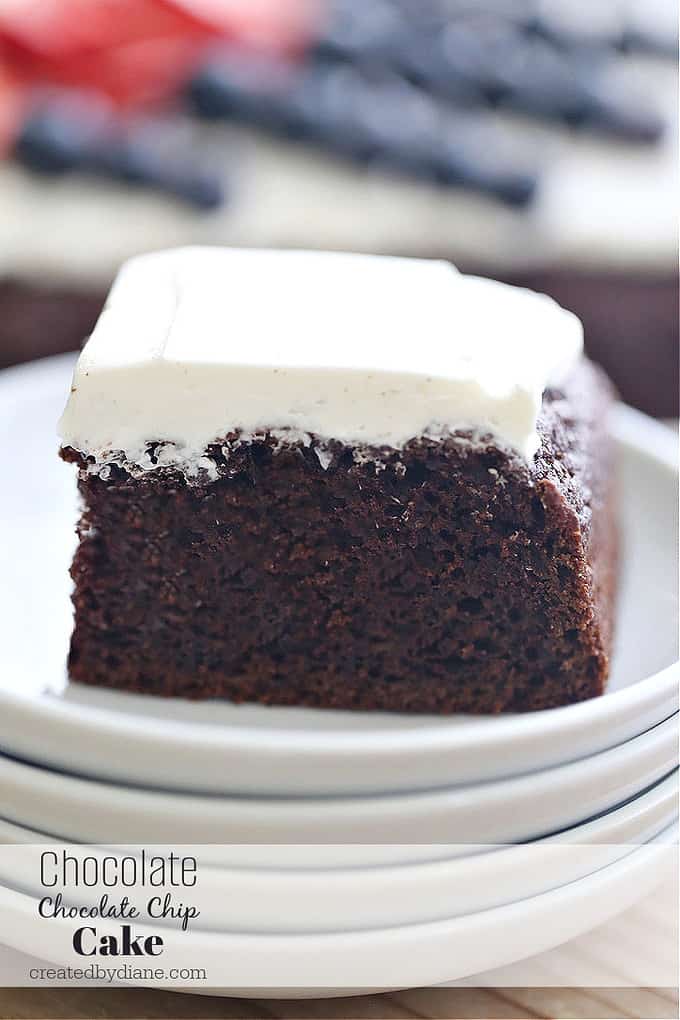 I added mini chocolate chips to the cake for extra chocolate flavor and they melt nicely inside the cake, if you sprinkle some on top before baking, they'll add a nice texture. 
For a really moist cake bake the cake ahead of time wrap and freeze or refrigerate the cake, it'll hold in the moisture. This cake recipe uses a small package of instant pudding mix, this is a great addition to make a basic box cake taste more delicious.
Chocolate Cake with Strawberries and Blueberries
Chocolate-Chocolate Chip Cake frosted topped with strawberries and blueberries for easy patriotic celebrating.
Author:
Diane Schmidt, Created by Diane
Ingredients
1 chocolate devils food cake mix (about 15.25 oz)
1 3.4 oz package instant chocolate pudding mix
1/4 cup oil (canola, vegetable, or avocado oil) I use avocado oil
1 1/4 cups water
2 large eggs
6 oz mini chocolate chips
frosting options listed in the post: be sure to print the frosting recipe as well.
Instructions
Preheat oven to 350°
Prepare a 13x9 pan for the cake to remove easily after baking.
Pour the cake mix, oil, eggs, water, and dry pudding mix into a bowl and mix with a fork or whisk, until silky smooth and well blended.
Add the chocolate chips and stir, you can sprinkle some on top of a 13x9 so you can see them after it bakes.
Bake the cake in a well-heated oven for 30-35 minutes or until a toothpick comes out clean.
Allow the cake to cool for 10 minutes then turn it out on a cooling rack, or allow it to completely cool in the pan if desired.
Chill the cake if desired, cold cake frosts more easily and allows the cake to hold moisture, which I also prefer.
Spread 1-2 cups of frosting over the cake until smooth.
Add about 10 sliced strawberries piling them into a half-circle shape, then add blueberries to look like starburst, fireworks. If you decorate the cake ahead of time and think the fruit might dry out melt a little strawberry jam and brush on sliced strawberries to keep them shiny/moist.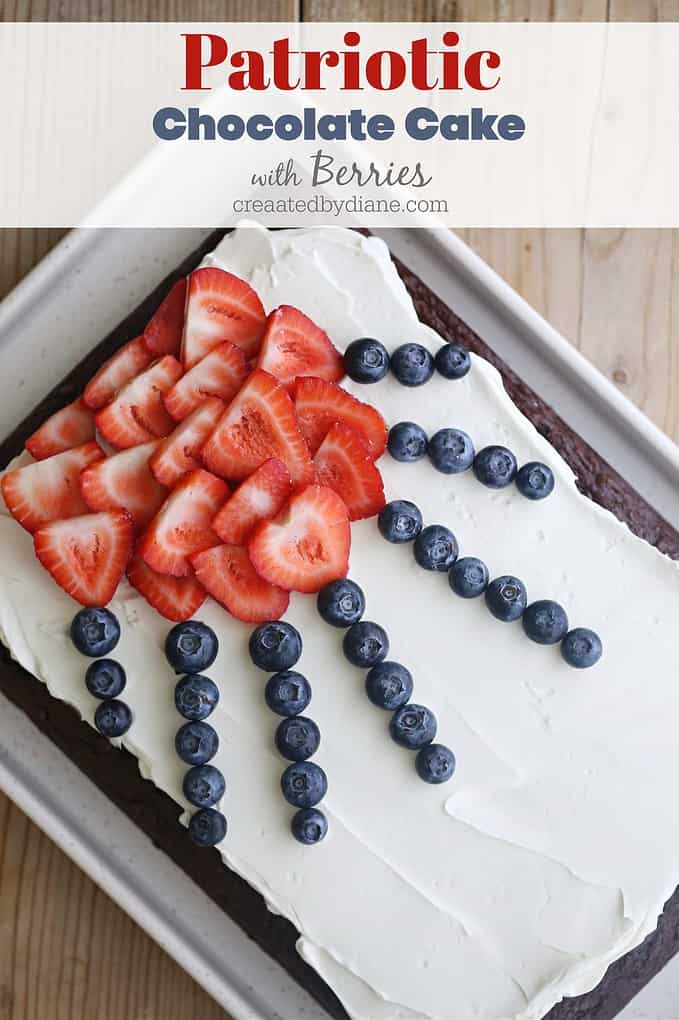 I have quite a few red white and blue recipes, as you scroll down you can see many more: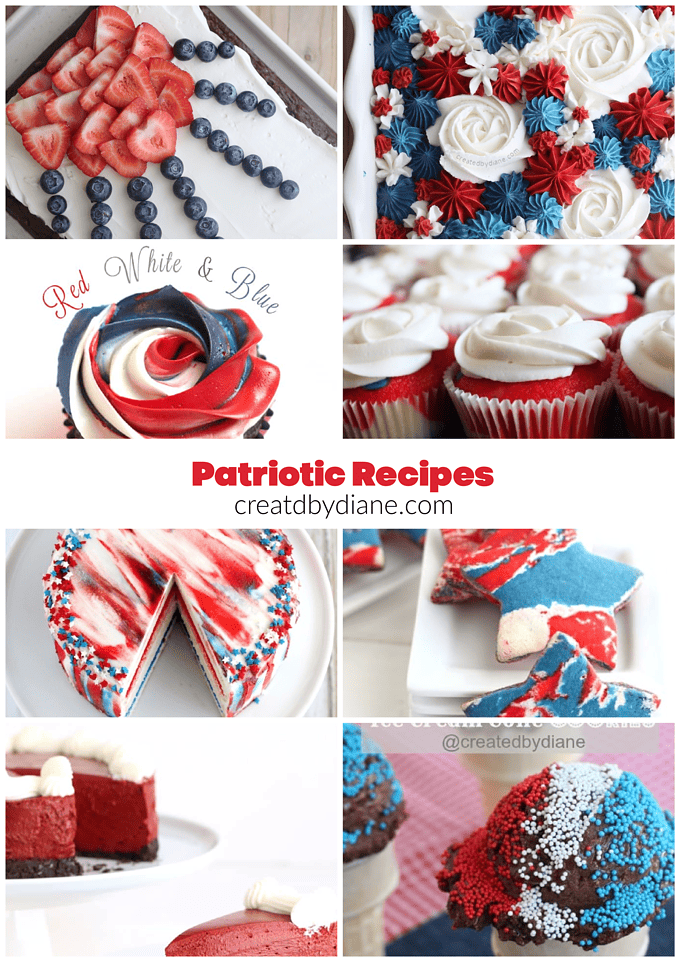 MORE Patriotic Recipes