Cherry Pie Cupcakes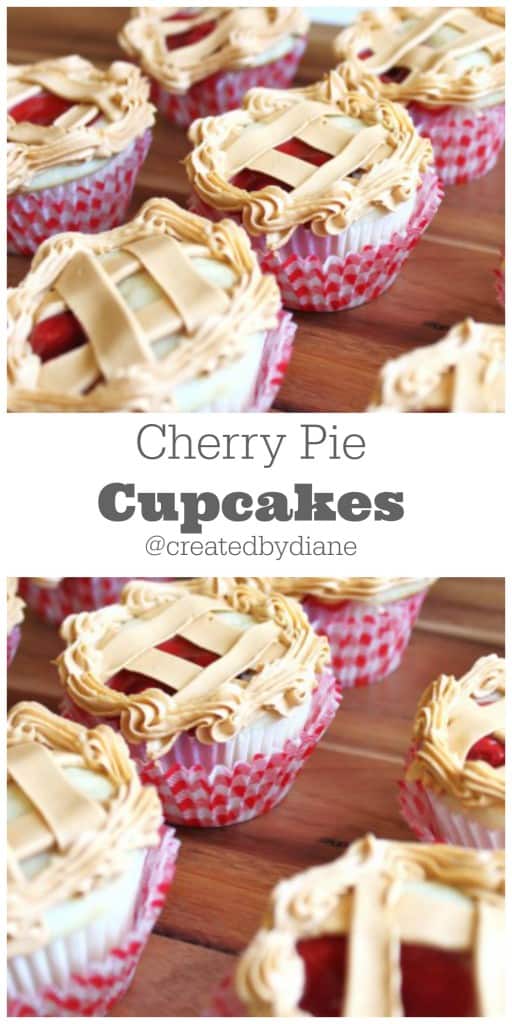 Oh if you like Cherry Pie, you will LOVE these Cherry Pie Cupcakes!
These are fun filled vanilla cupcakes with cherry pie filling and piped frosting like a pie crust.
These are sure to fill your cherry pie desires.
Check out these cherry pie cookies too.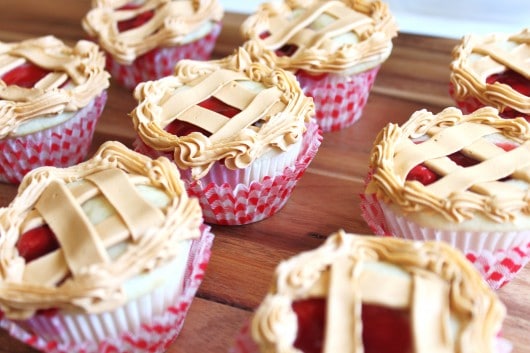 Cherry Pie Cupcakes
I love how bright red cherry pie looks and was thinking how cute it would be to have cherry pie topped cupcakes. One quick trick and I got the cherry filling to sit on top even after baked. Then piped frosting on to look like a pie. Loads of fun!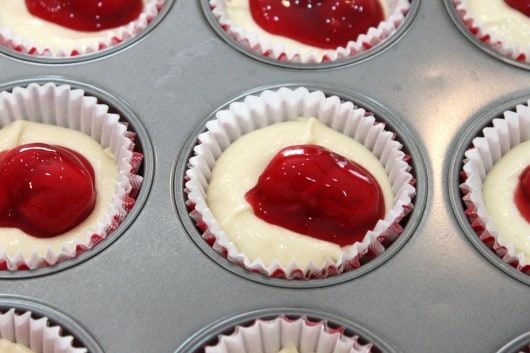 To be sure the pie filling would stay on top I added an extra cup of flour and it worked! To be sure the red gingham check cupcake papers stayed bright, I double lined the cupcake tins, first with white liners. Then with the red check liners.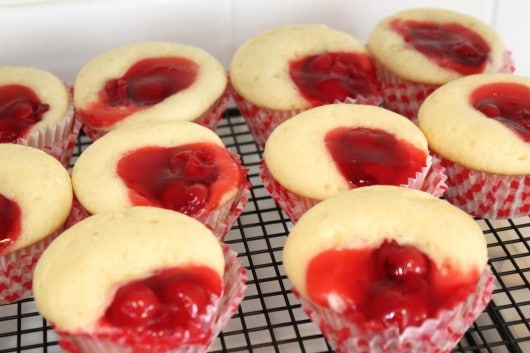 The cherry filling did go to the side a bit, but I wasn't too worried, I knew once the frosting was on, they would be ok.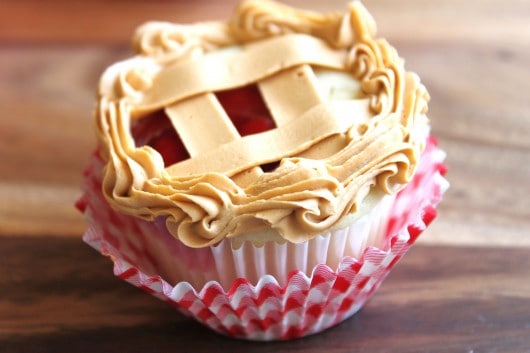 They were. I think the frosting was the cutest! Just the right amount too with the sweet cherry filling. The double papers looked to pretty! These would be perfect on any holiday table or even a picnic.
Cherry Pie Cupcakes
1 box French Vanilla Cake Mix
ingredients to prepare cupcake mix
1 cup flour
Buttercream Frosting
tip #104 and #18
1 21 oz can cherry pie filling ( or similar size)
Americolor food coloring egg yellow, ivory
Prepare cake mix according to package directions, add in 1 cup flour. Place three tablespoons batter into each section of the cupcake pan top with two cherries and some syrup. Bake according to package directions. Let cool. Mix frosting with food coloring, only a little bit is needed to achieve tan color. Pipe stripes first with tip #1-4, then change tip to #18 and do outside edge.
A great alternative to pie if you don't prefer pie. Me, I love pie. These are just a fun cupcake anytime!