Summertime calls for fresh strawberries…. always!   
They are so juicy and sweet this time of year and that means there is no better time to make this 1-hour strawberry shortcake recipe.
No better time to enjoy them, than on this delicious cake.
Some cakes take lots of time and fussing to make,
not this strawberry shortcake, it's ready in an hour.
Which I really think is PERFECT for so many occasions, perfect for when you have some company coming over and need to feed a crowd, perfect to send to the office if there is some celebrating going on. Perfect for summer BBQ's, throw on a few blueberries if you want to make more patriotic, and well if you know me at all it's just perfect to make for after dinner…
that way there will be PLENTY of leftovers to enjoy for breakfast… for days.
What?!? it's fruit and fruit and milk are perfect for breakfast and…
really cake, waffles, pancakes are all similar so
I say it's perfect for breakfast…
like I said this is THE PERFECT CAKE anytime… really.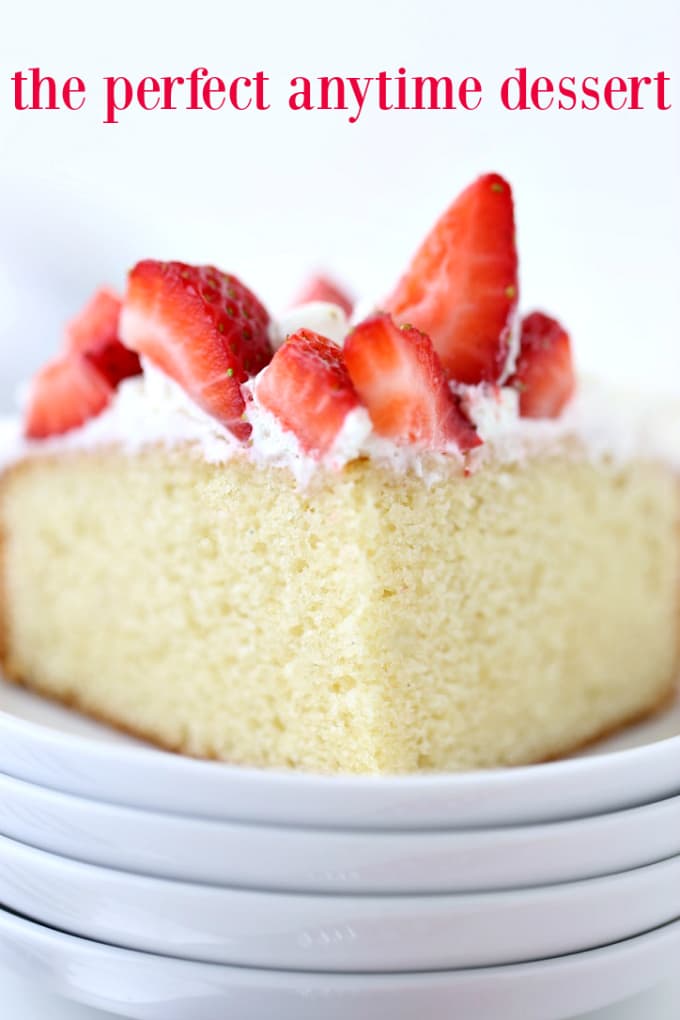 Oh you know you want to dig a fork right into this slice of cake and eat it… I know you do 🙂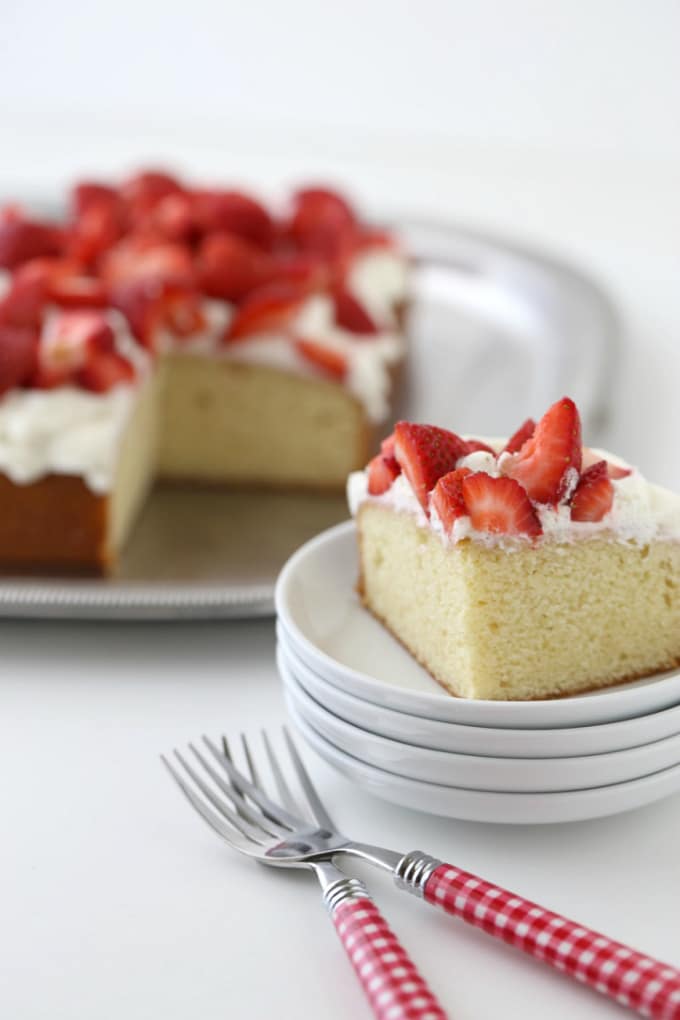 You can serve the cake on a tray, or right out of the pan.
You don't even need to use a knife if you don't want to you can stand around the kitchen with forks if you prefer!
This cake is sturdy and delicious, it's not a light fluffy cake, it holds up really well to the whipped cream and strawberries. The cake does not get soggy, which is one of my biggest pet peeves when it comes to fresh strawberries on a cake, I don't like it all mushy. I don't really prefer angel food cake with fruit for that reason, as its only good if you make it and serve it immediately.
And then what would I have for breakfast?!?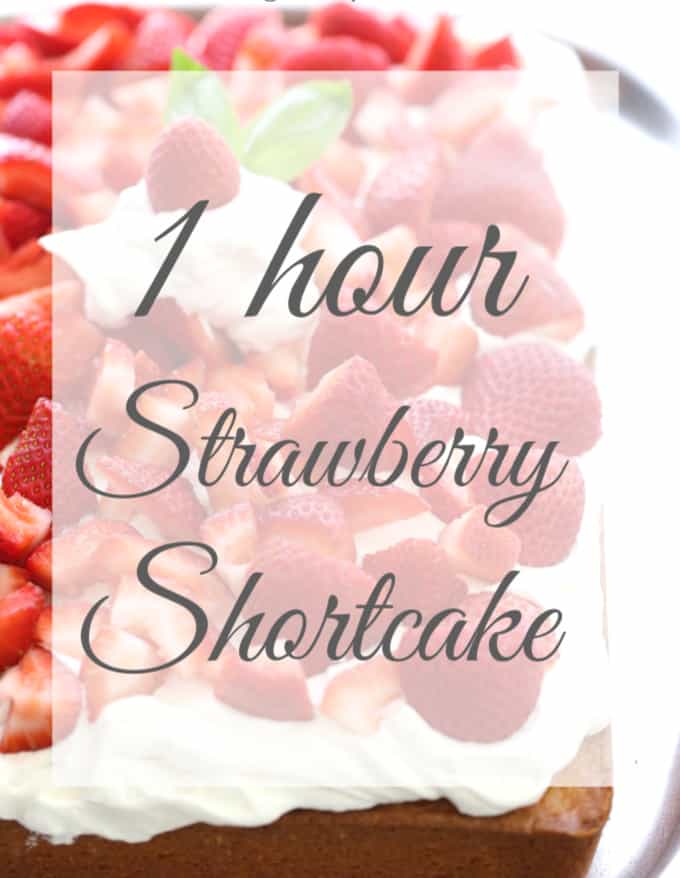 Strawberry smoothie is another great recipe using fresh strawberries!
Strawberry Curd, OMG great on so many baked items, it like pudding.
Strawberry Basil Lemon Smash, so delicious.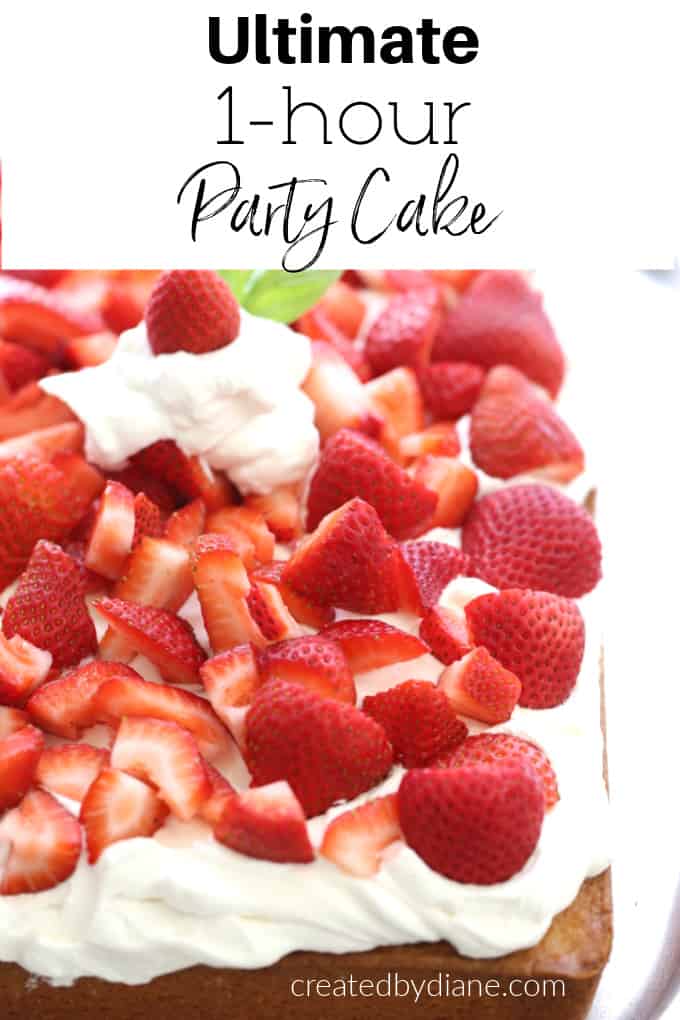 This is my favorite party cake, perfect for serving 6 and having leftovers 🙂 or serving 20. Fresh fruit is always a great idea, top it with your favorite berries.

1 hour Strawberry Shortcake
a great easy recipe for a 13x9 vanilla cake topped with stabilized whipped cream and strawberry, you'll never need to wonder what to serve again for dessert. Top with Blueberries or another fruit if desired.
Author:
Diane Schmidt Created by Diane
Ingredients
2 cups sugar
4 eggs
2 1/2 cups flour
2 1/2 teaspoons baking powder
1 cup milk
1/2 cup melted, cooled butter
1/4 cup oil
2 teaspoons vanilla extract, or bean paste
Top of Cake
16 oz fresh strawberries washed, dried, and cut
2 cups heavy cream whipped
up to 1/4 cup granulated sugar
2 tablespoons dry milk (to stabilize the whipped cream so it's won't be runny)
1 teaspoon vanilla (add a 1/2 teaspoon of lemon extract for a fun flavor option)
Instructions
Prepare a 13 x 9 pan with baking spray (use parchment on the bottom if you prefer and will be removing the cake from the pan to serve, not as essential if you will be serving it from the pan)
In large mixer bowl beat sugar with eggs to combine completely.
Add in flour, and baking powder and mix on low.
Add in milk, butter, oil, and vanilla, and mix until creamy.
Spread batter into prepared pan.
Bake at 350 degrees for 30-35 minutes or until a toothpick comes out clean.
Allow the cake to cool for at least 5 minutes if you will be removing the cake from pan and then place it on a cooling rack.
Top of Cake
Prepare whipped cream topping. In a large mixer beat COLD heavy cream with dry milk, sugar, and vanilla until medium-firm peaks form.
When the cake is cooled.
Spread whipped cream over top of the cake with an offset spatula, then top with fresh strawberries.