This 13X9 Chocolate Cake with Chocolate Cream Cheese Frosting is the perfect dessert for celebrating! Rich in chocolate flavor with the perfect creamy frosting to top it off, it's simple, sweet, and fits any occasion.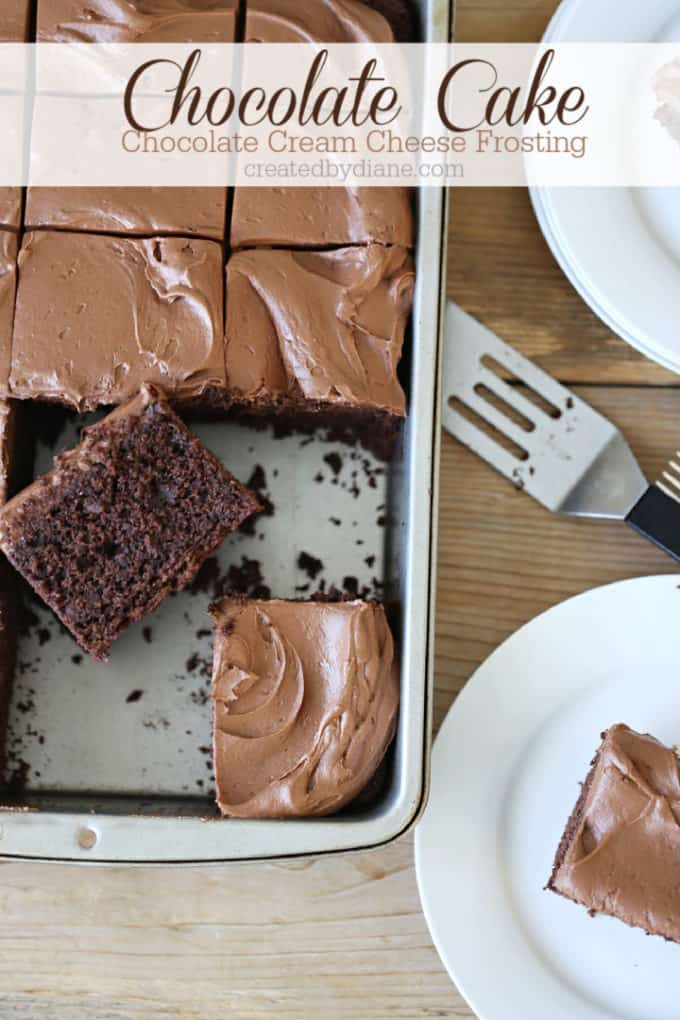 It is my opinion that everyone needs a fantastic 13×9 Chocolate Cake Recipe at their fingertips.
Not only because it's delicious (chocolate is ALWAYS a crowd-pleaser),
but also because it's incredibly simple to throw together.
Unlike layer cakes that require leveling and stacking, this 13×9 cake is frosted right in the pan it's baked in, making it doable for even a rookie baker.
It also makes for ease, easy of doing, ease of traveling with it, and you can bake it in a disposable aluminum pan for super-easy clean-up or for bringing to the beach… oh yes, this would be a HUGE hit for a beach day. Surprise everyone with a homemade cake… that's the way to spend a great day.
Personally, I also love that 13×9 cakes seem to stretch so much further than stacked layer cakes. Even though they're not technically MORE cake…they just seems to work a lot better for feeding a crowd.
It's for this reason that this chocolate cake recipe is my go-to for holidays and pot lucks. There's plenty to go around, and easy to serve. Perfect.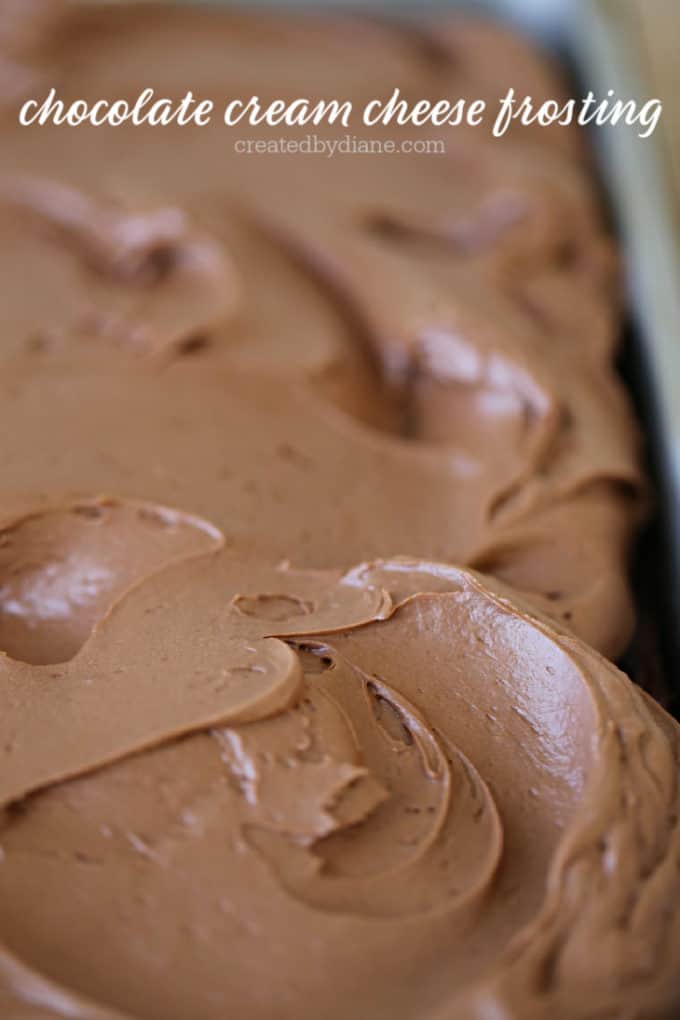 How to Make Perfectly Smooth and Creamy Chocolate Cream Cheese Frosting
When making homemade frosting, it is important to make sure that your butter and cream cheese are brought to room temperature first. Cold butter and cream cheese will often form lumps when mixing, which you definitely want to avoid!
Once the butter and cream cheese have been mixed together and are smooth, slowly add dry ingredients and cream, beating on low speed. Once combined, slowly increase mixer speed to high, and whip for about a minute.
Can You Freeze A 13×9 Cake?
You CAN freeze an UNFROSTED 13×9 cake for up to 3 months. To freeze, simply bake and cool your 13×9 Chocolate Cake COMPLETELY. You want that cake to be room temperature!
Keeping the cake in the pan, tightly wrap in plastic wrap and then cover in a tight layer of foil. When ready to serve, thaw to room temperature (this should take a few hours), and frost.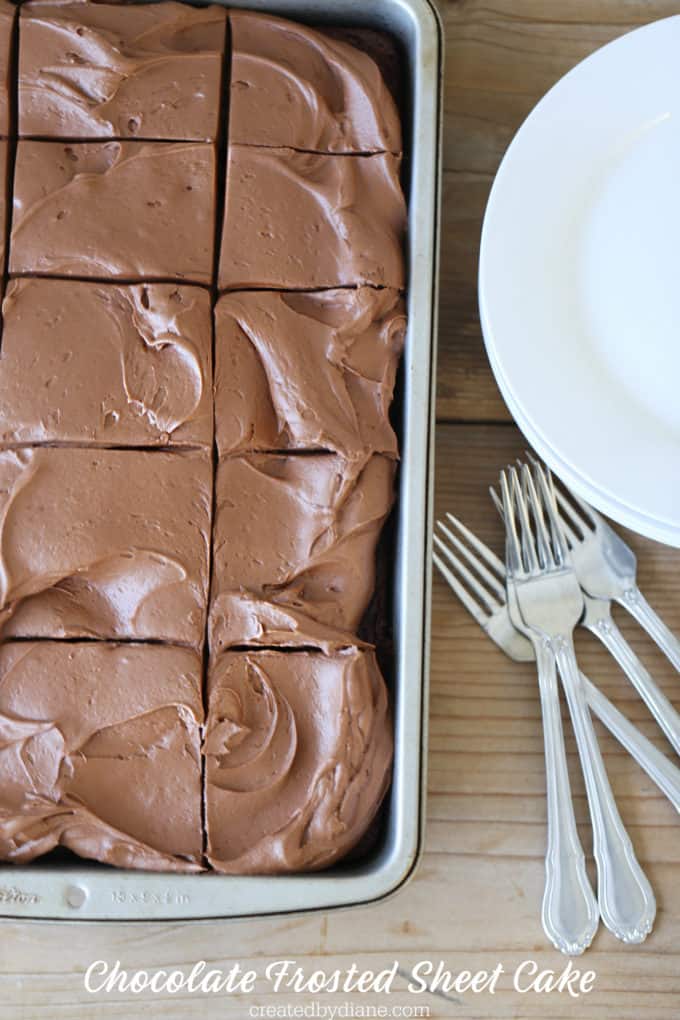 How to Store 9×13 Chocolate Cake
Due to the dairy in the Chocolate Cream Cheese Frosting, this cake will need to be stored covered in the refrigerator, where it will stay fresh for about 4 days.
How Can I Decorate a 9×13 Cake?
Piping frosting on a cake can be intimidation, the lack of tools or the patients to do so hold us back…
To make this 9×13 Chocolate Cake worthy of a celebration, just simple slather the frosting on top and spread it smooth with an offset spatula, or use the back of a spoon to create swirls, you could easily decorate the cake by adding sprinkles, mini chocolate chips, or fresh fruit after frosting.
If not serving immediately, wait to add your fruit until just before serving. Cherries or chocolate dipped strawberries would be the perfect addition to this 9×13 Chocolate Cake Recipe.
Other toppings for this delicious chocolate cake
This cake would be great topped with nuts, I love chocolate and salty peanuts together…  coconut or toasted coconut is another great topping… or even a dusting of powdered sugar. Have you seen those cake stencils, you put it down and put powdered sugar or cocoa on top, then lift the stencil and whamo… a fun decoration.
Me… I like simple so cut a heart our of a piece of parchment paper and use that for an easy stencil, or pile the sprinkles into the heart area for a fun topping.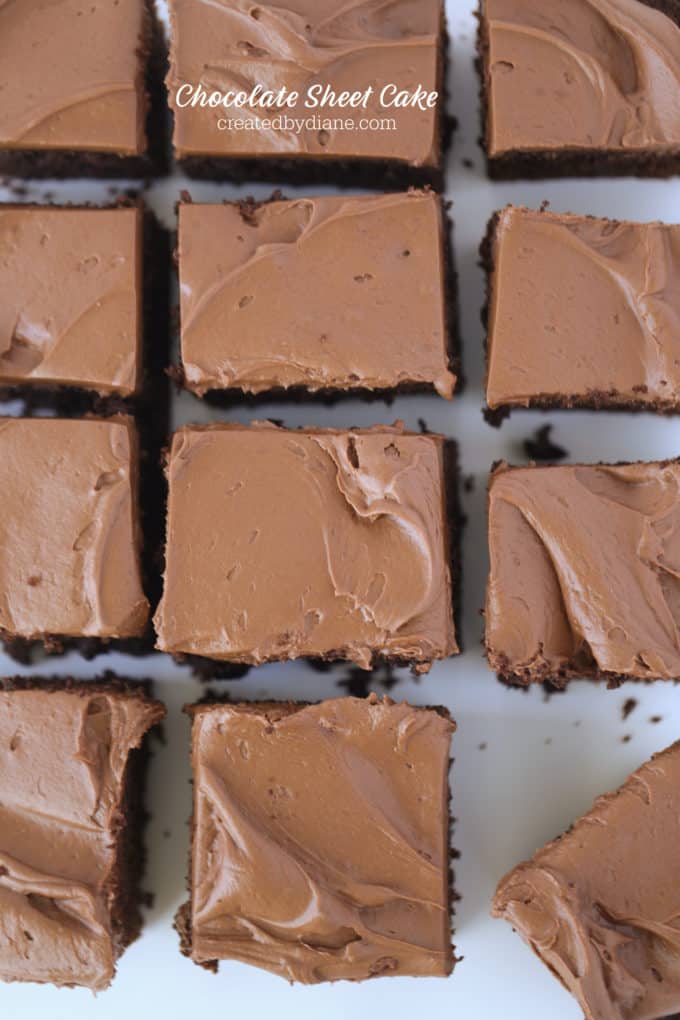 If you're looking for more cake recipes, I've got plenty! Here are a few of my favorites:
Sheet Cake: 1/2 sheet cake size pans are about 13″x 18″ if baked in this style pan, the cake will bake a little quicker and be thinner.
13x9 chocolate cake with chocolate cream cheese frosting
A delicious chocolate cake with a creamy chocolaty cream cheese frosting slathered over the make the perfect cake.
Author:
Diane Schmidt Created by Diane
Ingredients
1/2 cup butter, room temperature
2 tablespoons oil
1 1/2 cups sugar
3 eggs
2 1/4 cups all-purpose flour
3/4 cup unsweetened cocoa
1 1/2 teaspoons baking soda
1 teaspoon salt
12 oz milk
1 tablespoon vinegar
1 cup mini chocolate chips (optional)
chocolate cream cheese frosting
1/2 cup butter, room temperature
4 oz cream cheese, room temperature
1/2 cup unsweetened cocoa
3 cups powdered sugar
2 tablespoons heavy cream
Instructions
Preheat oven to 350°
Prepare a 13x9 baking pan with a baking spray or shortening and flour.
In a bowl with a mixer cream butter, oil, and sugar.
Add in eggs and mix until combined completely.
In a medium bowl mix flour, cocoa, baking soda, and salt.
In a liquid measuring cup mix milk with vinegar and stir.
Alternate the flour mixture and the milk mixture, add each to the egg mixture beating until the mixture is all smooth.
Stir in mini chocolate chips if you're adding them.
Pour batter into prepared baking dish.
Bake for 35-40 minutes or until a toothpick comes out clean.
Cool in the pan completely or cool for 15 minutes then turn out to cooling rack if you don't want to serve it in the pan.
Chocolate cream cheese frosting
In the bowl of a mixer cream butter with cream cheese, add in cocoa, powdered sugar, and heavy cream. Beat until smooth and creamy.
Spread frosting over the completely cooled cake. Swirl with an offset spatula or the back of a spoon t creates a pretty pattern.