Even the smallest things need celebrating… make CAKE! This simple 1 layer vanilla cake recipe will become your go-to cake!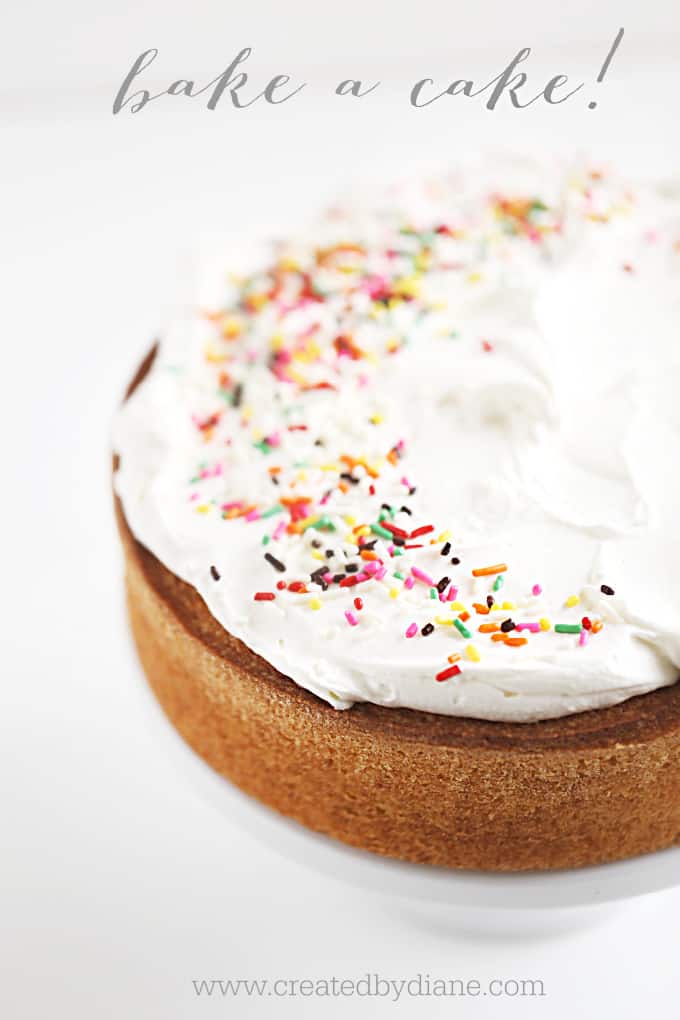 Trust me, this is the best vanilla cake… and you can top it with anything you'd like,
I used a stabilized whipped cream frosting but there are so many frosting that would be perfect on this cake, how about my chocolate malt frosting... so yummy. If you're an Oreo fan be sure to take a look at my Oreo Frosting.
No matter if the celebrating is big or small there should ALWAYS be cake!
This is the perfect cake for every day celebrating…
it has a delicious flavor and smells AMAZING!
It's a perfect size and serves about 10 depending on how large you slice it, it's 8″ round and a single layer which means it's ready quickly and is easy to make and decorate, even non-cake-decorator-types will love it!
I topped it with some stabilized whipped cream and sprinkles, you can customize it any way you like…
chocolate chips, strawberries, blueberries or add some coconut!
Some of my other favorite cake recipes:
Apple Cake Oh, it's so delicious and should go on you must make list.
Pumpkin Cake which is perfect all year long so grab some pumpkin and get baking!
Carrot Cake mmm… so yummy!
This recipe is the one to go to, again and again, you can simply use a whisk and bowl to make it, or use an electric mixer.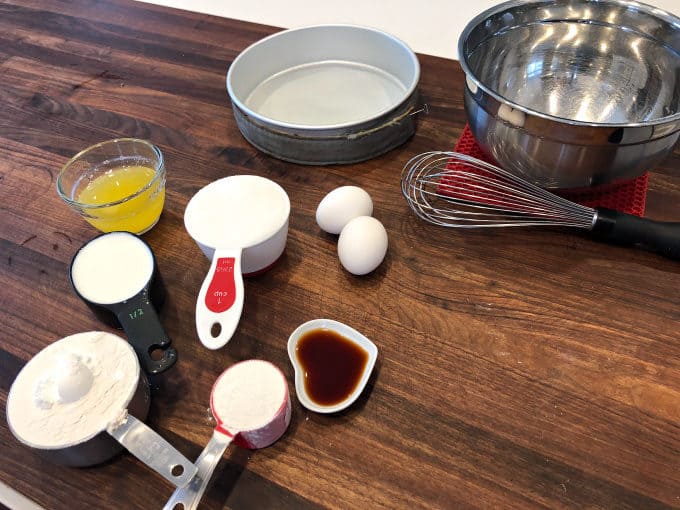 It's always a good idea to gather all the necessary ingredients and measure them out before beginning.
The mixing will go quicker, you won't be inclined to forget anything and you won't get distracted and forget a step or ingredient.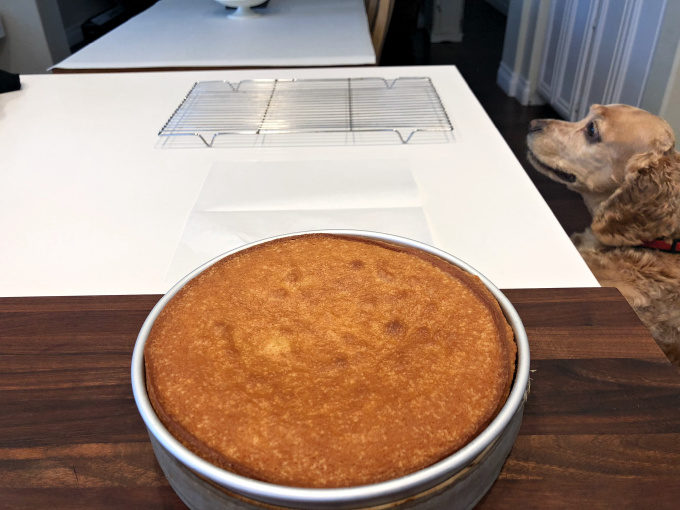 Once the cake is baked, I find it easiest to cool the cake for 10 minutes. Then have a piece of wax paper and a cooling rack ready. Turn the cake onto the wax paper by turning the cake upside down, onto the paper. 
Then hold the rack over the cake, and flip the cake and the rack over to make the cake right side up to continue to cool all the way before frosting. 
This method ensures that the cake will release easily and evenly as long as you've prepared the pan for a proper release. I use a baking spray it's a combination of oil and flour, I use Baklene brand. You can use shortening and flour as an alternative. A thin even coating is the best way to prepare the pan.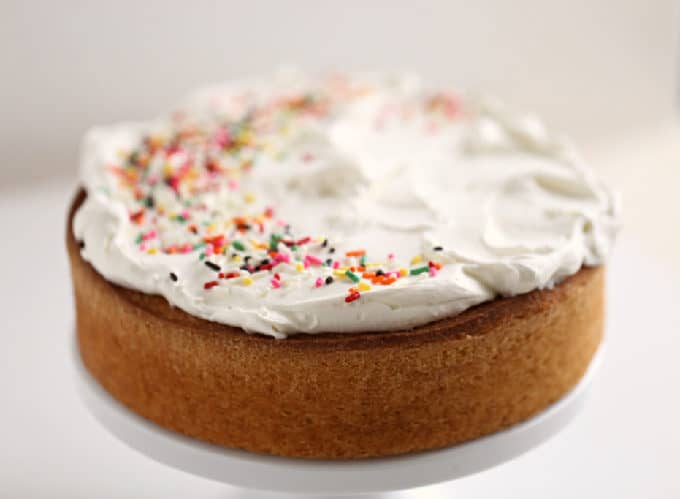 Wrap the pan with a bake even strip and secure it with a T-pin or use a strip cut from a towel to fit eh pan. Wet the strip, wring it out. This will help the cake bake evenly, there is no trimming or leveling needed.
Did you notice my little helper?
He's so funny, he would just love a piece of this cake (or the whole thing I'm guessing)
He's always by my side, he likes keeping me company in the kitchen and well…
he's so cute,
I can't resist his charm!
Now back to the cake… and the delicious frosting.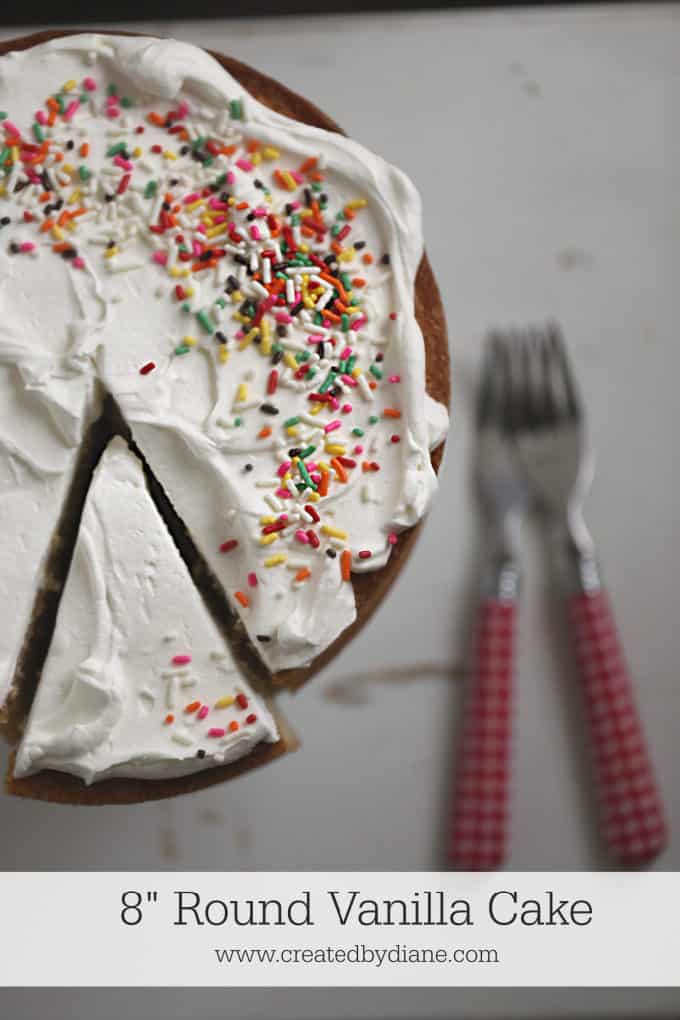 The frosting is a stabilized whipped cream, I add some dry milk to the heavy cream and powdered sugar, this ensures the whipped cream won't "weep" or get wet on top of the cake.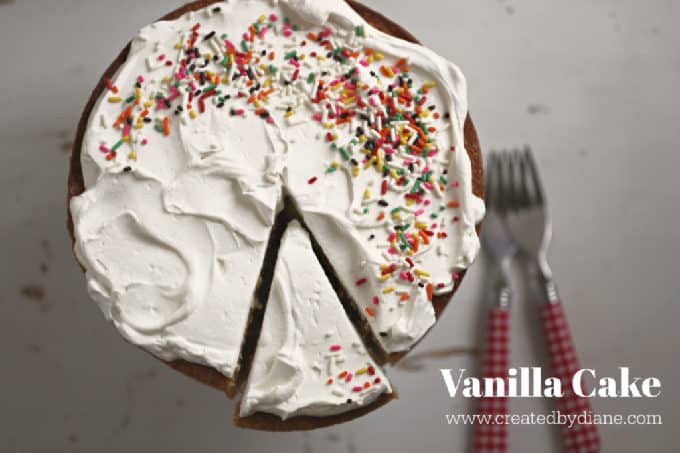 This whipped cream not only tastes delicious it stays great on the cake for days in the fridge, which you may know is not typical with regular whipped cream which only stays good for a few hours.
HERE is the VIDEO for this cake!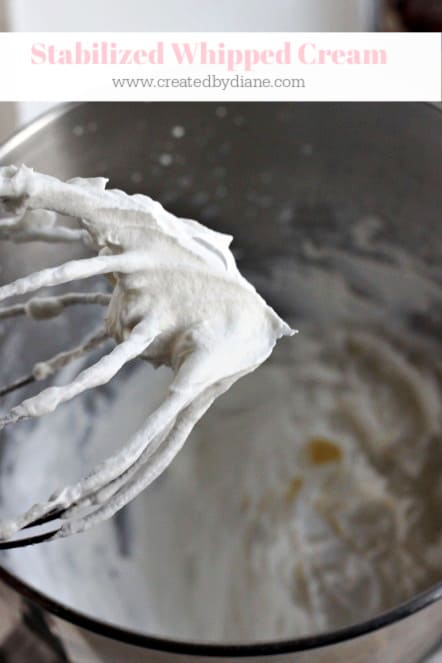 You can find more on stabilized whipped cream in my post HERE
If you're looking for an 8″ Chocolate Cake recipe Click HERE.
You can use this 8″ single-layer cake recipe to make 12 cupcakes.
Let's talk salt… I use salted butter. If you use unsalted butter add 1/4-1/2 teaspoon salt to the recipe.
8 Inch Round Vanilla Cake
a great round vanilla cake with stabilized whipped cream frosting, perfect for an after-dinner treat, or for small parties and family gatherings.
Author:
Diane Schmidt Created by Diane
Ingredients
1 cup granulated sugar
2 eggs
1-1/4 cups flour
1-1/2 teaspoons baking powder
1/2 cup milk
1/4 cup melted butter (I use salted, if using unsalted add 1/4-1/2 teaspoon salt)
2 tablespoons oil
1 tablespoon vanilla
Instructions
Preheat oven to 350°
You can mix this cake by hand with a whisk, or with an electric mixer.
Prepare one 8 inch round cake pan with a baking spray (or grease and flour pan)
wrap a wet baking strip or towel around the outer edge of pan to ensure even baking
In a medium bowl, whisk sugar with eggs until fluffy and lighter in color.
Add in flour, baking powder and whisk to combine and start pouring in the milk, butter, oil, and vanilla and finish mixing it all in without over mixing.
Pour batter into prepared baking pan
Bake for 30 minutes, then test until a toothpick comes out clean.
Allow cake to cool in the pan for 10 minutes, then turn out onto a piece of wax paper, then turn again right side up on a cooling rack to cool completely.
Spread whipped cream over top of the cake (printable recipe follows) with an offset spatula to create swirls to give it a fluffy look.
Top with sprinkles.
Place in the fridge until ready to serve.
Remove cake from fridge 15 minutes before serving
Notes
estimated weight conversion for this reicpe:
1 cup sugar =200g
2 eggs
1 1/4 cup all purpose flour =156.44g
1 1/2 teaspoon baking powder=6.65g
1/2 cup milk=122.43g
1/4 cup melted butter=29g
2 tablespoons oil =28.39g
1 tablespoon vanilla extract =13g
Stabilized Whipped Cream for 8" round vanilla cake
a creamy and delicious frosting that is not overly sweet, stabilized so it won't go flat or get watery, it's the perfect frosting.
Author:
Diane (Created by Diane)
Ingredients
Stabilized Whipped Cream
1 cup heavy whipping cream
2 tablespoons dry milk
2 tablespoons powdered sugar
1-2 tablespoons rainbow sprinkles
Instructions
Whipped Cream
Whip heavy cream with an immersion blender or electric mixer with powdered milk and powdered sugar, until it's thick and peaks form when the whisk attachment when pulled away.
The powdered milk with help keep the whipped cream from getting "watery" it stays well for days in the fridge.
This can be spread over the cake, then add sprinkles. Refrigerate and take out 20-20 mintus before serving for best flavor of cake and frosting.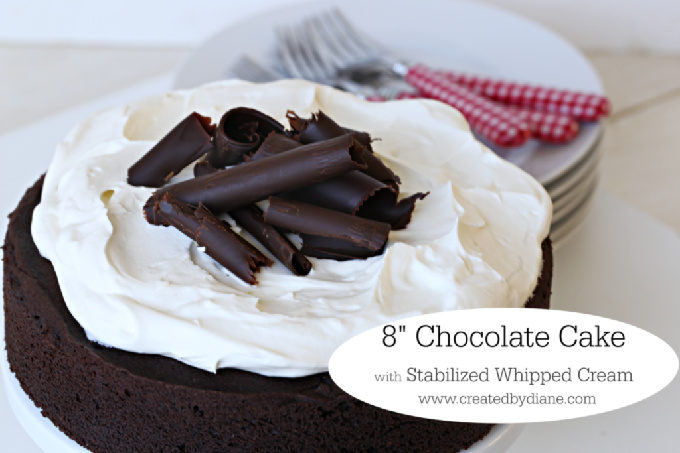 CLICK HERE for my Single Layer Chocolate Cake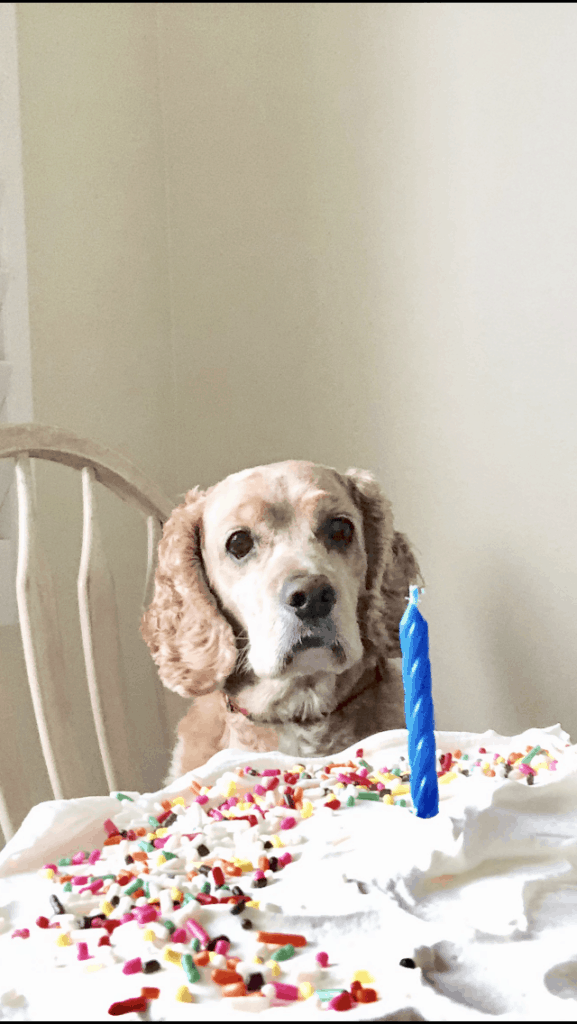 If you'd like to see more of my dog, Charlie you can follow him on Instagram @sweetcharliedog and while you're there take a look at my Instagram @createdbydiane.