Summer has come and nothing cuts through the heat like fresh lemonade. I've added some zing to this one with sweet strawberries and bourbon, making this Strawberry Bourbon Lemonade a cocktail you'll reach for again and again.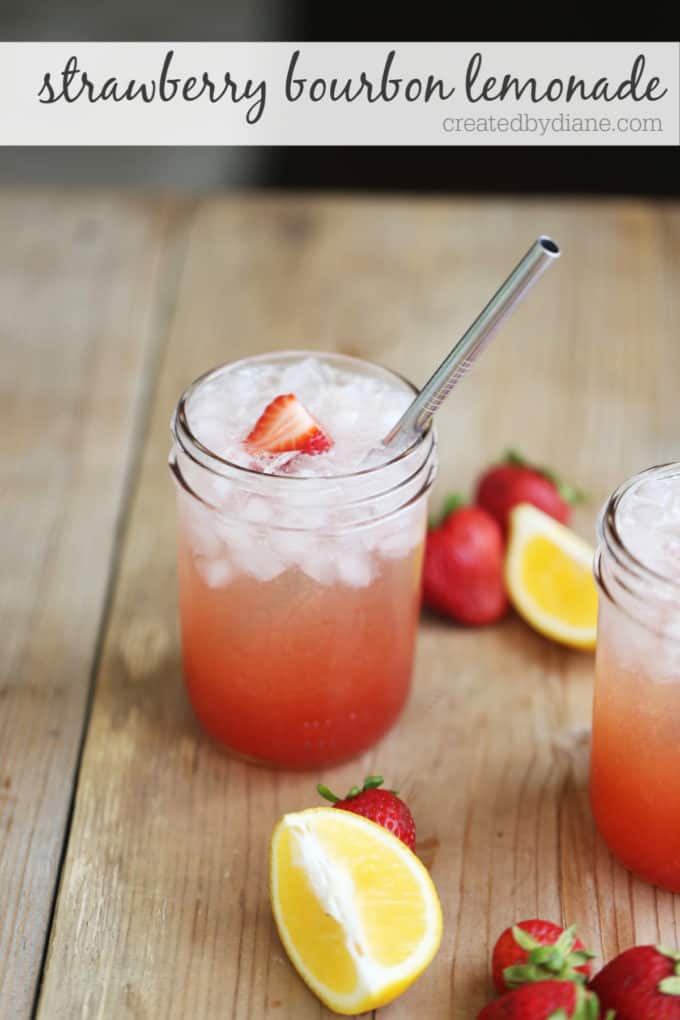 Whatever way you decide to enjoy this drink, your taste buds are sure to be delighted. Use the syrup or fresh strawberries in Italian Cream Sodas, Margaritas, or use it in Strawberry Milk for an indulgent childhood treat.
Alternately for a less sweet, lower carb option, you can simply muddle whole, ripe strawberries at the bottom of the glass, skip the lemonade and use fresh lemon juice and add in the seltzer, use lemon seltzer if you'd like.
And experimentation is a good way to keep your drink index fresh and never get bored with one thing. I have many mouth-watering varieties of syrup recipes which can be added to all kinds of beverages to spice it up, like this cherry margarita which is also a great alternative this time of year. Embrace summer fruit and enjoy!
Your kitchen is your creative world, explore, and have fun! And now on to the sweet stuff.
This drink is silly simple to make but offers distinguished flavors. First, grab your favorite 16 oz glass and place ½ cup ice inside.
Next, pour strawberry syrup over the ice, add the bourbon and pour in the lemonade or lemon juice and top it with the seltzer.
Finally, sit back and enjoy the fruits of your labor (pun intended)!
A note to consider:
The colder the ingredients, the colder the drink will be. If your ingredients are warm or room temperature, I'd add 1 cup of ice to another glass, and then add all the other ingredients. This is where it can be fun. Cap it with a larger glass or lid if using a ball jar, and shake, shake, shake! You want it to be COLD! Strain it into your serving glass with ½ cup of ice.  Alternately, you could just stir the drink until well mixed, strain into your serving glass with ice and enjoy.
I receive questions from time to time and I like to address them as soon as I'm able. So, inquiring minds would like to know: 
Can I use another whiskey aside from Bourbon?
Yes, you could easily replace the Bourbon with a Rye or Blended whiskey. The differences are subtle but worth noting. Bourbon is slightly sweeter with hints of vanilla and caramel, where Rye is much dryer and has a spicy, bolder taste. For this reason, a Blended whiskey, closer to bourbon in flavor, maybe the best replacement.
What brand of Bourbon is used?
I like Angel's envy and Bulleit Bourbon, but always have some Makers Mark in my pantry as well. Choose your favorite.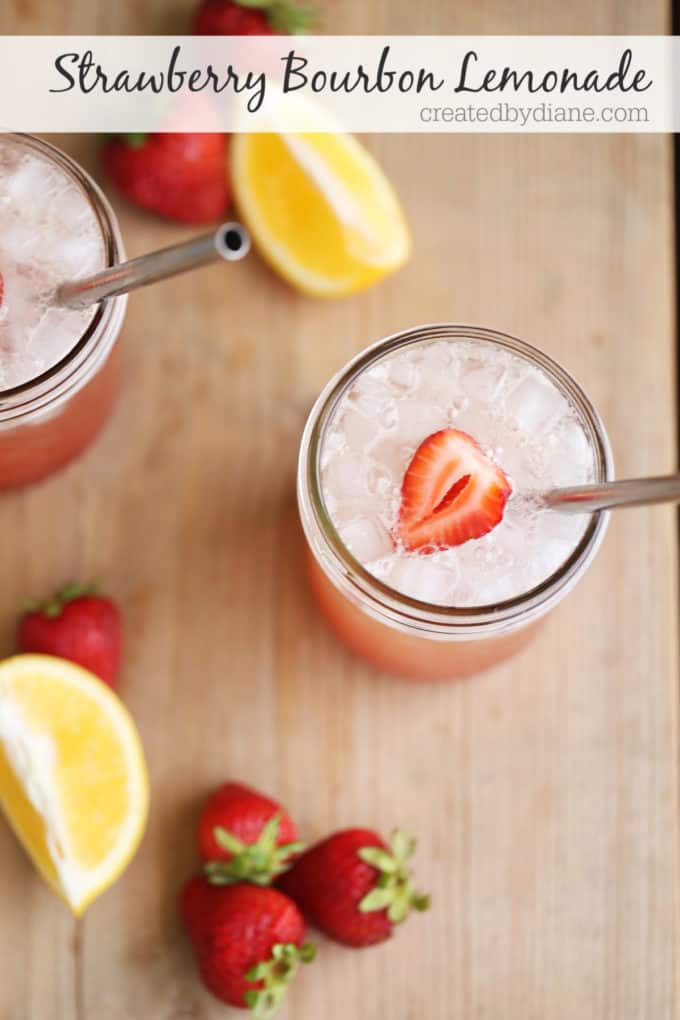 How long will the Strawberry syrup last in my fridge?
You can store the syrup for up to 3 weeks in the refrigerator….if you can contain yourself.
When strawberries aren't in season, can frozen be substituted?
Yes,  the flavor may not be as good as when strawberries are in season, but often frozen are sweet and tasty. Then make the syrup and use in a drink recipe, or on top of pancakes or ice cream – there are so many delicious ways you can consume it!
Be sure to check out some of my other BOURBON recipes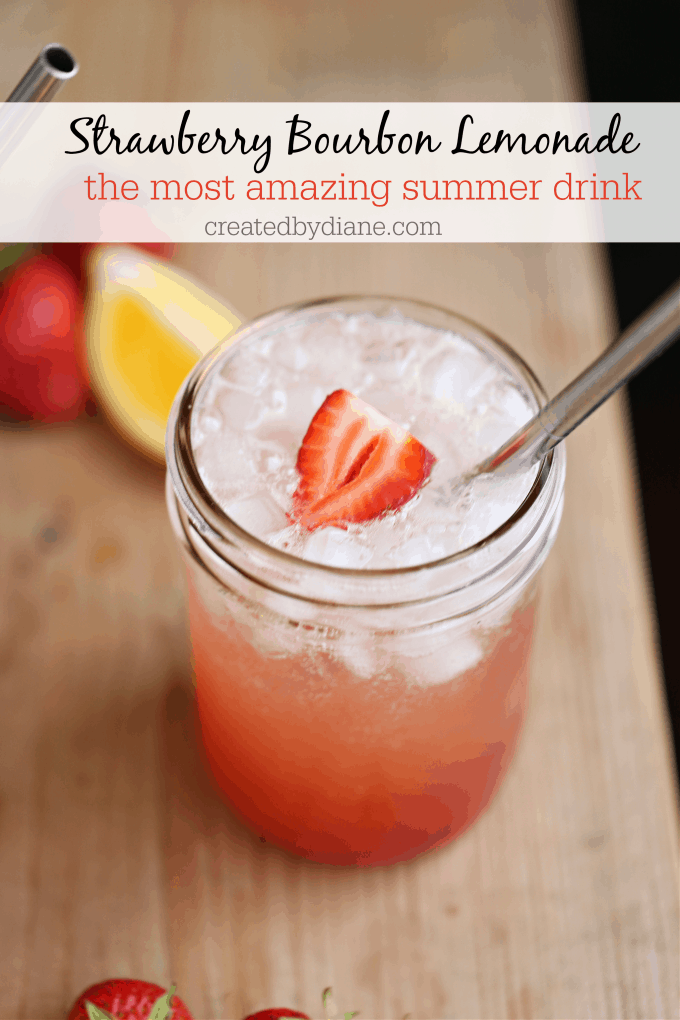 There are many ways you can mix this drink up, I'll share my favorite option, made with homemade strawberry syrup. However, if you're in a time crunch, you can purchase this one, it has a summer strawberry flavor that will absolutely suffice.
Strawberry Bourbon Lemonade
A delicious spiked strawberry lemonade that is the perfect cocktail for summer enjoyment. 4 simple ingredients to this great fizzy drink.
Author:
Diane Schmidt Created by Diane
Recipe type:
beverage, cocktail
Ingredients
2-3 tablespoons strawberry syrup (homemade or purchased) or 3 rice strawberries mashed.
2 oz bourbon
4 oz lemonade or 1 oz fresh lemon juice if you want a lower sugar version or whiskey sour style
4 oz seltzer (sparkling water)
Instructions
Place about 1/2 cup ice in a 16 oz glass.
Pour the strawberry syrup over the ice, then add the bourbon, pour in the lemonade or lemon juice and top it with the seltzer.
The colder the ingredients the colder the drink will be. If everything is warm I'd add 1 cup of ice to the glass add all the ingredients and mix it up good, then strain it into a glass with 1/2 cup ice to serve.