Keeping me cool through the summer heat is this refreshing chilled Strawberry Lemonade Mimosa! It's a crowd pleaser and simply perfect for chilling by the poolside or watching the stars on warm summer nights.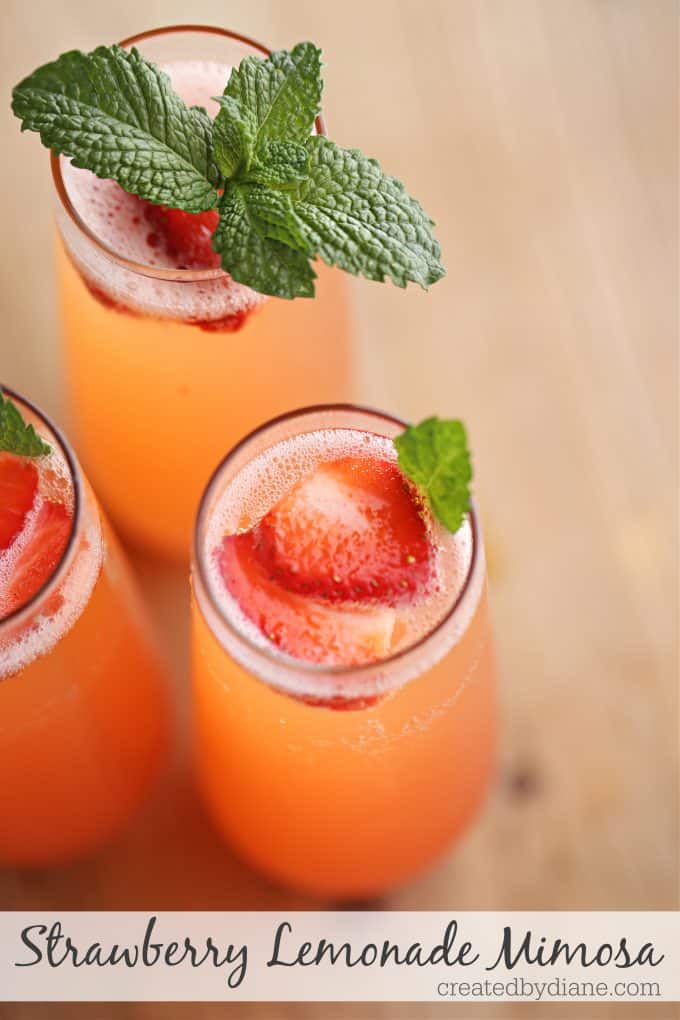 No more orange juice only mimosas…. kick up your mimosa game with these, they're irresistible!
Originally named after the yellow-flowered mimosa plant, the combination of sparkling wine and orange juice has been popular in Spain for centuries, eventually becoming synonymous with brunches all over the U.S. And if oranges are delicious in them, why not strawberries?
The result is absolutely tongue tingling delicious.
Making the strawberry syrup from scratch gives this drink a crisp flavor and it only takes a few minutes to make! You can find it here. Though I prefer making the syrup with fresh, ripe strawberries, sometimes we need those extra few minutes which is why I made this drink recipe with alternatives in mind.  A pre-made strawberry syrup-like THIS one can easily be substituted and is great in a pinch, it is made with natural flavors, though it does contain additives.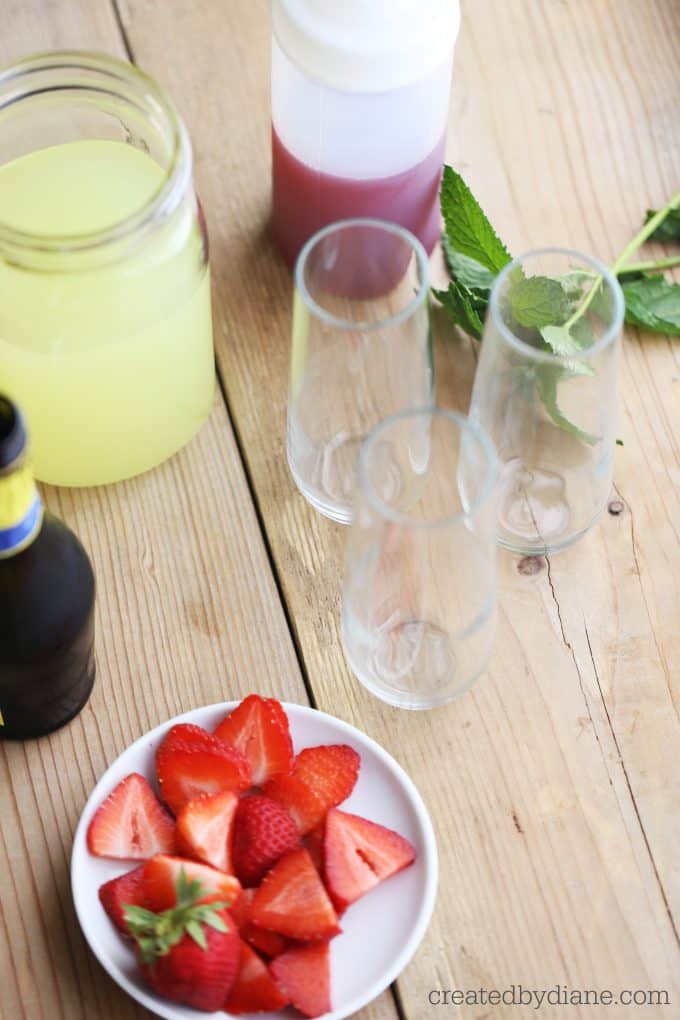 And if you're feeling fancy, or playing host to friends or family, these are the stemless champagne flutes I use and really love how simple and classy they are!
 Making these Mimosas is a cinch and requires no big mixing container, you just spoon 1-2 tablespoons of the strawberry syrup into the bottom of each flute, according to your sweet tooth. Then mix a little lemonade and stir until combined. 
Top off the glass with pre-chilled, ice-cold prosecco or champagne depending on your tastes. A Brut Champagne would add a dryer element, while Prosecco will be juicier. And if you're looking to exclude the alcohol altogether, Seltzer makes a great substitute. No matter what you choose, make sure to serve it ice cold!
And we eat and drink with our eyes too so adding fresh strawberries and mint as a garnish will elevate this drink and add some elegance.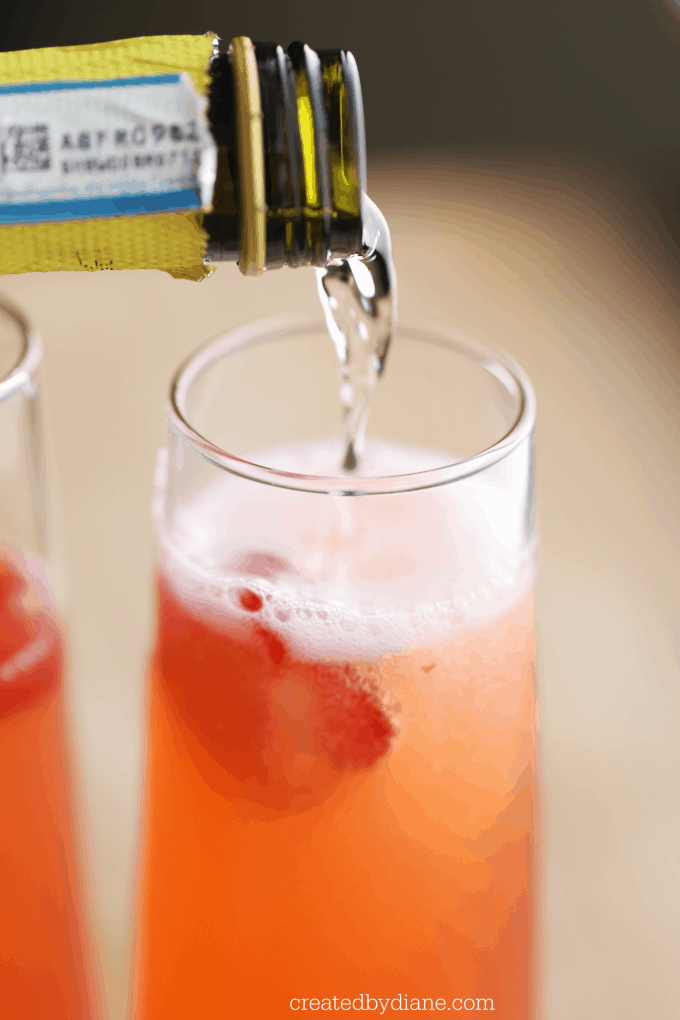 Can I use the Strawberry syrup in other drinks?
Yes! In fact, many of my syrups are versatile and can be used in a myriad of ways! You can get creative and view some syrup and drink ideas here. And it'll give your other flavor options for mimosas too.
What's the best way to chill my champagne?
The most convenient way is the fridge for at least two hours prior to opening. But according to Maison Champagne, it's in an ice bucket as it drops the temperature of the drink gradually to allow it to stay there for 2 ½ to 3 hours. To do this, the bucket should be filled to within an inch from the top with half ice half water. Allow at least two hours for a Champagne at room temperature — 40 minutes for a bottle that is cold but not chilled. NEVER put it in the freezer!
Smaller bottles will chill faster, and they don't' take up tons of space in the fridge, so hide a few in the back of your fridge!
Can these be made ahead?
You could premix your lemonade and syrup, but you want the bubbly to be, well bubbly! Even if you're going sans alcohol, seltzer is best served bubbly and chilled as well! Flat Prosecco, Champagne, and Seltzer is like flat beer, it's never invited to the party. So be sure to add the bubbly last!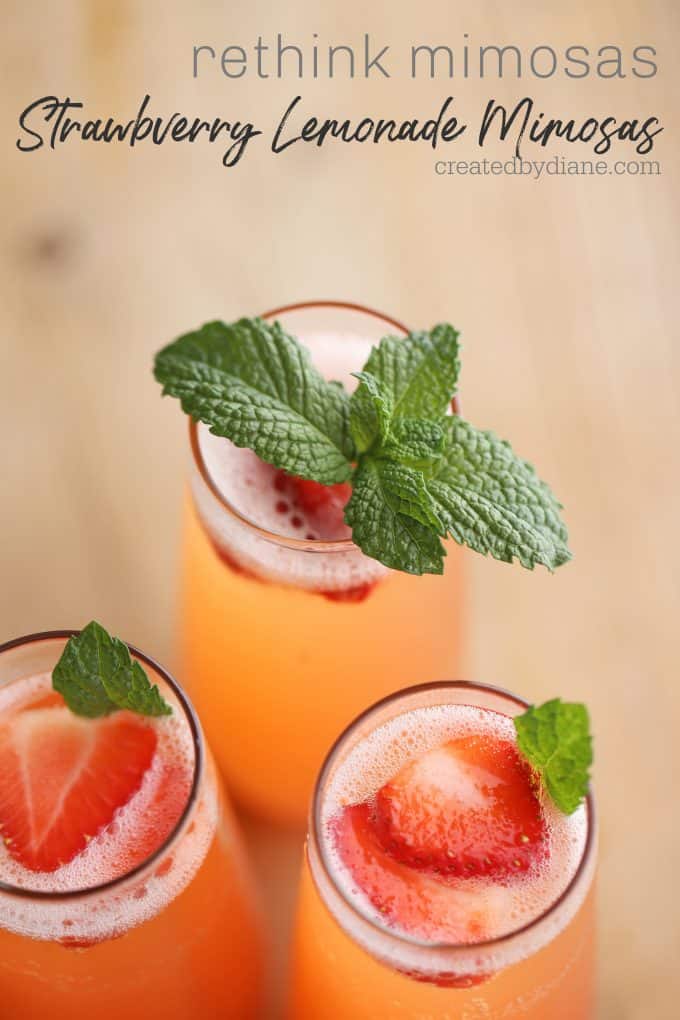 One great thing about mixing drinks is it's all about personal taste:
You can make this drink more, or less sweet by modifying the amounts of lemonade and/or syrup.
A small 6oz bottle of Prosecco or champagne will yield 2-4 small drinks, perfect for a brunch date with friends!
Strawberry Lemonade Mimosa
A new twist on a mimosa with the flavors of strawberry and lemonade makes for the perfect all day long mimosa.
Author:
Diane Schmidt Created by Diane
Recipe type:
Beverage, Cocktail
Ingredients
Strawberry syrup
lemonade
prosecco or champagne or seltzer or sparkling water for a cocktail (be sure this is cold)
garnish
fresh strawberries
fresh milk leaves
Instructions
Place 1-2 tablespoons of strawberry syrup in the bottom of each glass, add the lemonade and give it a stir.
Then top it off with prosecco or champagne (or seltzer)
Garnish with strawberries and mint and serve.
Notes
1/4-1/2 cup strawberry syrup
1-2 cups lemonade
1 small bottle bubbly (prosecco/champagne), or more if you want the drinks less sweet add less lemonade.
The small bottles of prosecco are about 6 oz. great for 2-4 small servings