There is no better time to make this easy blueberry galette than right NOW! If you love blueberry pie, you're going to love this. It takes only minutes to put together, and in about an hour you can be enjoying it.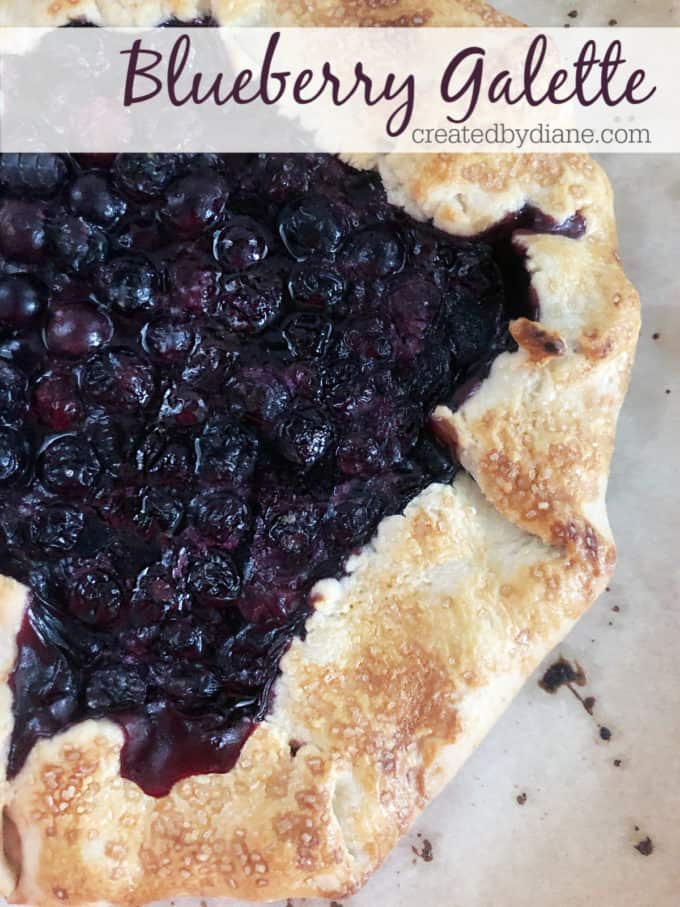 I'm all about pie…
If you ask me morning, noon, or night… if I want pie… my answer will always be YES!
It's hard to resist but I don't always want a huge pie staring me in the face… that is where this easy blueberry galette comes in…
What is a Galette you might ask?
It's a rustic pie, it is thinner than traditional pie and no pie plate is needed, you can bake it on a baking sheet. You don't need to make the pie crust perfect, you don't even need to fuss with homemade crust if you don't want to, you can purchase one and simply unroll it. Add the filling and bake.
OMG, it really is that easy.
I make pie crust often and don't find this method difficult at all MY PIE CRUST RECIPE Print the recipe it will make 2 pie crusts you and refrigerate or freeze the second one to use later) or use a purchased crust, Pillsbury brand works well.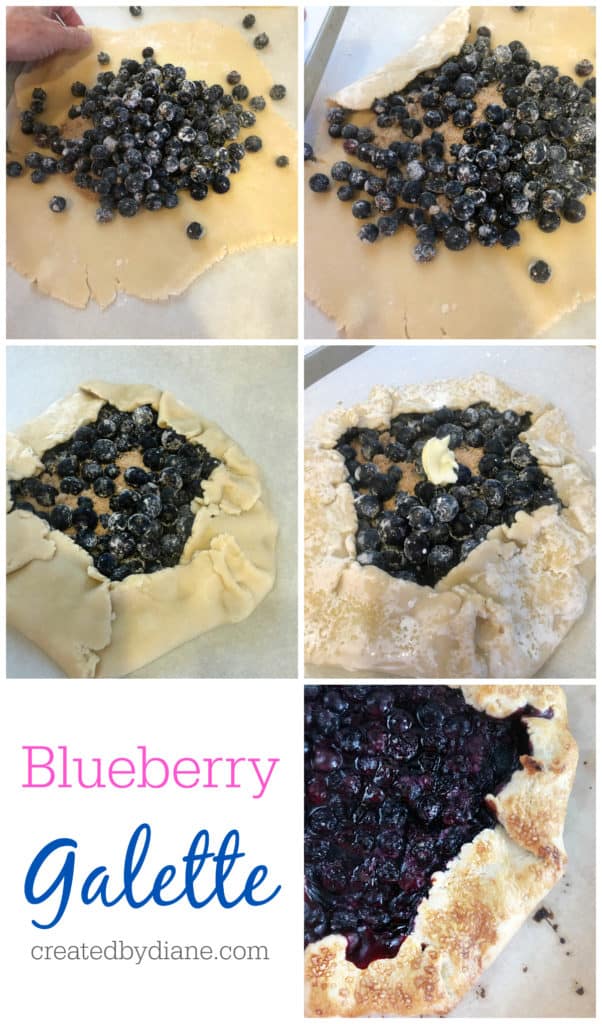 Will the bottom of this galette be firm?
Yes, the pie bakes at a high temp and it browns nicely on the crust on top and on the bottom. 
Homemade baked goods are always a good idea if you ask me, I love enjoying it with some whipped cream on top.
>> This is the kind of dessert you can make ahead of time and bake, and then just reheat it just before serving if you'd like, or serve it at room temperature with ice cream or whipped cream. You can also make the dough ahead of time, and then assemble it all as your clearing the dishes and before you know it, it's piping hot out of the oven ready to enjoy.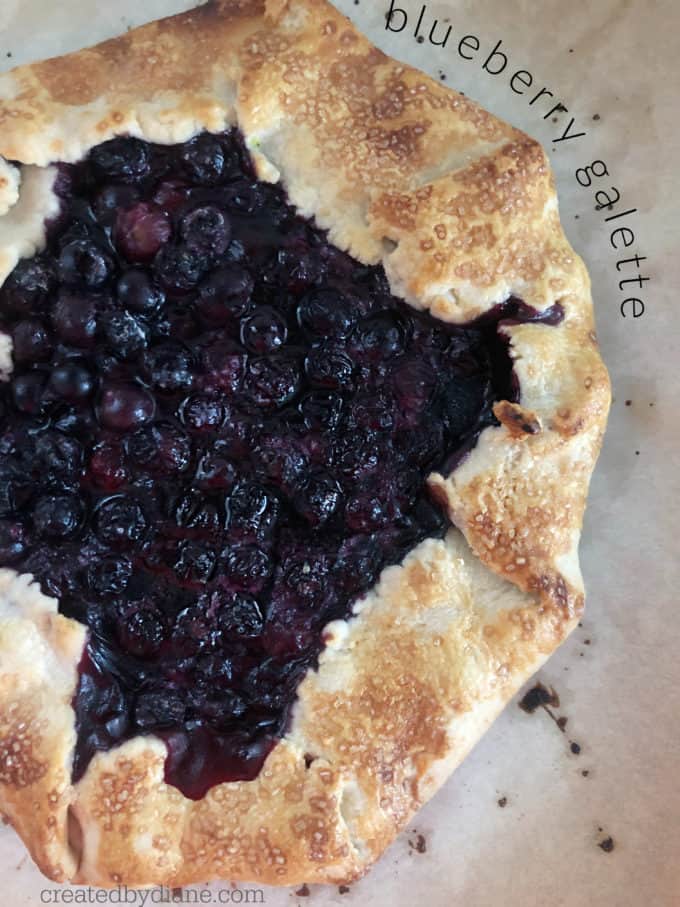 What else can I make this with besides blueberries?
You can easily swap out the blueberry for raspberries, blackberries, or a mix of blueberries and strawberries (all strawberries will need a little more cornstarch as they are juicer, so add an additional tablespoon if you use 2 cups of sliced strawberries).
If you're looking to add something additional to that galette, sliced almonds go well, some chocolate chips, shredded coconut, or even some oatmeal sprinkled over in the sugar mixture about 1/2 cup will all be good additions.

Blueberry Galette
This blueberry galette is just a simple rustic blueberry pie that is ready to eat in under an hour.
Author:
Diane Schmidt Created by Diane
Ingredients
2 cups blueberries (the riper and sweeter the fruit the better tasting the pie will be)
1/4 cup brown sugar
1 tablespoon cornstarch
1/4 teaspoon cinnamon
pinch of nutmeg
pinch of salt
1 tablespoon butter
1-2 tablespoons heavy cream for the top (or egg-wash egg white and water mixed)
1 teaspoon turbinado sugar for top
Instructions
Preheat oven to 425°
Prepare pie crust (print recipe separately or use purchased pie crust)
Mix the sugar. cornstarch cinnamon, and nutmeg together.
either stir in a bowl with the blueberries or pour the mixture over the blueberries.
Place the pie crust on a parchment-lined baking sheet or in a cast-iron skillet.
Place the blueberry mixture or add blueberries and pour sugar mixture over top.
Fold the edges of the pie crust over the top of the blueberries about 2 inches all the way around the whole edge, it's ok if it overlaps.
Add the butter to the center of the blueberries, it'll melt down adn give the galette a delicious flavor.
Brush the top of the pie crust with heavy cream and sprinkle the sugar over the cream.
Bake for 25 minutes or until the crust is golden on top and crisp on the bottom.