Fresh fruit desserts are not only popular they are extremely delicious. This strawberry cake starts is not your typical layer cake, take a look.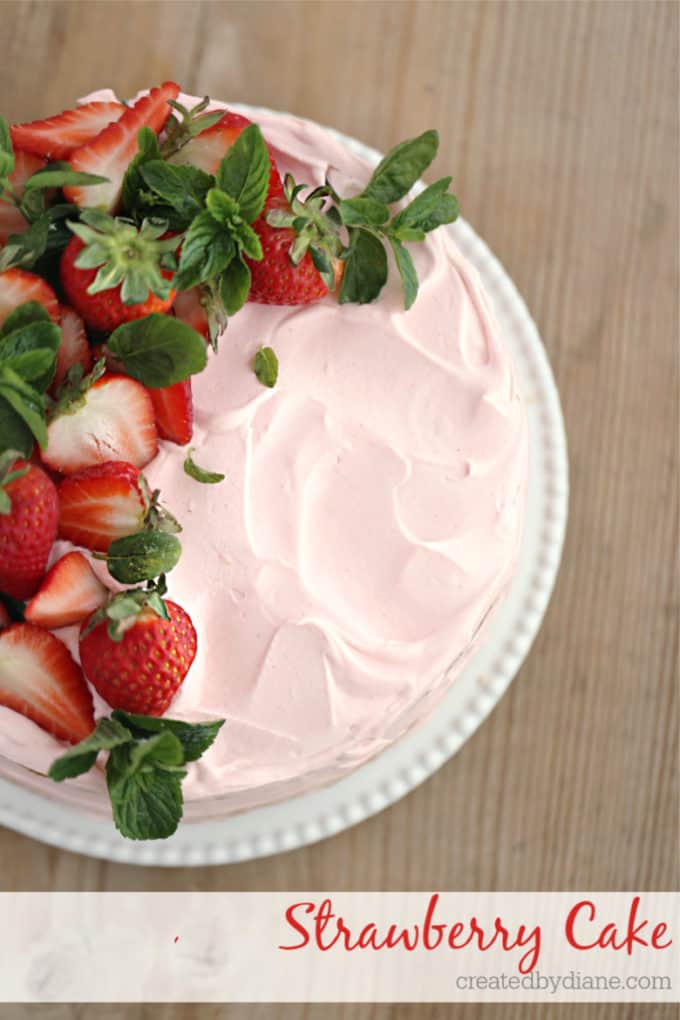 This cake starts off with just one single layer 8″ round vanilla cake.
It's a great size cake for when you want cake, but don't necessarily need to have a cake sitting around for a week 🙂 But it really all depends on how many servings you'll be cutting this into. 
Since this is a single layer cake, made into a layer cake each slice will have a smaller amount of cake than a traditional 2 layer cake which I love about it.
This starts off with a delicious vanilla cake recipe, baked in an 8″ round pan.
The cakes filling may just be one of my all-time favorites! This cake is filled with fresh-made strawberry curd. Curd is a delicious dessert spread that you may have had made with lemon, like shortbread cookies, tarts, and scones.
The frosting is strawberry Swiss Meringue Buttercream, so fluffy and creamy and not overly sweet compared to American Buttercream. Once you make this it's bound to become a favorite.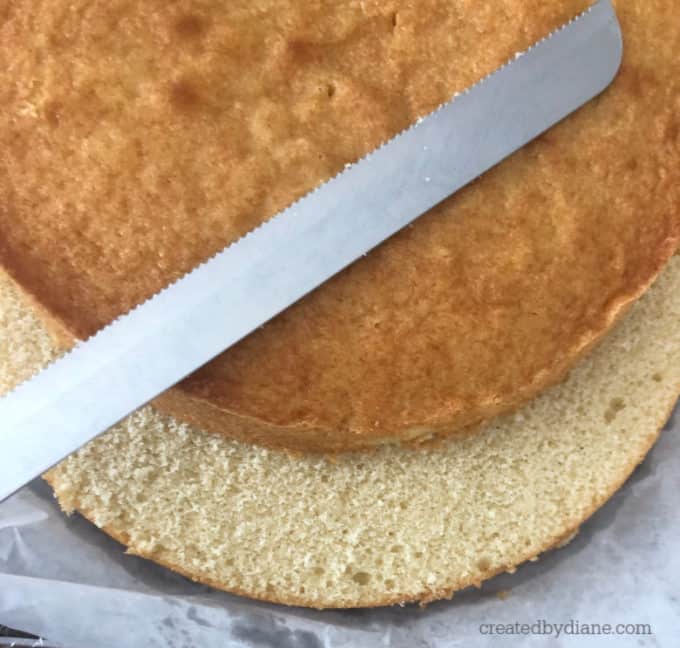 Once the cake is baked and cooled. Slice it with a long serrated knife in half to create 2 layers of cake.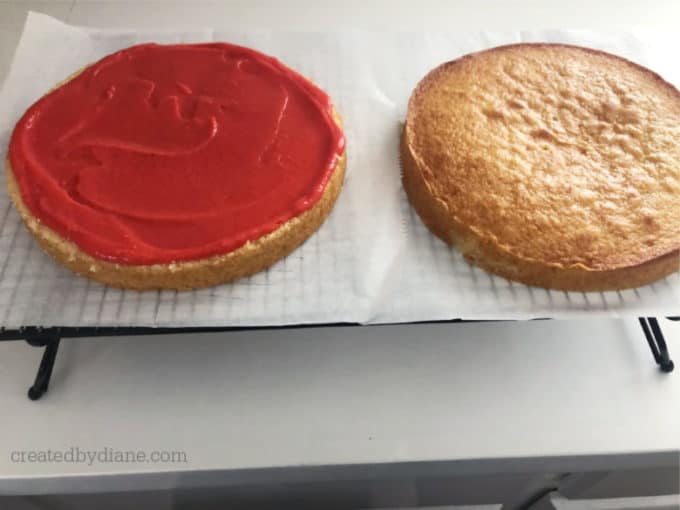 Spread the strawberry curd over the bottom slice of cake. It's best if the curd is cold, so make the curd first.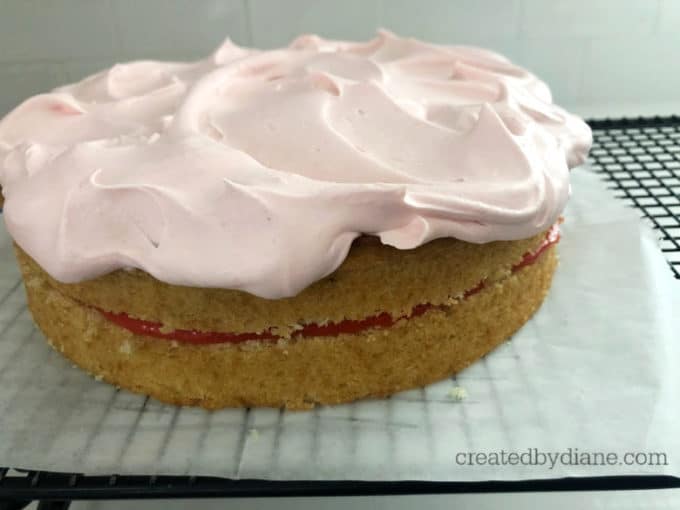 If you're not into fancy decorating this is for you, I just piled the frosting on top of the cake and spread it gently over the sides. I wasn't concerned about covering the cake completely, the end result is more of a naked cake. But it's piled pretty high on the top, so each slice of cake gets a nice amount of frosting.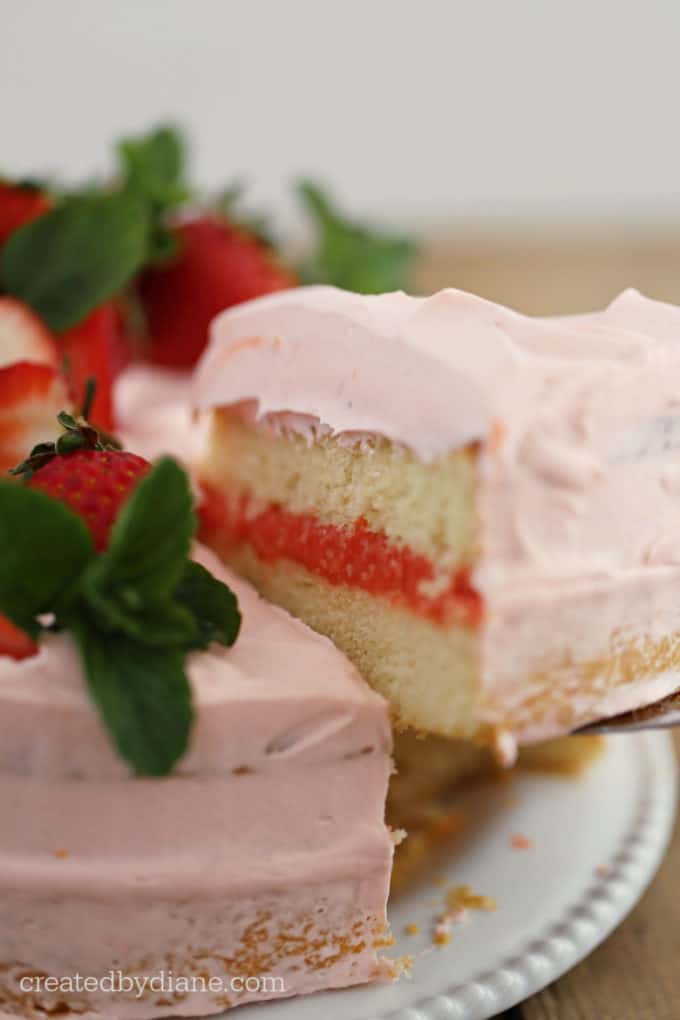 See, plenty of frosting on each slice.
Doesn't it look pretty! And, trust me it tastes fantastic.
And as you can see… a piece of cake is conservative, not huge, but perfect in every way!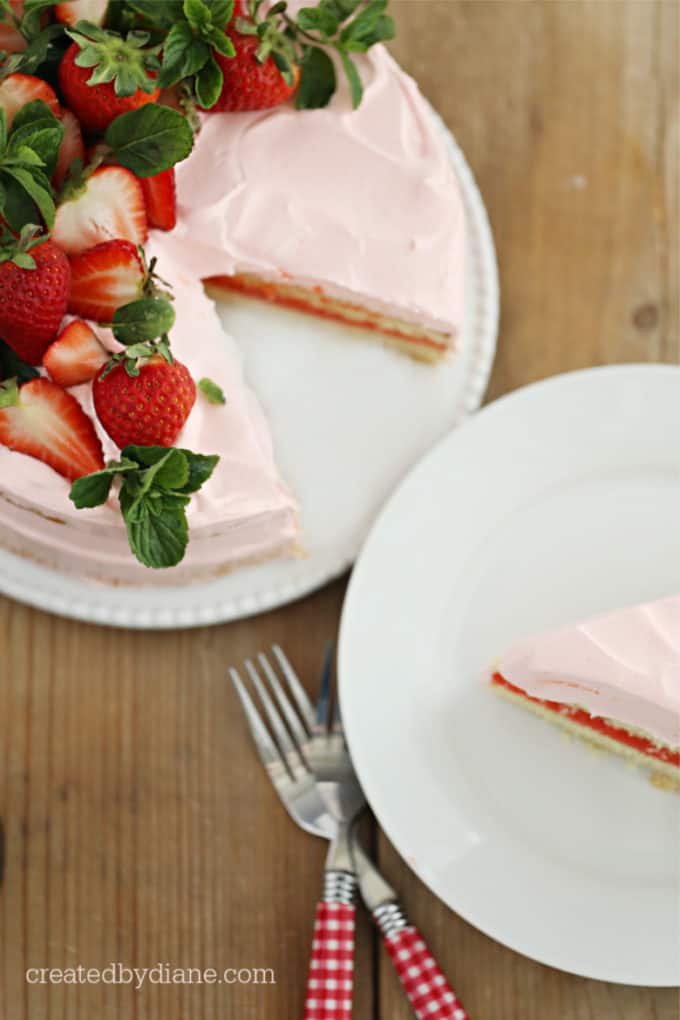 Now for me, every occasion needs cake… the first question I ask when we'll be celebrating the BIG things or the SMALL things is what kind of cake would everyone like…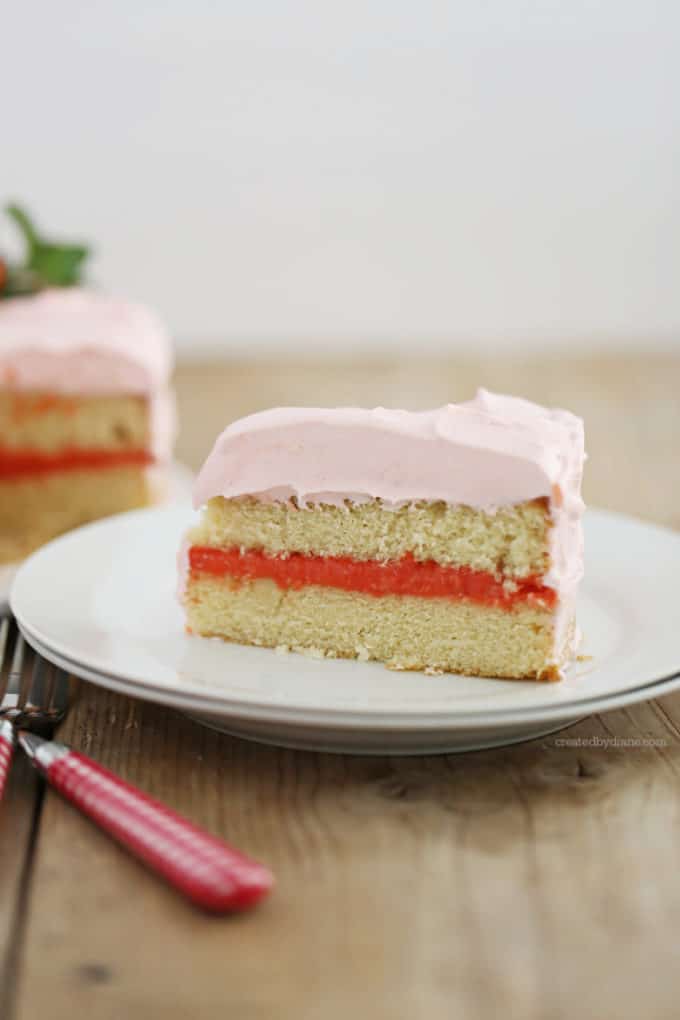 and I love it when they all leave it up to me to decide. And trust me, I'll be picking this cake a lot!!!!!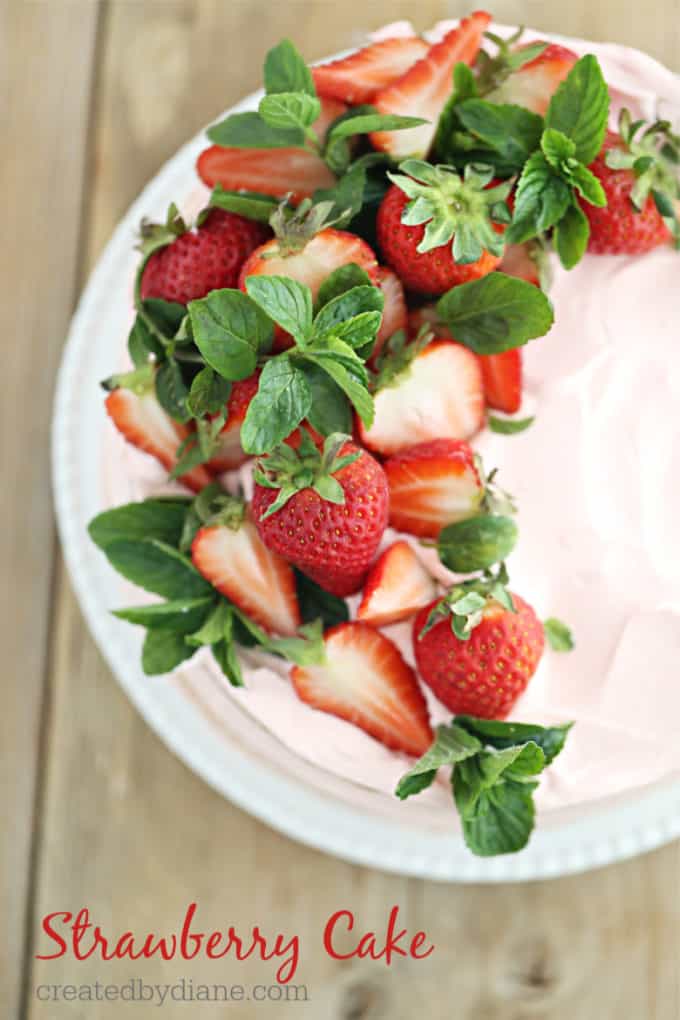 There are 3 recipes to make this cake, be sure to print all 3 before starting (Cake, Filling, and Frosting)
THIS IS THE VANILLA CAKE RECIPE for this cake.
THIS IS THE STRAWBERRY CURD RECIPE for this cake.
Below is the Strawberry Swiss Meringue Buttercream Frosting Recipe used for this cake. 
The other item I added to this cake is fresh strawberries and fresh mint leaves. I added some whole, and sliced other strawberries to give the top of the cake some color and texture with the berries. 
One bite into a slice of this cake and you can really taste the delicious strawberry flavor, hello strawberry season!
Instructions for assembling the cake
You'll cut the completely cooled cake in half to give you 2 layers. Then you'll place the "cold" strawberry curd on top of the bottom layer of cake.
Next, you'll place the second cake layer on top. Then you'll pile the frosting on top of the cake, and spread it gently over the sides. I used an offset spatula to swirl the frosting on top.
I left more frosting on top and gave it a naked look on the sides. Then top with strawberries and mint. When you'd done assembling the cake, you can put it in the refrigerator until 1/2 hour before serving, then take it out and allow the cake to come to room temperature.
I wouldn't add the strawberries on top longer than an hour in the fridge. If you'll be assembling and icing the cake many hours before, just add the strawberries and mint closer to serving.
I use these 8″ cake pan and these baking strips for evenly baked cakes.

Strawberry Swiss Meringue Buttercream
Delicious frosting recipe flavored by real strawberries, it's whipped fluffy
Author:
Diane Schmidt Created by Diane
Ingredients
3 eggs whites (from large eggs)
3/4 cup granulated sugar
1/2 cup butter, cold
3- 4 tablespoons strawberry curd
Instructions
In a double boiler, over high heat bring egg whites and sugar to160°
(A double boiler is when you have a pan of boiling water with a bowl on top without the water touching it to gently cook the item inside, in this case, egg whites and sugar)
Stir or whisk until the mixture reaches 160°.
In the bowl of a mixer whip the egg white mixture to stiff peaks and keep mixing until the mixture cools, this takes about 10 minutes. The sides of the bowl shouldn't be warm if they keep mixing.
Then on medium speed add in the butter 1 tablespoon at a time, the mixture may look clumpy, separated, or look runny, just keep mixing.
It will then become thick and when spread with a spatula it's smooth.
If it's runny, put the bowl in the fridge for 10-15 minutes.
Then mix more until it's thick and smooth.
Then add in the strawberry curd and stir mix it in on low until it's combined.