Beyond pretty, and really delicious is this strawberry cream cheese frosting. The strawberry flavor comes from strawberries, not artificial flavor.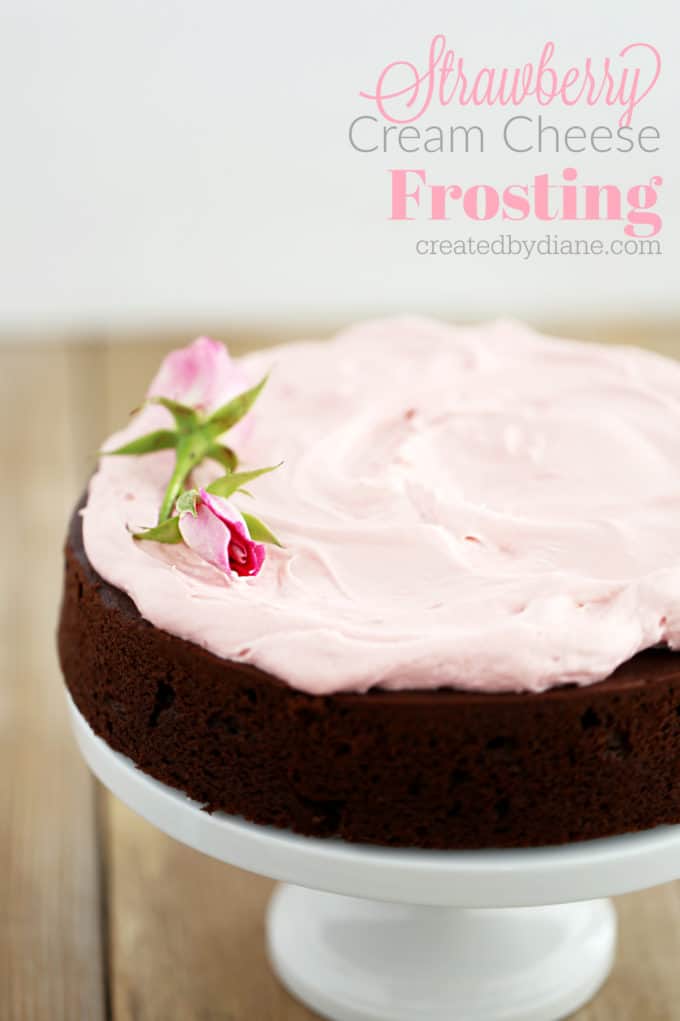 It's no secret cream cheese frosting is delicious, but add the great tasting flavor of real strawberry and it's even a bigger winner!
Chocolate and strawberry together are a winning combination. I'm always looking for a simple cake and frosting combination that doesn't take all day to make and tastes amazing. 
As with any fruit-flavored recipe, be sure the strawberries have great flavor, that will ensure a great result here.
I can't resist the flavor of sweet strawberries, when they are in season and ripe, they taste amazing! You can usually smell them before you see them if they are ripe and delicious.
I made THIS 8″ round chocolate cake, it's a really easy cake recipe, no mixer needed. I just use a bowl and whisk. I like that it comes together quickly. It bakes up nicely, and after it cools, it's onto the frosting. Now that it's strawberry seasons…  that means I want all things strawberry-related. 
To add a really fresh delicious flavor to this cream cheese frosting, I made it two ways.
 fresh-made strawberry curd this is my favorite to due, it gave the most delicious natural flavor
While both gave a great flavor (and color), I liked the more intense flavor of the strawberry curd added. But if you already have made the syrup or have both it, that worked nicely too.
You will want whatever you add into the recipe to be cold. I suggest making the strawberry syrup or curd first. Then put it in a shallow dish and refrigerate it so it'll be cold by the time you bake and cool the cake.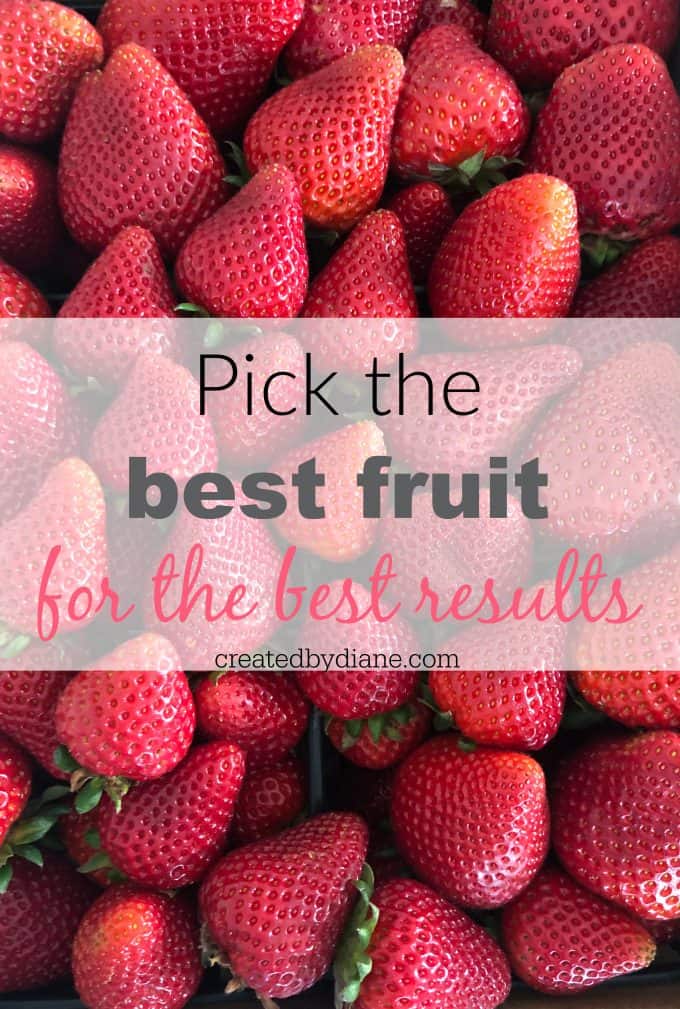 I'm all about fresh flavors, but if you just want to simplify things and add some strawberry extract, go right ahead. Add a teaspoon of strawberry extract and mix in well, and maybe add a drop of pink food coloring.
THIS is the strawberry flavor I would use if I wasn't making the frosting with some sort of real strawberry mixture added in, I really like the flavor as it has both natural and artificial flavor. Most strawberry flavors you readily find are all artificial flavored, which I don't prefer. I try to find all-natural or a mix of natural and artificial.
The same goes for raspberry which I don't prefer any artificial at all, it tastes like medicine. Read the labels if you are buying extracts and baking emulsions.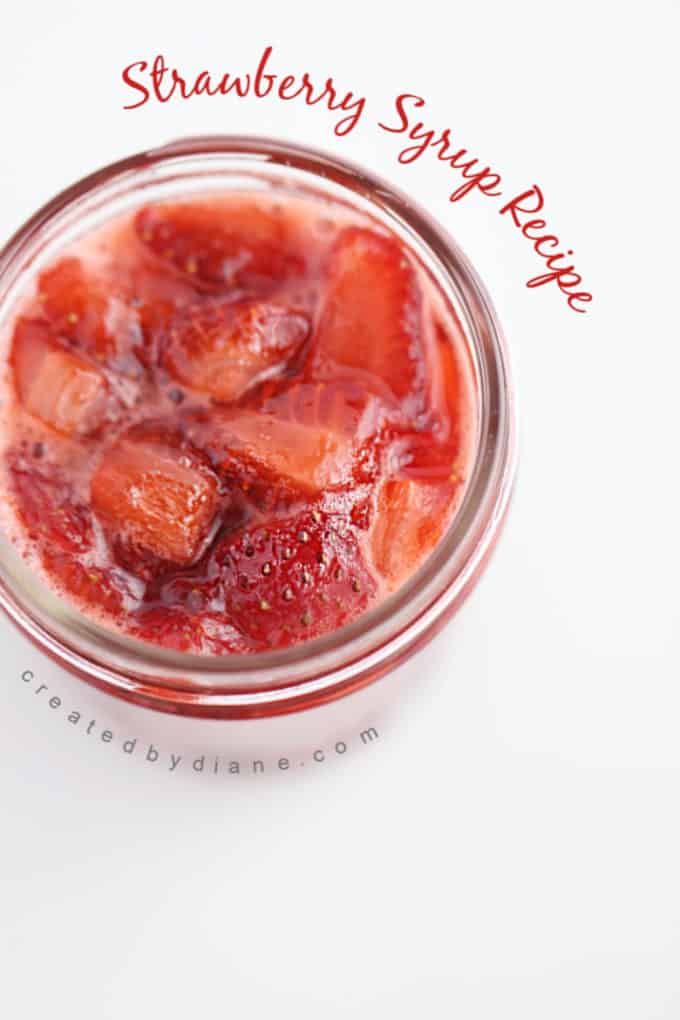 I tend to make homemade syrup recipes, but if you want to give THIS one a try, I like a lot of their flavors, they do have natural flavors, not all artificial. If you want to see what else I use syrup for click here.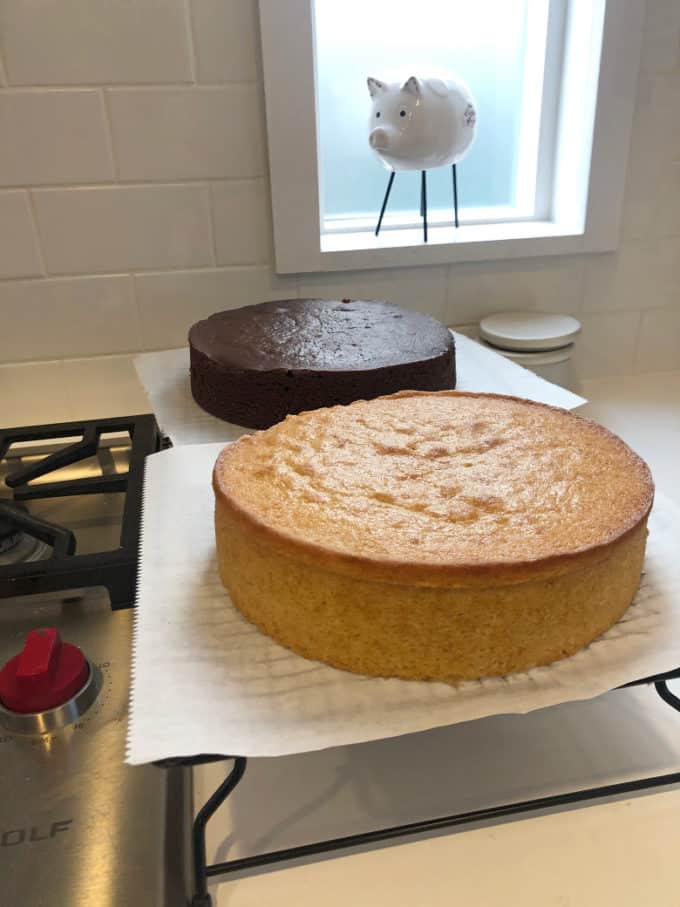 Cake Recipes:
I have two recipes for single-layer cakes, I make them all the time. 
Each cake is one 8″ round cake recipe, that can be made in a bowl without a mix, I just use a whisk. These cakes have become my go-to recipes for some time now.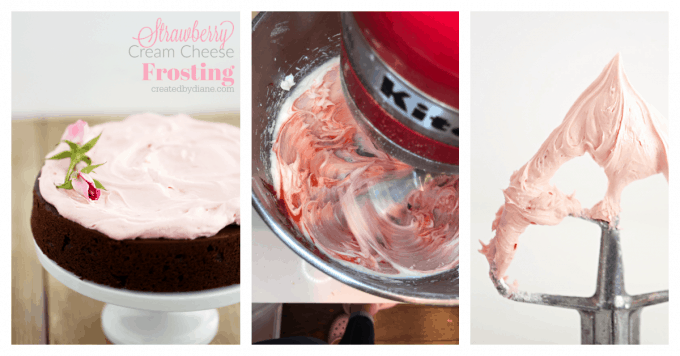 The best way to ensure you won't miss my recipes is to sign up to get my EMAILS here, and you'll also get my free chocolate ebook too.
This is a small batch recipe for a single layer cake or  6-8 cupcakes, this recipe can be easily multiplied to make any size portion you would need.

Strawberry Cream Cheese Frosting
A creamy delicious cream cheese frosting recipe with the addition of fresh strawberry flavor. Two options for adding flavor, one using a fresh-made strawberry syrup, and the second making a fresh strawberry curd. Great-tasting strawberries are what makes the frosting taste its best.
Author:
Diane Schmidt Created by Diane
Ingredients
2 oz cream cheese (at room temperature, or your frosting will have lumps)
4 tablespoons butter (at room temperature)
3 cups powdered sugar
pinch of salt
2-4 tablespoons of strawberry syrup, or strawberry curd (add more if desired, but be careful not to make the frosting to"wet" add more powdered sugar if you need to thicken it a little even an additional cup of powdered sugar)
Options
1/2- 1 teaspoon strawberry extract or baking emulsion
1/2 teaspoon vanilla extract
top with fresh flowers or mint
Instructions
In the bowl of a mixer beat the cream cheese and butter until smooth and fluffy, start on medium-low speed then increase to high.
Add in the powdered sugar and salt. Start by mixing on low so it doesn't make a mess.
Then add in the flavor. Add two tablespoons and mix in the flavor very well, then taste it and see if you need more.
Typically I add a tablespoon or two of heavy cream to whip the frosting up but since there is the additional liquid in the strawberry syrup or curd it's not necessarily this recipe, but if you are only adding extract and want to add heavy cream go right ahead.
This frosting can be thickened by adding up to a cup of powdered sugar without making it overly sweet. The cream cheese and salt help balance the flavor.