If you like whipped cream… my secret will have you LOVING it even more!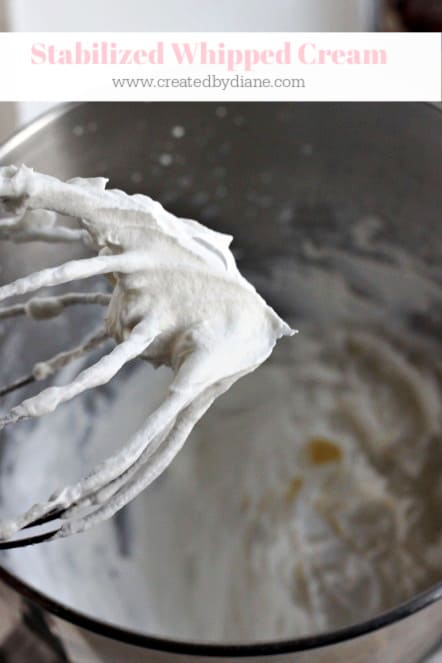 I've made whipped cream more times than I can count.
This is no ordinary whipped cream, it won't go flat, it won't get soggy, it doesn't taste funny, it's simple to make and you'll be enjoying it on top of all your favorites in MINUTES! 
If I'm making more than 2 cups I use a large mixer, most often I make smaller batches… 
And I typically use THIS immersion blender with the whip attachment. This small appliance is probably the MOST used appliance in my kitchen. I use it almost every day and it wouldn't be unheard of for me to get it out a number of times.
I used to have two of them, I gave one to my daughter… I'm still debating getting another, simply for the attachments, when I'm knee-deep in recipe development and haven't done the dishes yet.
I have been known to get out my hand whisk and whip cream by hand, but WOW that takes a lot of time and effort! After doing it by hand I always think I need to be working out more.
HERE are some recipes you can see this GREAT Whipped Cream on: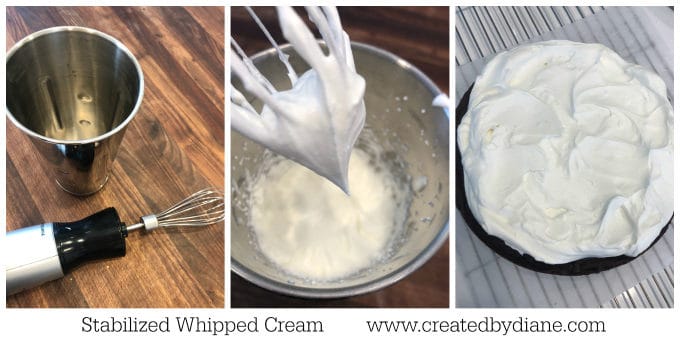 NOW the SECRET to making it stable, so it won't "weep" or get wet and flatten out.
This stabilized whipped cream will stay firm in the fridge for a week, I tested it! I had to hide a piece of cake with whipped cream on it inside a brown paper bag just to be sure no one would eat it before the text was done. I then tried it and gave it to two others, and we all agreed it tasted great.
I add a tablespoon of dry milk for every cup of heavy cream I'm whipping! 
The dry milk rehydrates and helps absorb the moisture so the whipped cream stabilizes and stays good for longer than you'd expect. 
Great for so many treats, topping hot chocolate, putting on cupcakes, cakes and served with berries, and more. Anywhere you like whipped cream you'll have to try this!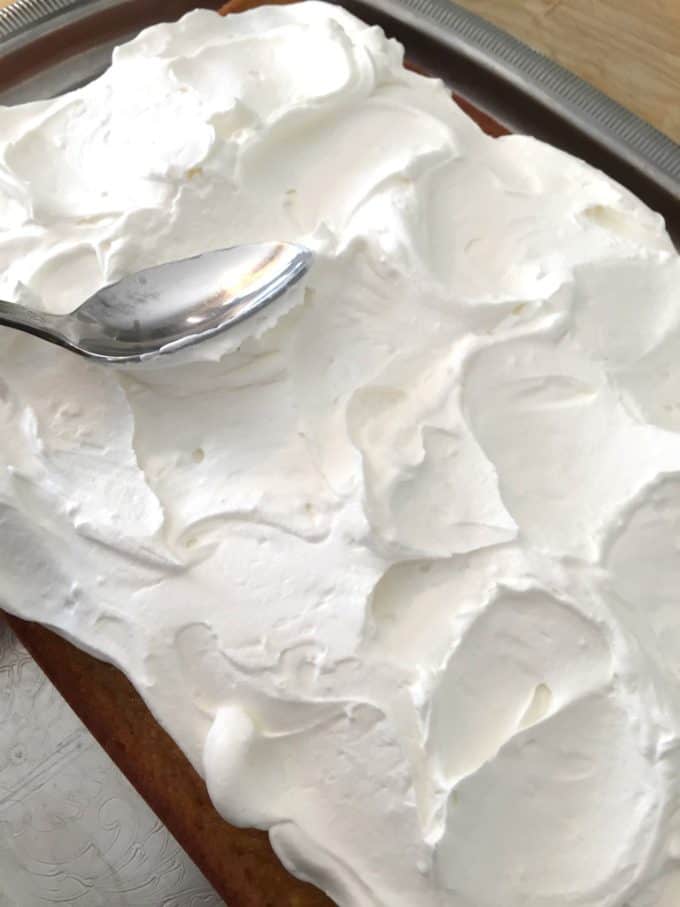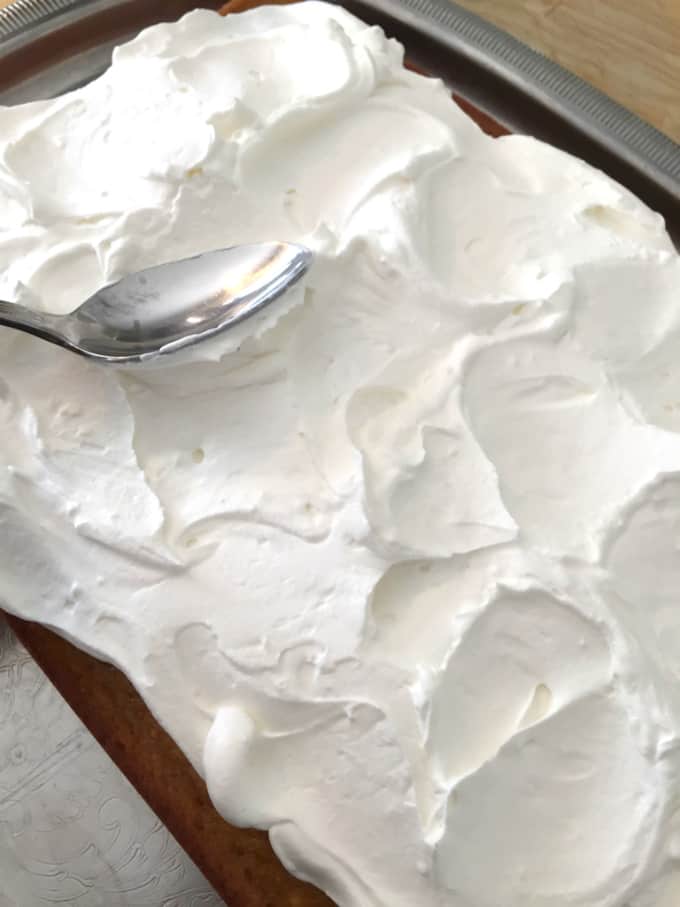 This recipe is easily multiplied, so make as much as you need!
Stabilized Whipped Cream
Ingredients
1 cup heavy cream
1 tablespoon dry milk
OPTIONS- read notes
1 tablespoon powdered sugar
¼ teaspoon vanilla or another extract
Instructions
One a high speed with a whip attachment on a hand-held blender or stand mixer.
Place cold heavy cream into a metal or glass bowl/jar, add in the dry milk and whip on high until a peak forms when the whisk is lifted out of the cream, don't over mix or you'll have butter! Just whip it enough so ti's not "wet".
If it's hot out, place a few ice cubes and ½ cup water and swirl it around to chill the bowl, dump the ice and water out and dry the bowl well. This will help the cream whip up quickly.
Notes
I don't always add powdered sugar, it all depends on how sweet I'd like the cream.
I also don't always add vanilla but I put it as an option,
there are so many flavors you can add to the whipped cream to customize it.
In the winter a drop of peppermint extract is nice, while in the summer lemon extract goes nicely when topping the whipped cream on fruit.