You're going to love the ease and taste of this Chocolate Whipped Cream Frosting! Goes perfectly on top of homemade cupcakes and cakes!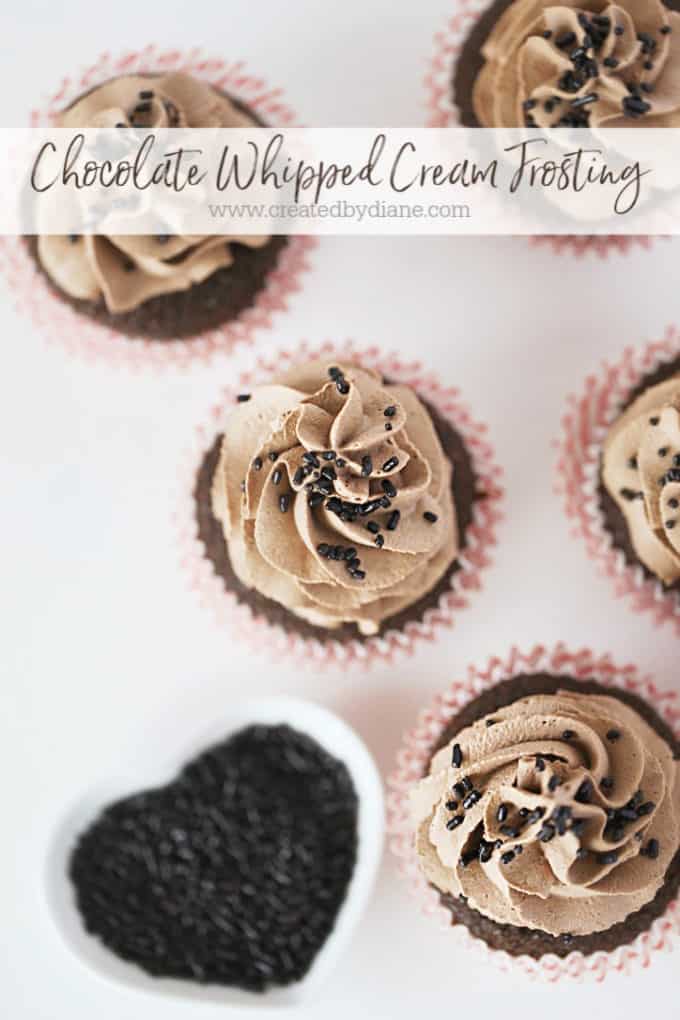 Frosting is the best!
If this frosting were a person, it would be comparable to being the King of the Kingdom.
It's just that good!
More than likely, we've all had a cupcake in our life without frosting on it…
and our thoughts were probably very similar. Because in all reality, who likes cupcakes without the frosting? It's more of a muffin, right!
No muffins today, just delicious chocolate cupcakes swirled up with velvety chocolate whipped cream.
And if you've never had stabilized chocolate whipped cream frosting before, it's going to blow your taste buds away. This whipped cream frosting is light, sweet, and literally tastes like the perfect portion of whipped cream added onto your dessert… and since this recipe is for chocolate, it has just the perfect amount of chocolate flavor as well!
Before you "whip" up this whipped frosting recipe…
make certain to bake up a batch of my chocolate cupcake recipe it's posted below the frosting recipe.
 These deliciously moist great tasting chocolate cupcakes are a real winner!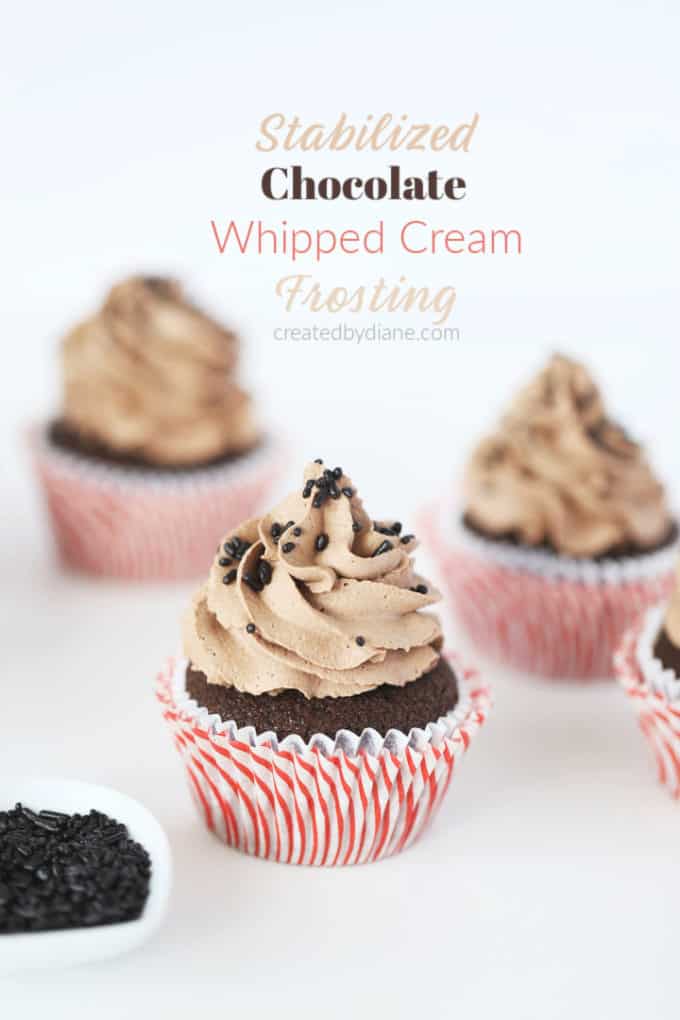 Is this stabilized chocolate whipped cream frosting as thick as regular frosting?
It's actually not thick at all. This is why so many people prefer it over the other frostings. It's not as sweet, either so it really is a great compliment to add on top of other homemade desserts. 
Does this chocolate whipped cream frosting taste like mousse?
It does. And it's actually a really good substitute for a quick easy lightened up chocolate mousse. It's light and airy like mousse and tastes amazing. 
Can you put this whipped cream frosting in the freezer?
Absolutely! And honestly, it's really good frozen, too! It's my little secret on making a yummy frozen treat even though that's not it's real purpose or intention. Just make certain that you add it to a freezer-proof container and seal it well. You don't want any freezer-burn to get onto it at all! 
Thawing it doesn't take long either which is just another great perk of the recipe.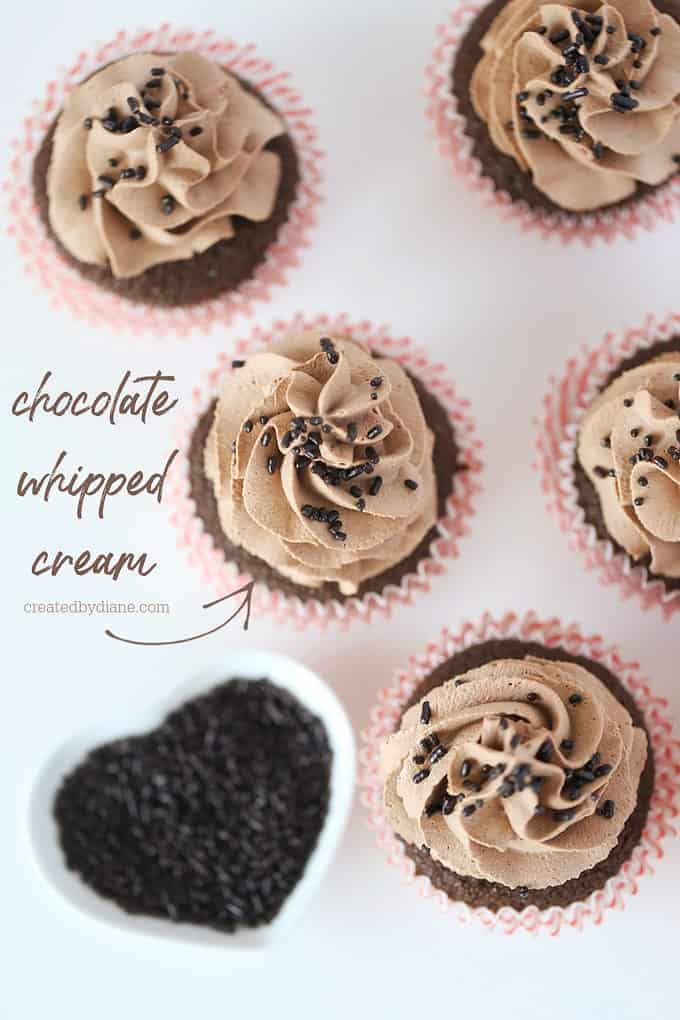 What can I do to make this frosting more "whipped"?
Adding dry milk to the whipped cream mixture will allow it to stay whipped longer, without weeping or getting "wet" and separating. The dry milk rehydrates, thickens and stabilizes the whipped cream. 
Do I need to put the frosted cupcakes in the fridge?
Yes, as with all whipped cream items, keep them in the fridge, take them out 30 minutes before serving for the best results. This stabilized whipped cream will stay nice on baked items for a week if kept in the fridge, that is if you don't eat them before that time.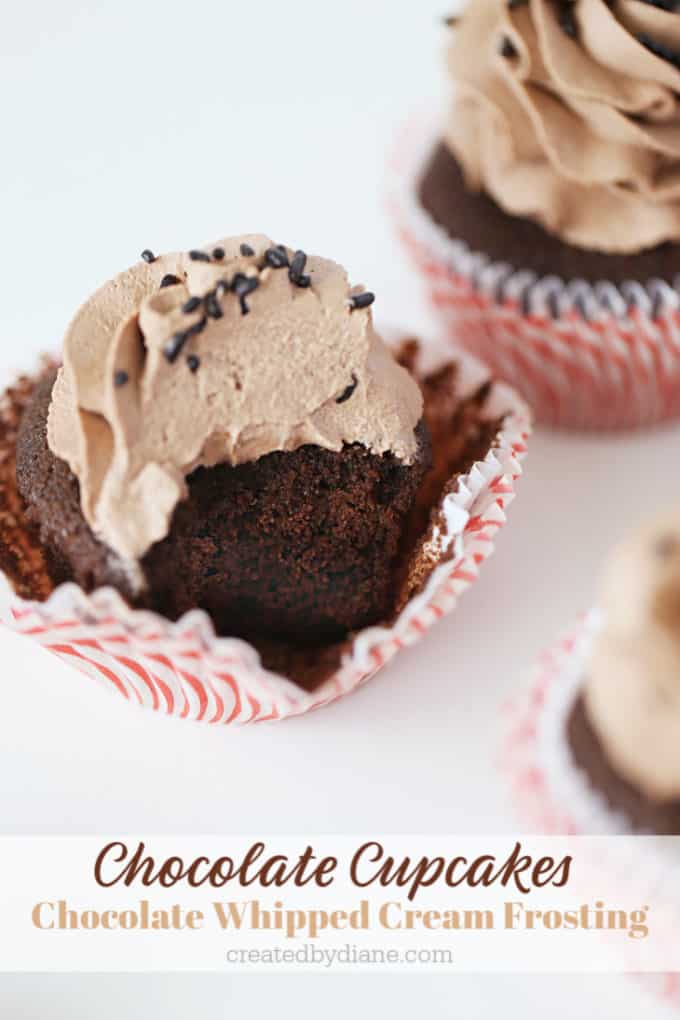 Now that you know how simple this recipe is, it's time to give it a try yourself.
All you need are the 5 simple ingredients listed below to get started!
You can also use this Chocolate Whipped Cream Frosting on a cake like this great 8″ round chocolate cake (no mixer needed).
Chocolate Whipped Cream Frosting
Creamy and stable chocolate whipped cream great for cakes, cupcakes, cookies and to enjoy as a quick mousse!
Author:
Diane Schmidt Created by Diane
Ingredients
1-1/2 cups heavy cream
3 tablespoons unsweetened cocoa (i use dutch process cocoa)
3 tablespoon powdered sugar
2 tablespoons dry milk
1/2 teaspoon vanilla extract
Instructions
In the bowl of a mixer, or tall container with an immersion blende place heavy cream, cocoa, powdered sugar, dry milk, and vanilla extract.
Stir to combine gently, then whip on high speed until the mixture is whipped fully, thick and creamy and when the whip attachment is pulled out of the frosting it forms a stiff peak (but do not overmix, it will become dry. If you do over whip it, just add a couple of tablespoons heavy cream and mix it in to smooth it out)
Place the frosting in a piping bag with a star shaped tip (I used a 2D tip) to pipe the frosting, or spread it on with a firm spatula.
There will be enough chocolate whipped cream frosting for 12 cupcakes or a 13x9 cake, so adjust the amount if you'd like more or less.
12 chocolate cupcakes
Ingredients
4 tablespoons cocoa (I use dutch process cocoa)
1/2 teaspoon baking soda
1/2 cup boiling water
1/4 cup butter, melted
2 tablespoons oil (I use avocado oil or vegetable oil)
3/4 cup granulated sugar
1 teaspoon vanilla extract
1/4 teaspoon salt
1/4 cup heavy cream
1 cup all-purpose flour
1/2 teaspoon baking powder
2 eggs
Instructions
Preheat oven to 350°
Prepare a cupcake pan with 12 portions with cupcake liners.
You do not need a mixer for this recipe, but you can use it if you'd like. I use a whisk and a spatula.
In a medium bowl place cocoa, baking soda and boiling water and whisk to combine. Set aside until needed.
In a large mixing bowl whisk the melted butter, oil, sugar, vanilla, and salt together.
Mix in the eggs.
Add the flour and baking powder to the cocoa mixture, whisk until combined.
Add the heavy cream and mix until combined.
Place 3 tablespoons of cupcake batter into each cupcake liner.
Bake for 18-20 minutes or until a toothpick comes out clean.
Allow cupcakes to cool for 5 minutes, then remove cupcakes from pan and place them onto a cooling rack to cool completely.