This cake will knock your socks off! Pumpkin cake with stabilized whipped cream frosting, delicious while not being overly sweet.
It's an easy one-bowl cake to make at a moment's notice.
It's topped with fresh whipped cream and pumpkin seeds are sprinkled over the top.
This can be served anytime from breakfast to a midnight snack!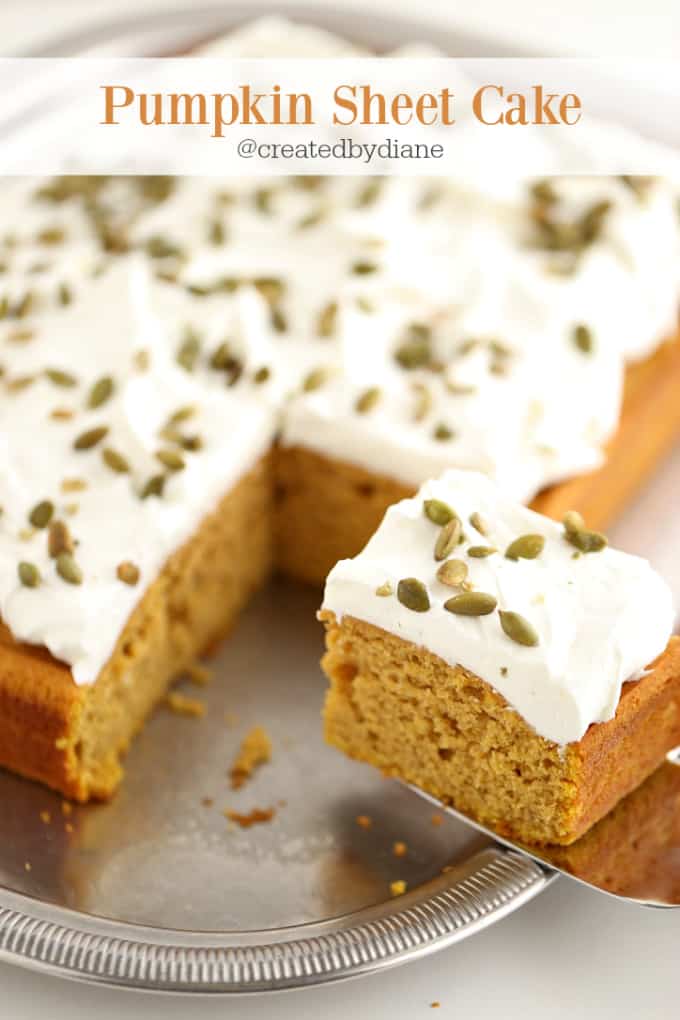 I've made many pumpkin style cakes over the years, but I will now proclaim this one my FAVORITE…
it's not overly sweet, or so super moist like some pumpkin cakes that get stuck in your teeth and don't really taste like cake at all.
This is the ULTIMATE pumpkin cake! I sacrificed and made many batches and ate many pieced and am happy to bring you this WONDERFUL recipe!
I love how this cake looks, it's so pretty and doesn't take any skill to decorate which makes this a stress free cake to make and serve not only in the fall but any time of year.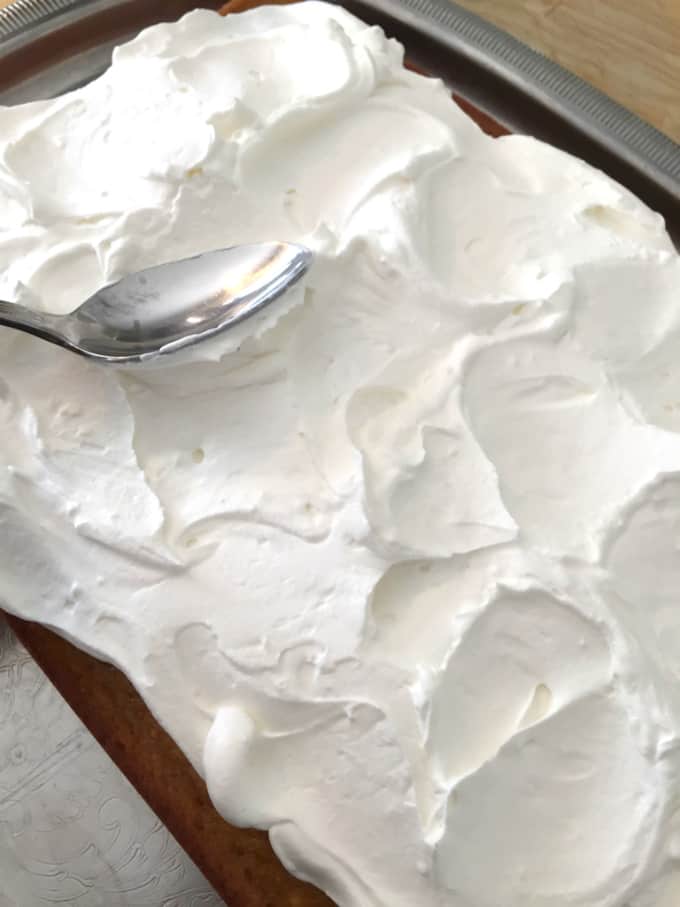 You can simply spread the whipped cream over the cake, or use the back of a spoon and create more texture on top.
Just spread the whipped cream place the back of a spoon into the whipped cream and pull up to create peaks and valleys.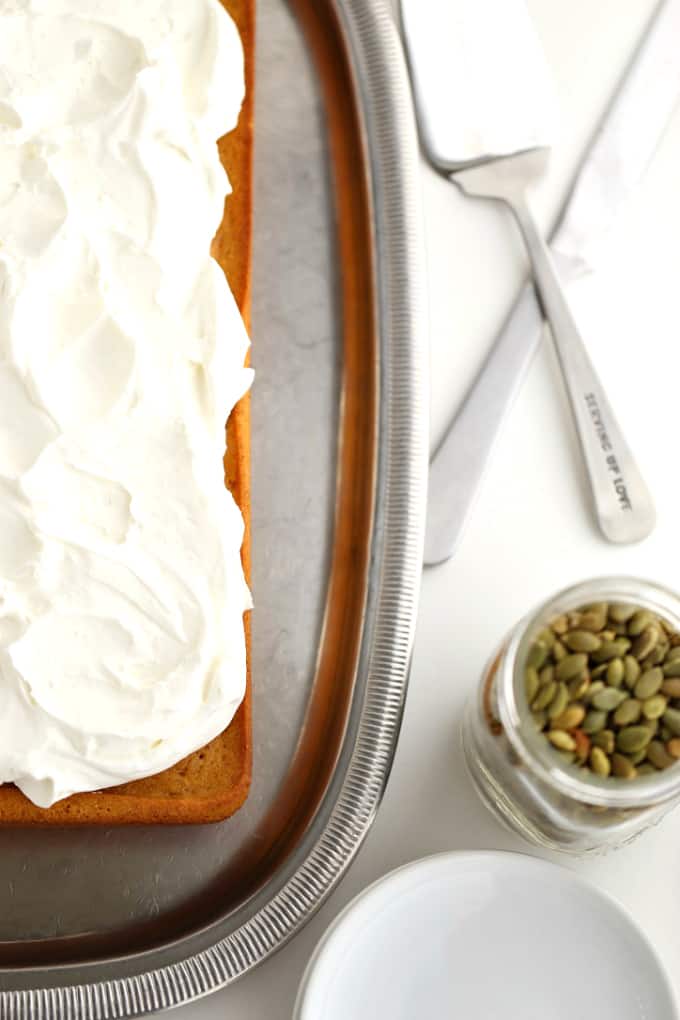 If you bake the cake the day ahead of serving, add the whipped cream the day of serving for best results. (But by adding in the 2 tablespoons of dry milk, the whipped cream will not separate and "weep" or get wet, it'll last a week in the fridge on the cake but I always wait until the day I'm serving the cake if it's an event to apply the frosting.
I've tested whipped cream many ways and am so happy to share with you this AMAZING tip on how to keep whipped cream on baked goods that stays nice, doesn't separate or get wet, or slide off the cake. Get some dry milk for all your whipped cream needs, it's amazing!
The frosting flavor can be adjusted to your liking:
Add a teaspoon cinnamon,
or pumpkin pie spice,
or vanilla extract,
or almond extract for a great flavor option.
This cake is so irresistible it may be devoured in one sitting so you may not have to worry about it.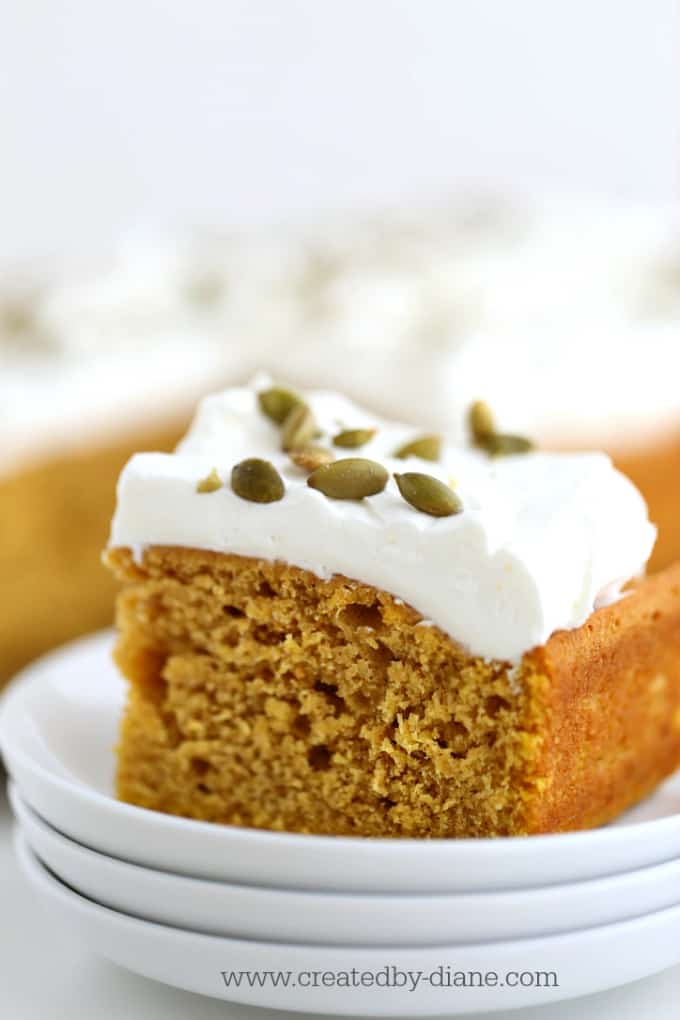 Now I LOVE salty and sweet things together and maybe you do too,
I used salted shelled pumpkin seeds on top of the whipped cream if you don't like the salty sweet combo use unsalted pumpkin seeds (also known as pepitas).
If you haven't tried salty sweets, give it a try you may find a new LOVE!
Pumpkin Sheet Cake
Author:
Diane Schmidt Created by Diane
Recipe type:
Dessert, Cake, Pumpkin
a simple and delicious pumpkin cake with stabilized whipped cream frosting topped with pepitas (shelled pumpkin seeds) perfect for everyday celebrating all year long.
Ingredients
2 cups sugar
4 eggs
2¾ cups flour
1 cup whole milk
1 cup canned pumpkin
½ cup butter, melted
¼ cup oil
2½ teaspoons baking powder
2 teaspoons vanilla bean paste (or vanilla extract)
2 teaspoons pumpkin pie spice
Whipped Cream Frosting
1½ cups heavy cream
2 tablespoons sugar
2 tablespoons dry milk
*optional- you can add a teaspoon cinnamon or pumpkin pie spice the whipped cream, vanilla or even almond extract for some fun frosting flavor.
(optional, ¼ teaspoon cinnamon, or pumpkin pie spice, 1 teaspoon vanilla) if added the frosting won't be bright white but will sure be tasty with any of these options.
¼ cup pepitas (shelled pumpkin seeds) I use salted pepitas.
Instructions
Preheat oven to 350°
Prepare a 13x9 pan with baking spray and parchment on the bottom for easy release.
In a large bowl whisk sugar and eggs.
With a spatula stir in flour, milk, pumpkin, butter, oil, baking powder, vanilla, and pumpkin pie spice until smooth.
Pour into pan and bake for 30-35 minutes or until a toothpick comes out clean.
In a bowl with a whisk or mixer whip heavy cream with sugar and dry milk any additional flavor until stiff peaks form.
Spread whipped cream over cake, use the back of a spoon to create peaks and valleys or spread it smooth if you prefer and top with pepitas.
*ADD 2 tablespoons dry milk to the whipped cream if you want the frosting to stay nice for a few days and won't be eating all the cake right away.