It's chilly out and a great way to cope is with CAKE!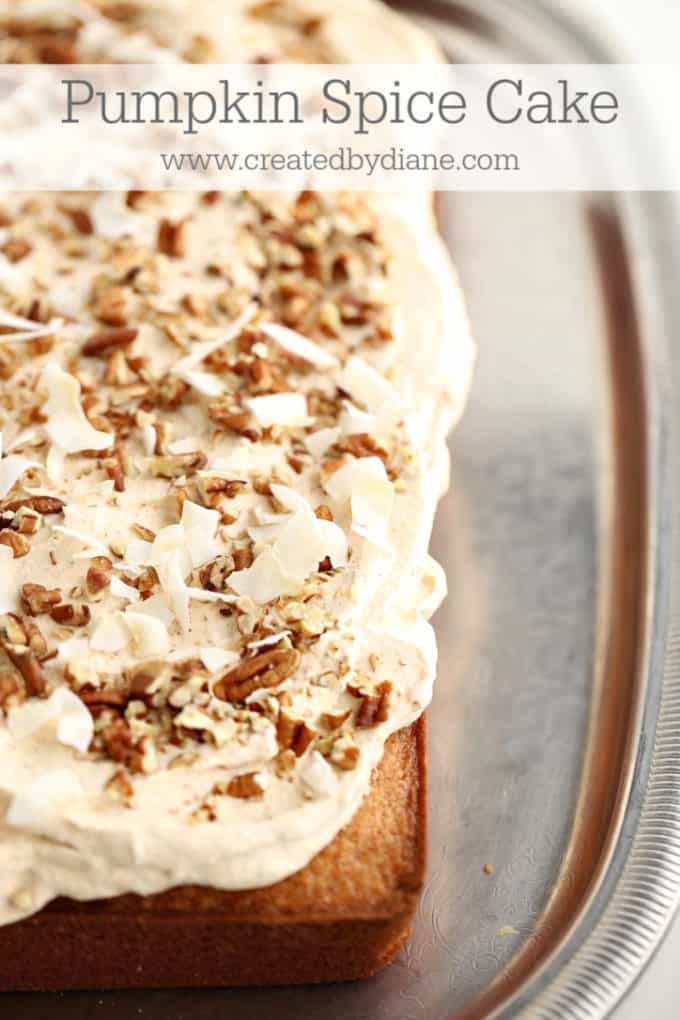 My goodness, when it cools off… it really cools off!
We put our heat on for the first time this year, I think we hold off as long as we can. It's dry and stuffy and I prefer a window slightly open and piling on the covers.
So enjoying a piece of cake is in order.
I love cake and one of my favorite toppings on cake is whipped cream, I've mentioned before just how I make it so it lasts all week on a cake without going flat or watery… CLICK HERE for the post on my stabilized whipped cream.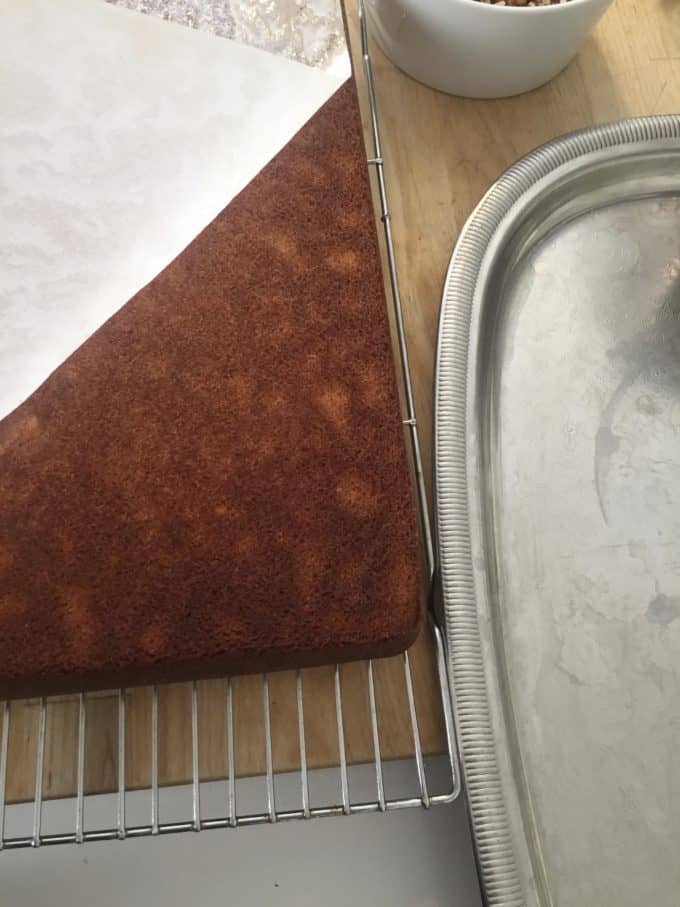 One big tip for serving the perfect cake is a cake that is properly cooled. If you leave it in the baking pan too long, moisture traps in the bottom between the cake and the pan and it gets "wet" or moist. And that is not what you want in a sheet cake.
After the cake comes out of the oven, allow it to cool on a rack for 5 minutes, then turn the cake out onto a cooling rack. You'll have to flip the cake over so the top is on top, so I use two cooling racks to do this without breaking the cake. Before the final flip, I peel off the parchment paper.
Then I let the cake cool completely. About a half an hour on the cooling rack.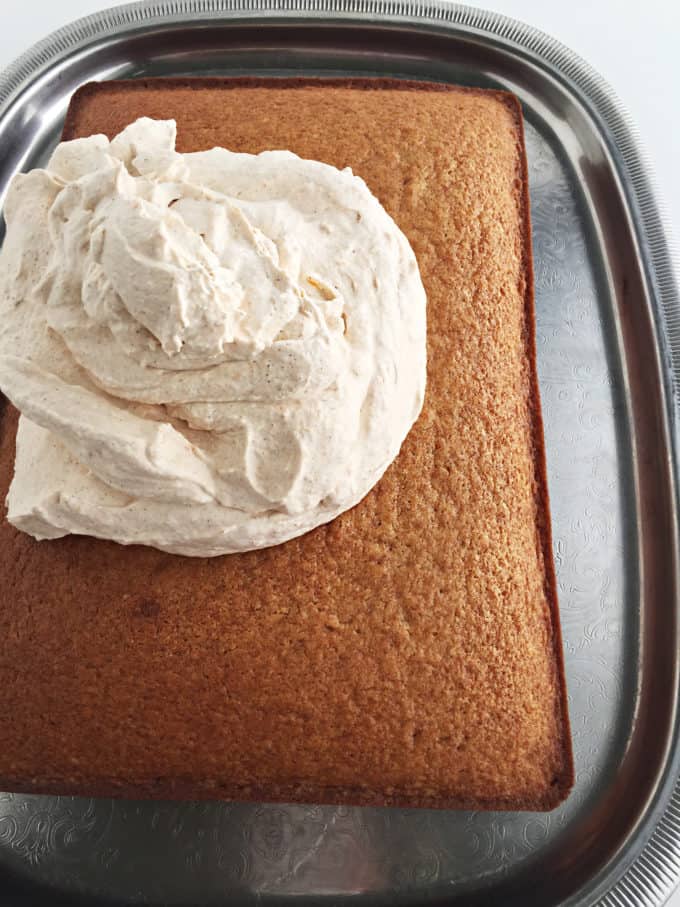 Once you have your cream all WHIPPED up nice and thick, pile it on the cake, then spread it out to the edges.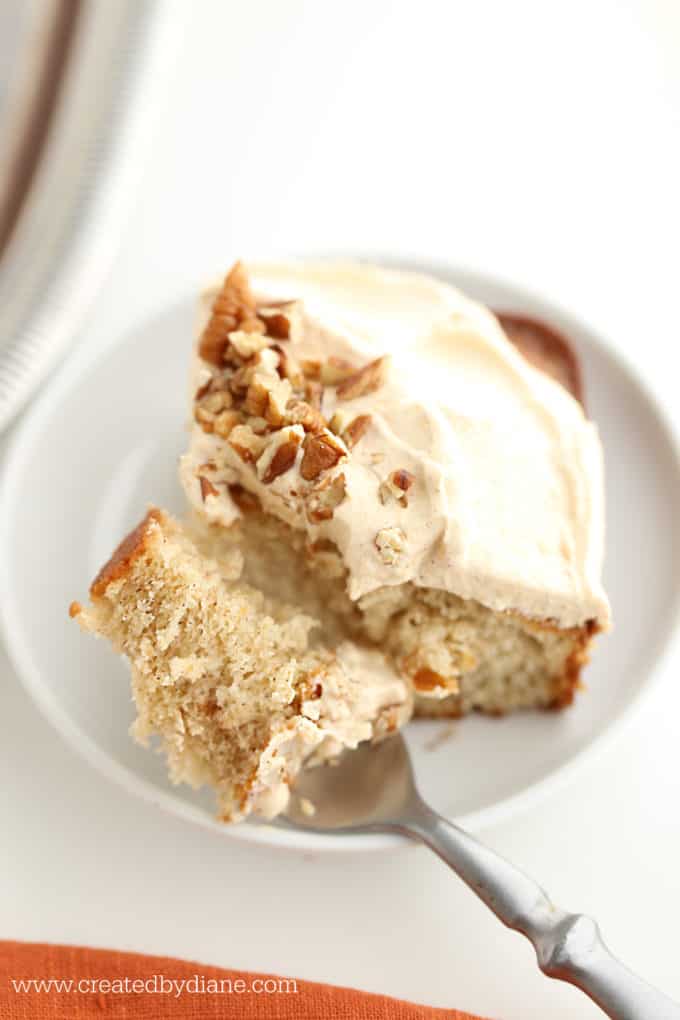 Then top the cake with items you like, such as coconut, chopped pecans, pepitas (pumpkin seeds), sprinkles or even some chocolate curls.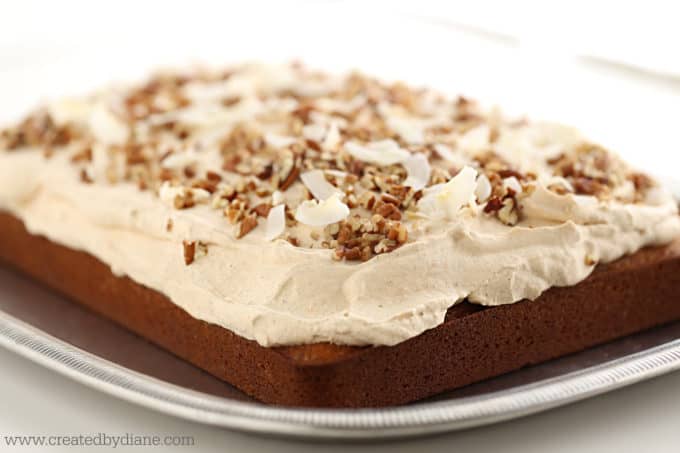 Place the cake in the fridge, so the frosting can firm up nicely, and just take it out of the fridge about 10 minutes before serving. 
This cake will stay fresh as the frosting covers the majority of the cake, in the fridge for up to a week.
Just be sure you cover the cut areas with either plastic wrap or slices of bread, it'll help prevent the cake area from getting stale where it's been cut. I have a whole post about preventing stale cake.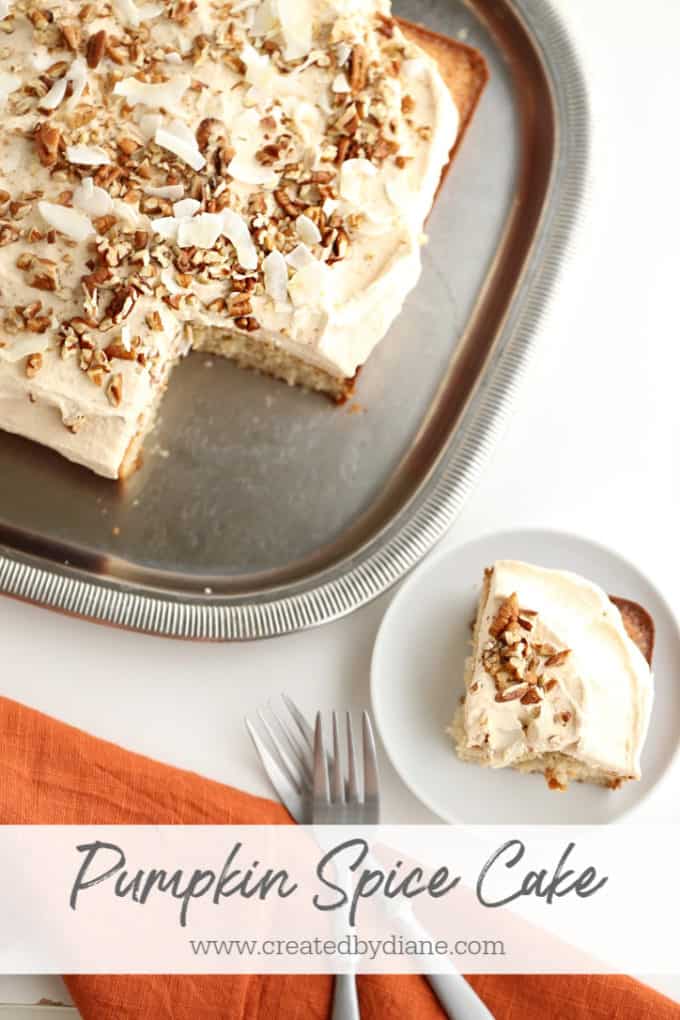 Pumpkin Spice Sheet Cake
Ingredients
4 eggs
2 cups granulated sugar
2½ cups all-purpose flour
2½ teaspoons baking powder
2 teaspoons pumpkin pie spice
1 cup whole milk
½ cup melted, cooled butter
¼ cup oil (I use avocado oil, you could also use vegetable oil)
2 teaspoons vanilla extract or vanilla bean paste
toppings
2 cups heavy cream
2 tablespoons powdered sugar
2 tablespoons dry milk
1½ teaspoons pumpkin pie spice
(optional)1/2 cup coconut
1/2-1 cup chopped pecans
Additionally, you can add 1 cup coconut into the cake and/or 1 cup chopped pecans
Instructions
Preheat oven to 350°
Spray a 13 x 9 baking pan with a baking spray and then line the bottom with parchment paper so the cake will release easily.
In the bowl of a mixer, beat eggs and sugar until they are pale in color and mixed well.
Mix in flour, baking powder, pumpkin pie spice until combined on low speed.
Pour in milk, melted butter, oil, and vanilla and blend until smooth.
Place cake batter into prepared pan.
Bake at 350 degrees for 30-35 minutes or until a toothpick comes out clean.
Allow cake to cool at least 5 minutes if you will be removing the cake from pan and then place it on a cooling rack. Then turn over remove parchment paper and place on serving platter.
Whip cream in a mixer with powdered sugar, dry milk, pumpkin pie spice until thick.
Spread over top of completely cooled cake, top with coconut and nuts if desired.
(additionally, you can add coconut and nuts to cake and 1 teaspoon coconut extract can be added if you'd like more coconut flavor)