They are so good, you'll want S'more! These Mini S'more Pies are so perfect you will want to make them right away! 
These S more pies are no-bake and can be made quickly. With rich delicious chocolate ganache, these are decadent!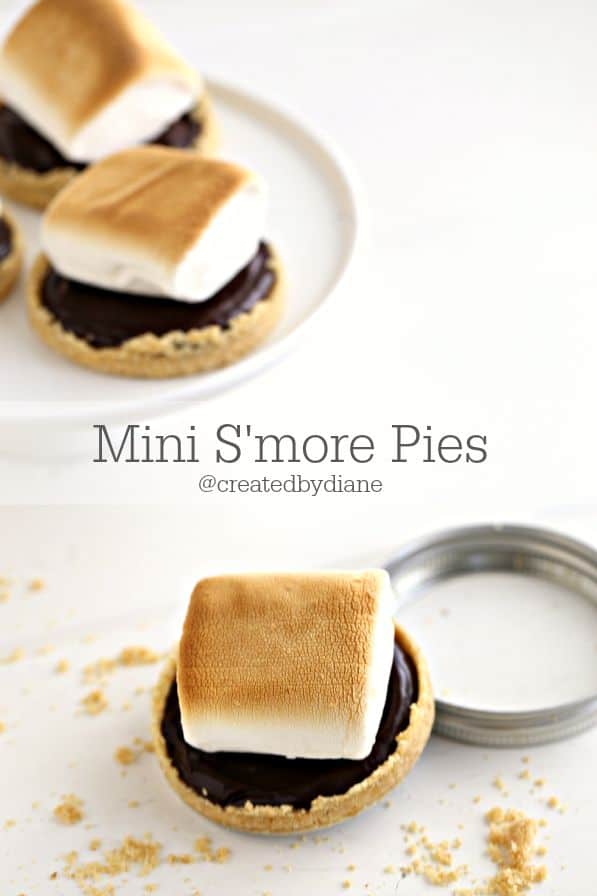 This easy smore pie recipe can be ready in minutes… and that is one of the things that makes it my favorite!
You won't believe how easy these are to make and how incredibly delicious they are.
These really are no-bake pies, if you torch the marshmallows with a handheld torch.
You can put them under the broiler to toast the marshmallow, which contradicts the no-bake part, BUT if a minute or two in the oven counts as baking so be it!
to me, they count as no-bake…since they don't bake for 30 minutes.
You could also toast the marshmallows over an open fire on a skewer and place them on top of the chocolate, the marshmallow will stick to the chocolate as soon as it melts the chocolate a little bit.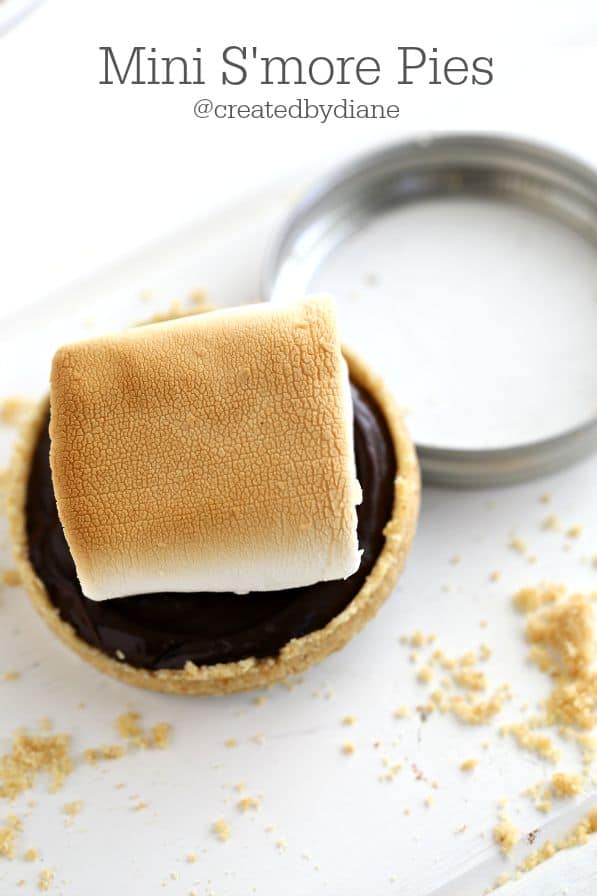 They have a deliciously buttery graham cracker crust with chocolate ganache filling and topped with a giant marshmallow that gets toasted…YUM
Using really good tasting chocolate is key to having the best flavor.
I prefer dark chocolate and use 60% cacao Ghirardelli chocolate chips, if you are a milk chocolate kinda person just use good chocolate, it matters especially when you aren't using a ton of chocolate.
I just LOVE using mason jar lids for pies. They really make such a great size pie.
More mini pie recipes

How do you make mini pies from scratch?
In addition to this mini pie with a graham cracker crust, I also make mini fruit pies with traditional pie crust and cream pie filling recipes, banana, strawberry, blueberry, and raspberry…get the recipes here.
If you want to bake the graham cracker pie crust you can, it'll only take 5 minutes at 350 degrees, I chose not to bake them, banking team the perfect no-bake pie. 
I used Canning Jar Lids to bake these in, Jar lids make great pies… you can use small pie tins, a muffin pan will work, use cupcakes liners and those will be smaller so use smaller marshmallows if you'd like.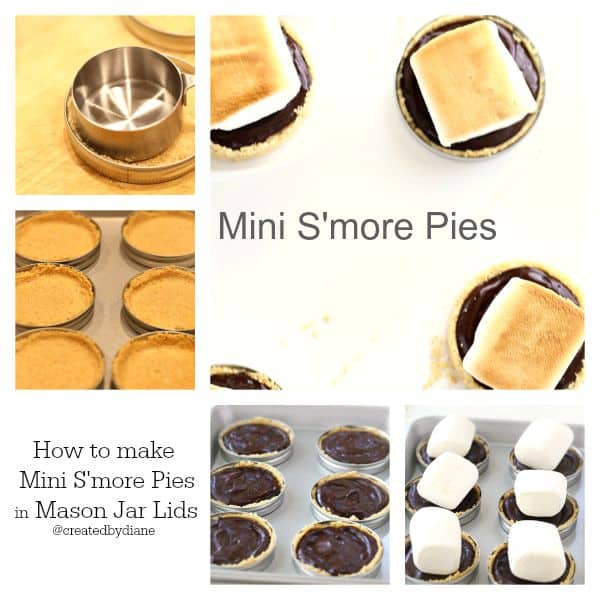 Just think in just a few easy steps these will be ready!
There are so many reasons I like these, one is how simple they are but that they have such a delicious and rich flavor.
I love individual desserts! They aren't just cute, but there is no cutting and portioning out once made, and no yelling of who gets the "bigger piece" (not that my kids would ever say that!)
You can multiply this recipe if you want to make 12 or more.
I'm all about individual desserts and pies, and these are always at the top of my must-make list. The BIG marshmallows are a huge hit for these.
Alternatively, you can top them with frosting, or marshmallow frosting, or even this chocolate malt frosting would be amazing on these.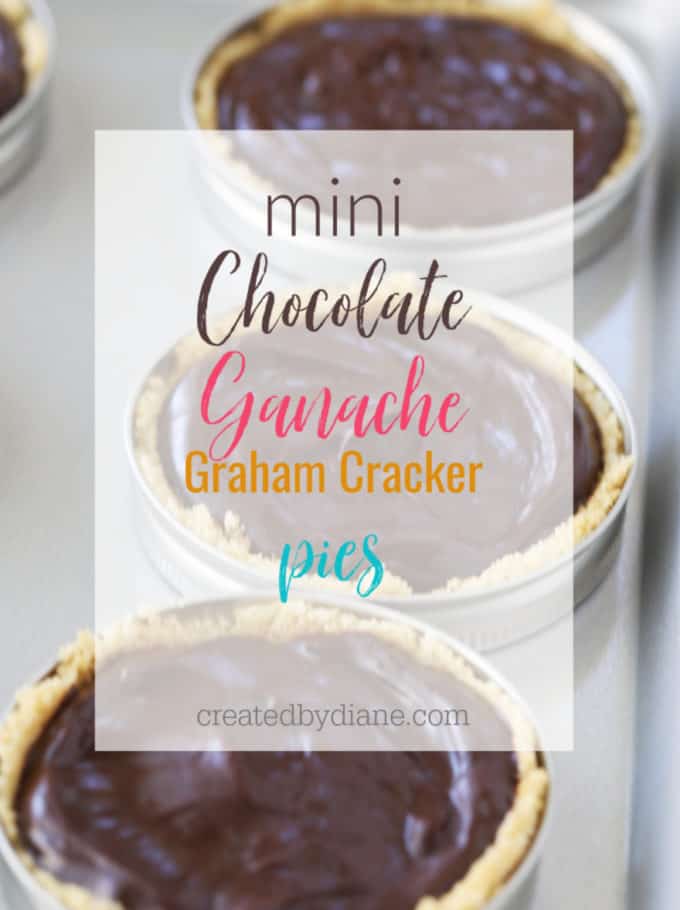 …and if you aren't the biggest marshmallow fan there is a simple solution
 you can serve them without marshmallow
add some sprinkles
chocolate chips
frosting or whipped cream to the top of these mini pies for a fun option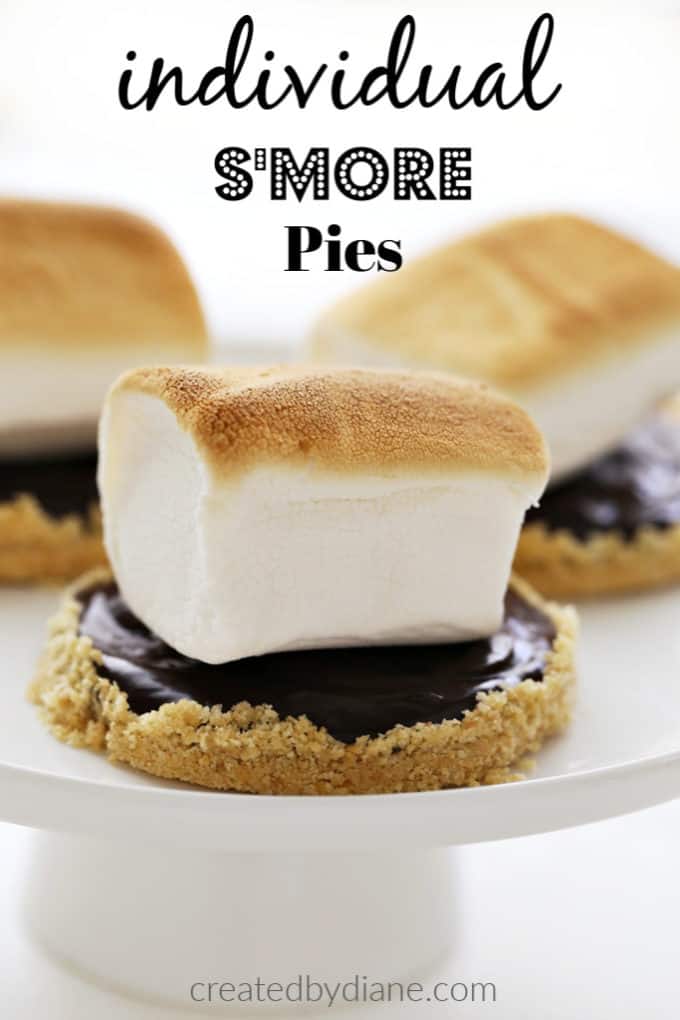 This is a fantastic dessert
no-bake
simple ingredients
minimal ingredients needed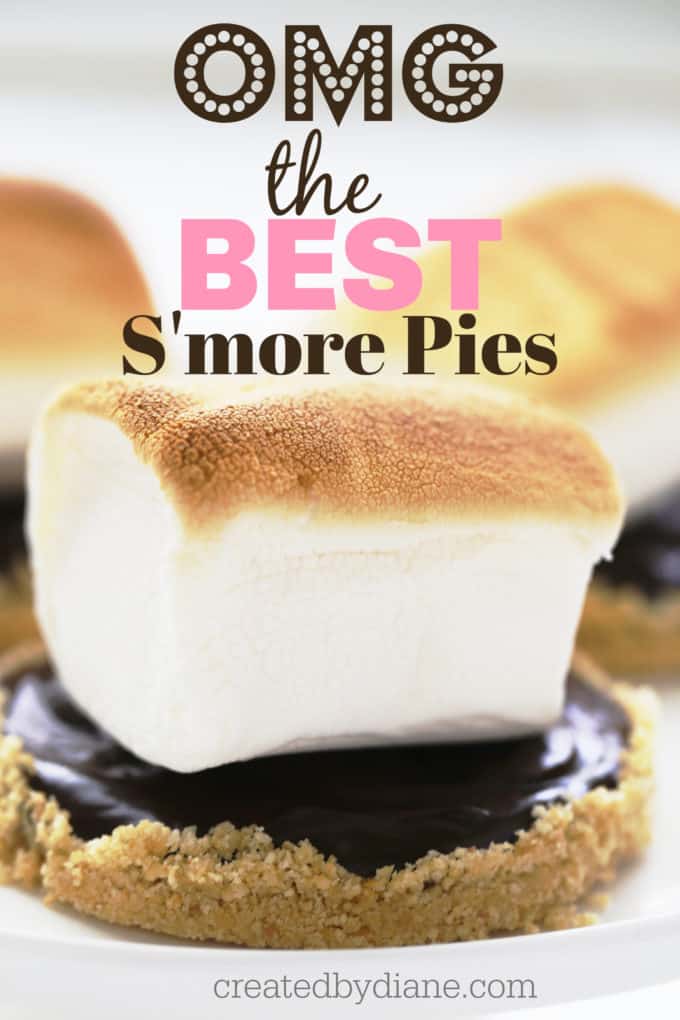 These are so simple to make they will make their way into your regular dessert rotation!
Mini S' more Pies
these individual no-bake pies are made in the lids of canning jar lids. Simple and delicious and easy to make.
Author:
Diane Schmidt Created by Diane
Ingredients
3/4 cup graham cracker crumbs
3-4 tablespoons butter
3/4 cup heavy cream
4 oz. chocolate (I prefer 60% cacao Ghirardelli chocolate) remember the better the chocolate you use the better the flavor the dessert will have.
1 tablespoon butter
6 jumbo marshmallows
6 wide-mouth jar lids
Instructions
Mix the graham cracker crumbs with the 3 tablespoons of butter until the graham cracker crumbs are all coated.
When pressed together they will stick to each other.
Using a pastry cutter makes the mixing easy. Alternatively, you can use a fork.
Place two tablespoons of graham cracker mixture into each jar lid and press the crumbs firmly into the lid like you would a pie crust in a pie plate. Using a mini tart shaper helps, using the bottom of s small measuring cup works well also.
Press the graham mix until it's pressed nicely into the lids.
Heat heavy cream for about 1 minute in the microwave then pour the chocolate into the cream, let stand 3-4 minutes. Stir until chocolate if fully melted and then add in 1 tablespoon butter and mix until all smooth.
Fill pie crusts with chocolate mixture. place in the fridge to set quickly or leave on the counter to firm up over a few hours. (the fridge will set the crust more firm than the counter if you like a messier crumbly crust the counter is fine. You can always pop them in the fridge for 15 minutes to chill them if needed)
Place jumbo marshmallows on top of chocolate and toast under hi heat broiler for 1-2 minutes or toast with a torch.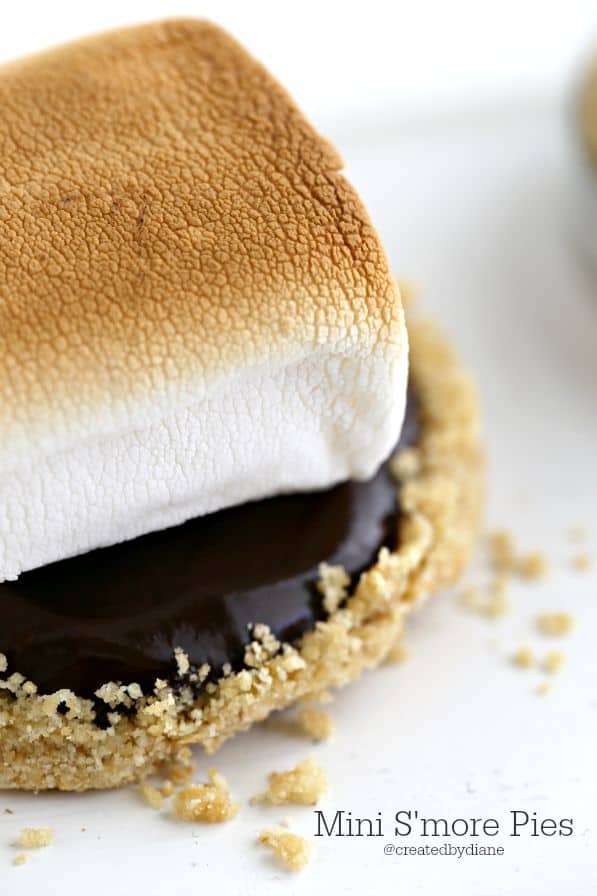 The best part of these S'more is that they are great in the summer because you really don't have to heat up your kitchen to bake them (even if the broiler is on for a couple minutes or you use one of the alternative methods I mentioned) and they are great ALL YEAR LONG, no matter the weather or occasion. S'more are always a HUGE hit!