Strawberry Shortcake Cupcakes as fresh-tasting as a gorgeous summer day! Delicious vanilla cupcake stopped with fresh stabilized whipped cream and fresh strawberries, so simple and perfect for all occasions.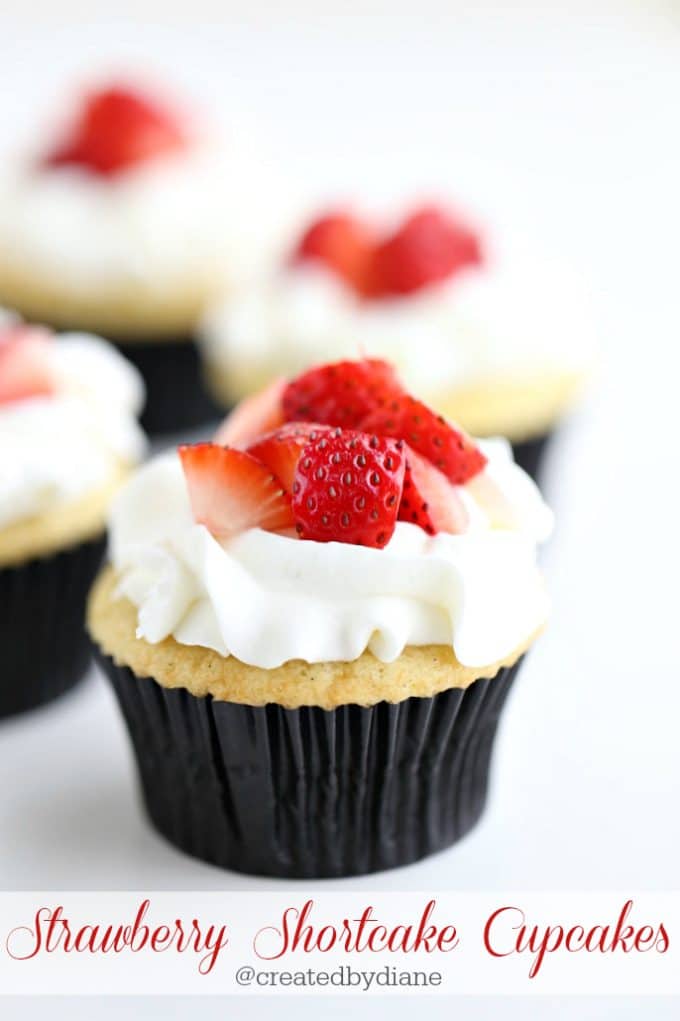 You are going to LOVE how simple it is to make these Strawberry Shortcake Cupcakes.
This recipe makes 12 delicious vanilla cupcakes.
The perfect size for just about anytime!
These can be ready in under an hour including clean up.
The cupcakes are topped with fresh whipped cream and fresh strawberries.
I don't prefer the strawberries overly saucy, if you do and don't mind the mess go ahead and toss the strawberries with a tablespoon of sugar, it will pull the juice out of the strawberries and make a sauce. Be aware this will soften the cupcake and would be best if served immediately or the cupcake will become soggy. I prefer just cut strawberries, but since some like it saucy, there is the option for that!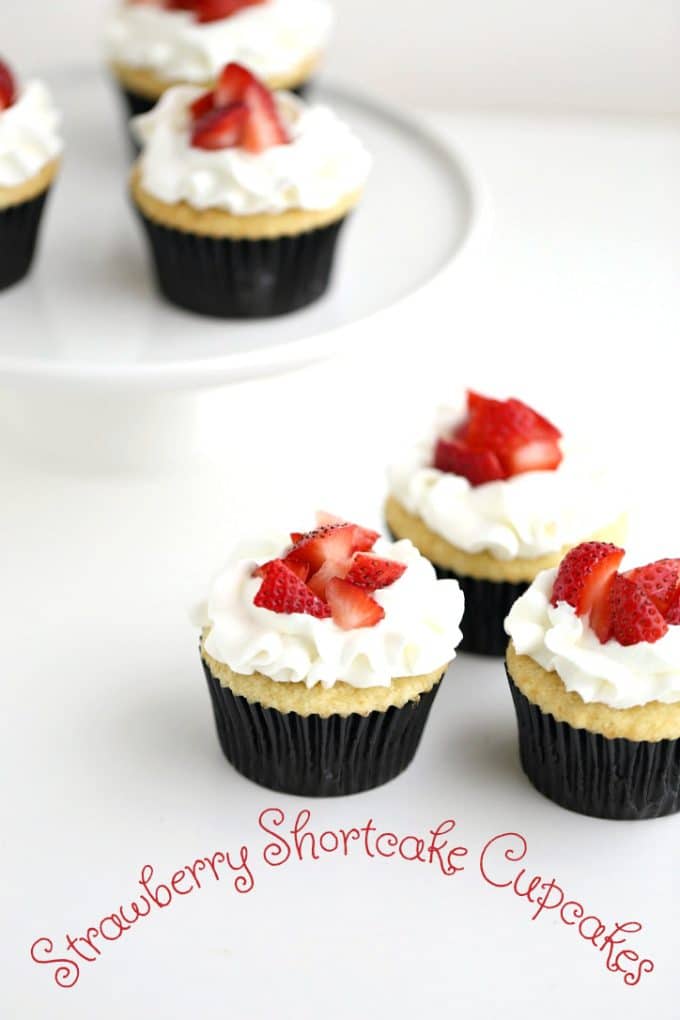 There is no fresher tasting dessert than fresh berries and pile them on top of vanilla cupcakes with fresh whipped cream and you have a WINNER!
Now just imagine when a dozen of these beauties will be needed…. well for me, it's just about anytime we have unplanned company, it's easiest enough to make and run out and get some strawberries and heavy cream if needed while the cupcakes bake, as long as someone is home to watch them and pull them out of the oven for me. Or I ask someone to go to the store for me, which usually results in my treating them to ice cream or soda… that's how my kids get things done, they bribe me in a backward way.  But I don't usually mind at all. I then have plenty of time to clean up the bowls and get onto other things to do before everyone gets here.
These are great to bring to someone and sit and have a cup of coffee or tea with, no one can resist these cupcakes even at breakfast time. It's like a fruit pastry… but WAY better!
These are great to bring to BBQs and parties as you don't need to slave over them all day and these taste AMAZING, you can also mix up the berries if you prefer, go right ahead, and add some blueberries, blackberries or raspberries!
This recipe is for 12 vanilla cupcakes, and whipped cream frosting with strawberries, you can easily double this recipe for more.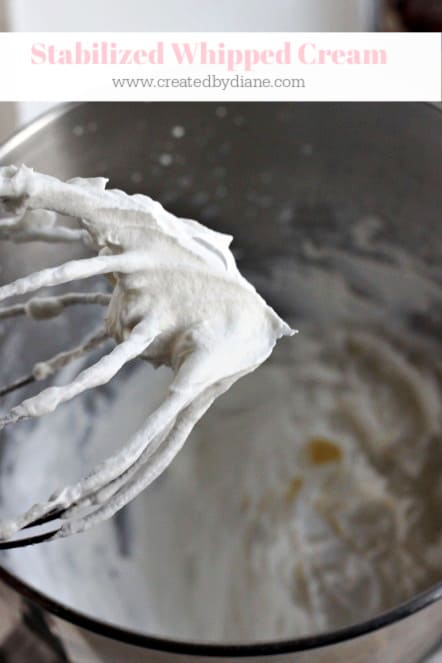 Be sure to check out my stabilized whipped cream recipe here.
Strawberry Shortcake Cupcakes
12 Vanilla Cupcakes topped with whipped cream and strawberries, the perfect Strawberry Shortcake recipes to enjoy for all celebrating, or a simple dessert after a weeknight meal.
Author:
Diane Schmidt Created by Diane
Ingredients
1 cup sugar
2 eggs
1 1/4 cups flour
1 1/2 teaspoons baking powder
1/2 cup milk
1/4 cup melted butter (4 tablespoons)
2 tablespoons oil
1 teaspoon vanilla
Instructions
Preheat oven to 375°
In a medium bowl beat the sugar and eggs with a whisk.
Add in flour, baking powder, and milk and whisk until smooth.
Stir in butter, oil, and vanilla and mix until completely combined.
Place cupcake liners into a cupcake pan.
Place 3 tablespoons of batter into each cupcake liner.
Bake for 18-20 minutes until a toothpick comes out clean.
Cool in pan for 5 minutes then remove cupcakes from the pan or the moisture from the cupcakes cooling in the pan will begin to pull the cupcake papers away from the cupcakes.
Then allow cupcakes to cool completely before frosting.
whipped cream
Ingredients
1 cup heavy whipping cream
2 tablespoons sugar
1 1/2 cups strawberries cut into small pieces
Instructions
Whip heavy cream with sugar until the cream is thick and medium-stiff peaks form at the end of the beaters.
Put the whipped cream into a piping bag with a star tip (I use a 2D tip)
Swirl the whipped cream onto the edge of the cupcakes leaving the center plain.
Add a spoonful of fruit into the center of each cupcake.
Serve immediately.
If you plan no serving them later, chill them and remove them from the fridge 30 minutes before serving.