This is the perfect anytime cake, it's delicious chocolate flavor topped with a stabilized whipped cream can be topped with chocolate curls, berries or sprinkles to serve up at a party, after dinner treat, and all the little celebrations in between the big celebrations.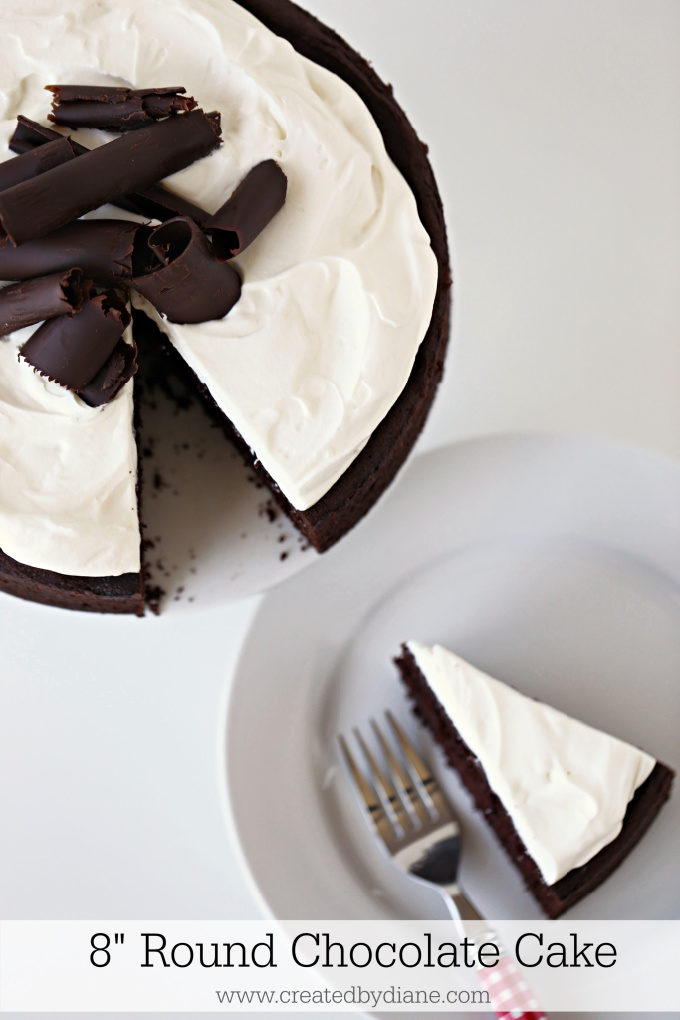 I'm all about dessert!
I find it hard to resist.
My fork just keeps going back for more.
I like simple flavors and really love when making it is uncomplicated.
This cake is easy, no mixer needed.
Feel free to whip the cream by hand if you wish. I have whipped cream by hand many times, but most often use an electric whip (a whip attachment on an immersion blender) it's a small batch so it doesn't take long either way.
The whipped cream is stabilized, meaning it won't get all watery as it sits on the cake.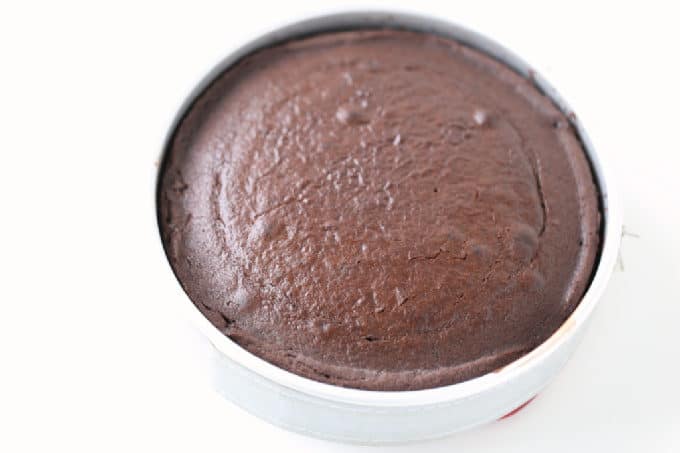 This cake is so great, it's baked in an 8″ round pan, and comes out beautifully, I do wrap the outer edge of the pan with a baking strip (a wet baking strip, I used to use strips of towels and secure them with safety pins or T-pins, but now use these baking strips and they are GREAT!) I use them to be sure the cake will bake up evenly.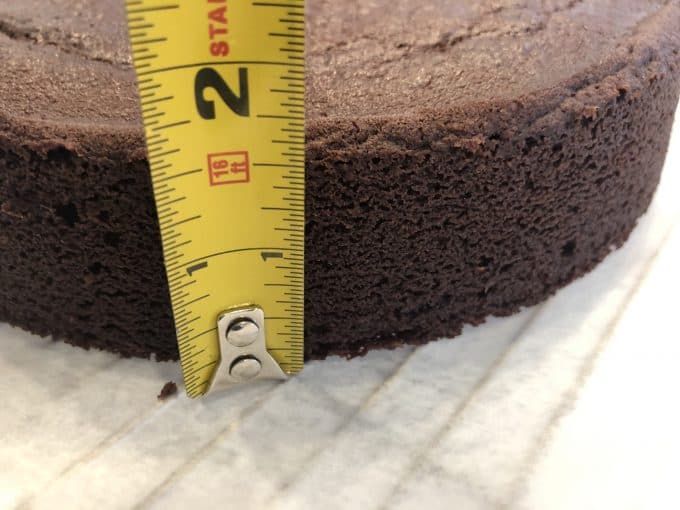 This cake is baked in an 8″x 2″ pan, it'll bake to the top of the pan and settle a bit when it's cooled.
BE SURE TO CHECK OUT THE VIDEO below also!
More chocolate recipes you may like: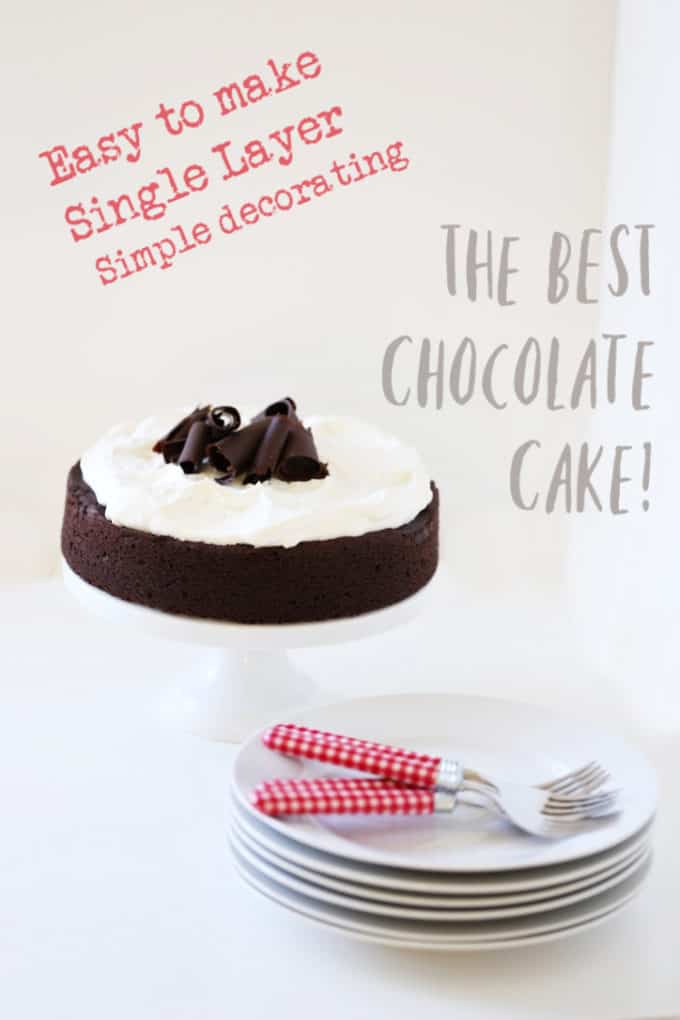 What would you top this cake with…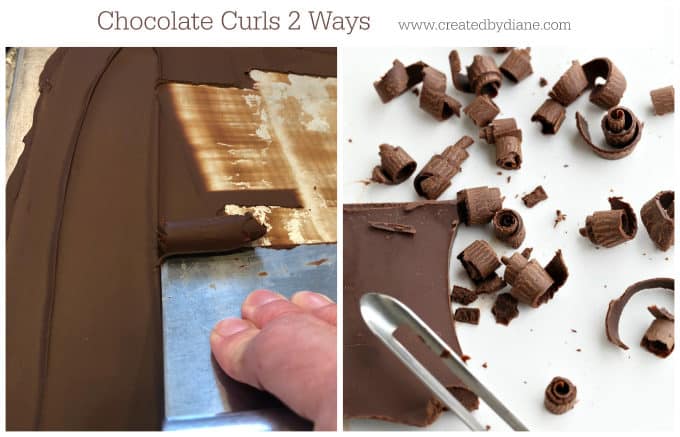 I chose chocolate curls, I melted chocolate with some coconut oil, then spread it on the back of a baking sheet and put it in the fridge to chill, then pressed a pastry scraper to create the curls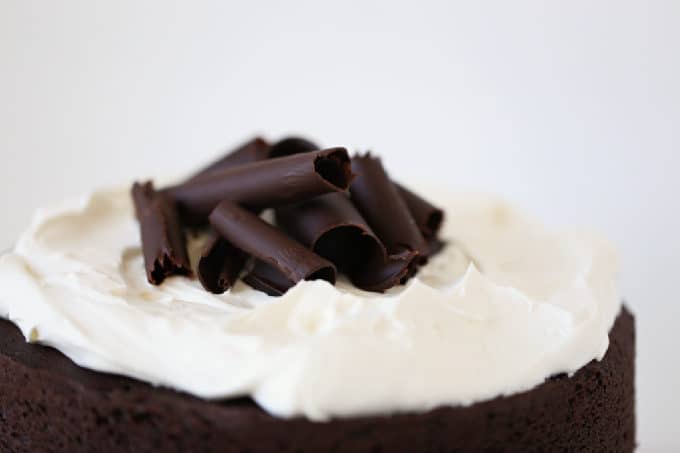 alternatively, you can use a vegetable peeler and glide it along the long edge of a candy bar for small curls, other options are chocolate chips and some cherries, berries (think strawberries, raspberries or blueberries) super easy toppings are items like chopped nuts or sprinkles.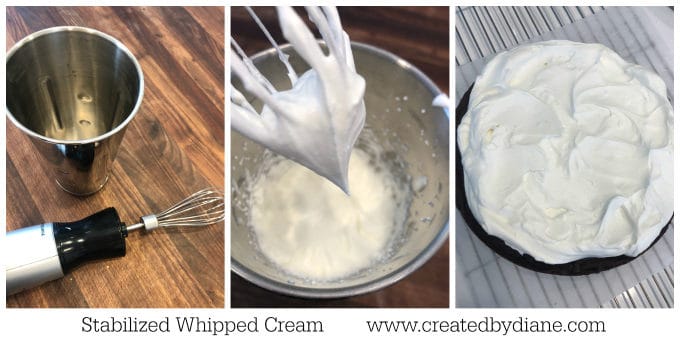 Normally whipped cream "weeps" and gets wet and separates easily, this simple tip will stabilize the whipped cream and stays nicely on the cake and lasts for days in the fridge on the cake.
Add dry milk to the whipped cream, you can whip it by hand or with an electric whip, or beaters. I use THIS, it's a handheld immersion blender with a whip attachment. I can't tell you how many times a week I use this, I love it! I use it for smoothies, whipped cream, and sauces. If you want to see some sauce recipes look here.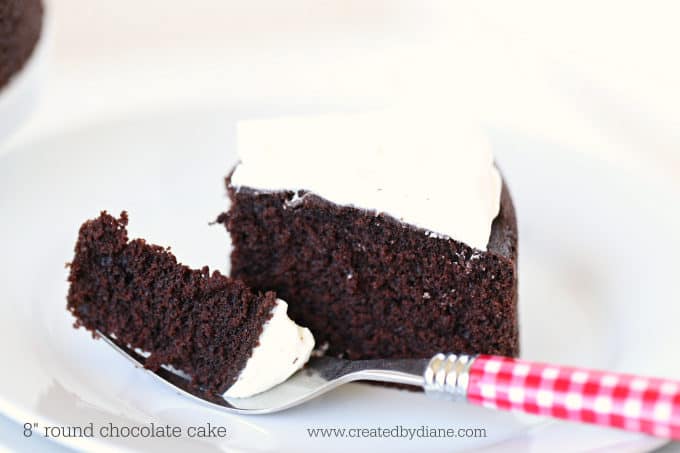 From start to finish this cake is ready in under an hour.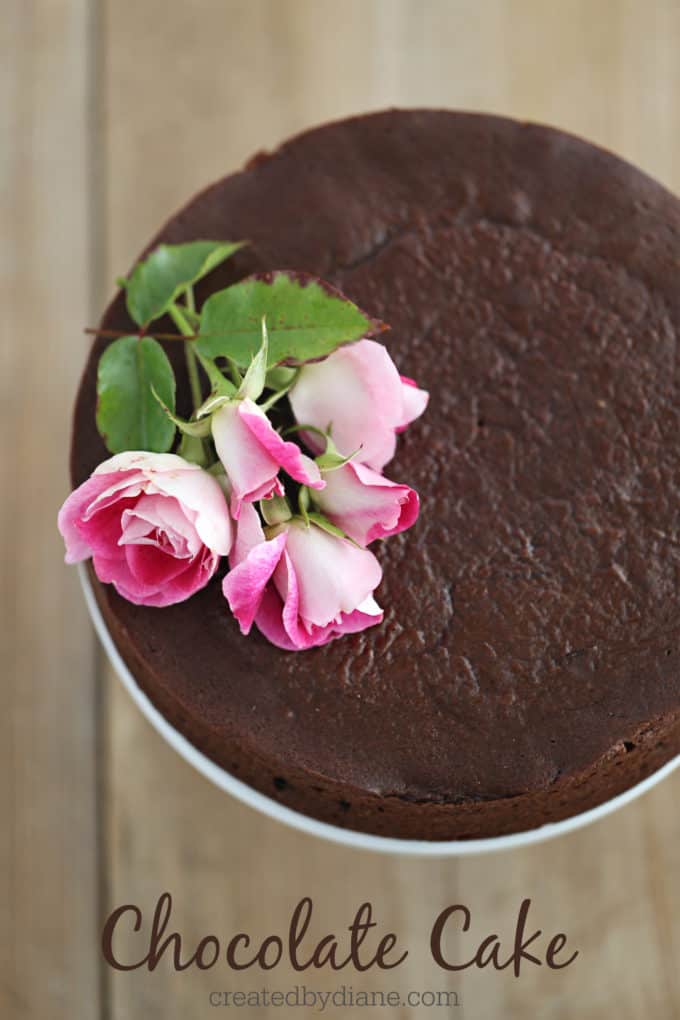 This cake is so great, you can eat it with nothing on top, or pile on some flowers to make it pretty if you like.
All you'll be looking for is a fork, to dig into it!
If you're looking for an 8″ Vanilla Cake Recipe Click HERE.

8 Inch Round Chocolate Cake
A delicous and moist chocoalte cake that makes one 8" round cake perfect for small celebratings.
Author:
Diane Schmidt Created by Diane
Recipe type:
Cake, Dessert, Chocolate
Ingredients
1/2 cup butter, softened (not melted but soft. I put in the microwave on defrost for 30-second intervals twice)
3/4 cups granulated sugar
1 teaspoons vanilla
1 egg
1 cup all-purpose flour
1/4 cup dutch process cocoa
1/2 teaspoon baking soda
1/2 teaspoon salt
1/4 cup buttermilk (or 1/4 cup milk and 2 teaspoons vinegar blended)
1/4 cup hot coffee (or boiling water)
whipped cream frosting
1 cup cold heavy whipping cream
2 tablespoons dry milk- this stabilizes the whipped cream so it doesn't separate and it tastes great too.
1 tablespoon powdered sugar
1/2 teaspoon vanilla
1/2 cup chocolate (Ghirardelli 60% cacao chips)
Instructions
Preheat oven to 350°.
Prepare an 8" round cake pan with a baking spray or oil and flour pan, so the cake releases easily (I use Baklene)
In a medium bowl add butter and sugar and whisk until well blended.
Add in vanilla and egg and whisk to combine.
Add in cocoa, baking soda, salt, and stir in flour
Add in buttermilk and stir,
then add in coffee and whisk until smooth.
Pour batter into prepared baking pan (wrap with a wet baking strip to bake cake evenly)
Bake at 350° for 33-35 minutes or until a toothpick comes out clean.
Remove cake from oven and allow to cool for 10 minutes then place wax paper over the top of the cake to turn cake onto a cooling rack.
Cool cake completely before applying any frosting.
Whip the heavy whipping cream with dry milk, powdered sugar, and vanilla until peaks form.
Spread whipped cream over cake and top with chocolate curls, sprinkles or chocolate chips for an easy decorated cake.
chocolate curls:
heat chocolate chips with coconut oil spread on the back of an ice cold baking sheet (that has been in the freezer for a few minutes) then press a metal spatula or bench scraper to create the curls.
Place curls on top of whipped cream and serve.
After frosting cake with whipped cream and topped with the chocolate place in the fridge if not serving soon. Can be made ahead and refrigerated, then taken out of the fridge at least 29 minutes before serving so it can begin to come to room temperature.
A cake that is served immediately or within a few hours even if refrigerated will be soft and fluffier than a cake that has been refrigerated overnight as the cake will become denser. So depending on how you like your cake you'll know when to frost your cake and serve it to your liking.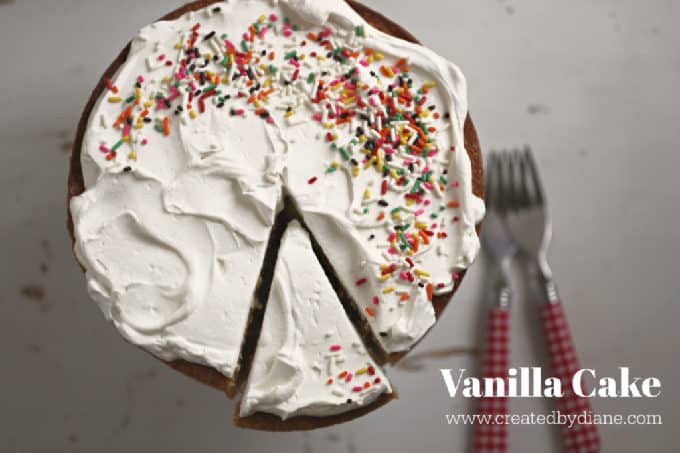 CLICK HERE for my Single Layer Vanilla Cake