I love a simple soup recipe and this creamy mushroom soup is not only easy to make it's a healthy mushroom soup at that!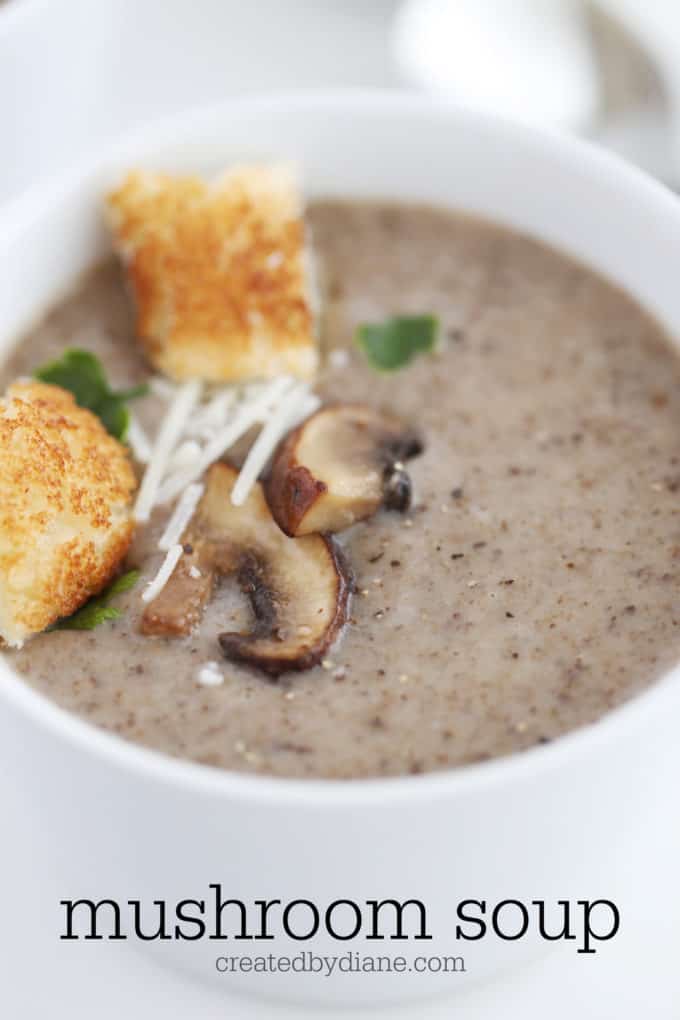 I'm a soup fan and I love mushrooms! If you are too this soup is not going to become your new favorite!
I am always buying a container of mushrooms when I go to the big box stores and most of the time have an idea of what I'm using them in, but sometimes I just wing it… 
I hate to see any food and have frozen the mushrooms to put into other soup recipes if I think they'll go bad by the time I can get around to making it. Since this soup is pureed if you have to freeze them, they'll still work. 
I recall snacking on sauteed mushrooms in butter with garlic powder as a teenager when I came home from school… needless to say, I've always been a mushroom fan!
I love the flavor of these baby portabella mushrooms in this soup, but any mushroom will work.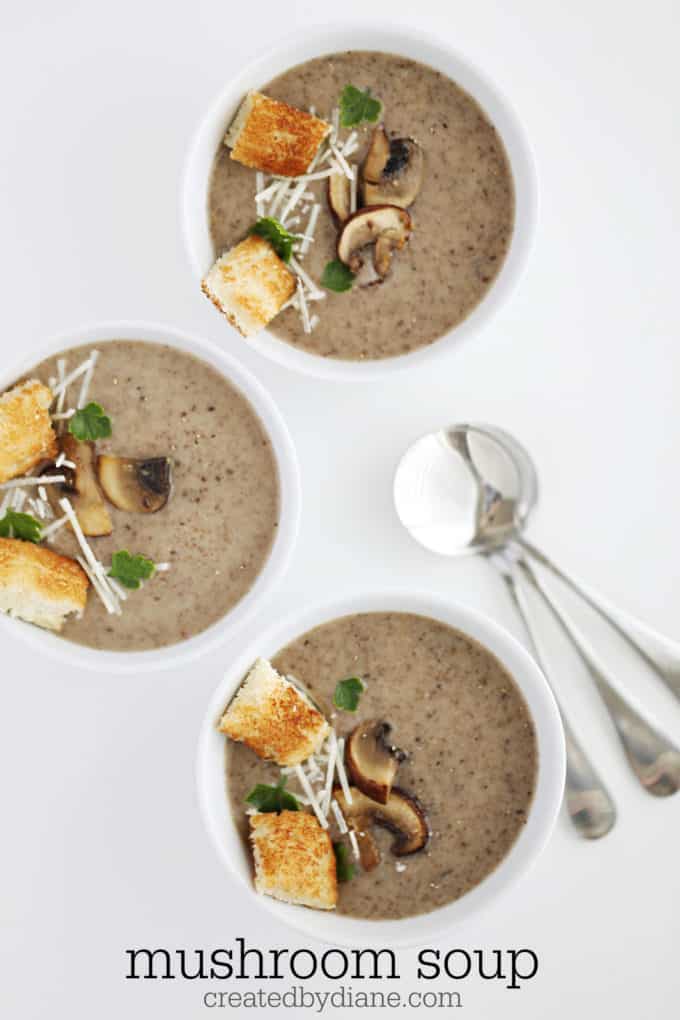 The soup starts off with sauteed onion and garlic with butter. Come on you know that sounds yummy already!
Now add in the remaining ingredients and a soup that is irresistible.
Top it with some shredded Romano or parmesan cheese, and some croutons and some extra sauteed mushrooms and WHAMO…. a bowl of delicious, filling soup that makes a great starter or meal especially if you're trying to eat a little lighter.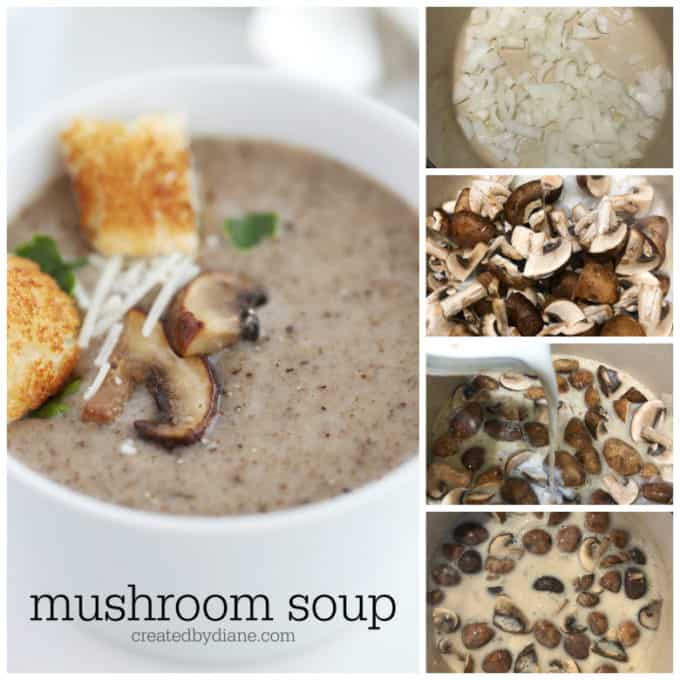 After the soup is cooked I used my IMMERSION BLENDER (I seriously could not live without one) I use it multiple times a day and have always had one… I think I'm on my third or fourth one in thirty years.
I like this one I have, it not only blends soups and sauces, but makes great smoothies, has a whip attachment to make all sorts of yumminess like whipped cream frosting, and has a food processor attachment that I use to make salsa both red salsa and green salsa!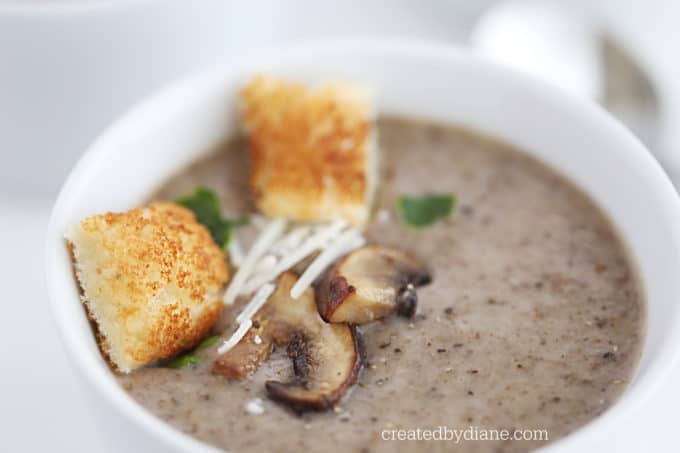 What can I add to this soup?
Bacon is fabulous in this soup, blend some cooked bacon into the soup, or add some 
cheese is always yummy- parmesan or Monterey jack are great options
Can you add wine to the recipe?
By all means, add in a 1/4-1/2 cup of wine red or white for an added delicious flavor that takes this soup the next level.
How can I make this into a vegan mushroom soup?
Simply don't use butter, use oil to saute the onions and garlic, and use alternative milk like almond milk, rice milk, or your favorite milk. Use vegetable broth if you'd like this to be vegetarian.
What other vegetables can I add to this soup?
Spinach, cauliflower, carrots, celery can all be added to the soup, I'd chop them small and add them after adding the onions.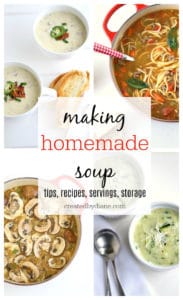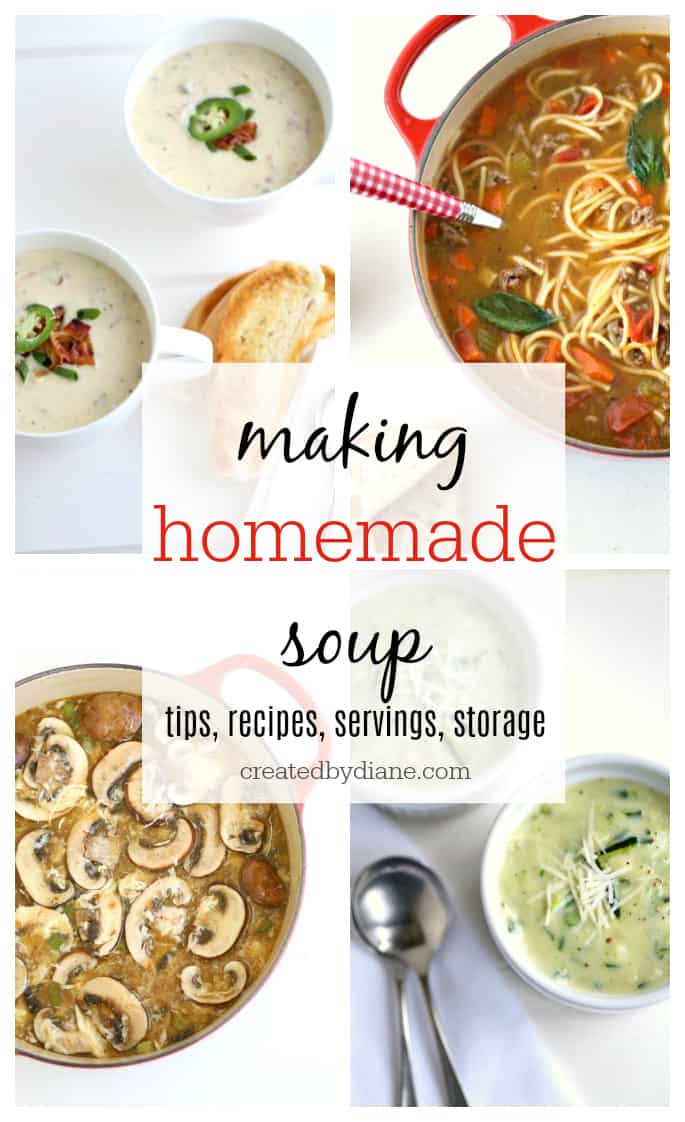 Be sure to check out my post on making homemade soup HERE.
I use this pot to cook my soup in, I find it's the best size for most of the soups I make, plenty of room to stir and I can sear meat in it, the soup stays hot long after it comes off the stove.
I couldn't' find the exact bowls I use, but these soup bowls look great.

Mushroom Soup
a deliciously creamy mushroom soup that is ready in minutes and is healthy and filling.
Author:
Diane Schmidt Created by Diane
Ingredients
1/2 medium onion
2 teaspoons minced garlic
1 tablespoon butter, or oil
16 oz mushrooms cut (I used baby portabella mushrooms cut into quarters)
3 cups chicken broth (or water and chicken bouillon)
1 cup milk (or heavy cream or milk alternative)
2 tablespoon cornstarch
salt and pepper
Instructions
In a medium saucepan (3-4 quart) on medium heat saute the onion and garlic with butter, cook for 1 minute.
Add in the mushrooms and chicken broth.
Bring to a simmer.
Mix cornstarch with milk, and slowly pour into the simmering broth.
When the soup comes to a simmer again, turn the soup off.
Add salt and pepper to taste.
Puree the soup with an immersion blender (or food processor or blender)
and serve.
Top with croutons, grated cheese (Romano cheese) green onions, or bacon.