I love scones, no matter the flavor. This easy scone recipe is so delicious, just wait until you try it.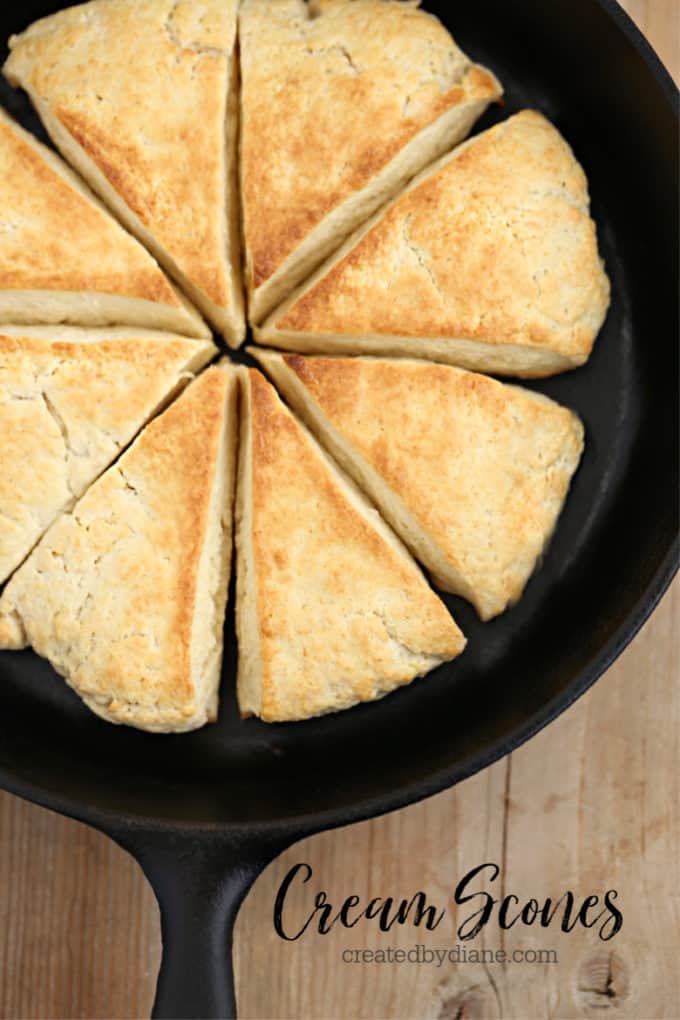 Most scone recipes are made by cutting butter into the flour mixture with a pastry cutter or two knives,
I'll admit it can be a little fussy,
the butter needs to be ice cold and you need to blend the two items until it's well combined into fine crumbs. 
But that all changes with cream scones, this EASY recipe is made without butter but it uses heavy cream and you basically pour the cream into the flour mixture and you're all set.
If you've shied away from making scones, this recipe is for you. It comes together quickly and easily and you can have scones hot out of the oven in under 30 minutes.
Cream scones are a little lighter in texture and have a bit softer texture, but equally delicious as traditional butter scones.
The only question you'll be asking yourself is… what will you be topping the scones with.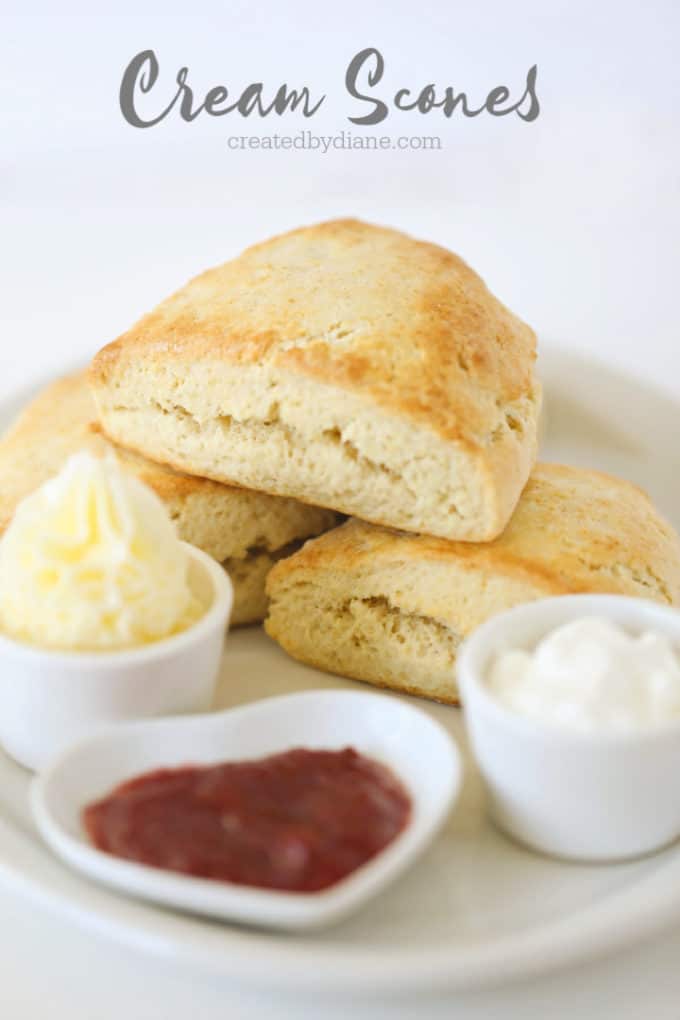 Let's just agree there is NOTHING quite like something fresh-baked hot out of the oven…
well, these scones might possibly be the simplest item to get that warm cozy feeling with,
so let me show you how easy they are to make.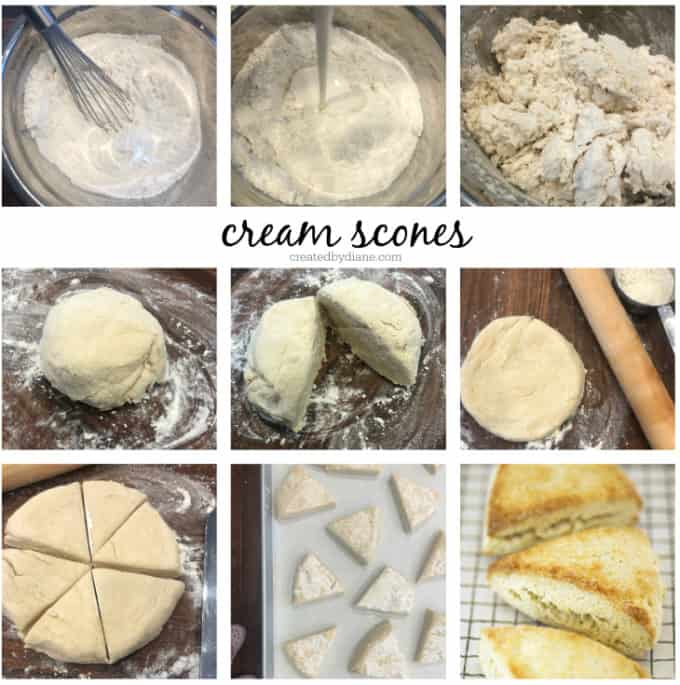 As you can see by the visual above, you're only a few simple steps to fresh-baked, tender cream scones!
There is no cutting the butter in… just pour in the cream and stir. 
Then roll the dough into a ball,
cut it in half,
then roll it flat and about an inch thick.
Then cut each disk into 6 pieces, you can leave them in the shape of a circle to bake or separate them,
you'll brush the tops of the scone dough with cream, then bake them…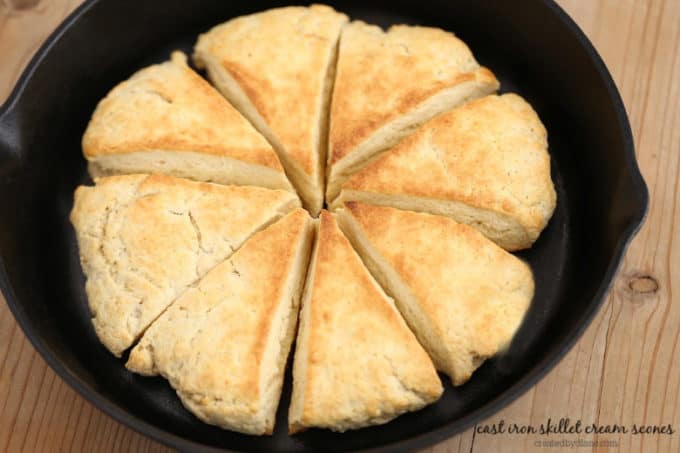 I've also made larger scones baked in a cast-iron skillet with the same recipe. So, depending on what you prefer, smaller scones, larger scones, or what you have to bake them in, there are many choices here and all result in great scone baking!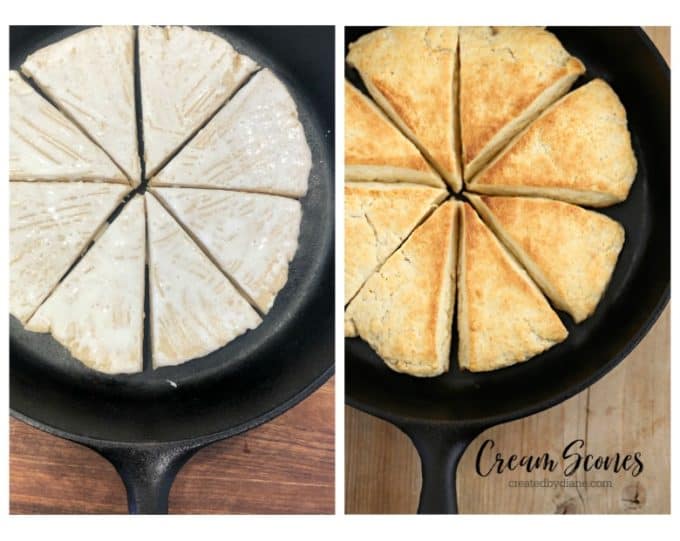 When I made the scones in the skillet, I didn't freeze or refrigerate them after forming them, they baked up very well, which also meant that they were out of the oven and ready to eat really quick, so if you don't have time to chill them before baking, they will come out with great results.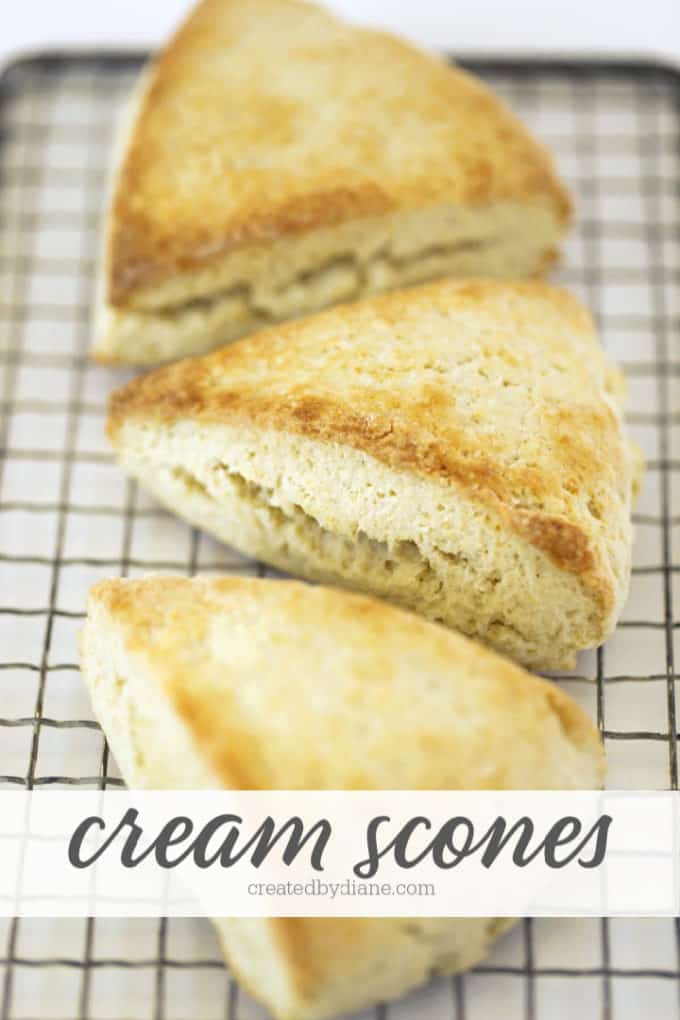 And outcomes these delicious scones, tender with a nice crust on the outside.
reasons to LOVE scones 
Easy to make
Can top them with just about anything from butter and jam, to fruit curds like this blueberry curd, can be dunked into or eaten alongside your favorite breakfast drink (coffee or tea) or smothered in my chocolate gravy like this…
Firm crisp like crust with a tender flaky inside. A power duo!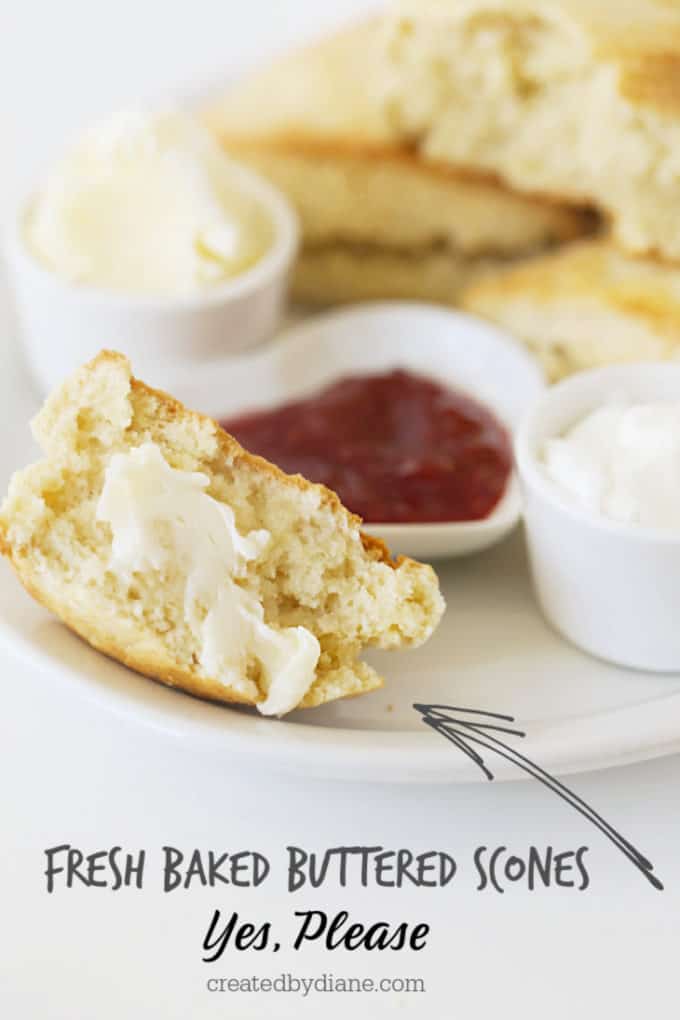 I am certain this scone recipe will easily become your favorite too! I love baking scones and have lots of other scone varieties. Some of my favorite flavors:
 and don't forget these great savory scones I've made
both worth trying if you like savory items.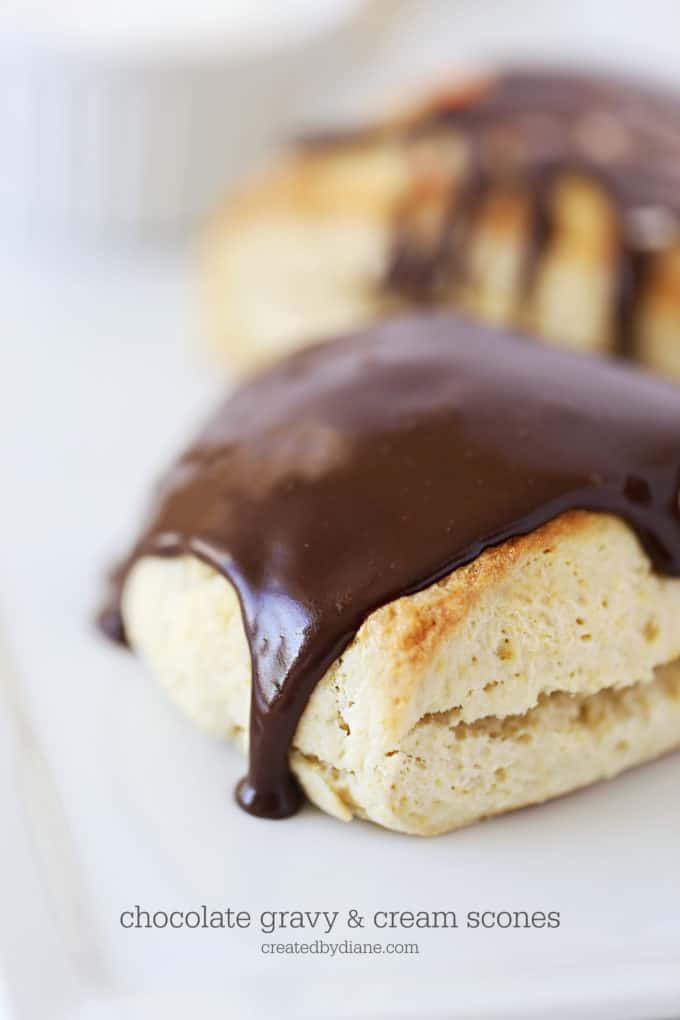 If you're looking for something chocolaty to add to your scones, look no further than my chocolate gravy… it's amazing!
What can I add to these cream scones to change the flavor?
You can easily add flavors to these cream scones. With extracts, emulsions, and other baking flavors. I buy lots of THESE extracts, they have great real flavors and don't taste "artificial". They are concentrated and I also like THESE baking emulsions, I have all the flavors) I'm kind of obsessed. You can easily change up the flavors by adding a fun flavor.
Now you can also dunk or drizzle them with some rich and delicious chocolate gravy… recipe coming soon!
If you'd like to top your scones with a true classic make some Homemade Clotted Cream, here is a great recipe from The View from Great Island.

Easy Cream Scone Recipe
Tender scones made with heavy cream baked to perfection with a firm crust outside and tender interior, perfect for breakfast or dessert.
Author:
Diane Schmidt Created by Diane
Ingredients
3 cups all-purpose flour
1 tablespoon baking powder
1/2 cup granulated sugar
1 teaspoon salt
1 teaspoon vanilla extract
1 3/4 cups heavy cream split into two portions 1 1/2 cups for the batter, 1/4 cup for brushing on top of scones
Instructions
*Preheat your oven to 425°
In a medium bowl whisk the flour, baking powder, sugar, and salt together.
In a measuring cup so it's easy to pour add 1 1/2 cups heavy cream and the vanilla.
Pour the heavy cream mixture into the flour mixture while whisking/stirring until all the flour mixture is absorbed.
Roll the dough into a ball on a floured work surface, then cut the ball in half and roll them smooth into two balls.
Gently roll each ball into a disk shape with a rolling pin about an inch thick, they'll be about 6 inches around, then cut with a large knife or pastry scraper into 6 triangles.
Repeat with the second ball of dough.
Place each scone onto a parchment-lined baking sheet ( you can separate the scones or bake them close together in the circle shape).
Brush the tops of the scones with the remaining 1/4 cup of heavy cream.
*Place the baking sheet in the freezer for 15 minutes.
Bake the scones for 15 minutes, they will start to get golden brown on the edges. Test with a toothpick, it should come out dry.
Notes
*You can begin preheating your oven when you start mixing or when you place the tray in the freezer to chill.
These scones are also able to be rolled into one thick disk shape, then cut into 8 pieces but leaving them almost touching and baked in a cast iron skillet at 425° for 15-17 minutes.
Based on this Cream Tea Scone Recipe from King Arthur Flour