The most simple and decadent white cake ever! This moist, white cake recipe with sour cream is perfect for any occasion!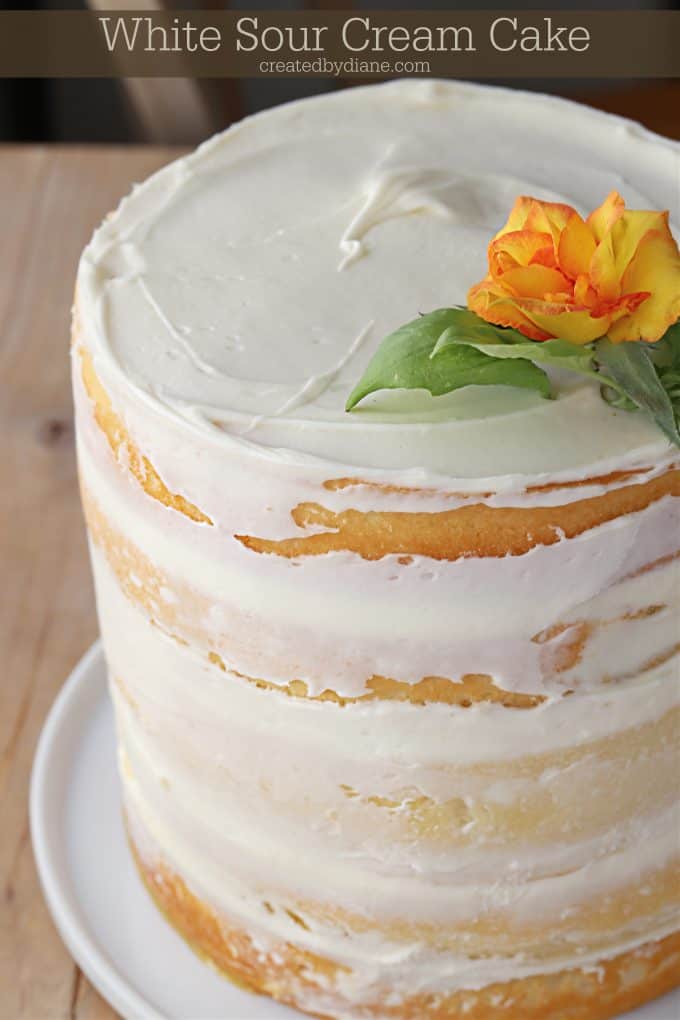 When it comes to impressing people, this may be the cake of all cakes to do just that.
And you won't believe how simple it is!
When I first shared the cake with a few friends, immediately I was asked to make it for two different weddings! 
The pressure was real! When it comes to cakes, I love a simple, elegant, and rustic type of cake. And then mentioned how I don't actually like stress and how I'll give them all the recipes so they can make the cakes themselves. And you too can make these delicious recipes that combine together to make this simple, rustic, and elegant tasting cake. 
Cakes made for large celebrations, where everything has to be picture-perfect, well, they're just not me.
Luckily, my "wedding cake"recipe was a hit and they received rave reviews – which is why I'm sharing it here.  But don't be fooled, this cake is not a cake you have to make for some fancy occasion. It's simple enough for everyday sweet indulgences. It's 5 layers and you'll be so glad there is plenty of cake, it's that good you'll want to enjoy it slice after slice.
Because a good cake should never be kept secret! This cake actually uses a cake mix… and no one guessed it was made with a cake mix, no matter how many times I've made and served it, this recipe is MAGIC!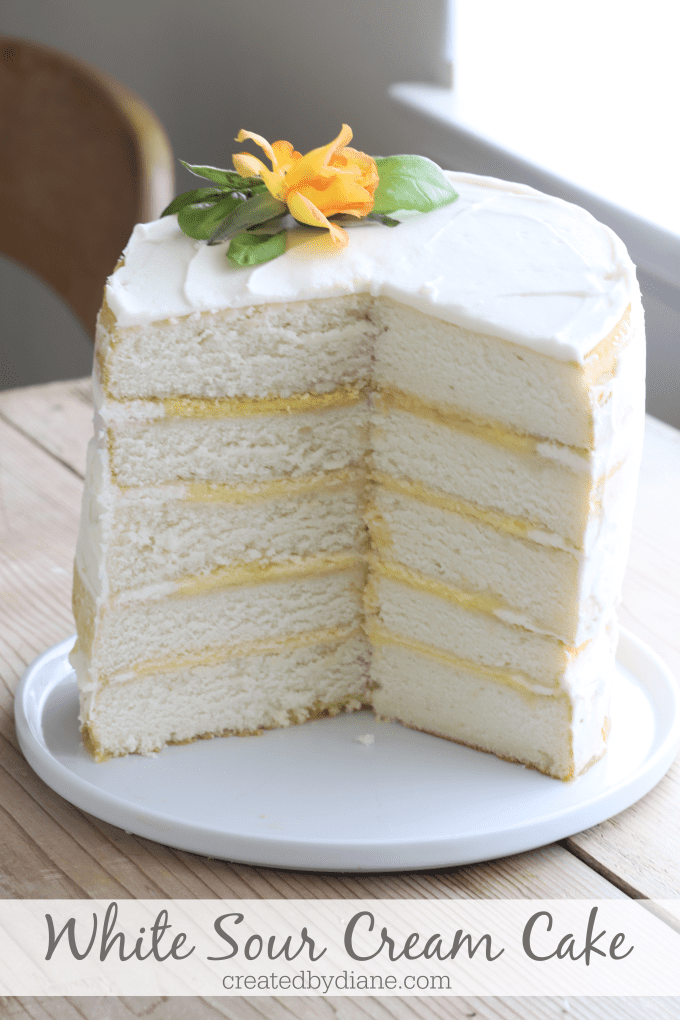 And you don't need a wedding to enjoy this cake… 
Because of its simplicity and rustic beauty, it can be enjoyed as an after-dinner dessert when it's just you and the family. Or just you! Hey, this is a judgment-free zone! Or if you really need an excuse to make it, invite a few of your friends over to enjoy it and some of these Strawberry Lemonade Mimosas – there's nothing better than cake and champagne for brunch! 
Perhaps one of my favorite qualities of this recipe is its versatility. Because it's a white cake, you really can treat it like a blank canvas. For example, I will often add vanilla or lemon flavoring to suit my tastes. However, you could add almond extract or even strawberry – play around and get creative, that's how great recipes are born!
And if you want to elevate this recipe, you can fill the cake with pastry cream and lemon curd. It's out of this world delicious! You can even mix lemon curd into the frosting if you like for more of a citrus twist. Some of the lemon curd did seep out the sides of the cake a bit, so mixing the lemon curd and pastry cream together as the lemon curd is thinner on its own. Once the whole cake was chilled completely overnight it all firmed up, so it'll depend if you're making it ahead of time or assembling it the day of serving. I prefer to make ahead of time and refrigerate the cakes so the filling is set up nice and thick…
maybe you're a chocolate lover,
you could fill the cake with this chocolate fudge frosting, or even strawberry frosting too. The options are endless. But you can also keep it simple, as it is fantastic served simply.
One thing is certain, the minute you start baking this cake, the aroma that fills your home will be so heavenly you'll wish you could jar it and sell it! My husband likes to hang out by the oven and smell the kitchen towel to take in all the cakey goodness! 
But let's move on to the recipe – pretty soon you'll be able to smell the aromas for yourself.
Whether you're making a 2-layer or 5 layer cake – the recipe is simple to follow and because I'm actually using a shortcut method and taking advantage of pre-boxed cake mixes – you'll be done in no time. It's important to note here that you won't be following the directions on the package.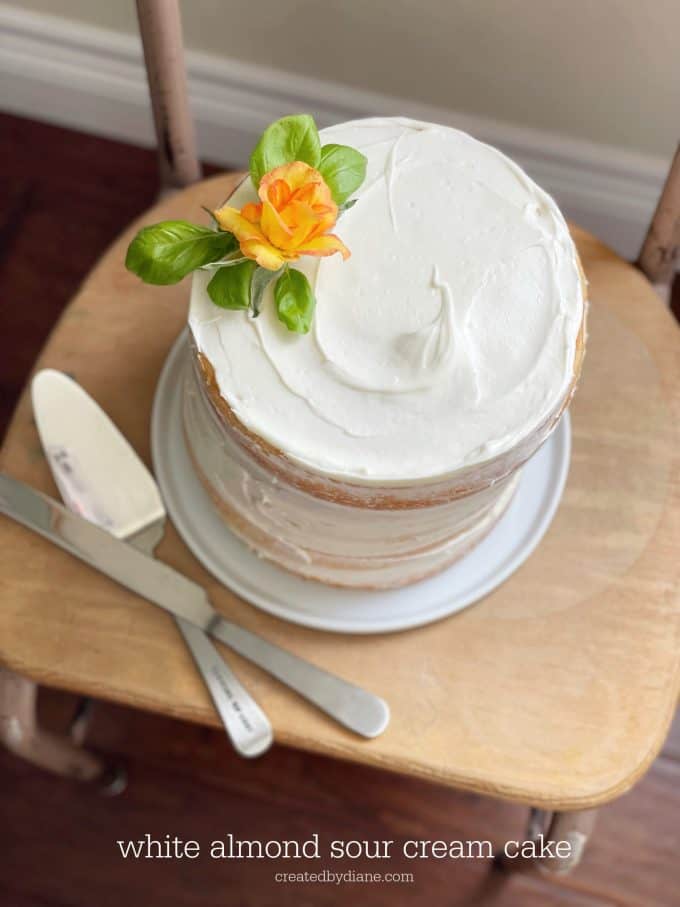 This cake can be decorated any way you choose, I prefer a rustic slathering of frosting that doesn't overwhelm the cake, but if you're all about the frosting go right ahead and pile it on!
I added some basil leaves and a rosebud, you could opt for a flower, herbs, sprinkles, or leave it plain.
To begin:
Prep 5 eight-inch round cake pans. Generously use a baking spray or use shortening and flour, then wrap the pans with wet baking strips to ensure even cakes. You can buy these strips online or in stores that sell baking supplies. They ensure an even rise and produce flat-topped cakes, making them easier to layer.
If you don't have leveling strips to bake with, use strips of towels that you wet and pin them around the cake pans. This ensures the cakes will bake evenly, with flat tops as well as won't be overbaked on the edges.
In a large bowl of a mixer you'll add all the ingredients in the order they are listed on the recipe. You can put them all in at once – I told you this was going to be an easy recipe!
Mix at a low speed until the items start blending. Then increase speed to medium and mix for 2 minutes, scraping all ingredients around the bowl and under the beater after the first minute to be sure they combine fully. Be careful here, and don't get too close to the beaters or you'll lose your spatula!
Once fully mixed, pour cake batter evenly amongst the 5 pans (8″x 2″ round cake pans) and tap the pans gently so the batter is level.
Bake at 335° (not 325° and not 350° for a well-risen cake that isn't dark in color… if your oven does not go to that temperature use 325 degrees and test it with a toothpick at 1-minute intervals to test for doneness, you do not want to overbake cake). Now, every oven is different. My oven is large, I'm able to fit five 8″ round cake pans on one rack. But not every stove is the same size. You can bake these in batches if need be, or separate the pans between two racks if you know your oven will bake them evenly (mine does not I never bake more than one rack at a time) rotating the racks halfway through to be sure each cake is baked evenly. If using just one rack, set it just above the center. 
I start by timing the cakes at 30 minutes. Then I test them about every 5 minutes until they are just set and a toothpick comes out clean when tested in the center of the bake.
Remove the cakes from the oven, allow them to cool for 10 minutes. Then turn the cakes out onto a cooling rack to cool completely.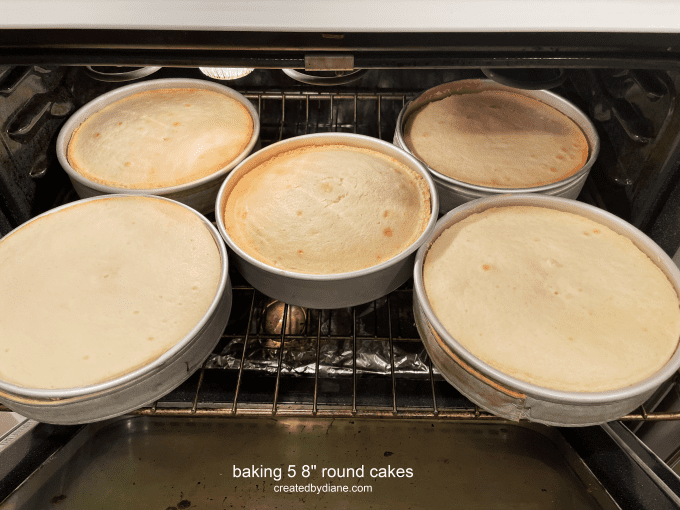 When the cakes are completely cool, individually wrap each cake in plastic wrap and refrigerate or freeze the cakes so they will stack well and not slide. For a five-layer cake, it's best to bake your cakes 1 day ahead of time. The layers make this cake high and heavy. Baking ahead of time ensures the cakes will be plenty set and chilled ahead of frosting. 
Finally frost and fill as desired!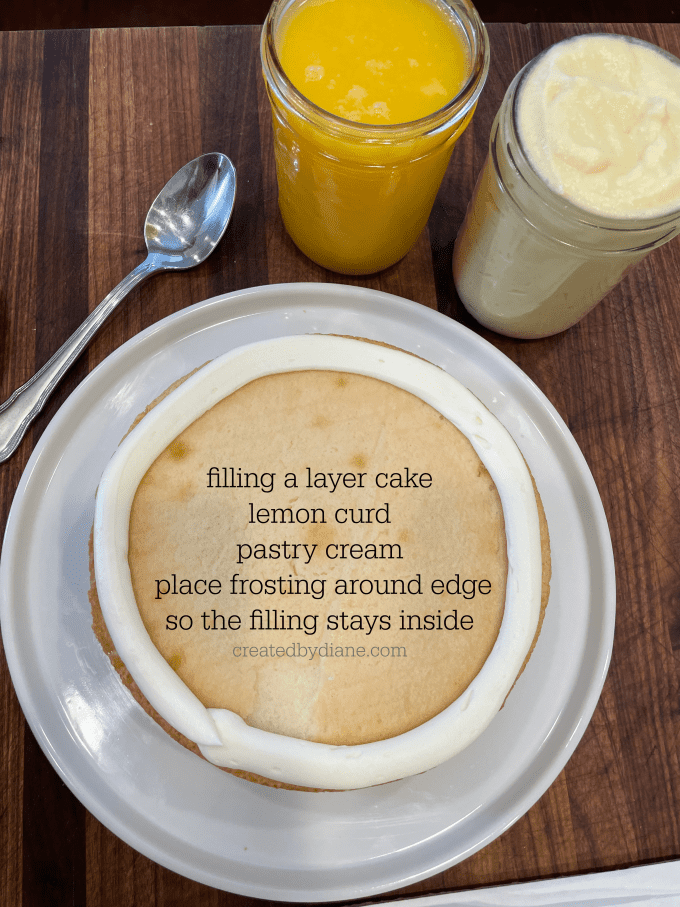 There are so many options for filling and frosting this cake, the possibilities are endless. I filled my cake with pastry cream and lemon curd, but it doesn't need to be so elaborate, you can simply put frosting in between the layers. 
Other great items for fillings are chocolate ganache or jam.
I love a pudding type of filling so I'm a huge fan of pastry cream or curd, I have lots of recipes for fruit curds (which are essentially a dessert spread… think of it as a fruit pudding)
You don't need to make 2 fillings, you can easily use frosting <<click for lots of recipes, (the possibilities are endless… as I mentioned, or use jam, or for a light Stabilized Whipped Cream Frosting or try Chocolate Whipped Cream Frosting. I think I'm going to make it next time with coffee frosting!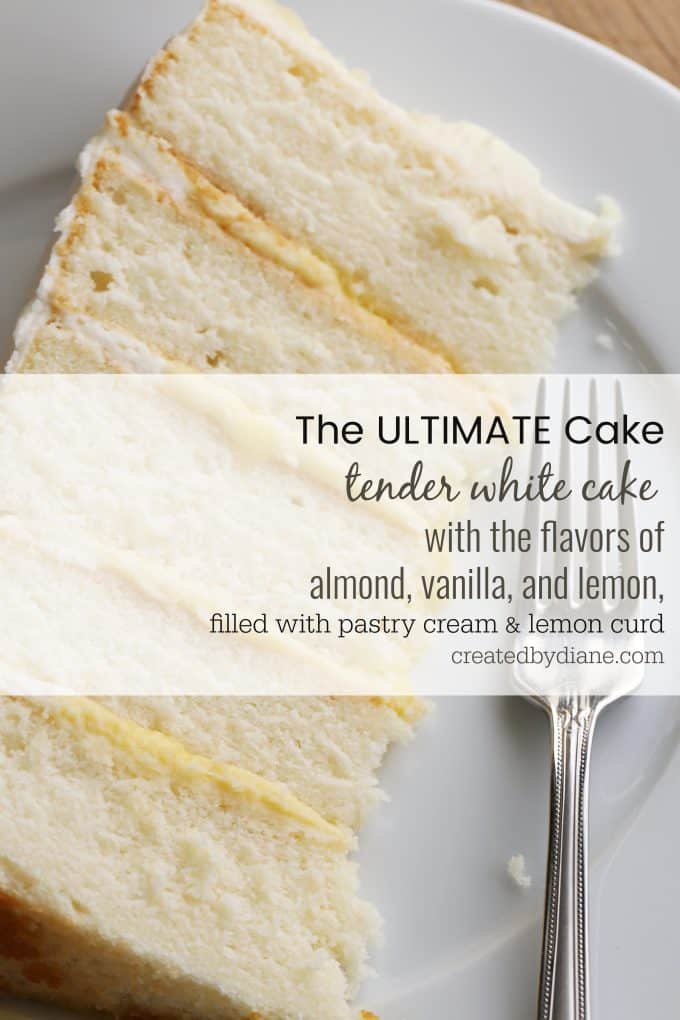 If I chose to freeze my layers, should I thaw them ahead of frosting them?
No need to thaw the cake to frost it, the layers will stay firm and also help maintain a moist cake.
Do you have more frosting recipes or ideas on how to easily decorate cakes and cupcakes?
Yes, as a matter of fact, I have a whole blog dedicated to it! Clicking here will take you there! Happy Frosting!
And I have an ebook dedicated to frosting cupcakes here with LOTS of tips!
Could I use fresh fruit in between the layers?
Absolutely, thinly sliced fresh strawberries or the fruit of your choice or as mentioned fruit curd works well. Just be sure the filling is evenly spread so your cake sits squarely and doesn't imitate the Leaning Tower of Pisa! 
Could I use this recipe for cupcakes?
Yes! They'd make excellent cupcakes. And if you want some tips on decorating your cupcakes when you're finished, look no further! I created a blog post with tips and tricks to make your cupcakes look like mini pieces of art.
Why do some people like box cakes or scratch cakes more?
It often comes down to what they are used to, so this cake is a blend of the best of both worlds, it's easy to make as it starts with a box cake mix, with the addition of additional ingredients it has a better texture than the very fluffy texture of a box mix and the additions give it a better flavor as well, it doesn't have the typical box mix flavor. It is quite unusual to be able to feed it to so many and no one knows it's not totally from scratch. This is a cake you'll make again and again for the ease of a cake mix with excellent results every single time without the stress if you are not the most accomplished cake baker. 
I do have another delicious completely from scratch wedding cake if you're looking for another recipe.
The cake I made includes 4 recipes (cake, frosting, and 2 fillings) do not be intimidated, they are not overly complicated.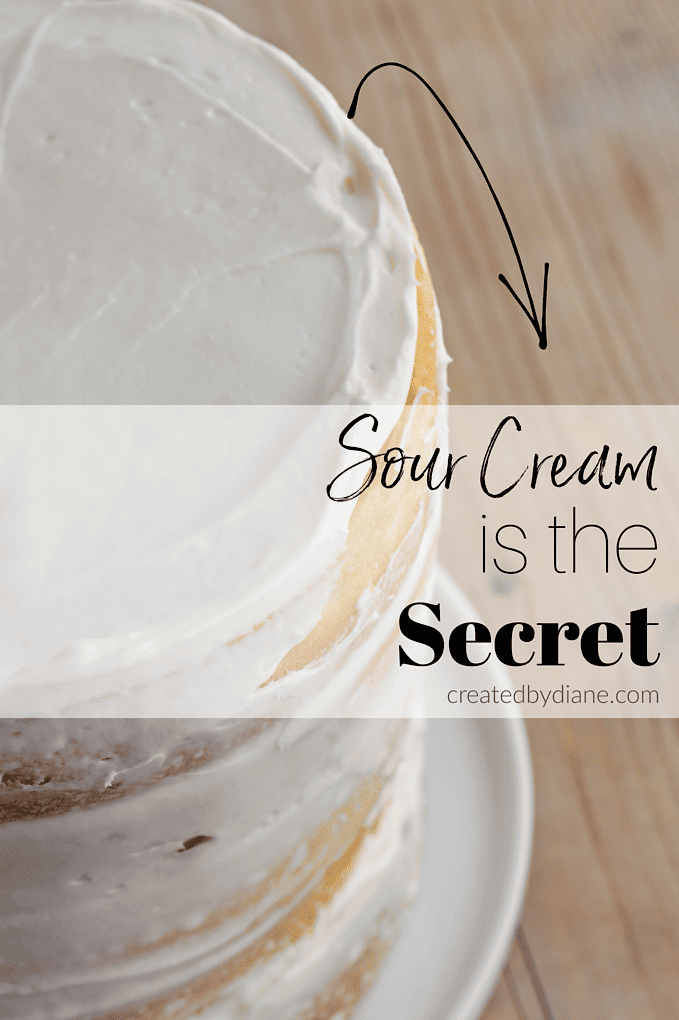 You can choose to fill the cake with the sour cream frosting, or another frosting you prefer. I used pastry cream and lemon curd to fill the cake, if you want a lemony flavor add some lemon juice to the sour cream frosting or you could make Cream Cheese Frosting which is sweeter than the sour cream frosting or you can make American Buttercream frosting for a truly sweet frosting, another option is Swiss Meringue Frosting which is less sweet than American or Italian Meringue Buttercream., which is silky and buttery.
Want more LEMON:
The filling recipes (pastry cream and lemon curd) are larger than what you'll need, but they sure are fun to have at the ready in the fridge when you want a snack, like dunking cookies into, adding more lemon curd to the cake. I placed some in small 1/4 cup containers and brought some cake and extra lemon curd to friends and everyone loved it!
You can reduce the recipes in half if desired, which will give you enough filling. 

You can double the frosting recipe if you prefer to ice the cake with a thicker coating or more in between layers. I didn't use a lot of frosting, so this small batch worked well. I used it all. But if you want to add filling across the layers of the cake, be sure to make a double batch.