An Asian classic recipe gets a healthy makeover! This orange chicken recipe is not breaded or fried, making it easy to make at home and takes very little time to get this dinner on the table.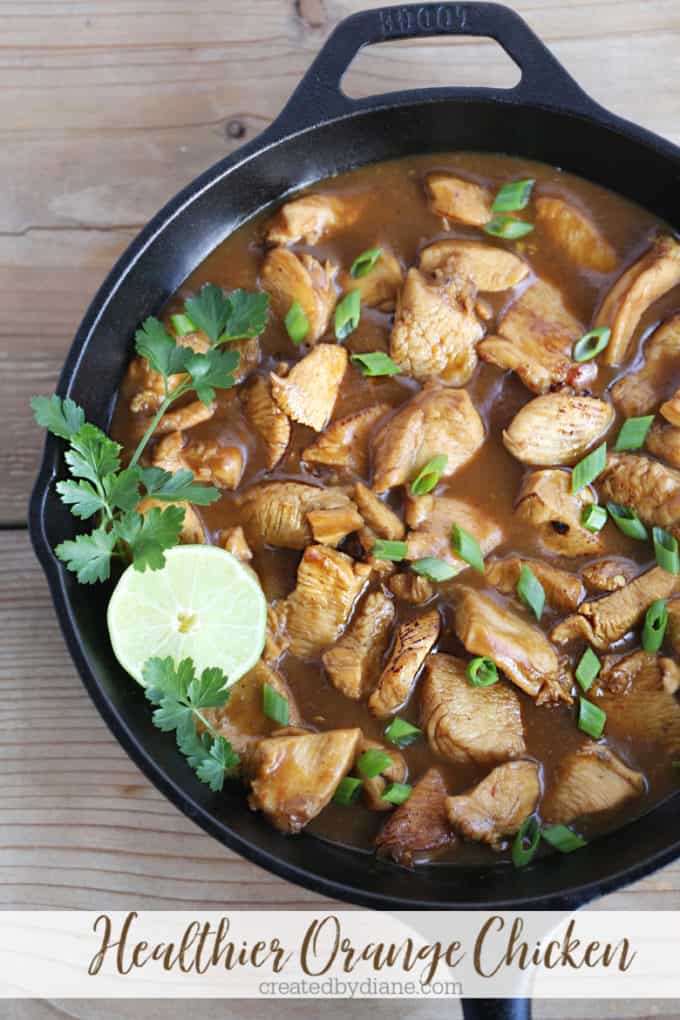 My kids always order orange chicken when asked what they when we order take out Chinese food.
So I decided to make a version I could make easily for them and the results are yummy!
I used boneless skinless chicken breasts, sauteed them in a skillet, added the sauce and in no time this dish was ready and on the table. 
Orange chicken is great served over rice, but you can also serve it with linguini noodles. 
If you want to serve it low carb, serve it over shredded cabbage or bean sprouts.
You can add in some orange segments, or mandarin oranges, or serve it without. My kids don't care if there are orange pieces in it or not.
Other items you can top this dish with are chopped peanuts or cashews, cilantro, shredded carrots.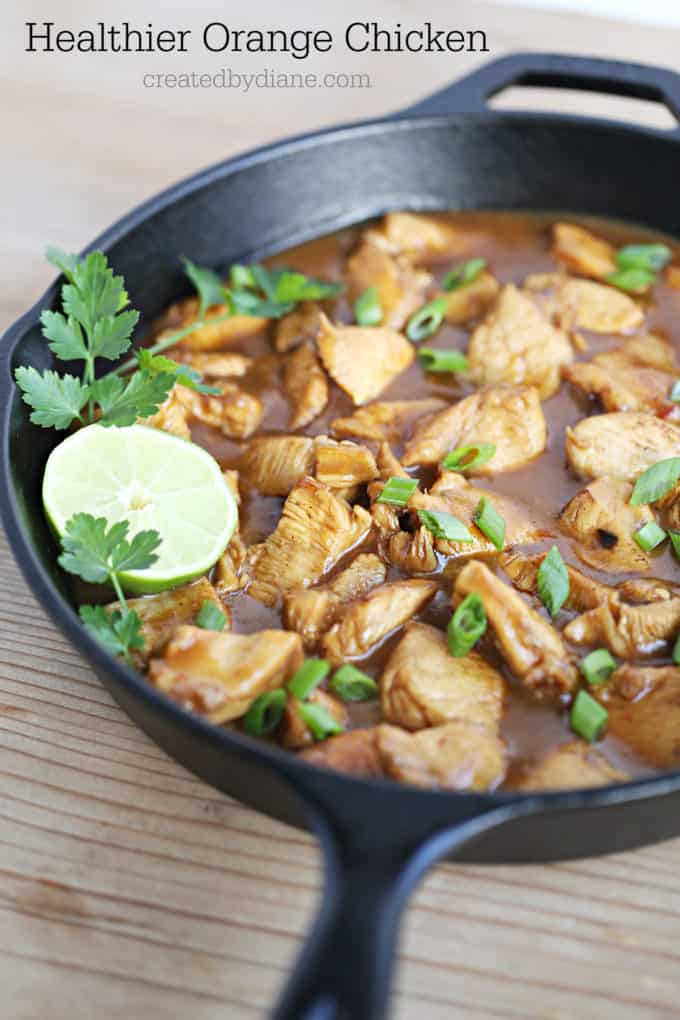 What if I do want some coating on my chicken but don't want to deep fry it?
You can coat the chicken with 1 cup of cornstarch before putting it into the skillet, it'll get lightly crispy and have a thin coating when done cooking.
What if I want the sauce tangier?
For added tangy flavor add in 2-4 tablespoons rice wine vinegar and you can also add some ginger 1/4- 1/2 teaspoon dry or fresh ginger,  you can add either one or both to this dish for additional tanginess.
What if I want more orange flavor what could I add?
Add in drained mandarin orange segments, or fresh cut orange pieces at the end of the cooking time, so the oranges aren't mushy but will give the dish great flavor. You could add orange zest or dehydrated orange peel (usually found in the spice aisle).
What vegetables would be good with this recipe?
Broccoli, peppers, and onions go really well with this recipe, pan cook them, or steam them or add them on top of the sauce and chicken and place a lid on top for a couple of minutes until they are the tenderness you want.
healthier orange chicken
a delicious sweet and savory sauce tops tender chicken fo ran at-home version of an Asian classic recipe.
Author:
Diane Schmidt Created by Diane
Ingredients
2 lbs boneless skinless chicken breasts, sliced into pieces
1 tablespoon oil
Orange Sauce Recipe
1 cup orange juice
1/3 cup granulated sugar (or brown sugar)
2 tablespoons soy sauce
2 teaspoons sesame oil
1 teaspoon garlic paste
1/4 teaspoon crushed red pepper
2 tablespoons cornstarch
1 cup water or chicken broth
*optional add 2 tablespoons rice wine vinegar, my kids prefer the recipe without, I tend to like it with the vinegar
Instructions
Heat a skillet, then add oil and chicken and saute and turn chicken for 2 minutes.
Next mix the sauce ingredients in a measuring cup, pour slowly over chicken, turn temperature to medium-low and simmer until chicken reaches 165*.
Serve over rice or noodles.
Add orange segments if desired.
Tastes great with a little lime juice added chopped cilantro, shredded carrots, or chopped peanuts.
*add water to make the sauce thinner if desired, or more cornstarch and water to a simmering pan to thicken the sauce.