The flavor of this is what dreams are made of…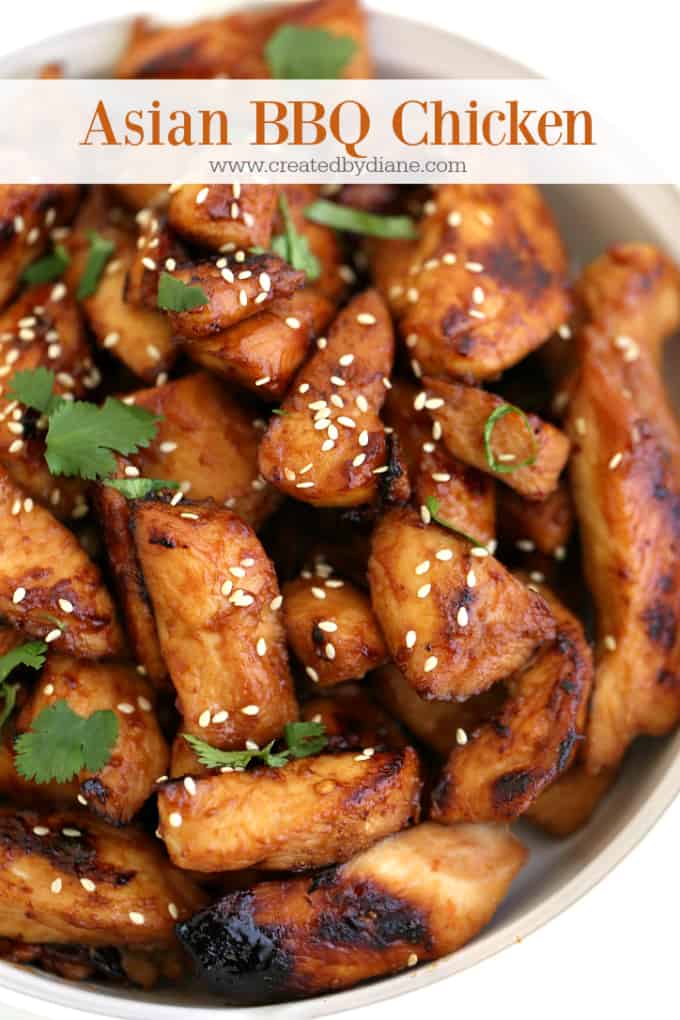 it's sweet without being overly sweet, it's spicy but only spicy enough for flavor, the marinade makes the meat tender and the crisp edges are amazing!
I serve a LOT of chicken in my kitchen and I've made this recipe with both chicken and pork and they are equally delicious.
This is fun as an appetizer, just grab some toothpicks or forks and it will be devoured while chatting at the kitchen counter, or sitting in front of the game on the TV,
it's great served with rice and rice noodles veggies and the leftovers if you happen to have any are the perfect thing to have in the fridge to cure the biggest hunger pang.
If you serve up as much chicken as me take a look at these recipes and ideas:

The marinade is simple and the chicken (or pork) turns out delicious and the brown sugar in the recipe will caramelize and make the edges taste fantastic.
You can add any remaining sauce to the pan and coat everything in the sauce too.
I made this recipe many times and it's equally delicious with chicken or boneless pork spare ribs. I served it with rice noodles, carrots, green onions and don't forget to top the dishes with sesame seeds and cilantro!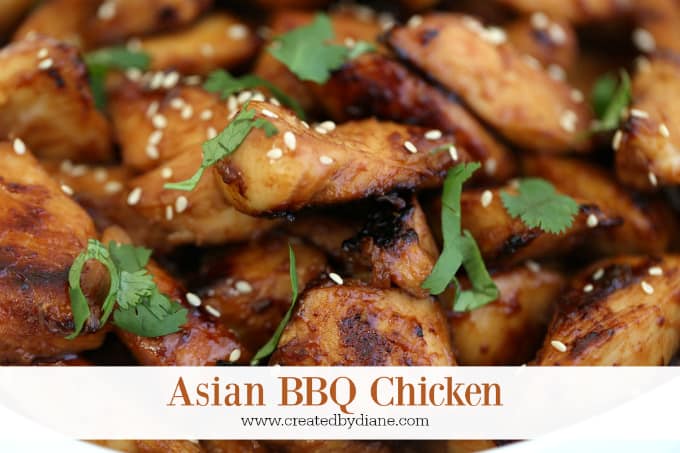 What will you be serving this with?
Rice, Noodles, or over some shaved brussels sprouts for a low carb option.
Or will you be just eating it off a fork!
THIS is the skillet I use and love and I use it so much I have 3 of them and more in other sizes too, it's a kitchen must have.

Asian BBQ Marinade for Chicken and Pork
an easy and delicious marinade for asian chicken for lots of meals, tender and juicy chicken cooked to perfection
Author:
Diane Schmidt, Created by Diane
Ingredients
3 lbs boneless skinless chicken breasts (or boneless country pork spare ribs)
1-2 tablespoons oil (avocado oil, canola oil, olive oil)
1/2 cup soy sauce
1/2 cup ketchup
1/2 cup brown sugar
1/4 cup lemon juice
1 tablespoon oyster sauce
1 tablespoon garlic paste
1 tablespoon ginger paste
1 teaspoon sesame oil
pinch crushed red pepper
* sesame seeds and cilantro for garnish
Instructions
Cut chicken into small pieces (2-3 inches by 1 inch thick)
Place the chicken and the soy sauce, ketchup, brown sugar, lemon juice, oyster sauce, garlic, ginger, and sesame oil into a gallon-sized zipper bag,
Marinade in the fridge for at least an hour.
Heat a cast-iron skillet and cook the chicken until it's fully cooked 165° and slightly charred, don't overcrowd the pan if using a skillet (you could bake the chicken at 425 degrees on a foil-lined pan if desired)
Serve with rice, rice noodles, and vegetables, as an appetizer, and top the chicken with sesame seeds and cilantro.