Beef and Veggies make a quick and easy anytime meal. It's one of my go-to low carb meals! 
If you like meals that come together fast, this will become one of your favorites!
This Asian Style Saucy Beef Recipe is super tasty and takes minimal cooking which is just one more reason this will be at the top of your must-make list. I give a chicken option too, both equally delicious.
If you eat carbs go right ahead and add some cooked rice to the bottoms of your bowls.
Me… I add shredded cabbage and bean sprouts…
so crunchy, it's a great way to fill your bowl and not feel like your missing out at all.
Then I add the cooked beef in sauce,
then top the bowls with shredded carrots and green onions.
This dish is uncomplicated, everyone loves them, and loves that they can customize them just the way they like it!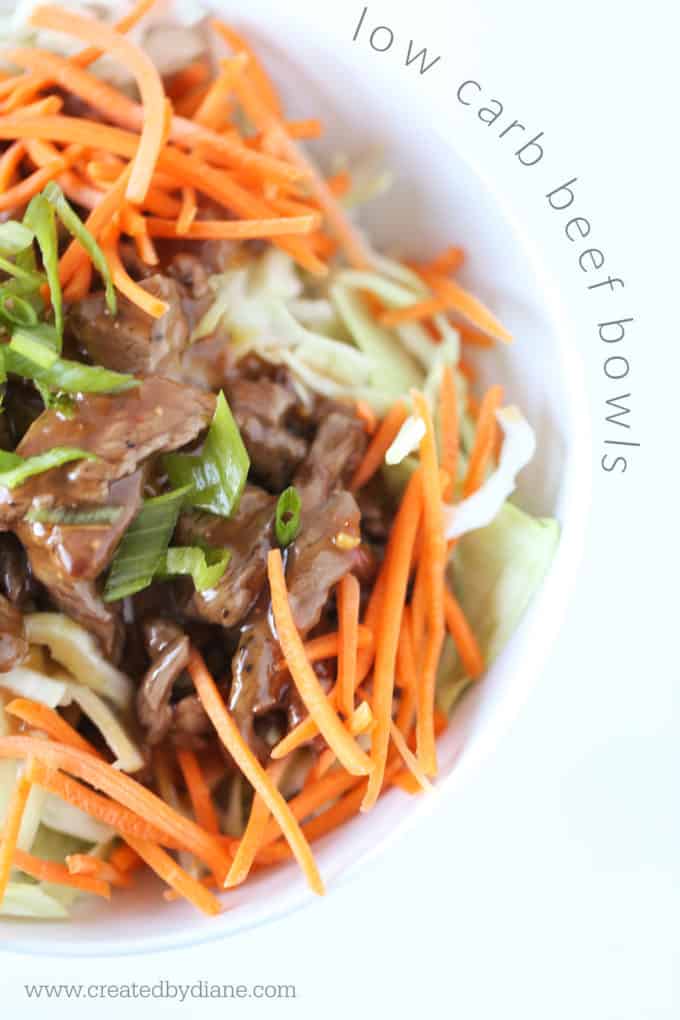 I have an eater who only likes rice and beef, so it takes no time to create a bowl for the fussy eater without getting annoyed or feeling like a short-order cook. Everyone eats the same food just a combination of different items!
Sometimes I cook the cabbage, sometimes I leave it raw, I don't cook the bean sprouts I prefer them raw and crunchy. If I'm cooking the cabbage I might add in the shredded carrots, but most often I just add them to the bowl raw.
This dish is great to prep out meals for the week, it easily heats up int he microwave and the steam from the beef and sauce gently heat the vegetables without getting them too soft and soggy. 
YUM… is the reaction I get as soon as everyone takes their first bite! Gotta love a meal that gets that reaction.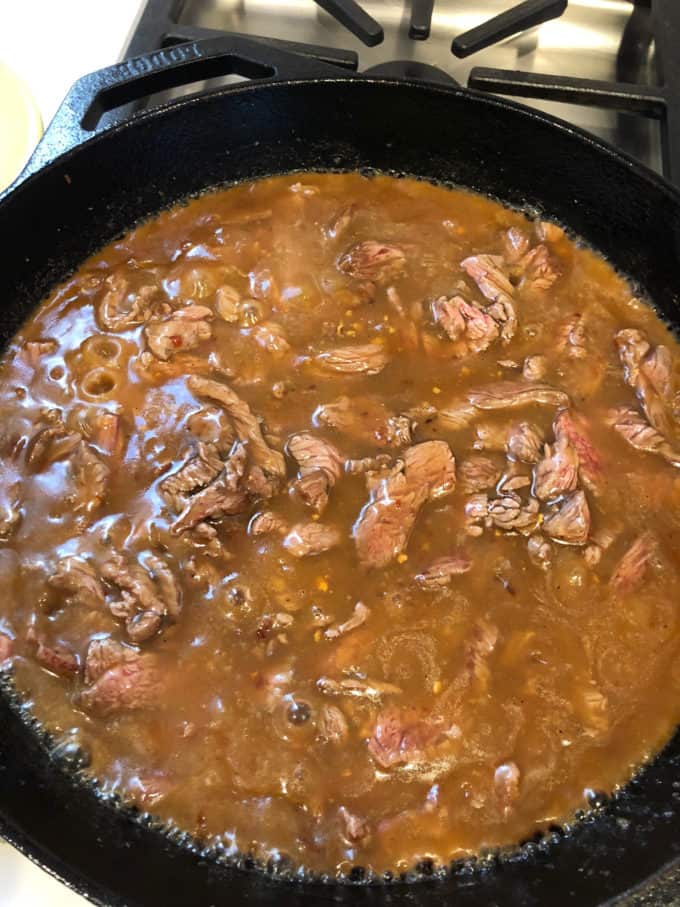 I use flap meat or tri-tip meat, it's tender and cooks quickly. The beef in this dish is sliced before cooking and the sauce allows it to cook quickly without drying the meat out.
If you want it extra saucy, double the amount of sauce.
If you want it spicier, add in some more crushed red pepper flakes or add in some diced jalapeno. If you prefer sauces on the sweeter side, add in some brown sugar or some oyster sauce. 
You can add in any vegetables you prefer I typically have cabbage, carrots and green onions on hand each week and find that this is a go-to meal for me since it can be ready at a moment's notice.
*if you want to make this dish with chicken, just use boneless skinless chicken breasts or thighs, sliced thin and use chicken broth instead of beef broth.
If you want to make it with chicken instead of beef, just use boneless skinless chicken breasts sliced thin. Then use chicken broth/bouillon and water to create the sauce.
Be sure to take the temperature of the chicken to be sure it's fully cooked to 165°. I use THIS thermometer, it's my absolute favorite, it takes the temperature so fast and it ensures I've cooked everyone to the proper temperature easily.
If you don't already have a great thermometer put this on your WISH list! I've purchased this particular thermometer numerous times as gifts and everyone loves them, so don't forget to get some for the cooks on your list too.
Other Asian inspired dishes:
I often eat this with the vegetables raw, you can saute them if you prefer them cooked, they'll only take a minute to two in a hot skillet. 
Low Carb Beef Bowls
a quick and easy beef and vegetable dish with a great beef sauce perfect anytime
Author:
Diane Schmidt Created by Diane
Recipe type:
Main Dish, Low Carb
Ingredients
1 1/2 lbs flap meat (or trip tip) sliced thinly into strips (tri-tip or Carne Asada style plain beef)
1 1/2 cups water and beef bouillon or beef broth (I use water and beef bouillon I like to add more beef flavor)
2 tablespoons cornstarch
1 tablespoon chili sauce (Salam Oleck brand)
1/4 teaspoons crushed red pepper
2 tablespoons soy sauce
(If you prefer your sauces sweeter, add in 2 tablespoons brown sugar or oyster sauce)
Instructions
Slice the beef thin so the beef cooks quickly it'll be tender and juicy that way.
Mix all the items for the sauce ingredients in a measuring cup
Heat skillet until hot, place a tablespoon oil in the pan, then saute the beef for a minute.
Then add the sauce and heat it over a simmer until beef is cooked to 135°.
Remove pan from heat.
Prepare the bowls
Fill the bottom with bean sprouts, then add chopped cabbage, carrot shreds, and green onions.
Then top it off with the beef and the sauce.