A meal like no other, it's easy to make and looks GORGEOUS! You serve this great recipe over veggies, with rice or noodles or eat them as an appetizer.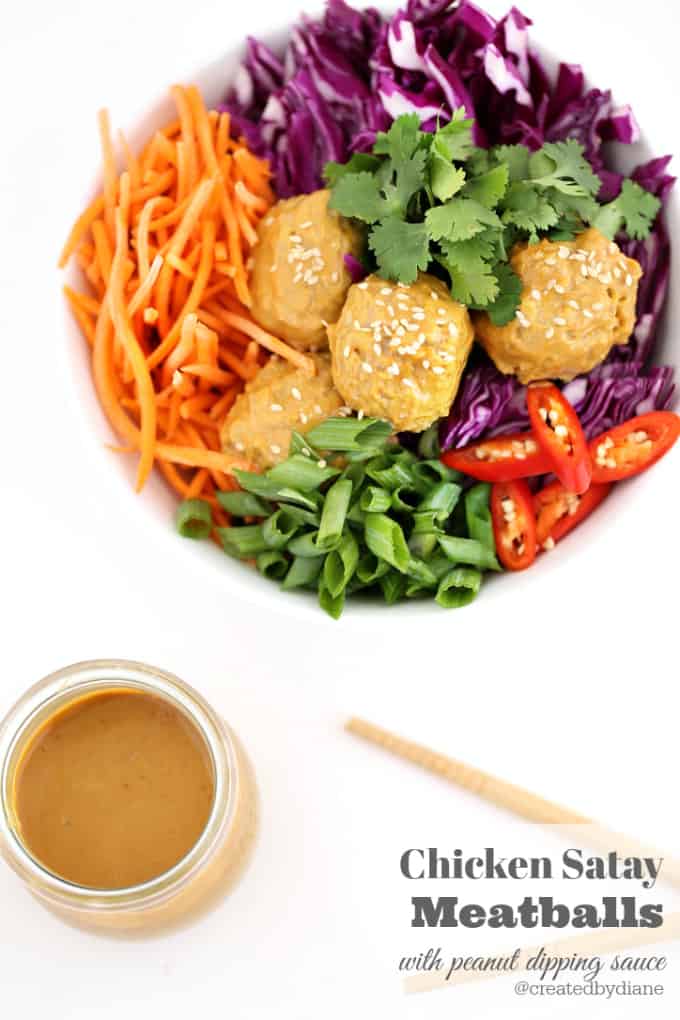 This dish is so flexible it may just make it onto your meal schedule routinely as it is so flavorful that you'll want to enjoy it again and again!
I often order chicken satay with peanut dipping sauce when I go out, I love the extra boost of protein and it's SO tasty!
I thought I'd add those same great flavors to chicken meatballs and serve them with a peanut dipping sauce.
It's great on its own as an appetizer or as a main dish, just add some rice. You can serve it with raw or sauteed veggies.
Be sure to print both recipes as you'll need most of the ingredients that go into the meatballs to make the sauce.
Here are some other chicken and meatball recipes you may like:
I'm so happy to see the grocery stores selling more ground chicken, it wasn't always easy to get. I did buy this meat grinder and I'd would just buy a large package of boneless skinless chicken breasts and grind my own in previous years. It's still the most economical way to get ground chicken.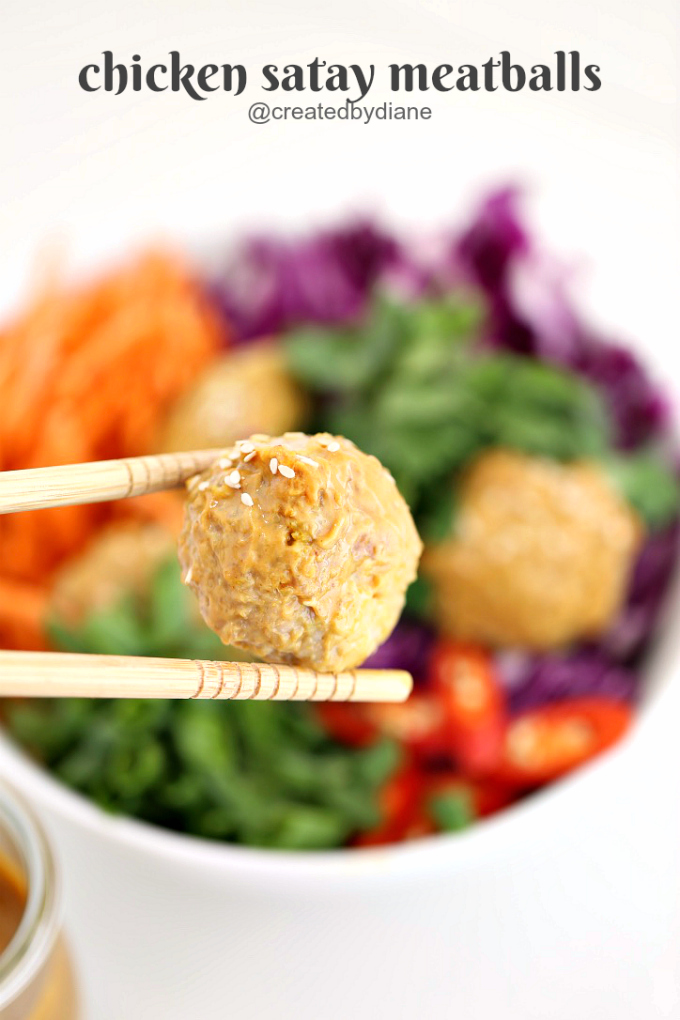 Once I bake the meatballs I take some of the sauce and spread it over the meatballs with a silicone brush. The sauce will melt onto the meatballs nicely while they are warm, I still have enough sauce to dip into. If you want a lot of sauce, make a double batch.
If you have leftover sauce, feel free to pour it over pasta and cut up some meatballs and add the raw veggies and WHAMO, you have a great cold noodle meal for the next days lunch.
Chicken Satay Meatballs with Peanut Dipping Sauce
Author:
Diane Schmidt, Created by Diane
Ingredients
2 pounds ground chicken
2 tablespoons peanut butter
2 tablespoons soy sauce
1 teaspoon sesame oil
2 tablespoons lime juice
1 tablespoon honey
1 tablespoon sriracha sauce
2 teaspoons ground ginger
2 teaspoons minced garlic
1 cup panko breadcrumbs
1 egg
Instructions
Preheat oven to 400ª
Place all the ingredients in a medium bowl and mix well, roll 2 tablespoon sized balls onto a baking sheet and bake for 15 minutes or until the center of the meatballs registers 165° on a meat thermometer.
Chicken Satay Meatballs with Peanut Dipping Sauce
Author:
Diane Schmidt, Created by Diane
Ingredients
1/3 cup peanut butter
1 tablespoon honey
1 tablespoon soy sauce
1/2 teaspoon sesame oil
1 teaspoon fish sauce (optional)
1 teaspoon sriracha sauce
1 teaspoon ground ginger
1 teaspoon minced garlic
1 tablespoon fresh lime juice
Instructions
In a bowl, whisk all ingredients together until the sauce is smooth.
If you like this or any other recipe on Created by Diane be sure to share the post with the ones you love. You can click on the "share" buttons on the top and the bottom of each post, you can share it on social media or in an email.
Sign up for email updates and GET delicious recipes delivered right to you! Plus get my free e-cookbook too.
Thanks ~Diane