Scrambled egg and bacon are often for breakfast, but no only is dish PERFECT for breakfast it's great for a snack, lunch, and dinner or midnight snack.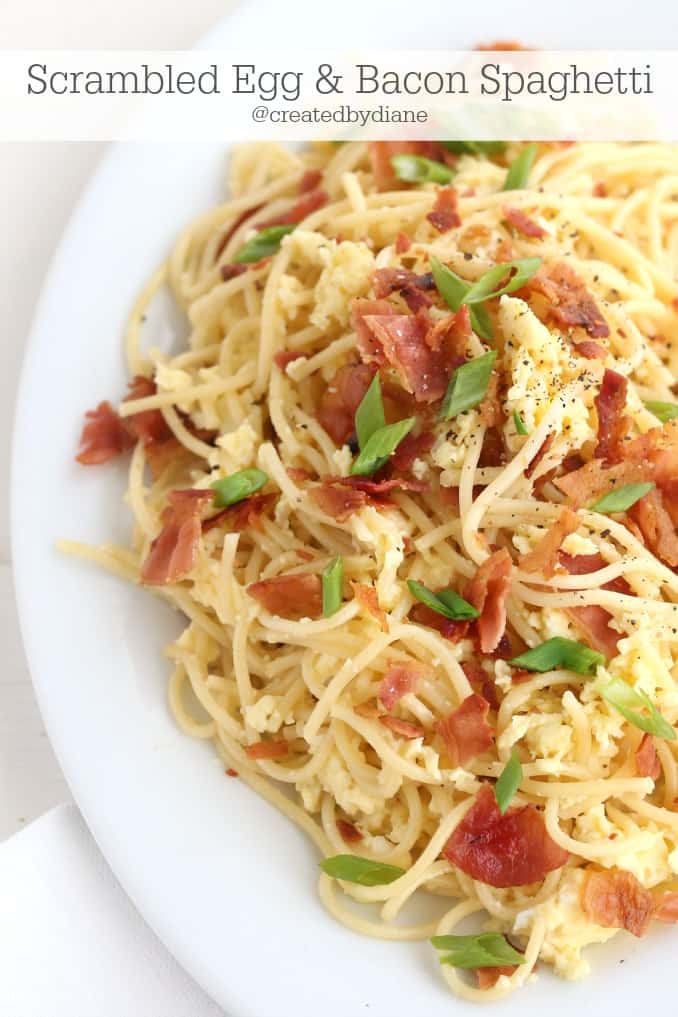 Bacon and Egg Spaghetti
Don't miss one delicious recipe and get my FREE e-cookbook click here!
No matter what time of day it is, this is the dish to make.
Eggs, bacon, and pasta…
what could possibly be better?!?
This is also the PERFECT "brinner" you know, breakfast for dinner. This one actually includes breakfast and dinner items combined together.
I just LOVE this and think you will too.
I often cook extra pasta each week to have on hand to be able to whip up a quick meal and this one is always at the top of the list.
It's super easy and ready in minutes (even if you don't have pasta already cooked, on the table in 20 minutes if cooking pasta)
I just LOVE pasta and here are some of my favorite recipes in case you missed them
Pasta with Blue Cheese and Walnuts, Baked Ziti, Thai Peanut Noodles,
Lemon Pasta Salad with Feta Cheese, Penne with Spicy Vodka Sauce, Buffalo Chicken Baked Ziti,
and my festive Red White and Blue Spaghetti with Cauliflower Sauce.
Grab a pan and whip this up and get ready to hear oooh's and aaah's
This is REAL comfort food.
I eat it all year long, but as soon as the cold weather hits…
This is a go-to in our house.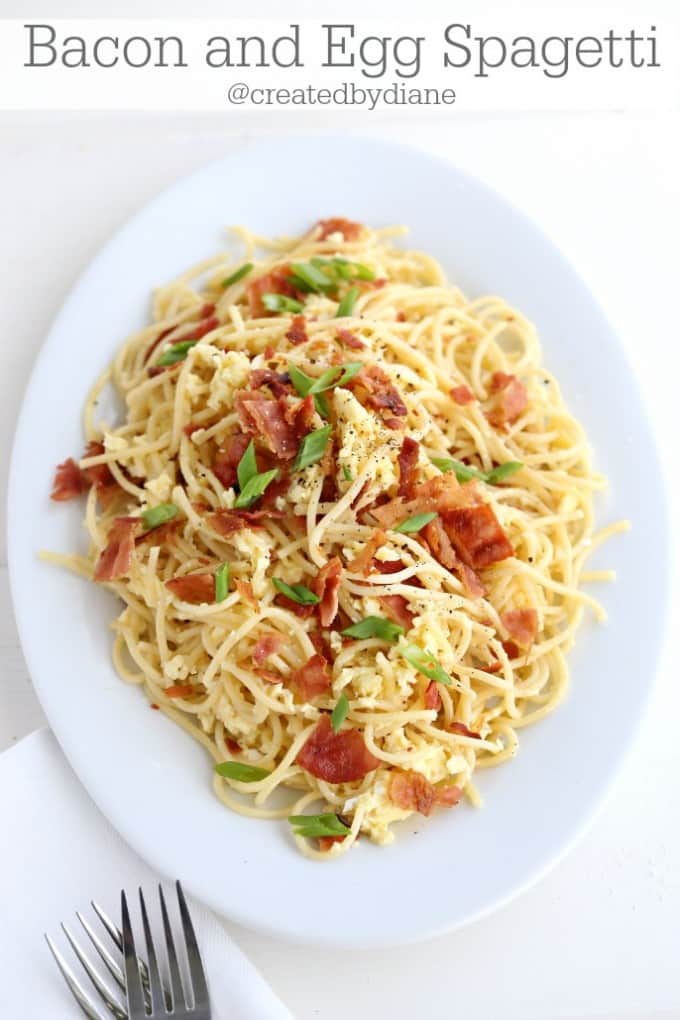 I love that I always have these items on hand in the fridge and can make it any time of day.
It's filling and will satisfy a  hungry appetite…. and also great for a midnight snack!
Enjoy!
Scrambled Egg and Bacon Spaghetti
Ingredients
8 oz cooked spaghetti
1 tablespoon butter
4 eggs
4 strips cooked bacon
1 green onion
Instructions
Mix eggs in a bowl with 3 tablespoons water.
In a medium skillet over medium hight heat place butter in a pan along with spaghetti.
Pour eggs over top and stir until the eggs coat the pasta, then cover with a lid for a couple minutes while the eggs finish cooking.
Chop the bacon and green onion and add it to the skillet.
Add salt and pepper and serve.