If you like easy recipes, this is for YOU! These Thai Peanut Noodles can be made in minutes and is so flavorful.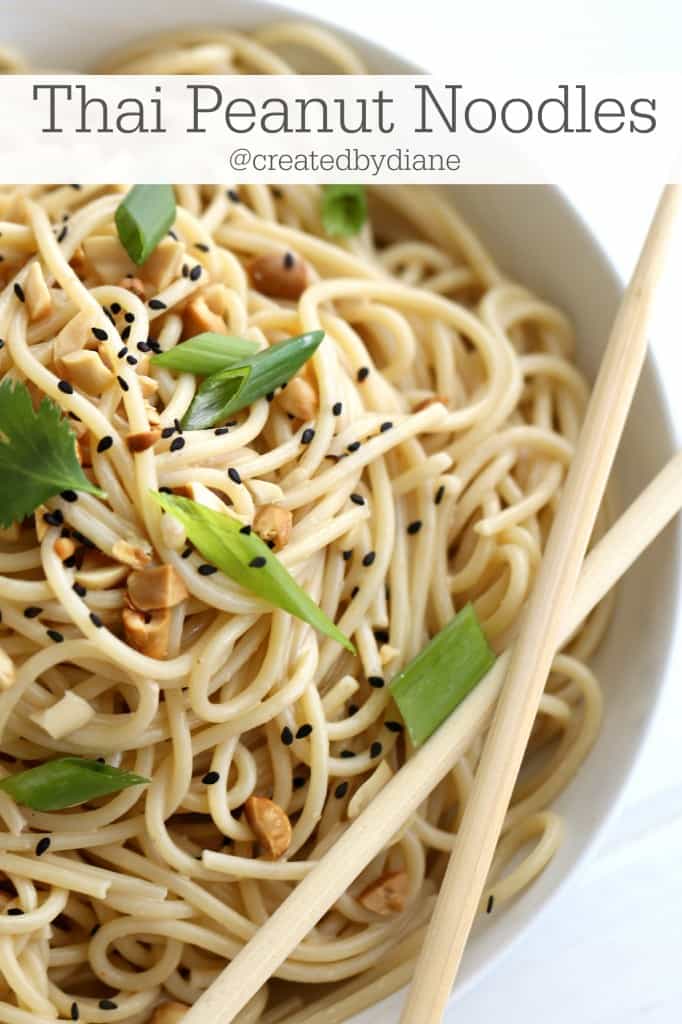 I just love meals that are versatile,
and this is that kind of recipe.
The sauce can be made as spicy or mild as you like, by adjusting the amount of crushed red pepper you add, and if you like it with more of a kick add in some chili oil and heat the sauce up, and smell the spiciness!
This is an all-around perfect meal, add cooked chicken if you like. Enjoy this HOT or COLD, which is why it's perfect to bring to the beach and enjoy while you are digging your toes into the sand.
You can have a really fun casual dinner party by serving this in those to go Asian containers and pairing it with a set of chopsticks!
Everyone will love it.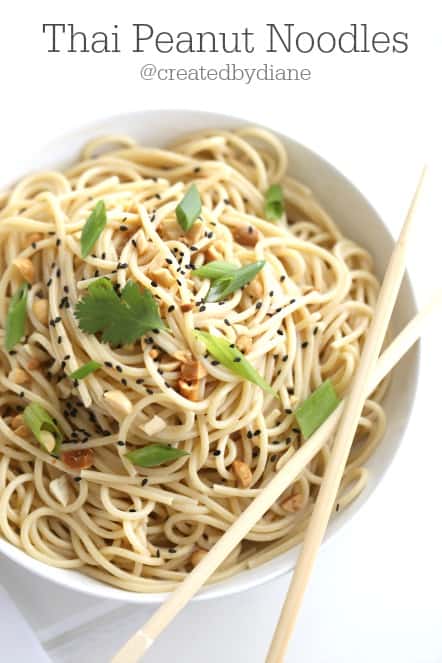 Here is the recipe for the THAI PEANUT SAUCE 
Now grab a pound of pasta. I prefer spaghetti.
Cook it according to package directions.
If you want to eat this dish hot, heat up some of the Thai Peanut Sauce and toss it onto the freshly cooked pasta, top with some chopped peanuts, diced green onion, and add on some sesame seeds too!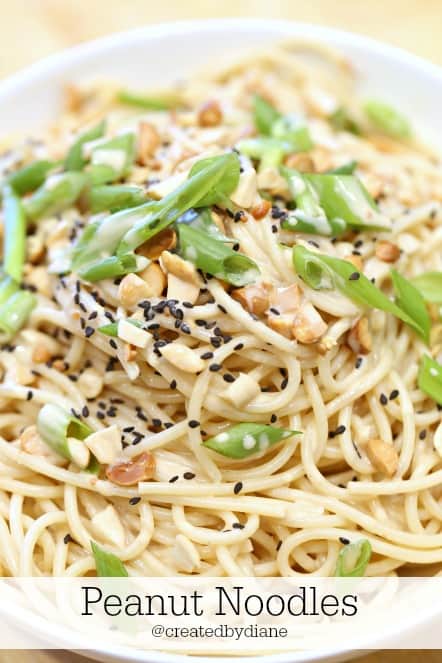 If you want to enjoy it cold, rinse the noodles in cold water until they are completely cool, to speed this up add some ice cubes to the water and let the noodles soak for a few minutes. Drain all the water off the noodles and toss with some Thai Peanut Sauce, then top with the same yummy toppings as when serving it hot, diced green onions, chopped peanuts, and sesame seeds.
Make plenty because this is one dish you will WANT to enjoy LEFTOVER!
This is a really fun tasty version of a pasta salad that is unique. You can make it with elbow pasta for a party and it will get rave reviews!
When the noodles are hot they seem to absorb more sauce than when they are cold. So adjust the amount of sauce you put on them accordingly. I like extra sauce drizzled over the top myself, so I usually serve a small side dish of sauce!
What else should I add to these noodles?
Add more soy sauce if desired, and sriracha for some added spice!
Serve these peanut noodles hot or cold!
Add in vegetables, sliced peppers, onion, asparagus, broccoli, bok choy,  eggplant, carrots or your favorite vegetable!
Thai Peanut Noodles
A delicious peanut noodle dish to enjoy anytime, perfect for lunches, snacks, on the road, RV camping, and for fun brunches
Author:
Diane Schmidt, Created by Diane
Cuisine:
American, Thai, Asian
Ingredients
Thai Peanut Sauce
7 oz coconut milk
1/4 cup peanut butter
1-2 tablespoons fresh lime juice
2 tablespoon soy sauce
1/8 teaspoon garlic powder
1/4 teaspoon crushed red pepper
1 pound pasta (spaghetti)
3 green onions diced
1/2 cup peanuts chopped
1 teaspoon sesame oil
1 tablespoon sesame seeds, I love the contrast of black seeds on the pasta
Instructions
Blend the first 6 ingredients to make the peanut sauce, use an immersion blender or regular blender to combine and mix smooth.
Cook pasta according to package directions, toss with sesame oil.
Add the sauce.
Top plates of peanut noodles with diced green onion, chopped peanuts, and sesame seeds.
If you want to serve it cold:
Rinse noodles in cold water until they are completely cooled, toss with sauce, and add on some diced green onions, chopped peanuts, and sesame seeds when you plate it.