Among the many reasons to make this delicious dish of Beef with Snow peas are the minimal ingredients and its short cooking time! In just 15 minutes, you'll be sitting down to enjoy the tender cuts of meat and hearty vegetables. This meal is perfect for those cooler nights when you'd like take-out but realize this is faster or for a quick meal on a busy night.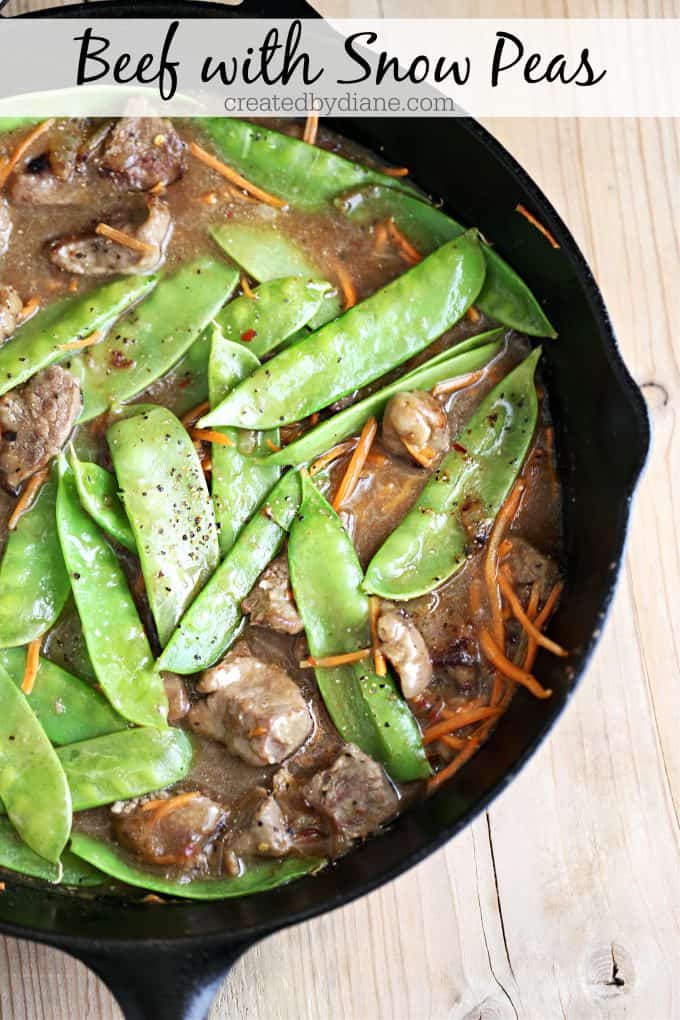 This has become one of my weekly go-to meals! I've made it with chicken too. 
I often buy snow peas to make my Easy Chicken Pho too.
Snow peas, originally from the Mediterranean but adopted by the Chinese sometime in the 19th century, are combined with carrots to add crisp and a light texture while their sweetness is balanced with the heat brought into the dish by the crushed red pepper and chili sauce – making this beefy dish sweet and spicy. And if you want other sweet & spicy dishes, I have some excellent options, such as this low carb beef bowl.
If this isn't your first time reading my recipe you may be aware I like "sauces" if you're new here,
be sure to check out my SAUCE recipes if you're looking for more great comfort food recipes here.
Let's begin!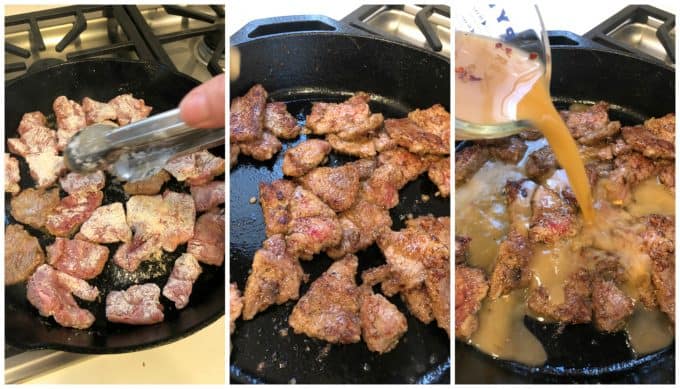 To start, you'll slice the beef into two inches pieces, across the grain of the meat.
Coat the beef with flour (or cornstarch) that has been well seasoned with salt and pepper. This is the only seasoning that will go directly on the meat so here is where you can add some more flavor if you prefer,  besides salt and pepper, you can add some garlic powder, onion powder, or some spices you prefer with Asian dishes.
Next, in a hot skillet, I use this Cast Iron Skillet, add 2 Tablespoons of oil, and sauté the beef until all sides are golden, the flour is absorbed and the outer edge of the beef is lightly crispy.
Mix the chicken broth, garlic, sesame oil, crushed red pepper, soy sauce, chili sauce, and cornstarch well. I like to prepare this mixture before I start sautéing the beef, so it's easily on hand.
Pour the sauce over the beef in the hot skillet and turn down the heat on your pan to medium heat.
Cover the skillet and cook until beef registers at 135° using a meat thermometer.
The sauce will thicken from the flour (or cornstarch) from the meat, add more cornstarch slurry (cornstarch mixed with cold water, and poured into the simmering sauce) to thicken it.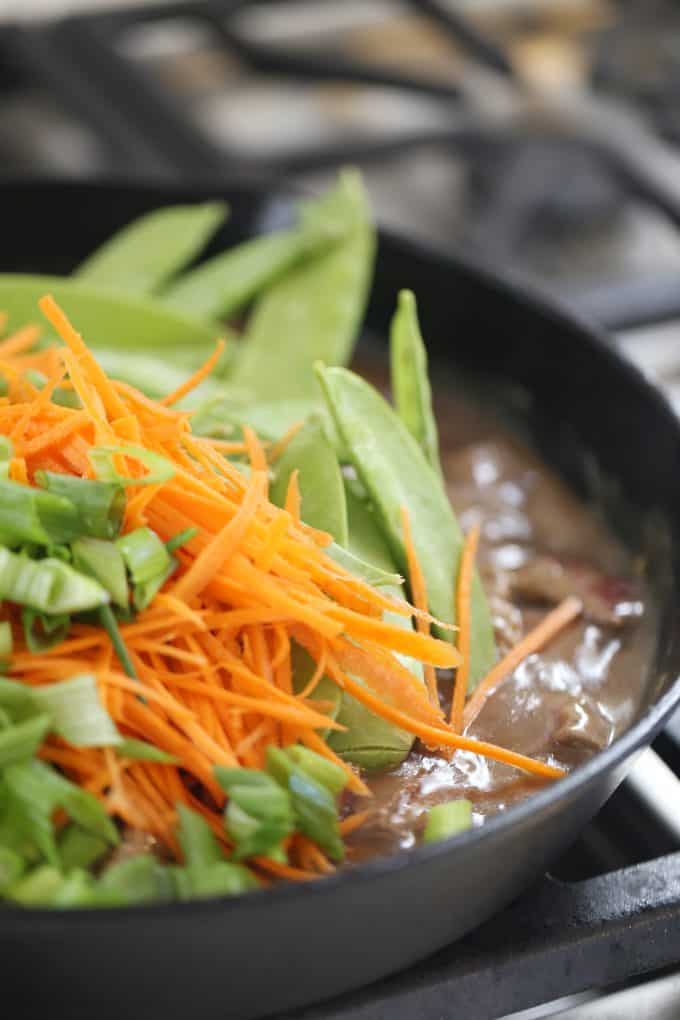 The final step is adding in the snow peas and carrots. You may also add in green onion if you prefer. Make sure everything is evenly coated and mixed, then remove from heat.
Add on some more salt and pepper, more red pepper flakes, or sesame seeds.
You can serve this dish with rice, rice noodles, or pasta such as linguini for a Lo Mein inspired dish or serve with bean sprouts for a low carb option.
This dish is also plenty delicious on its own, which is how I most often eat it.
Inquiring minds want to know:
What does it mean to cut across the grain of the meat?
Look for the parallel lines of muscle fiber running down the meat, and slice perpendicular to them. For some cuts that have fibers running in many different directions, it's important to adjust the direction in which you're slicing. Don't overthink it – the more you do this, the easier it becomes.
Could I substitute the beef for another protein?
Yes, as I mentioned I've made it with chicken, pork slides in nicely or you could use tofu for a vegetarian option, and swap out he beef broth with vegetable broth.
I love this recipe, but I need something with less spice, any suggestions?
You could easily eliminate the crushed red pepper for a reduction in spice and the chili paste adds a lot of flavor, but it's not overly spicy– however, if you need to eliminate the chili sauce, go right ahead and remove all the spice, I feel the flavor of the pepper si since if you have a particular pepper item you do like without spice add that.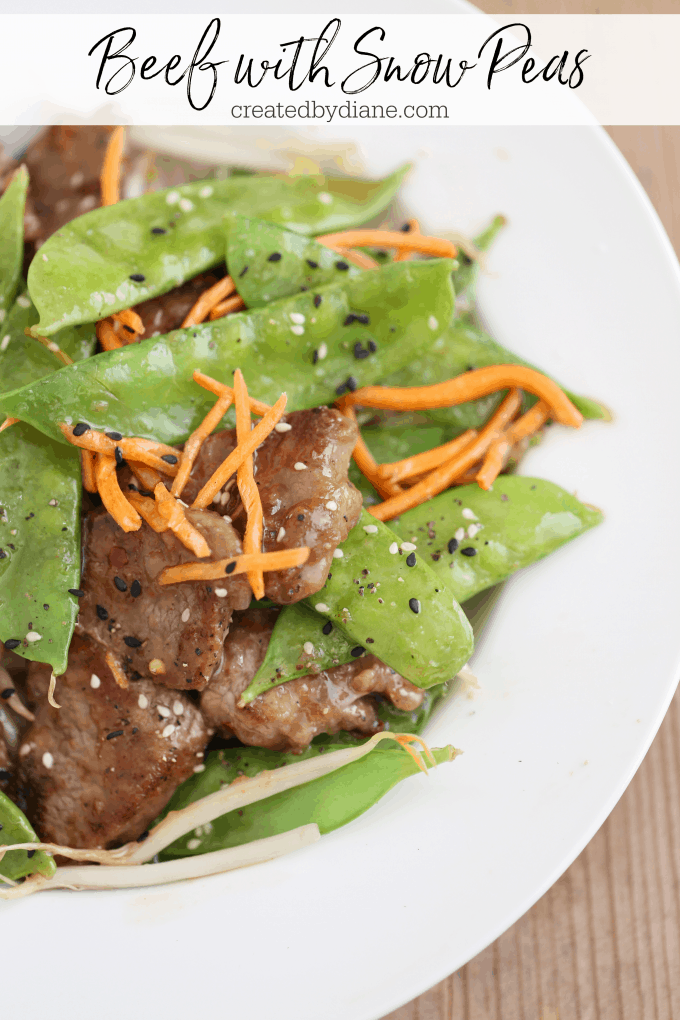 This Szechuan Chicken is a great recipe that allows a lot of room for adjustments in spice and its mouthwatering good for another great weeknight meal!
I use Sambal Oelek Chili Paste the flavor is amazing!
I use and LOVE this cast iron skillet, I actually have 3 this size and a few in other sizes as well.
One of the best parts of this recipe is that the snow peas stay crunchy so leftovers are just as good as the day it's made!
Beef with Snow Peas
A delicious dinner ready in 15 minutes is a must-have on your weekly meal rotation. This can be made spicy or mild and is perfect all year long, minimal ingredients ensure this is a quick recipe.
Author:
Diane Schmidt Created by Diane
Ingredients
1 lb tri-tip beef, or other marbled steak/.beef for stir fry
1/4 cup flour (or cornstarch)
4 oz snow peas
1/2 cup shredded carrot
1 cup chicken broth (or beef broth)
1 teaspoon garlic paste
1 teaspoon sesame oil
2 tablespoons soy sauce
1 teaspoon sambal oelek chili sauce (add up to 1 tablespoon if you like spicier and more chili flavor)
pinch crushed red pepper flakes (add more if desired)
1/2 teaspoon salt
1/8 teaspoon black pepper
serve with
beans sprouts (for low carb)
rice, rice noodles or pasta
green onions
serving options
this dish can be prepared with chicken or pork, prepare the chicken or pork the same way
Instructions
Slice the beef into thin 2 inch pieces
Coat the beef with flour mixed with salt and pepper.
Heat skillet until hot, add 2 tablespoons oil and saute the beef until golden none sie, then turn the beef.
Next mix the chicken brought, garlic, sesame oil, soy sauce chili sauce, crushed red pepper, and cornstarch really well,
then pour the sauce over the beef in the hot skillet turn the temperature down to medium heat.
Cover the skillet, and cook until beef is at 135°
Add in the snow peas and carrots.
along with green onion if using them.
Serve with rice, rice noodles, pasta such as linguini for a lo mein dish, or serve with bean sprouts to eat it low carb, or simply enjoy it as is.