This is my most requested chicken recipe! This brown sugar soy glazed chicken is made with simple ingredients that pack lots of delicious flavor! It's the perfect weeknight meal or make more for a gathering, trust me you'll be glad you have leftovers with this one.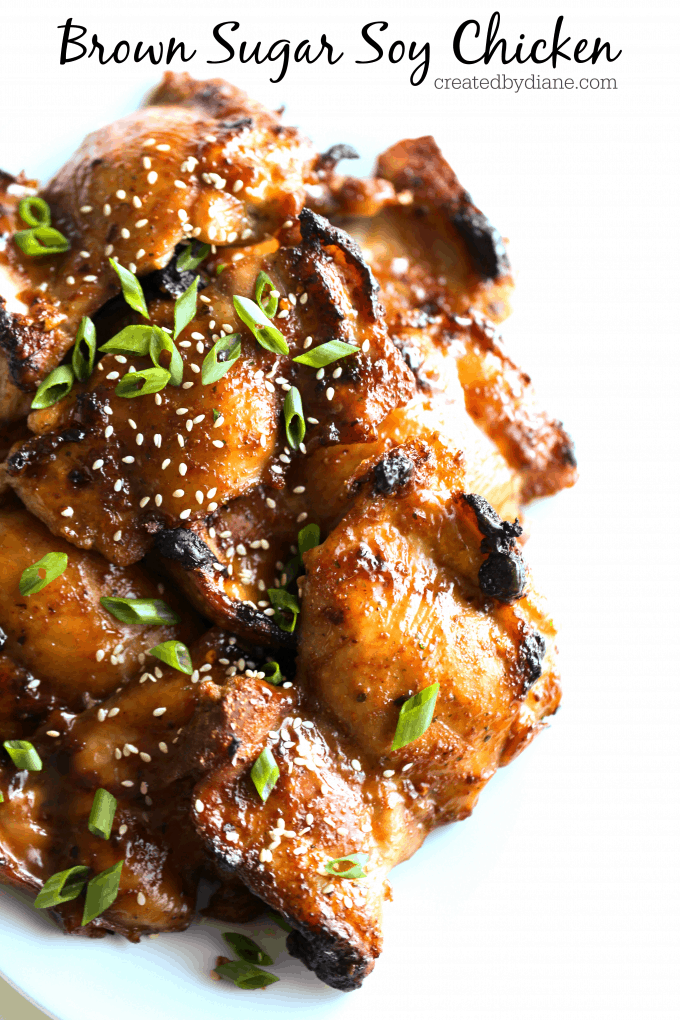 I don't know about you but we eat a LOT of chicken,
recently I've been buying more boneless skinless chicken thighs than ever before…
they are so juicy and tender and well…. yummy. 
You can easily use this recipe on chicken breasts, If you do make it with chicken breasts keep an eye on them as they are dryer when cooked compared to thighs, add 2 tablespoons of vinegar or lime juice to make the chicken breasts more tender. It's not necessary when using thighs. I know some people don't prefer chicken thighs,
but I insist you try them just once… maybe you'll like them better like we do.
There are many reasons to use chicken thighs, they are really hard to overcook, they don't dry out
How can I cook this chicken?
This chicken is great baked in the oven
cooked on a grill
cooked in a skillet on the stove, I use a cast-iron skillet
cooked in a slow cooker
and you can even pressure cooked.
When you're done cooking the meat, you can make an additional batch of sauce and add cornstarch with a little water and bring it to a boil until it thickens, and slather it over the cooked chicken for extra deliciousness.
You won't believe how easy and delicious this soy sauce brown sugar marinade transforms chicken into… irresistible in a few simple steps!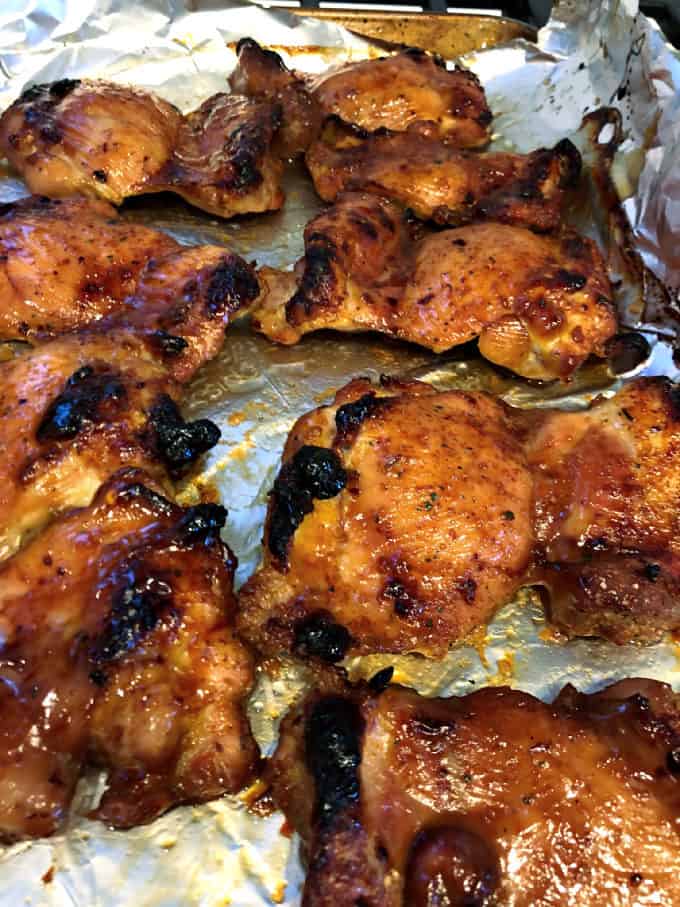 The marinade can be boiled down with some cornstarch slurry and brushed over the cooked chicken when the chicken is finished cooking, this gives it the EXTRA yumminess for sure.
I'm a sauce girl… through and through, but it must be flavorful!
You can find more of my sauce recipe HERE
Look at my post on how to make Great Gravy!
And this Cheese Sauce, which is not only great on mac and cheese, but great on broccoli, or to dip chips into. Add some jalapenos or a few tablespoons of salsa to kick it up a bit.
My Lemon Wine Browned Butter Sauce is always delightful, over chicken, veggies, and perfect for making simple foods taste amazing.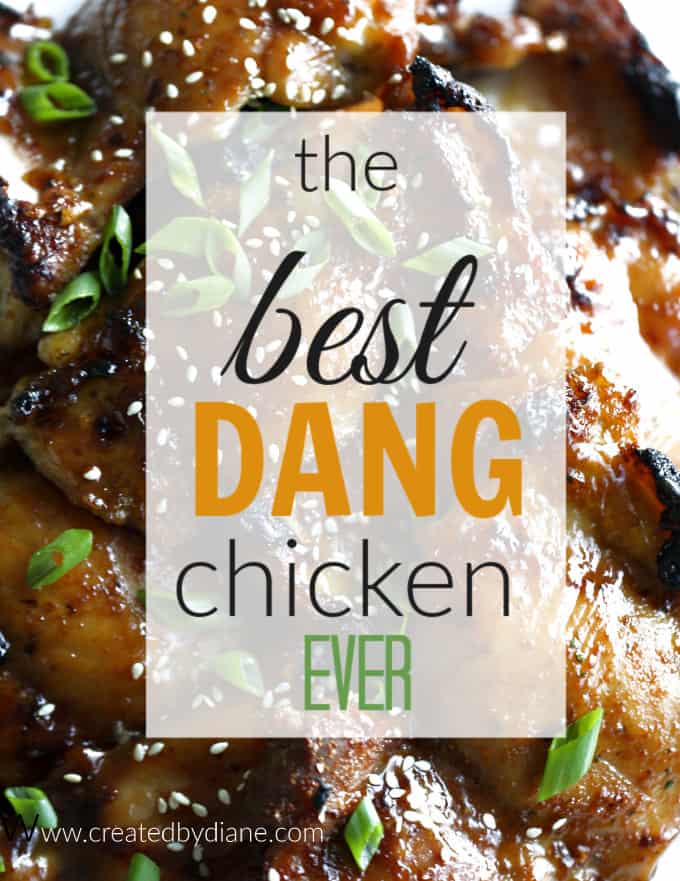 If you're looking for tender, flavorful, YUMMY chicken, this is it!
I love how quickly this recipe comes together, I typically have all the items on hand and it can grab onto the flavor quickly, I marinade it for 30 minutes then bake or grill it.
Do I have to marinate this chicken for a long time?
No, you can marinate it for 30 minutes, which is what I usually do. I have marinated it overnight with great results also, but I'm more often the no-plan ahead person and marinate it for 30 minutes.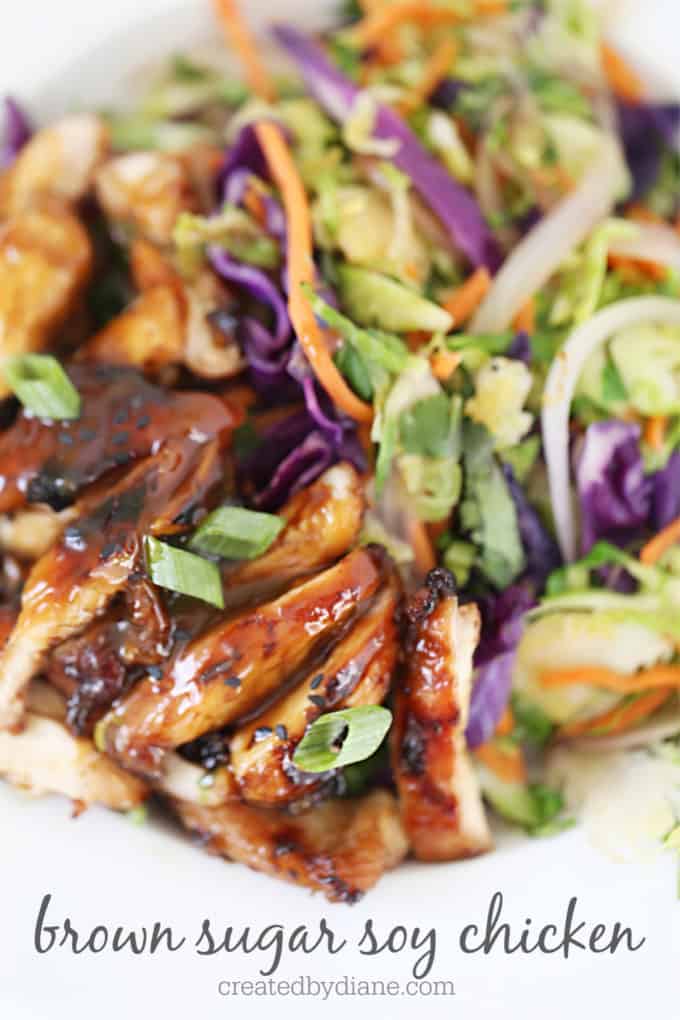 What should I serve this chicken with?
This is great with rice, or vegetables, or both. I like to saute whatever vegetables I have in the fridge, cabbage, Brussels sprouts, carrots, and top the dish with green onions and sesame seeds if I remember 🙂
This brown sugar soy sauce chicken recipe is so adaptable to all sorts of delicious recipes, you can use it in fried rice, lo mein, or top a salad with it.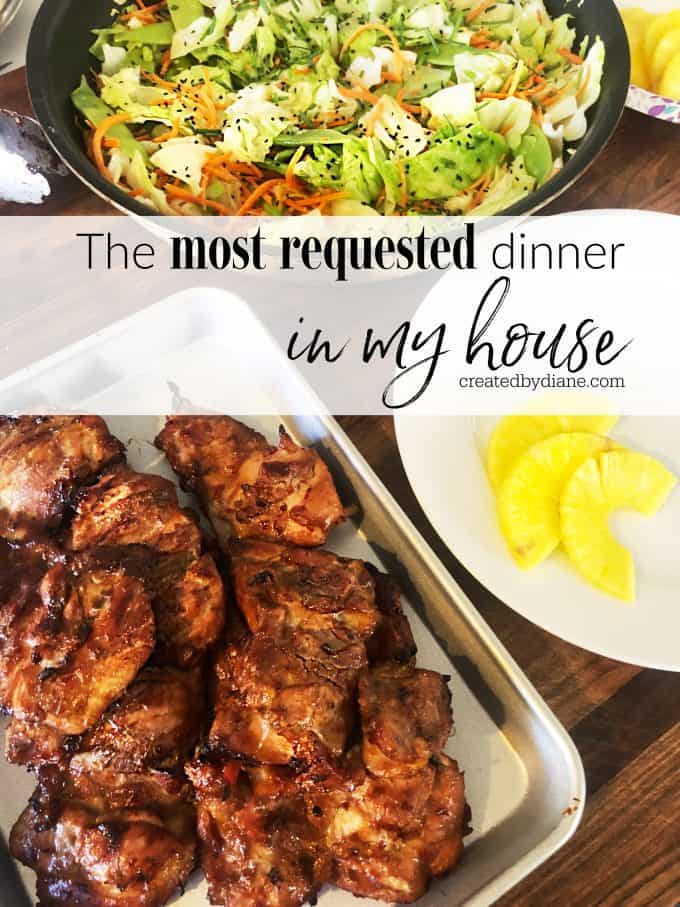 Serve it up with some rice, cabbage, carrots, broccoli, green onions, and pineapple for a great flavor.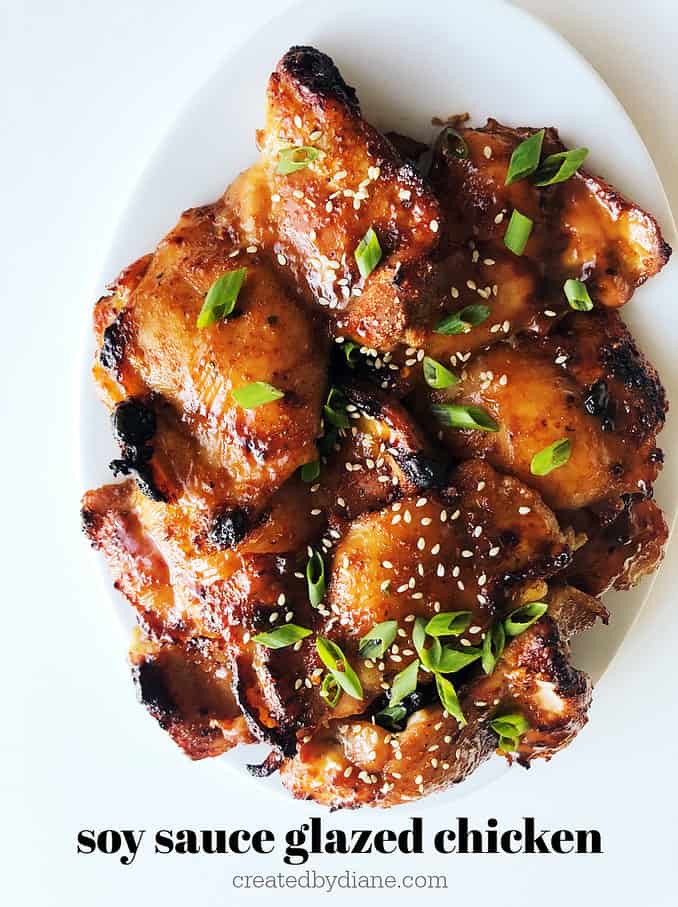 Chicken thighs are moist and juicy, and the glaze makes the perfect flavor that everyone raves over.
Brown Sugar Soy Glazed Chicken
A super delicious extra flavorful brown sugar soy glazed chicken that will soon become your favorite chicken recipe.
Author:
Diane Schmidt, Created by Diane
Recipe type:
Main Dish, Chicken
Ingredients
3 lbs boneless skinless chicken thighs
1/2 cup soy sauce
1/3 cup brown sugar
2 tablespoon garlic (fresh minced garlic)
1 tablespoon oil (I use avocado oil)
1 teaspoon sesame oil
1 teaspoon dry ground ginger
1 tablespoon fresh ground chili paste (I use Sambal Oelek)
pinch of crushed red pepper flakes
garnish
1-2 tablespoons cornstarch to add to the marinade to cook and create a thick sauce to brush overcooked chicken.
sliced green onion
toasted sesame seeds
Instructions
In a gallon zipper bag place chicken along with soy sauce, brown sugar, garlic, oil, ginger, chili paste, and crushed red pepper.
Marinade for 30 minutes to overnight.
Preheat oven to 375 or grill to high.
Bake chicken on a foil-lined baking sheet at 375 for 30-40 minutes or until cooked to 170° and charred on the edges or grill the chicken on the grill until the internal temperature is 170°
Save the marinade and heat it in a saucepan by mixing cornstarch into the sauce before you turn on the heat, so it's smooth, then heat it up until it's thick.
Brush sauce over cooked chicken.
Top chicken with sliced green onion and sesame seeds.
If you make an extra batch of sauce and it's not thickening as you'd like and don't want to add more sugar use a cornstarch slurry to thicken it, 2 tablespoons cornstarch mixed with 1/4 cup water, pour into a simmering sauce, stir until thickened while simmering (small bubbles).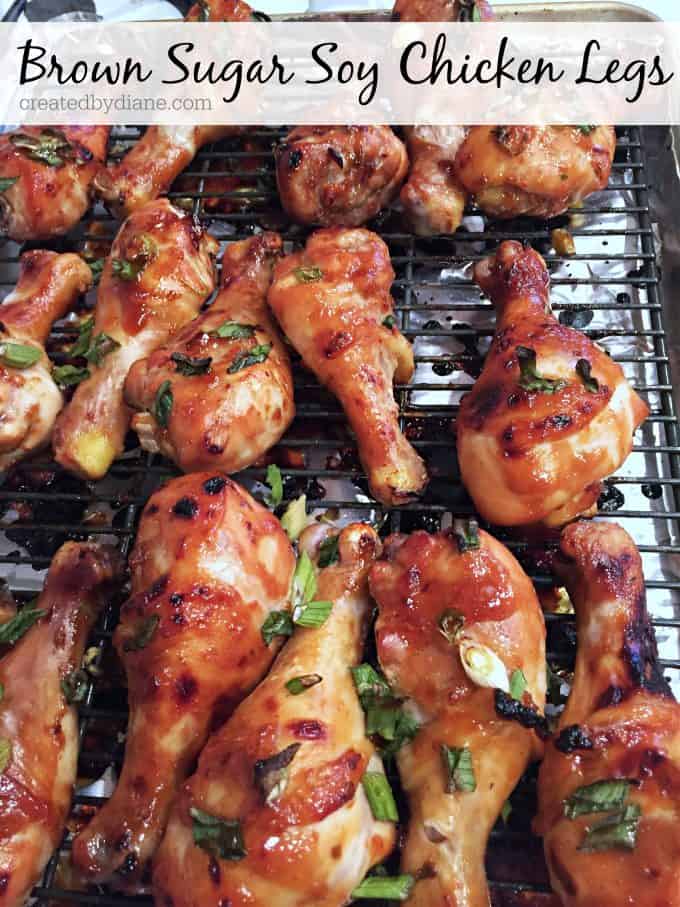 This marinade is also great on chicken legs, the flavor is out of this world… cook them in the oven on a rack for a nice crispy result. Make another batch of sauce to brush on the chicken for an extra delicious flavor.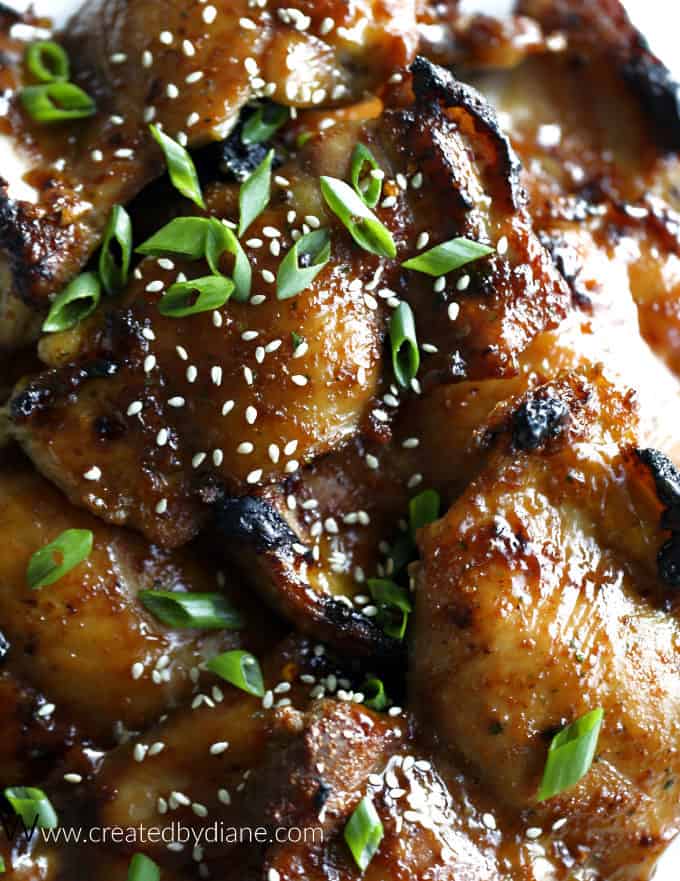 I've made this with boneless pork chops and it's really delicious as well.