These Air Fryer Pork Wontons are so flavorful and crispy, and the air fryer takes out the need for excess oil, making them a lighter treat everyone can enjoy.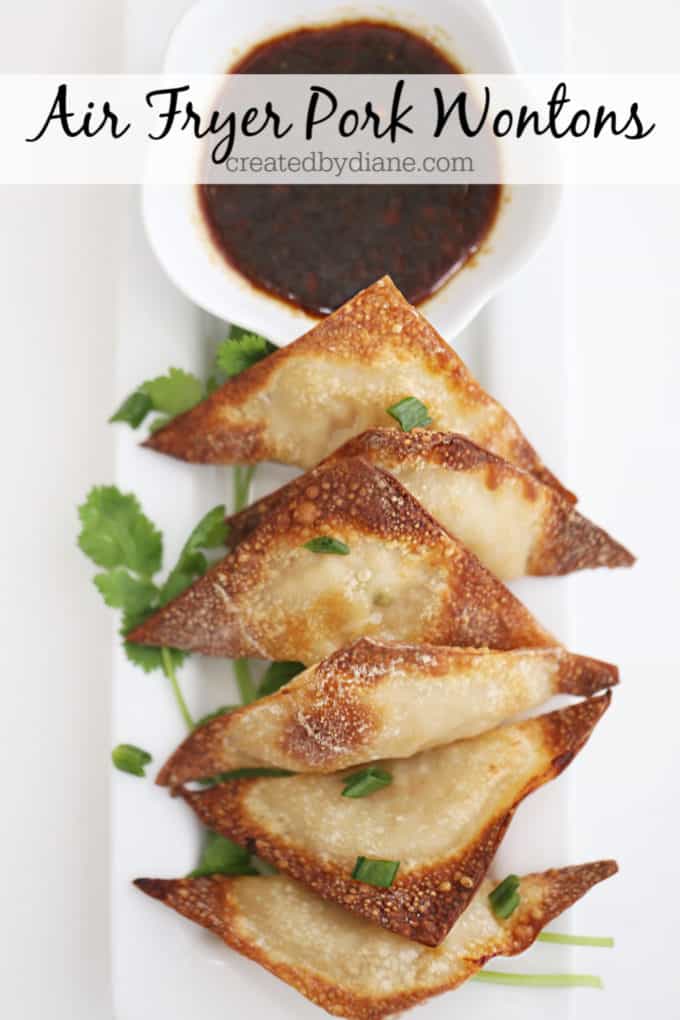 Wontons make the best snack for a party, a movie night, or a gathering of friends.
Paired with Pork Lo Mein or this Asian Chicken and some Hot and Sour soup, you have a complete festive dinner indeed.
The wonton seems complex but I'm going to break it down into such simple and easy steps that you'll be itching to make this snack again and again.
An ancient Chinese treat dating back to the Han dynasty (202 BC–220 AD), the Wonton is a cross-continental food star that everyone loves! It's true, Chinese takeout has become an American tradition.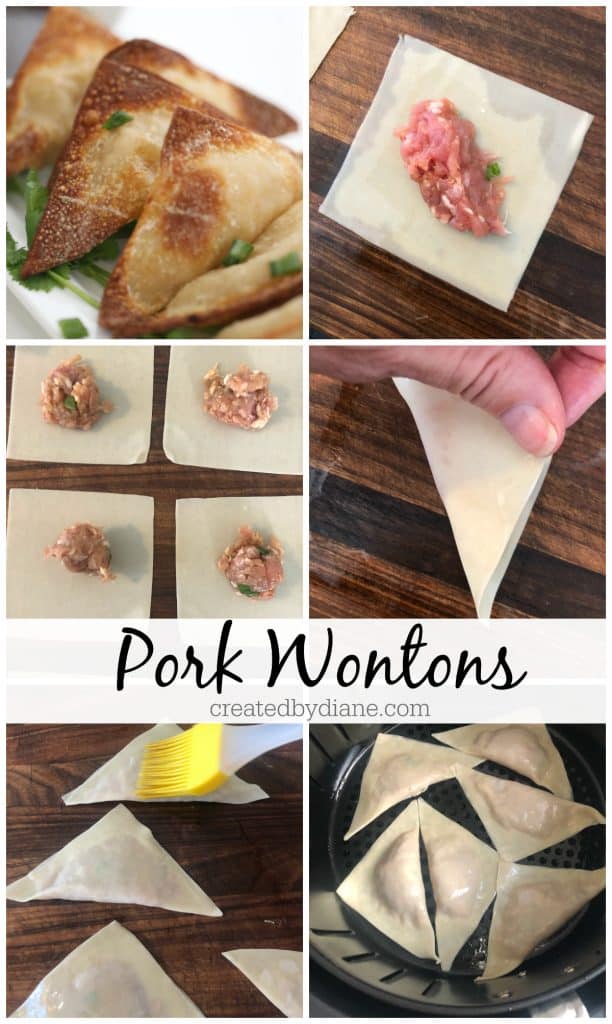 To begin, in a medium bowl mix the ground pork with ginger, garlic, green onion, salt, sesame oil, and soy sauce – making sure to fully incorporate the ingredients.
Grab a wonton wrapper and place a tablespoon of filling onto the center of the wrapper. You'll be tempted to add more, don't. You need to leave enough space around the edges to properly seal. 
Now, dip your finger into water and wet the edge of the wrapper on two sides, fold over the wrapper, so it's now shaped like a triangle, and press to seal.
I've experimented with different ways to cook these delicious morsels and have found that oiling the basket is the best way to keep the wontons from sticking. I have also tried brushing each one with oil but found that to be unnecessary. Alternately, you could use no oil at all, and this also works.
Cook wontons in an air fryer at 380° for 6 minutes.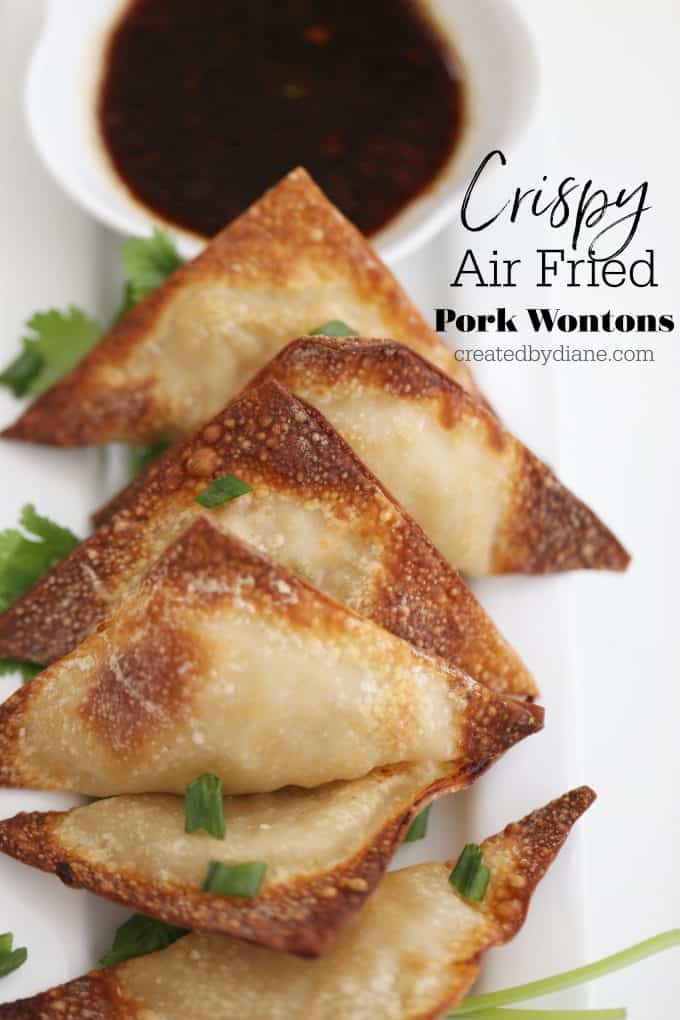 Can I cook these in oil instead of an air fryer?
If you don't have an air fryer, don't worry! These can also be fried on the stovetop in oil.  To do this, grab a small but deep pot. You'll want to use a neutral oil, such as vegetable oil to fry in. Having a thermometer on hand is also good! If the oil is too hot, you'll burn the wontons. If it's too cold, your wontons will become greasy and heavy. The oil should be 350° to deep fry the wontons.
Heat your oil to 350 degrees. Drop wontons in small batches and fry until golden brown. Remove and place on a paper towel to absorb any excess oil. A slotted spoon can be used for removal but I find a tool such as a mesh skimmer or fry basket best.
 Alternatively, you can lightly oil the wontons and bake them on a baking sheet at 450 degrees for 12-15 minutes or until crisp and the filling is cooked, these can be pushed into a mini muffin pan and baked into folded up wontons too.
What else can be used instead of pork?
No worries! Chicken or turkey can easily take pork's place. These can even be stuffed with cream cheese and chives or cream cheese and honey for a sweet treat! Shrimp is another option, play around even veggies can be used!
What's the difference between this and a dumpling?
A dumpling is a broad term to describe dough wrapped around some sort of filling. So, a wonton is a specific type of dumpling, set apart by being fried. Typically dumplings have a thicker wrapper and are often steamed.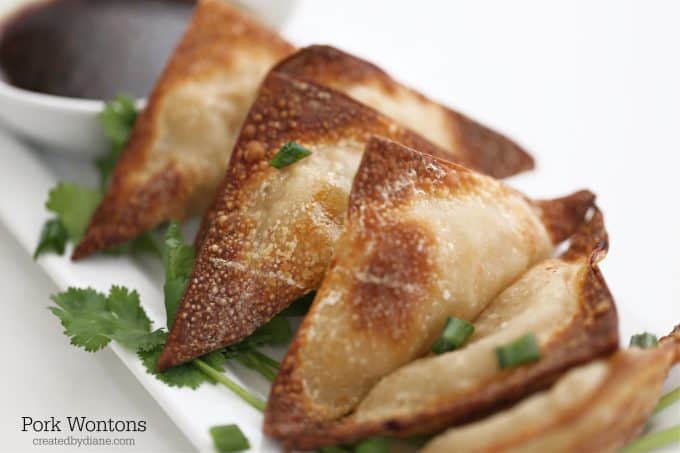 Other Asian Food Recipes you may like:
Air Fryer Pork Wontons
A great tasting pork appetizer quickly cooked in an air fryer until crispy. These can also be fried in oil on the stove. Ground pork wrapped in wonton papers and air fried until crispy.
Author:
Diane Schmidt Created by Diane
Ingredients
1 lb ground pork
1/4 teaspoon ground ginger
1/2 teaspoon garlic paste
2 chopped green onion
1/8 teaspoon salt
1/2 teaspoon sesame oil
2 teaspoons soy sauce
*add crushed red pepper or chili oil if you want it spicy
Instructions
In a medium bowl mix the ground pork with ginger, garlic, green onion, salt sesame oil, and soy sauce.
Place a tablespoon of filling into the center of each wonton wrapper.
Dip your finger into water and wet the edge of the wrapper on two sides, fold over the wrapper and press the wrapper so it seals.
Cook wontons in an air fryer at 380°for for 6 minutes.
I cooked them 3 ways, I brushed the basked with oil, which worked best to ensure they wouldn't stick. I also brushed the wontons with oil, but it's not necessary. Without oil worked well.
These can also be fried in a pot of hot oil on the stove.