This restaurant style chicken lo mein will have you enjoying a delicious meal in less time than ordering take out.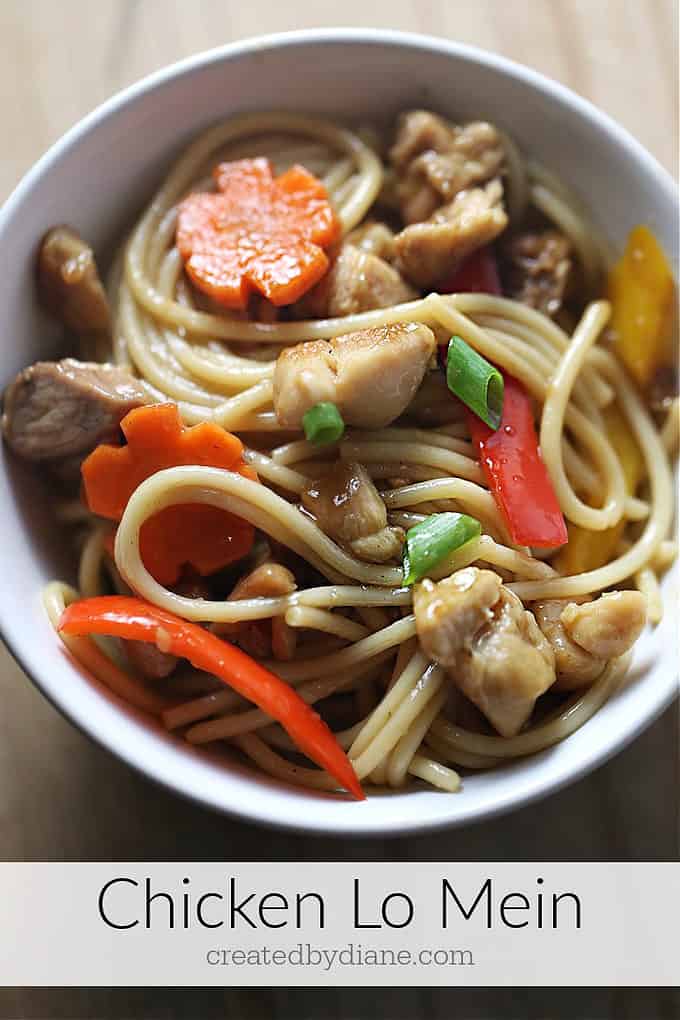 Lo mein means stirred noodles, and oh are they delicious.
One of my all-time favorite Chinese take out foods is lo mein. The noodles, the sauce. It's irresistible!
This recipe is so easy you can make it any time you get a hankering for Chinese take out and it's not oily as take out can be.
If you love noodles, you might want my Noodle Ebook, just sayin'
One of my all time favorite noodle dishes is Peanut Noodles, delicious hot or cold!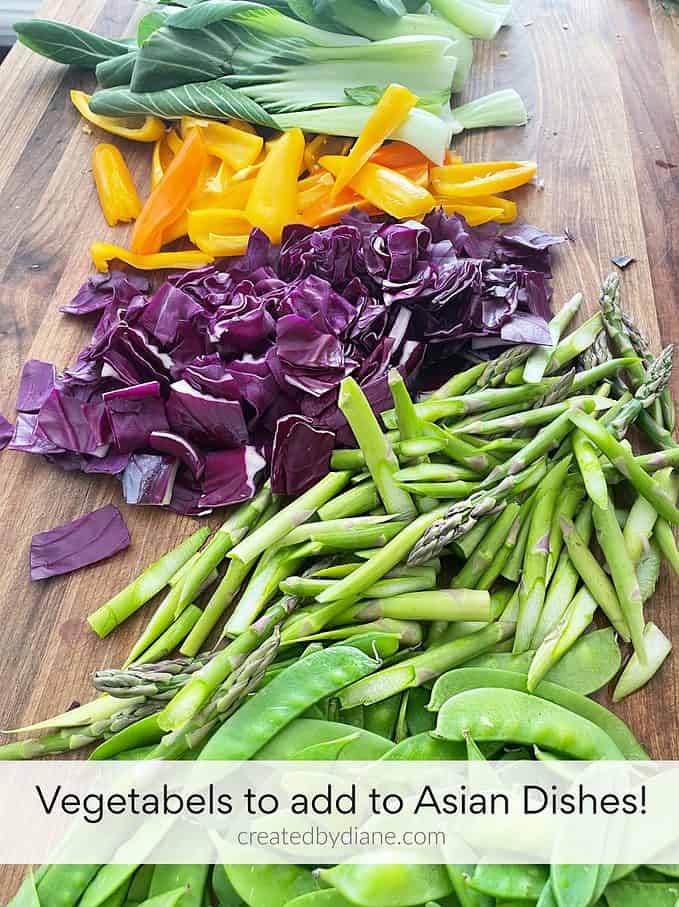 I love chicken lo mein, but feel free to add your favorite protein (pork, beef, shrimp) or vegetables like bok choy, cabbage, asparagus, and snow peas.
I love chicken lo mein, with the addition of carrots and mini peppers, I use yellow or red small mini peppers, they are slightly sweeter than bell peppers but use what you prefer.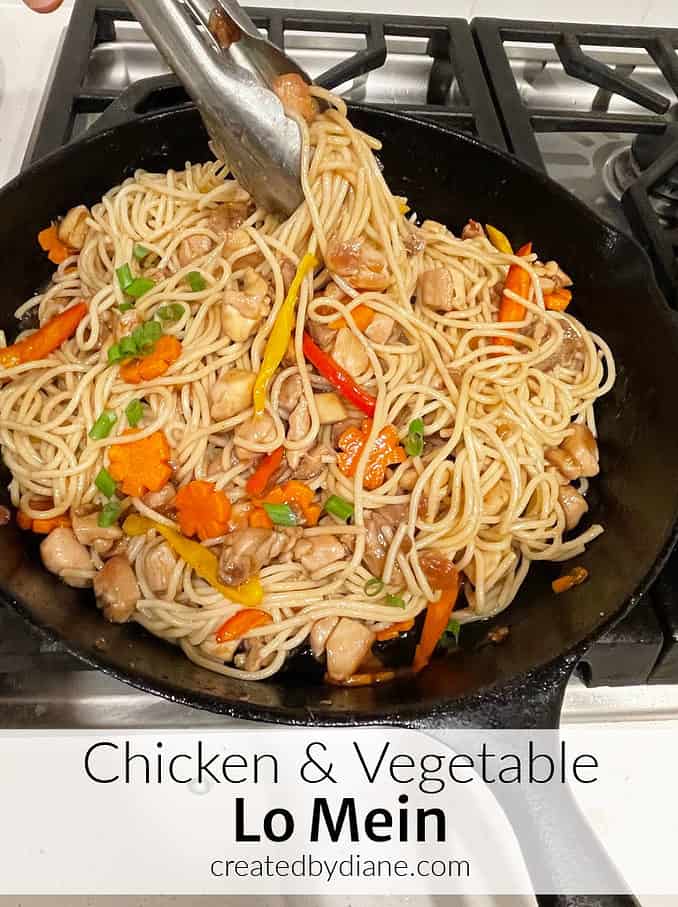 What is chicken lo mein sauce made of?
Soy sauce and oyster sauce are the main components, adding in some chicken broth and cornstarch to thicken it. You can use coconut aminos, and if you don't have oyster sauce, add a bit more soy sauce and a teaspoon of sugar.
What kind of noodles are best for lo mein?
If you're local store has Asian noodles they are often yellow and labeled egg noodles, you can find them in the refrigerator section or they may have dried Asian noodles. An easy alternative is to use spaghetti, which is readily available.
What is drunken lo mein?
If you're looking to kick up your lo mein and have it taste more like drunken noodles, add in a small amount of fish sauce and some Thai basil, fresh lime, and chopped peanuts. Add in some bean sprouts for a nice crunch.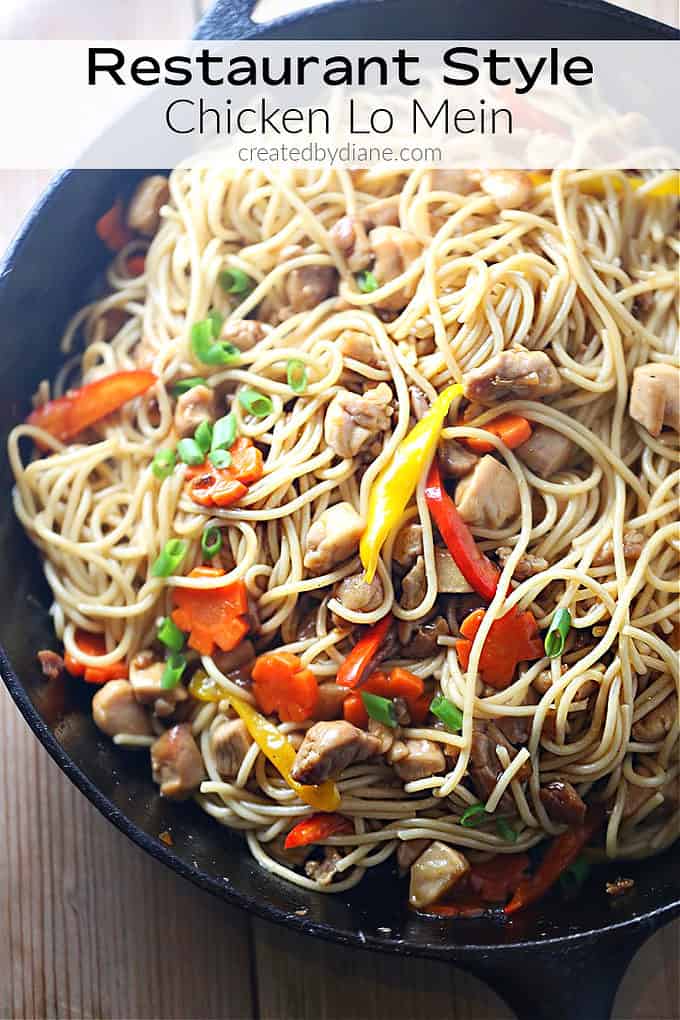 This recipe is so delicious, it takes such little time to put it all together and in no time you'll be enjoying a big bowl full.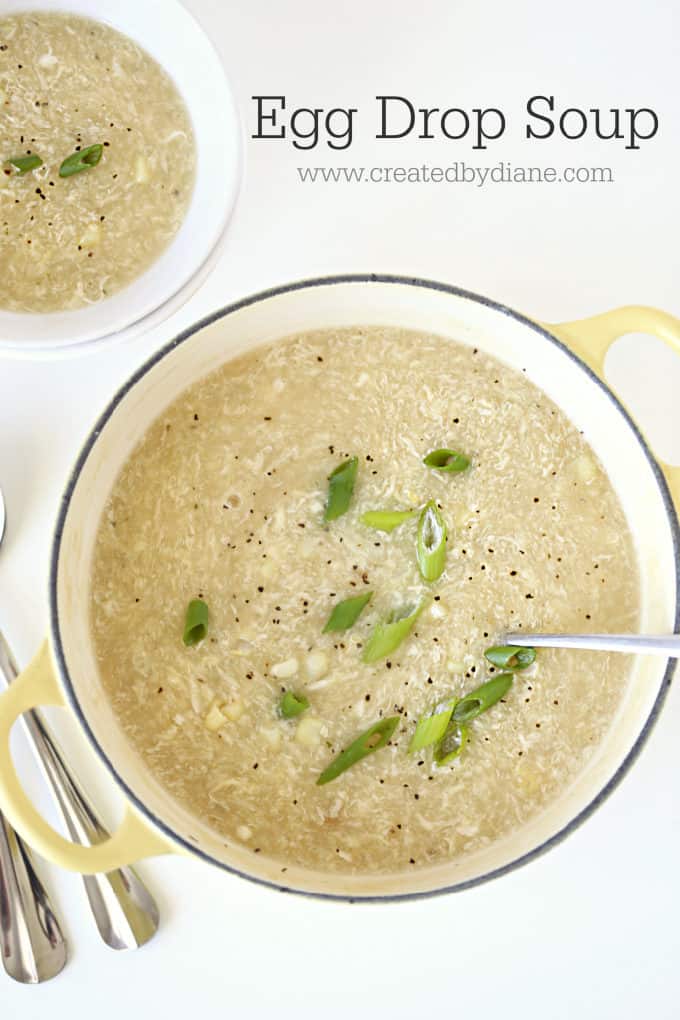 Be sure to check out Heidi's Healthy Sweet and Sour Pork, it looks so yummy!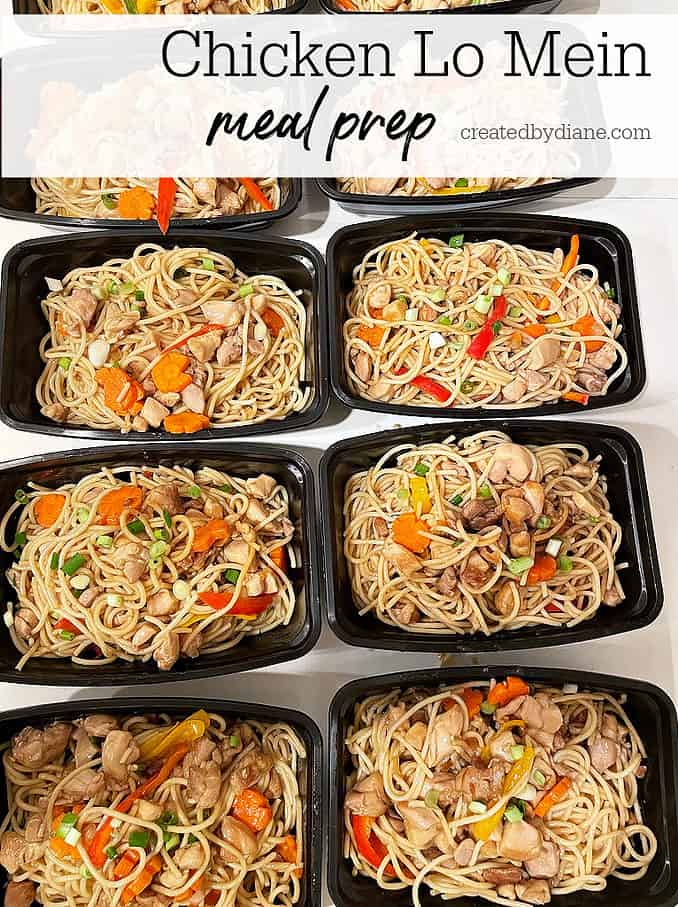 Scroll down after the recipe card for more Asian Recipes!
Chicken Lo Mein
Restaurant style chicken lo mein in a rich creamy sauce that is bound to satisfy.
Author:
Diane Schmidt, Created by Diane
Recipe type:
Main Dish, Chicken
Ingredients
1 lb spaghetti pasta, thin or thick depending on preference (or Asian lo mein noodles) cooked to package directions (reserve 1/2 cup liquid for sauce)
2 lbs Chicken thighs (or chicken breast) cut into bite-sized pieces
1 tablespoon sesame oil, divided
½ cup diced white onion
1-2 teaspoons fresh minced garlic
2 teaspoons cornstarch
3 medium carrots, cut into circles or cut divots to make a flower shape
1 Yellow or red peppers, cut into strips (about 1 cup)
Other vegetable options:
Mushrooms, sliced
Water chestnuts, sliced
Baby corn
Garnish with sliced green onions and cilantro if desired
Instructions
Begin by cooking the noodles according to the package directions.
In a large skillet heat a teaspoon of sesame oil and cook chicken until 165° or use precooked chicken.
Remove chicken from skillet and set aside.
Sauce 1-2 teaspoons of sesame oil with onion and garlic.
In a liquid measuring cup but combine chicken broth (or water and chicken bouillon) with soy sauce, oyster sauce, and spice (sriracha or crushed red pepper flakes) if using, with cornstarch
Slowly add sauce to a hot skillet stirring to heat and thicken.
Add carrots and pepper (and any other vegetable), and saute for 2 minutes or until vegetables are desired tenderness
Add in the cooked chicken.
Add pasta from the pot (reserving 1/2 cup liquid) and add noodles to the skillet.
Add liquid from noodles a little at a time until the desired amount of sauce is achieved to coat all the noodles well. add in the cooked chicken.
Adjust flavor by adding more soy/oyster sauce or adding more spice if using.
Serve with sliced green onion or cilantro.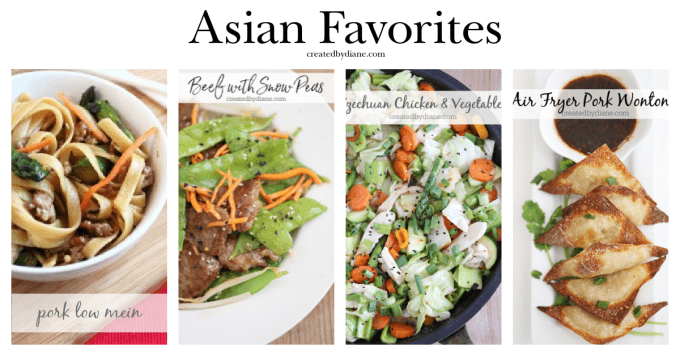 More great Asian Inspired Recipes: