There are many times when a soft food diet is needed. It could be cold and flu season, you could be stocking up for emergency pantry items to have on hand, or to keep a stocked pantry if you're not close to stores, maybe trying to keep your distance from everyone so you don't catch a virus and need a list of go-to items to buy. Dental work, broken jaw, or have a fussy eater in your house.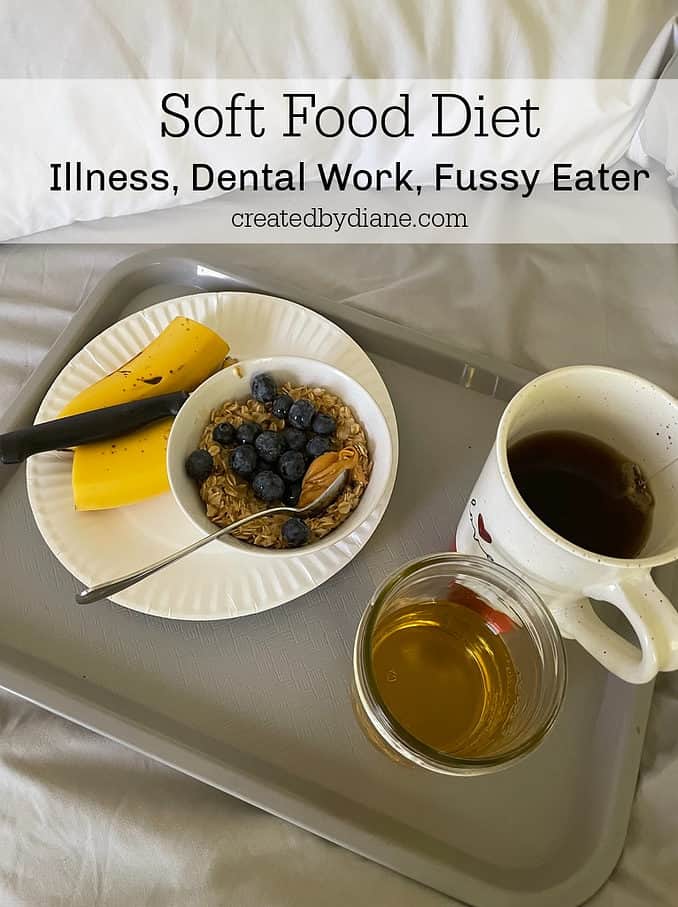 If you're sick remember the best thing you can do to not spread your illness is wash your hands for 2 minutes, hum the happy birthday song to yourself 2 times…. that is how long you should be washing your hands to prevent the spread of illness to others, not a quick hand rinse, that will not do it.
It's always a good idea to have a stocked pantry. Having items ready when you need them, is great, I whole list below and you can PRINT it so you don't forget items when you head out to the store.
Having shelf-stable food and drinks on hand
for illness, unexpected events, natural disasters, earthquakes, floods, tornados, hurricanes, quarantines or simply making it easy on yourself to have items ready to eat fast for a picky eater means you don't have to wait long to get something in your mouth to start feeling better. Don't forget some basic non-food items like soap, bottles water, toilet paper, paper towels, gloves, face masks, tissues, anti-bacterial wipes, and garbage bags.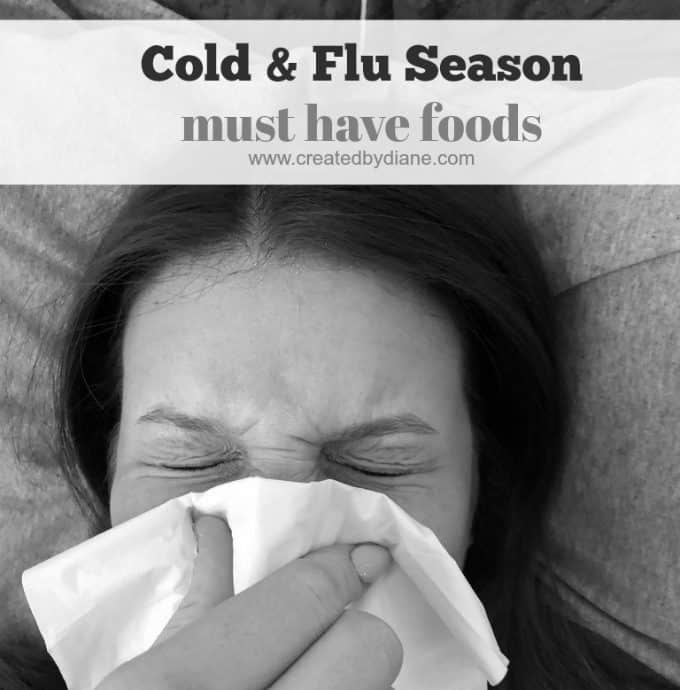 If you have a sore throat, oral surgery, dental implants, tooth extraction, and when you have a cold or the flu and so many more reason, this post is for you.
If you've ever had a tooth extracted, or your wisdom teeth taken out, had a dental implant put it, or simply have a sore throat accompanied by a cold or the flu this post is for you and the ones you love.
Comfort food is where it's at when you're not feeling well and a soft food diet is key when your mouth is sore, maybe swollen and you're unable to eat and chew regular foods.
Simple foods that are satisfying
these happen to be my family's 3 go-to items
Mashed Potatoes
Pasta (mini-sized, like tiny stars or orzo)
scrambled eggs
But this post will go WAY beyond just three things and I haven't even told you what we like on our potatoes or pasta yet!
So let's begin talking about mashed potatoes, now I LOVE mashed potatoes and yes they are not hard to make, just peel, cut, boil, then mash. But if you are not feeling well and preparing food for yourself there are quicker, easier options not to forget about.
Easy ways to have mashed potatoes
You can buy mashed potatoes in the frozen section of the grocery store
 you can pick some up on the ride home from a place that sells mashed potatoes that has a drive-thru (like KFC)
or you can simply use the boxed instant potatoes
which happens to be PERFECT when you're not feeling well and need them to be made and in your bowl in minutes.
What can you eat on a soft food diet?
There are many foods you can eat on a soft food diet like eggs, soup, yogurt, ice cream, rice, noodles, mashed potatoes, bananas, and apple sauce to name a few.
I've listed many quick items to pick up at the store, and a helpful list to print so you don't forget anything.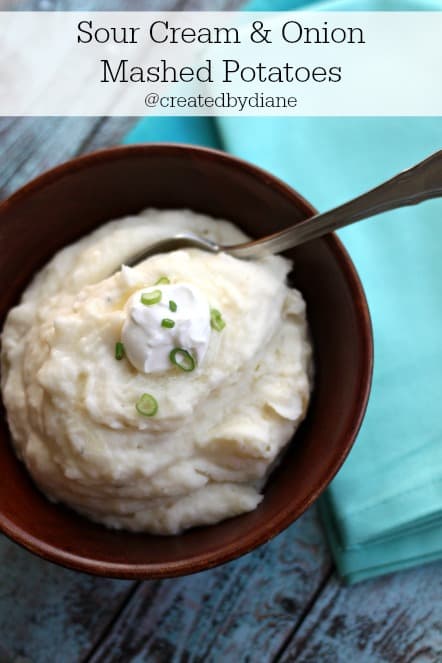 Click here for my sour cream and onion mashed potato recipe
You can plan ahead for some situations and make some sauces and gravy and have them in jars in the fridge to heat quickly or simply purchase jars of sauces and gravy at the store if you aren't able or don't want to make it from scratch.
What should I put on mashed potatoes 
Butter
gravy – you can purchase this or try my gravy recipe here (you can make it chicken flavor, beef flavor, or add cheese for a fun option)
cheese (any cheese, blue cheese, parmesan, cheddar)
ranch dressing – bottled or HOMEMADE
sour cream
spinach dip
garlic (I often use garlic paste and heat it with the water I love Gourmet Gardens items for this)
you can even top your mashed potatoes with peanut butter and jelly, if you want to fill kids up-give them options something they like in a new way. You never know what'll be their new favorite.
HERE you will find my Slow Cooker Mashed Potato Recipe
Pasta: As I mentioned small pasta is best, tiny stars or pastina, alphabets, orzo, or tiny bows. Make the whole pound and keep it in the fridge to add topping to at a moment's notice.


What should I put on pasta?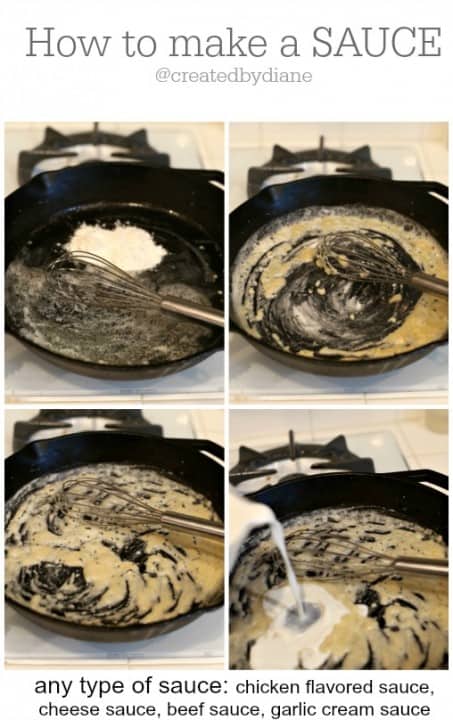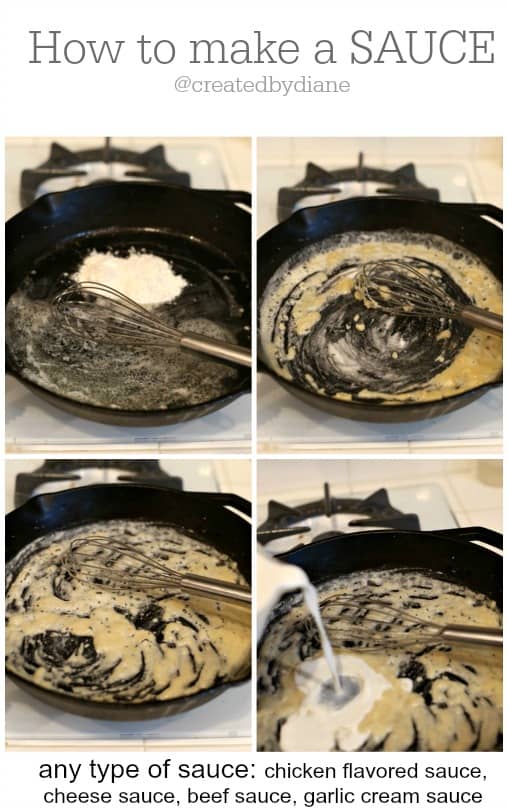 Homemade sauces
*Gravy: to make homemade gravy simply follow my instructions on How to Make a Sauce and add chicken broth or beef broth. You can make the gravy with milk or water and bouillon milk will give you a country-style gravy.
We often stick to simple flavors when not feeling well, but if you are feeling well and just need soft foods for other reasons this Thai Peanut Sauce is fantastic over small pasta and fun on ice cream too.
Here is my newest post on How to make great GRAVY every time!
Speaking of Ice Cream: this is the perfect time to indulge in your favorite ice cream (smooth with no chunks or added pieces) so be sure to stock your freezer with your favorites, and while you're there be sure to get some for milkshakes, no straw… eat them with a spoon, but it'll be thinner, smooth and easy to eat.
If you've had tooth extraction remember to not use a straw, simply eat the smoothie off a spoon.
Eggs
this post on eggs will give you lots of ideas.

Easy smoothie recipes
Adding in peanut butter to smoothies and shakes will make them more filling, so will adding in oatmeal, if you don't want the oatmeal chunks you can use a food processor and pulse it until it's a powder.
Jaw wired shut
and if it's wired shut… you'll want to have items at the ready. People who have their jaw wired shut do not want to wait for anything, they are uncomfortable enough already.
So grab some protein drinks, they come in a variety of flavors, and in my house the one that is requested most is Banana because they really got tired of chocolate after the first week.
What can I easily buy at the store?
Juice, Gatorade, Chocolate Syrup (chocolate milk is always satisfying) Pudding, Jello, Rice Pudding, Apple Sauce, Yogurt, Bananas, and Avocados are all staples to have something small to eat fast. Perfect for when taking pain medication, you should have something in your stomach when taking pain meds.
Protein shakes and protein drinks are great to have on hand as well.
Refried Beans and Cheese is always yummy too (cook beans or used canned beans or refried beans)
Whether you like to make it homemade or simply want to purchase the items stores have loads of options, my kids also like to have a cup of noodles when they aren't feeling well.
To get your vegetables
 you can cook fresh or frozen vegetables until they are soft enough to mash ( I love yellow squash with butter salt and pepper- I just dice it up and boil a few minutes then mash it) canned vegetables will work well and you can make a quick soup with them just puree with some chicken stock and you can add chicken too if it's smooth you won't have trouble eating it.
Soup: I have loved soup for as long as I can remember, I don't care if it's 100 degrees out, I still like soup. You can puree any soup to make it easier to consume.
Another item that is easy to eat, because it's smooth is refried beans. You can buy them in a can or make them homemade. Add some cheese and/or sour cream to them and enjoy!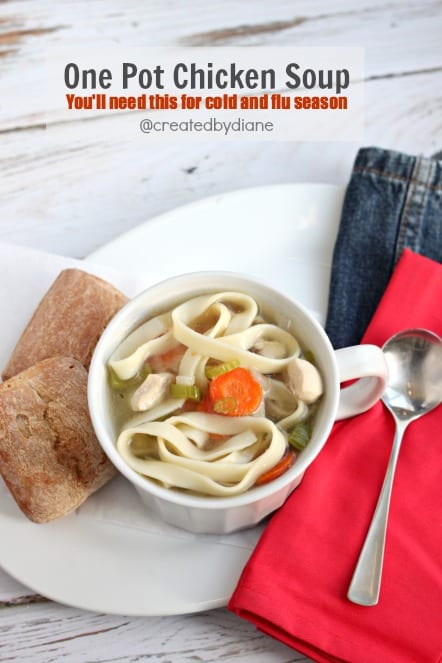 This One Pot CHICKEN NOODLE SOUP is ready in 30 minutes, tastes like it has been simmering all day.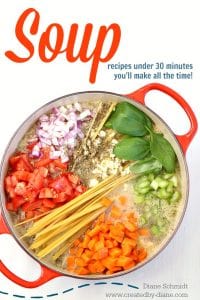 If you LOVE soup, you will love my SOUP EBOOK it has 20 soup recipes you can make in 30 minutes for $5.
Here are some of my other favorite soup recipes:
*you can also get a couple of cans of soup, or buy some soup at the grocery store and use an IMMERSION BLENDER to puree soups smooth.
I will mention one of my favorite kitchen tools is my immersion blender, I use it for milkshakes, smoothies, sauces, to make homemade mayo, and for pureeing soup and other foods smooth. I have quite a bit of kitchen equipment, blenders, food processors but my Immersion Blender is the quickest, easiest and I use it daily-really I take this out every single day and use it!
If you are able to eat pancakes, here is my EASY Pancake Recipe. I make batches and batches of these and you can put some in the fridge, then just heat and eat them when you're hungry.
One of the items on our top 3 is scrambled eggs, I just whisk the eggs with about a tablespoon of water per egg and cook them on medium-low heat until they are fluffy. If I cook more than 3 eggs I put a lid on so they cook evenly and fluffy.
I hope these tips help you heal fast and that you are feeling better real soon when and if you have oral surgery or a cold or the flu!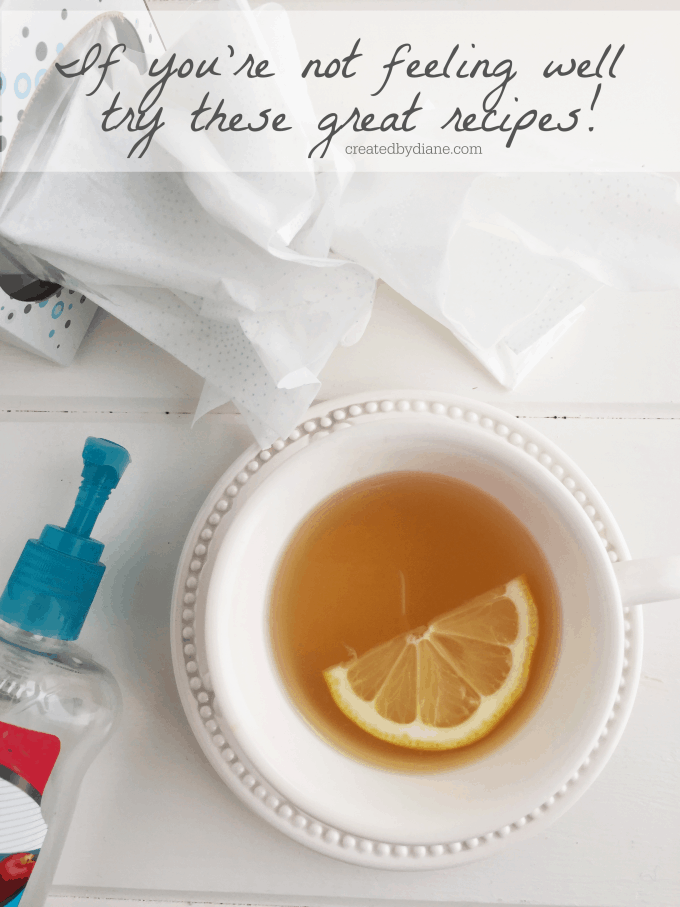 Grandmom always had
 a bowl of warm milk with sugar and saltines ready for me anytime I was there, may sound a little odd, but as a kid it was comforting, filling, and yummy!
So give it a try if you're adventurous.
Print the list of items below to help you remember what to stock up on when heading to the store:

Soft Food Diet
Items to stock up on at the store. For illness, recovery of dental surgery, and more.
Ingredients
Drinks- fruit juice, smoothie, Gatorade, orange juice
small pasta, instant mashed potatoes
Cup of noodles soup
eggs
cheese, gravy
yogurt, applesauce, bananas
Soup, ready-made in store, canned
rice pudding, pudding
popsicles, ice cream
avocados, fruits or vegetables to make smoothies or soup
bread for toast, tortillas
refried beans
throat lozenges
tissues
hand sanitizer
over the counter medicine to alleviate symptoms if needed
and don't forget tissues, toilet paper, paper towels, hand sanitizer, soap, and drink plenty of water!
CLICK HERE if you'd like to PRINT THIS whole post (without ads)
this list is great for a FUSSY EATER TOO, I've gotten a lot of messages that say this is a great go-to list for finicky, picky eaters.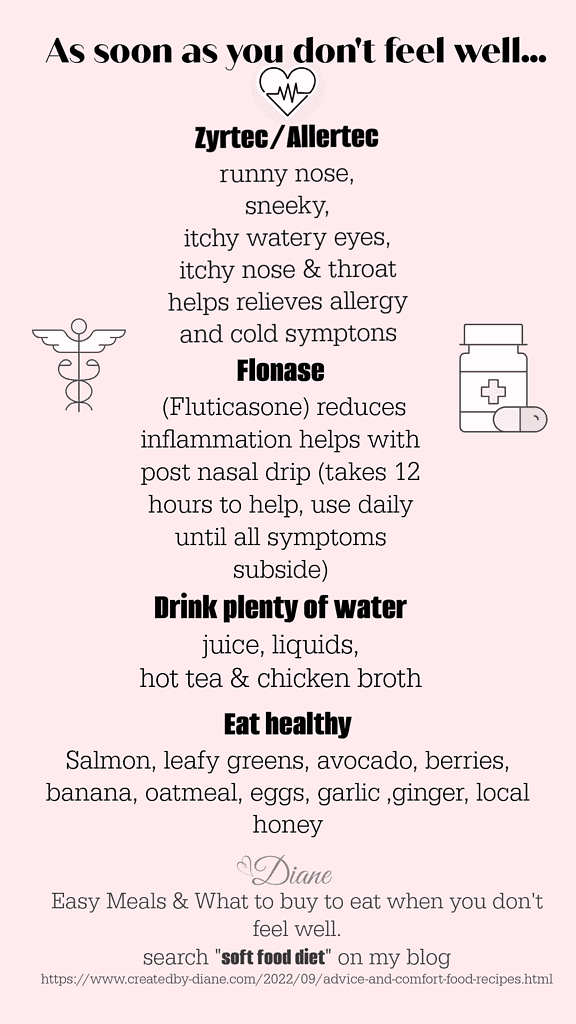 *I am not supplying medical advice, just suggesting what works for me. Consult your own physician about what you should take. I send this to my family members every time they say they are feeling run down, and sick, and need to remember what to do right away to ward off symptoms of allergies, getting a cold, and such.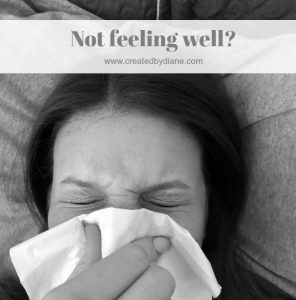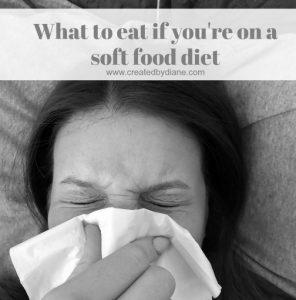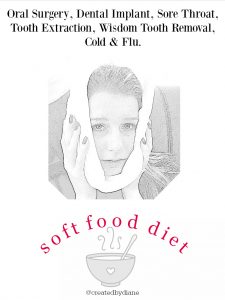 *any advice given is my own and I'm not a doctor and advice or suggestions should be taken with common sense, listen to your doctor for professional advice when you are sick or not feeling well. This post is for information purposes and not to be taken instead of doctor's advice.