I am a sauce girl through and through and when I come upon one I like,
I will eat it on everything for a week to find out which things I like it best on.   
It's no different with the Thai Peanut Sauce.
Believe me, you will want to eat it all week too!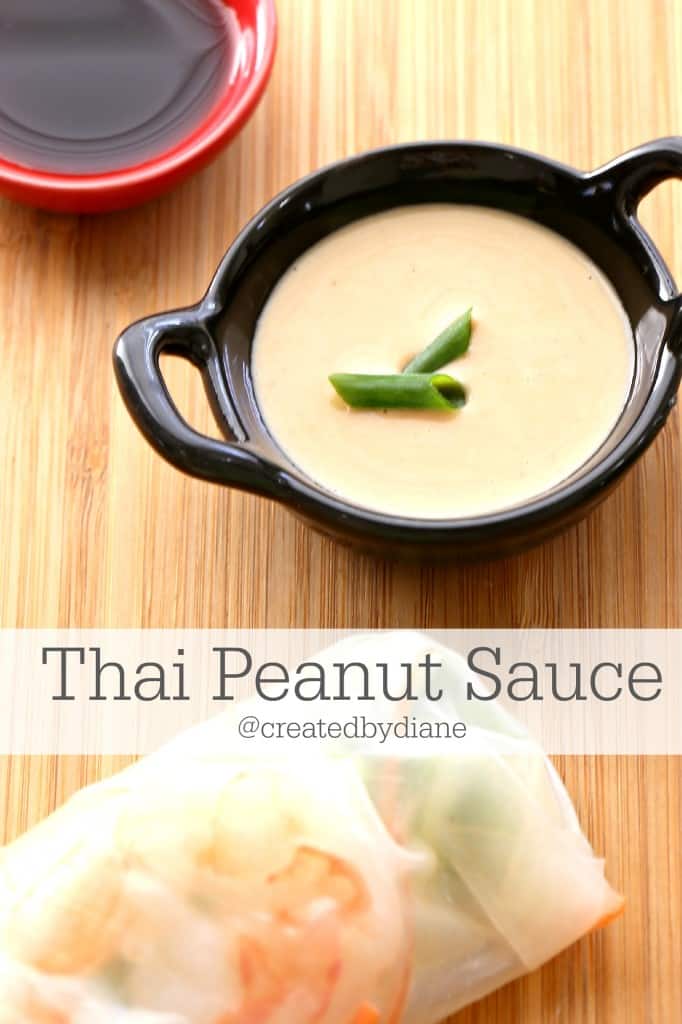 I've made a few peanut sauces before, but none that I wanted to eat all week.
This one was a total game changer for me!
And everyone else who tried it, I shared knowing I would be making another batch the next day.
Yes, it's that yummy and I'm sharing TWO easy recipes to use the sauce with.
Take a look!
I made some shrimp spring rolls and oh how trays of them DISAPPEARED!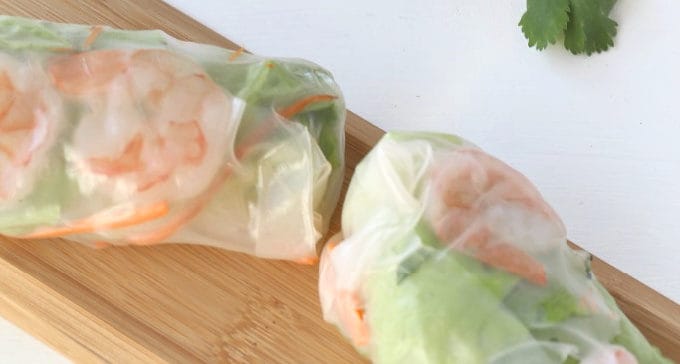 I am new to working with rice paper, but getting the hang of it. I tried dipping them in hot water as suggested by some but found cold water was much easier to work with and they were less sticky.
I bought the rice noodles that are typically found in spring rolls and they only take 2 minutes to soak in hot water, love that!
I added lettuce, shrimp, mint, basil, carrot, jicama, rice sticks (rice vermicelli).
To prepare the spring rolls, place rice paper wraps in water until softened.
Lay flat on the counter, add in the items you're filling the spring rolls with,
rice noodles, greens, carrot, shrimp, bean sprouts, mint… then roll them up and serve with the peanut sauce.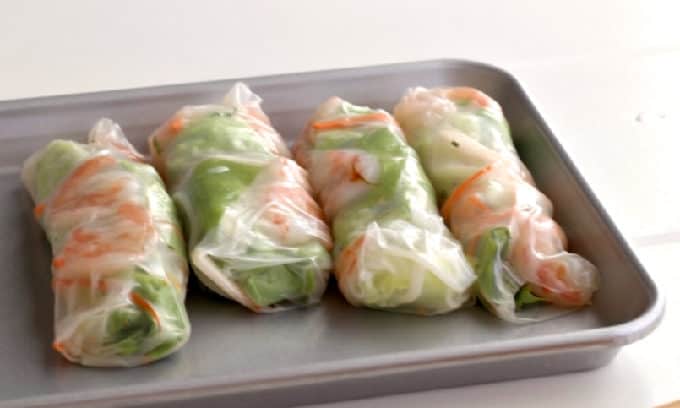 Now onto the sauce, it's creamy and delicious and I love that Thai food often uses coconut milk, to give this sauce a smooth and creamy texture I used coconut milk to make it. It is by far the best peanut sauce I've had.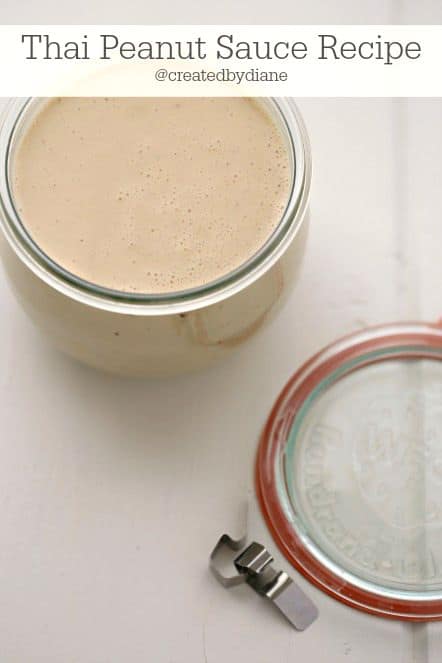 I store the sauce in a glass jar in the fridge to have at the ready when I find something else to put it on.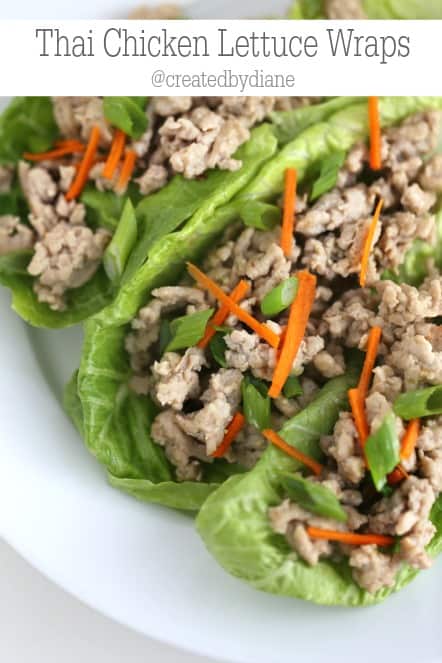 Now, this has become my go-to quick and delicious easy meal.   
I stir fry a pound of ground chicken add a couple tablespoons of the peanut sauce to it.
Place the mixture on some lettuce and top it with Julienned carrots and diced green onions.
It's great to have a meal ready in minutes that is satisfying and this is just THAT!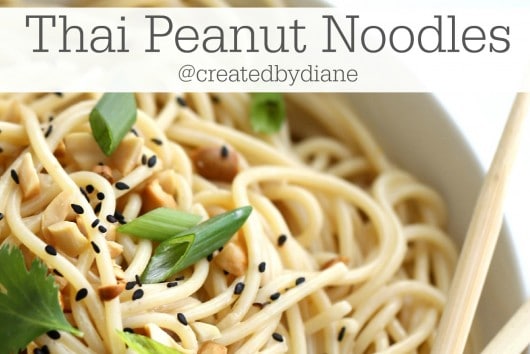 Click here for my THAI PEANUT NOODLE POST, it's a go-to dish around here!
Slather it all over pasta and top it with diced green onions, chopped peanuts, and sesame seeds. Eat hot or cold!
This Thai Peanut Sauce is great to marinade chicken and for dipping chicken into.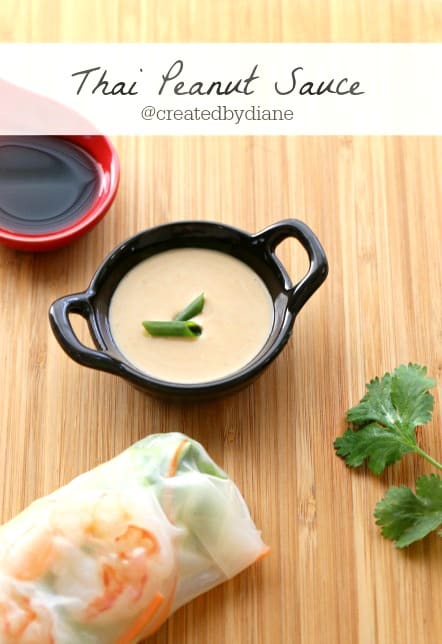 Perfectly delicious paired with shrimp and salmon, great over a salad, and get crazy and top your salad with salmon and peanut sauce! Great on a chicken or turkey burger and it is a really great sauce option for chicken or turkey meatballs too.
I also like it drizzled over a bowl of rice.
If you like sweet and savory, you may also enjoy it over vanilla ice cream!
OMG, I'm obsessed with salty-sweet desserts!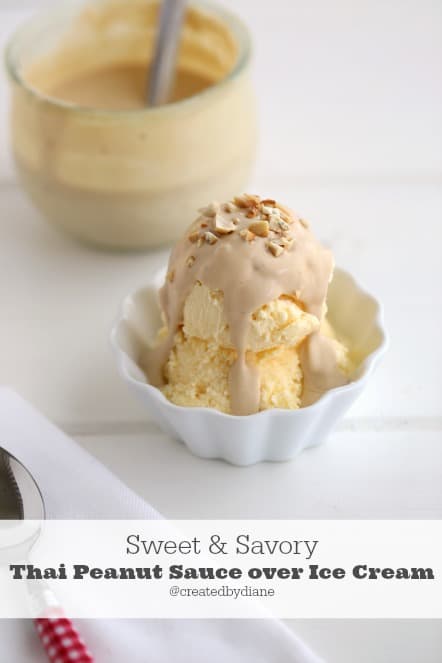 Looking for some other Asian dishes: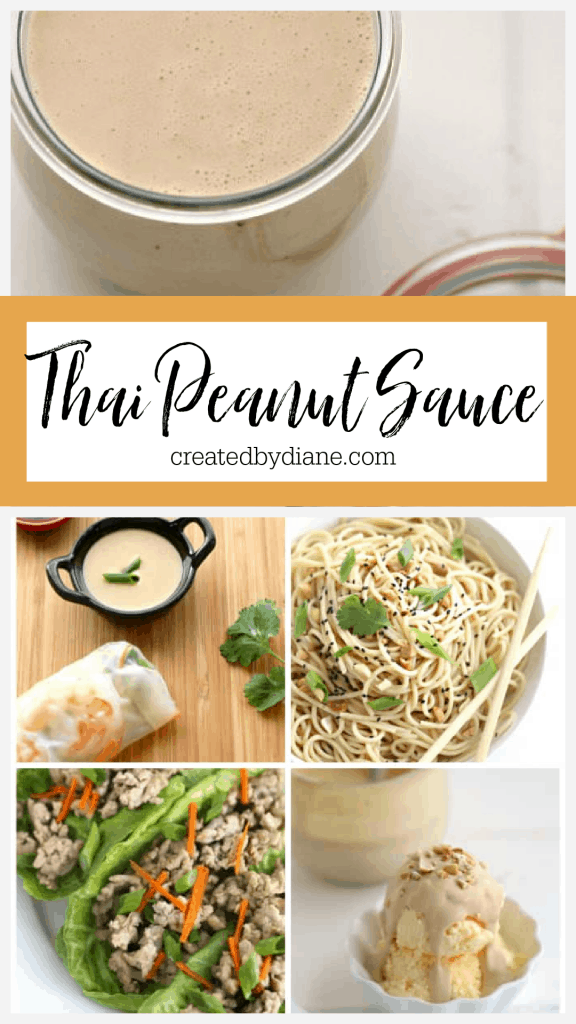 This sauce is creamy and saucy… if you're looking for a more traditional peanut sauce, the THICK type that you dip spring rolls into, just mix:
1/2 fresh lime juiced
1-2 tablespoons soy sauce
dash rice wine vinegar
1-2 tablespoons peanut butter
1/2 teaspoon minced garlic
1/2 teaspoon Chili paste
pinch crushed red pepper
this will make a small amount, double as needed
Thai Peanut Sauce
Ingredients
1 14 oz can coconut milk
1/2 cup peanut butter
3T fresh lime juice (1 medium juicy lime)
1/4 cup soy sauce
1/4 teaspoon garlic powder
1/2 teaspoon crushed red pepper
Instructions
Place all ingredients into a tall container (so that it will be easily blended with an immersion blender)
Blend until completely smooth and well mixed.
Notes
If you used full-fat coconut milk, it will become similar to the consistency of peanut butter once you refrigerate it and you can even spread it on sandwiches. If you used light coconut milk, it's thinner more of a sauce consistency when refrigerated. When it's first made it's on the thin side, great to add to pasta and such. To quick-chill the sauce, I place it in a bowl over a slightly larger bowl with lots of ice and some water and let it get cold, which thickens it up if you're in a hurry.