Tropical Avocado Smoothie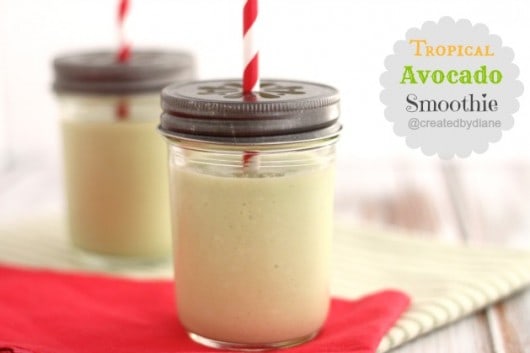 A fruit smoothie like no other.
Really there is avocado, pineapple, and coconut in this delicious smoothie.
Perfect for Cinco de Mayo or to whip up and enjoy anytime.
I love pineapple and coconut together, it's such a wonderful taste. I've made Grilled Cake and Pineapple that is a super-fun! A really popular quick and easy cupcake with pineapple and coconut is my Luau Cupcakes, both are really perfect for celebrating….even if you are the only one celebrating.
I really can't get enough of avocados. I just love them and was recently asked how do I enjoy them most and my first thought was well, with a little salt and on a spoon. Really I can't tell you how many times I eat them as a snack.
I thought it was time to makes something a bit more fun with them. I tend to make more savory items with avocados, like Avocado Sauce, Cilantro Lime Avocado Sauce, that I love over pasta and with chicken,  Jalapeño Pizza, I even make Tunafish with Avocados a fun savory Avocado Scone Recipe and even Avocado Lime Cookies that I sometimes add salt to.
Since pineapples seem to be in abundance around here right now, I thought it would be fun to make a cool and refreshing drink with pineapple and avocado. I added some coconut and wow this smoothie was a hit.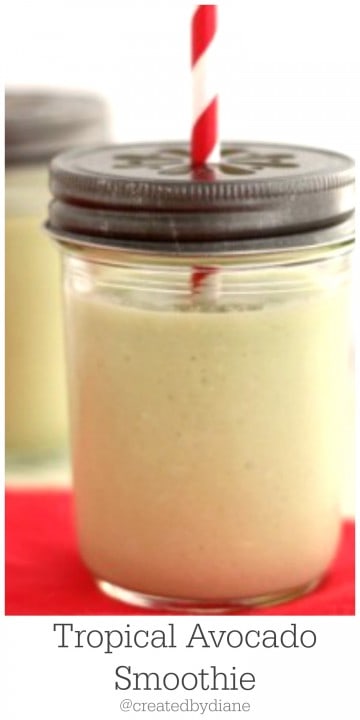 Tropical Avocado Smoothie
Ingredients
1/2 cup diced California Avocado
1/2 cup greek yogurt (I used Fage' Plain Greek Yogurt, you could use, your favorite plain or vanilla yogurt, just adjust the sugar and vanilla accordingly)
1/2 cup fresh pineapple cut into 1" pieces
2 tablespoons sweetened shredded coconut (chopped)
1/2 cup milk
1/4 teaspoon Orlando Vanilla
1 teaspoon sugar (or sweetener of your choice)
6-8 ice cubes
Instructions
In blender add avocado, yogurt, vanilla, pineapple, coconut, milk, vanilla, sugar, and ice. Blend until smooth.
Notes
Chopping the coconut before adding it to the blender helps to grind it smaller so it will fit through a straw. Orlando Vanilla is very smooth and not bitter, if the vanilla you use has a high alcohol aroma and doesn't have a sweet flavor, use less vanilla or use vanilla yogurt instead.
If you're looking for a fun tropical drink this will sure fit the bill.
If you're looking to celebrate Cinco de Mayo all day long and need a variation from all the cervezas and Margaritas, this will be perfect!
For a list of Mexican Recipes here, including Margarita Cupcakes and a yummy Bean Dip.