Spring has sprung, grab some carrots and make this tasty carrot cake oatmeal smoothie and have a wonderful day!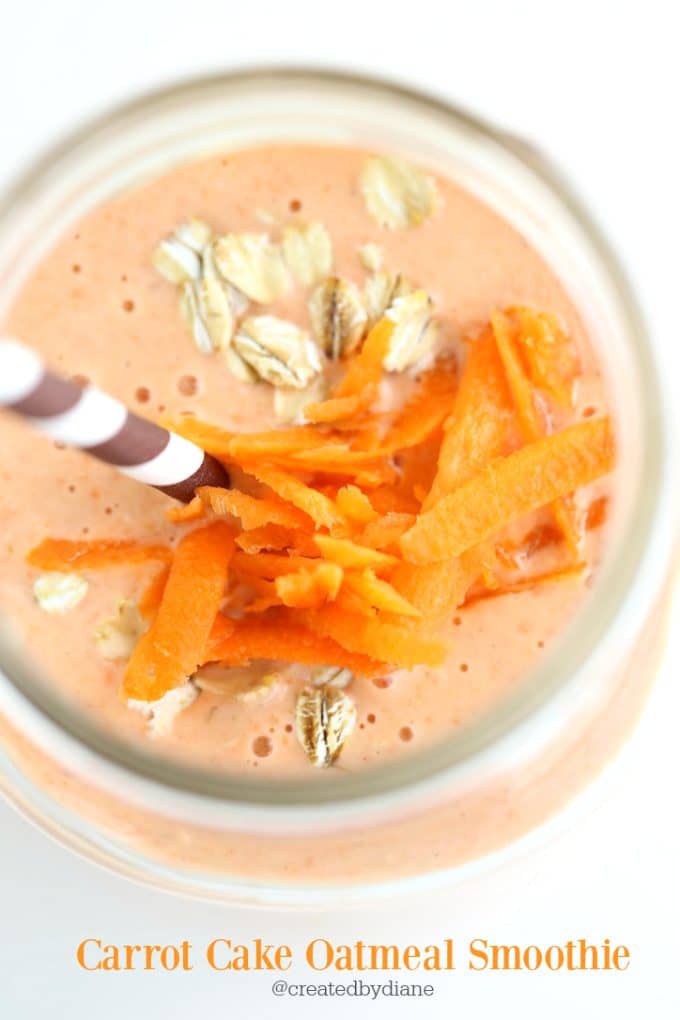 Carrot cake is all the rage this time of year.
It must be that the season has everyone thinking about hopping bunnies and how bunnies like carrots I'm guessing.
It really doesn't matter to me what time of year it, I love carrot cake.
This carrot cake smoothie is full of carrot cake flavor and easy to whip up and enjoy in minutes.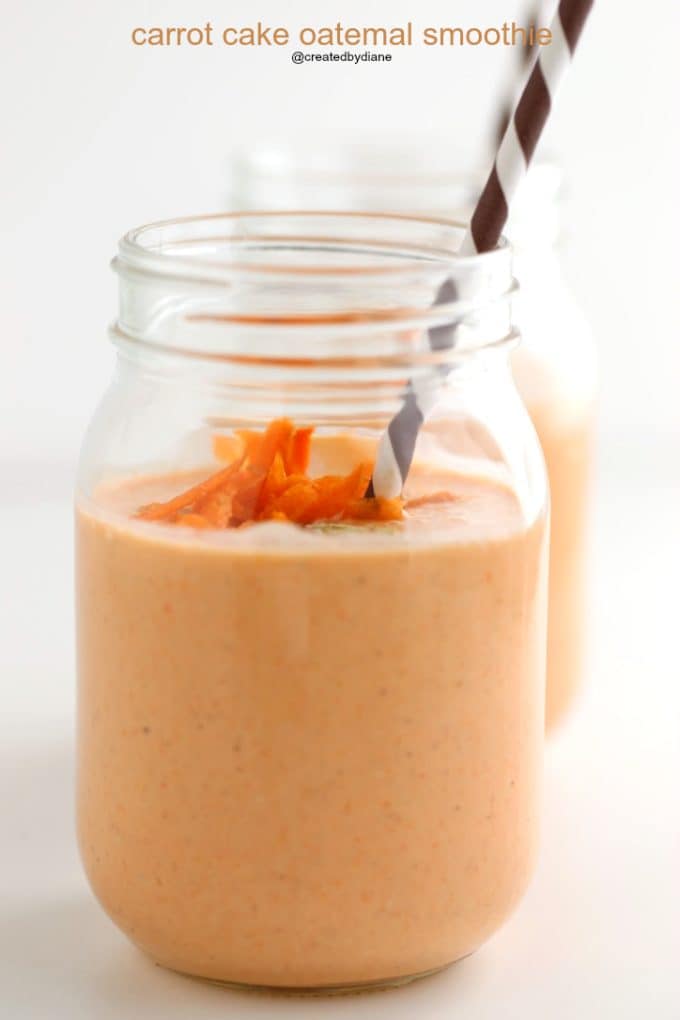 The added oatmeal in this recipe means you can skip breakfast and get all you need in one glass… well it does for me!
If you love carrot cake like I do, you will LOVE these carrot cake scones.
And I have a whole line up of OATMEAL recipes, Oatmeal Cupcakes with Cinnamon Sugar Frosting,  Oatmeal Oreo Cookies, Coconut Oatmeal Cookies, Oatmeal Maple Bacon Cookies…. I can almost smell them baking in the oven now. But with this smoothie, you don't need much and you certainly don't need to turn your oven on.
I think what I like most about carrot cake, is that it's not overly sweet but the flavor of cinnamon is irresistible.
I think I should have planted some carrots this year, I just don't seem to be as successful with vegetables as I am with herbs. So, I typically stick to herbs I love having fresh parsley and I have had good success with it growing here all year long. I just planted basil, which does really well in the shade. It doesn't do well in the sun especially when it's over 100 here. I planted some spearmint too, I love adding it to tea. I have some oregano that has done well since last summer, so I'll see how long I can keep it going. Maybe I will have to try growing carrots after all.

Carrot Cake Oatmeal Smoothie
Ingredients
1 cup grated carrot (2 carrots)
1 banana (peeled cut and frozen) if not frozen add 1/2 cup ice
1 cup almond milk (or regular milk)
1-6oz plain yogurt (I use Fage Greek Yogurt)
1/2 cup oatmeal (I use regular oatmeal)
1 tablespoon brown sugar
1/4 teaspoon cinnamon
1/8 teaspoon nutmeg
Instructions
Place all ingredients in a blender or in a jar and use an immersion blender and blend until smooth.
Serve immediately.