Roasted Cauliflower Sauce
This is my new favorite sauce. You see I've been exercising more and counting my calories and trying to keep fit. I started running a year ago. Before that, I did various Bootcamp type workouts. I've worked out with a number of trainers, all of which I've learned different things. One of which is what works for one doesn't necessarily work for another. I learned that I can't eat whatever I want and think that working out will counter balance it all out. I can be a little obsessive.
Eeeek, did I just type that (please either tell me I'm not alone or ignore I just divulged that piece of embarrassing info). I don't think I'm unlike many others who get all excited about what they are doing new. We tell our friends when we find the latest things we love, right. Well, I'm going to tell you about this sauce in a minute. I will mention cauliflower is not my favorite vegetable, but the taste of it roasted and whipped into this sauce makes just about anything tastes creamy and delicious. My picky eater even loves it on pasta, who knew that would happen. This really will help me enjoy the creamy taste of my favorite types of sauces and dips with a lot less calories. To help me get on a healthier track and be able to enjoy the tastes of the indulgences I had often put on my plate.
This is a great substitute. I'm tracking my calories and exercise with the Lose it! app on my iphone and I just love it. It's easy to use and I've been doing it for 4 weeks now. It can scan packages so I don't have to enter in all types of info and if I eat the same thing for breakfast several days with a quick click I can add that to my day easily.  I have been cutting down on the things apparently I should have been trying to avoid, like GIANT bowl fulls of pasta. I'm sure you know pasta is a weakness of mine. I now just try to have a little bit smaller portion. I am still figuring out how to keep on track while being away from home. I end up bringing my food with me as I find it easier than trying to figure out what I"m going to eat when I've already reach the "I'm STARVING" stage and then try to locate something that is a better choice. Feel free to share with me some of your favorite tips and tricks for ordering out and staying on track along with your favorite recipe at home. [rs-cut] Don't think for a minute I've given up on sweets and treats. That would be entirely impossible! I still eat all the yummy items I make. I just try not to eat 5 or 6 of them every time I walk by them in the kitchen. If I go over on my calories it's ok, I know I won't be able to keep to a perfect calorie count every day, but I am making it a priority. I am alternating workouts with weights, running, elliptical and well whatever else I can think of so I don't get bored. I am working out with a friend and the accountability of meeting her for workouts keep me on track, I do not like to be late and I hate canceling on people. She is the same so it's really working out for us both. I have however realized that PB&J sandwiches really need to be thought out on my part. I had NO idea how many calories were in even a half of a PB&J sandwich. Let's just say I blew my calories when I added up the half of sandwich I ate, thinking it was going to be much fewer! I recently won an Oster Versa Performance Blender from Leslie, The Hungry Housewife. I was super-thrilled when I found out I won. By the way stop by Leslie's blog, she is so sweet and funny I'm so happy to have met her at BlogHer Food two years ago. I only have a small one that using a drinking cup, it's great for one. I've always wanted a high powered blender. I can't wait to use it for soups, Vodka Sauce with fresh tomatoes, ice cream… I can't wait to make the base for ice cream in this beauty and then borrow my friends' ice cream maker, some day I'll have all the appliances I need. I'm dreaming of the KitchenAid ice cream maker. Who am I kidding here, I really need a new mixer first! But I'm so happy to have a new blender. My kids can't wait to enjoy some new smoothies. If you want to see the things I am indulging in or catch a glimpse of my non-blogging life takes a look at @createdbydiane on Instagram. If you see something I've made and want the recipe, let me know…I'll work on getting the recipe written up maybe a little more quickly than I would normally.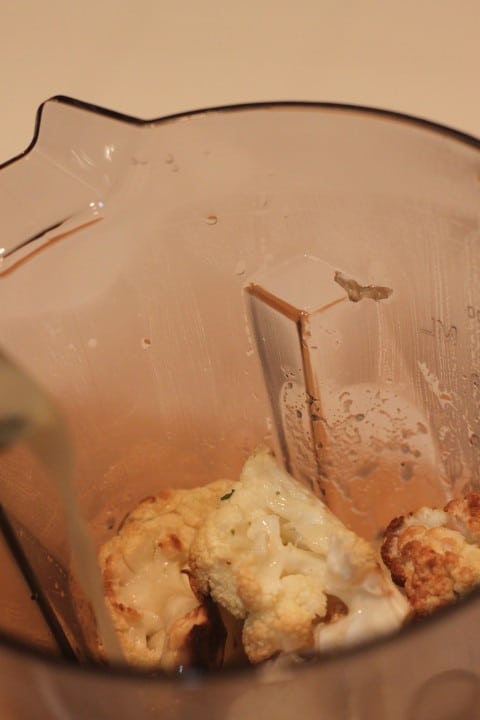 Roasted Cauliflower Sauce
Ingredients
I large head of cauliflower (about 6 cups)
2 cups chicken stock (Kirkland Organic)
2 tablespoons garlic (gourmet gardens)
1 tablespoon butter
Salt and Ground Pepper to taste
Instructions
Cut cauliflower flouretts into pieces and place them on a baking sheet and roast them in the oven at 450 degrees until tender about 20 minutes.
Blend them smooth(in a large blender that is safe for hot foods) with 2 cups chicken broth.
In a skillet over medium heat, place butter and garlic and saute until heated but not browned
Add cauliflower mix.
Blend thoroughly and serve.
*This sauce freezes well, so if you think one batch is too much, just put in into the size container you prefer and freeze it. I defrosted it and it was just as delicious. I froze it in 1/2 cup and 1 cup containers. That made it easy for me to be able to have a quick sauce/dip whenever I needed without having to make up a new batch.
Nutrition Information
Calories:
48
Carbohydrates:
4.8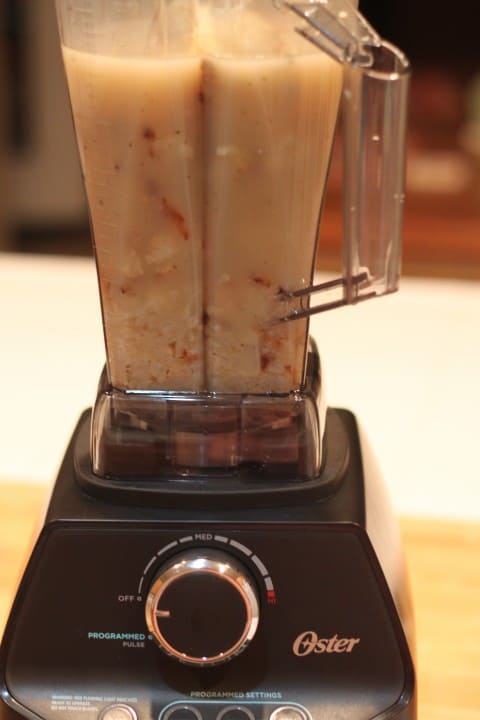 I'm sure before long I will come up with some new uses for this sauce so stay tuned. I already have plenty of ideas!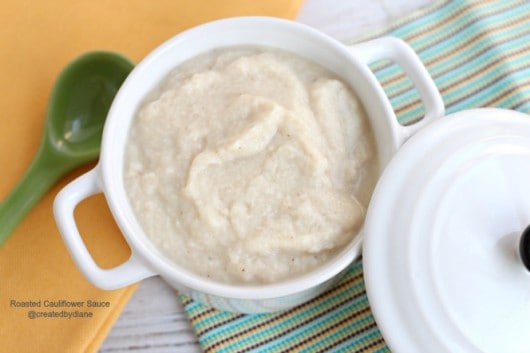 I have seen and heard a lot about people making healthier things from cauliflower and did see a Cauliflower Sauce over at Pinch of Yum, while I was deciding to make this and it sounded so great I decided to base this recipe off that one with some slight differences. I've also made Buffalo Cauliflower, I'd seen that running on lots of blogs recently. That one, I liked but no one else in my family did and I didn't get a photo, so it may be a while until I make it again.