Puttanesca like you've never had it before…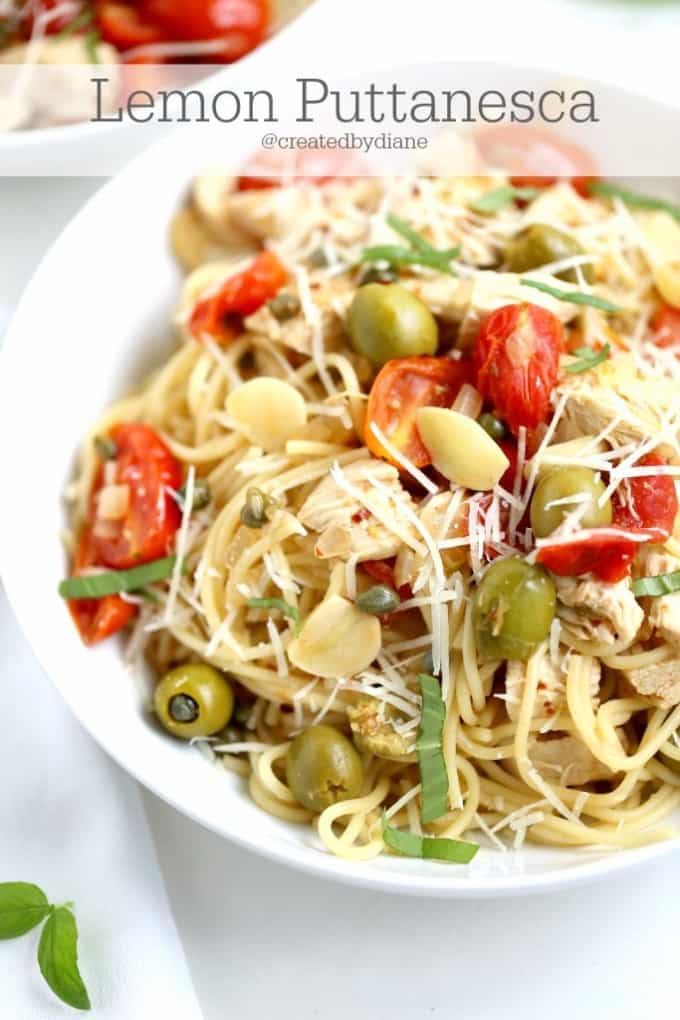 Lemon Puttanesca
Don't miss one delicious recipe and get my FREE e-cookbook click here!
This dish is full of fabulous flavor, tangy salty and oh so delicious.
This is such a fun twist on a classic puttanesca.
This is full of lemon!
You know how much I love lemon don't you, and I know many are right there with me on my lemon "CRAZE" I link to other lemon recipes at the bottom of this post.
[tss-cut]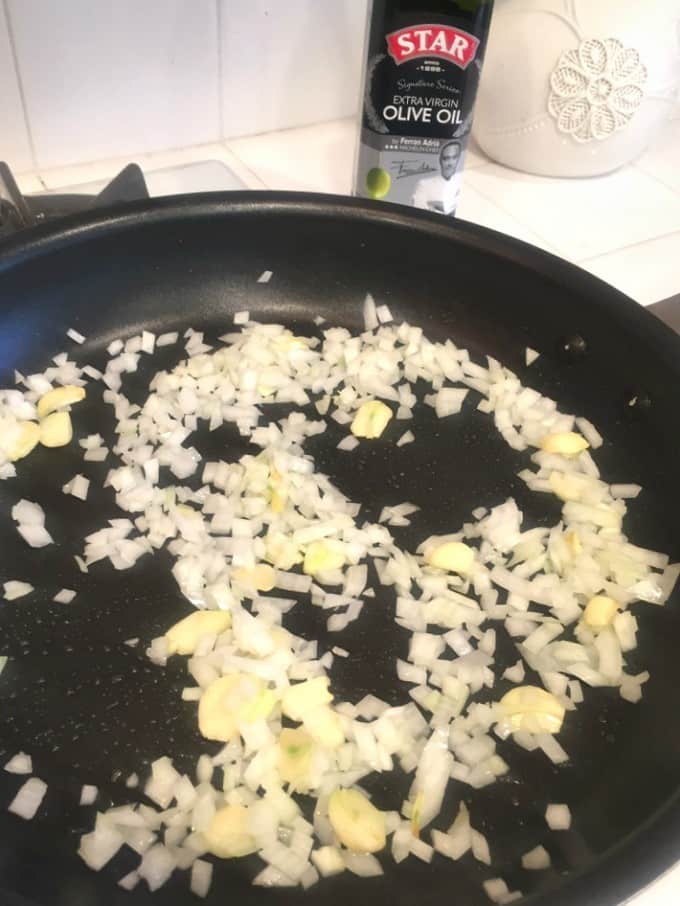 It all starts with garlic, onions and olive oil.
The aroma of these cooking in the kitchen always has everyone running to the kitchen wanting to know what's cooking.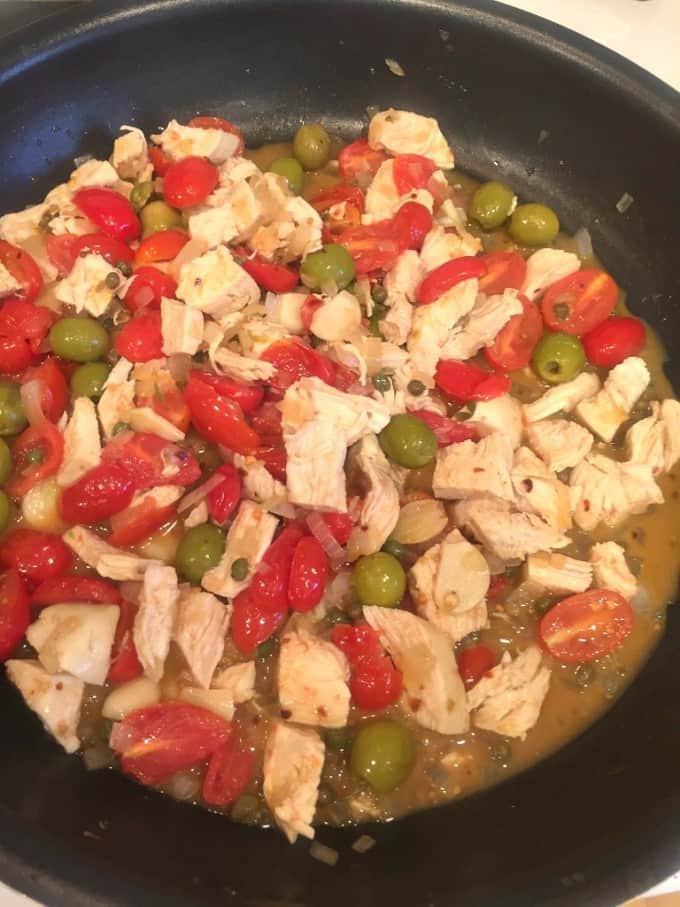 What else is in this dish?
Let me tell you,
there is chicken and tomatoes and olives and capers and anchovy paste along with lemon juice.
And of course pasta!
You can make this dish as spicy as you like, just add more crushed red pepper.
The sauce for this is increased with some pasta water, it's starchy enough to add to the lemon juice and juice form olives and capers to balance the flavor.
Lemon Puttanesca Pasta
Ingredients
1 lb spaghetti (cooked according to package directions)
1 1/2 lbs boneless skinless chicken breasts
1 1/2 cups grape tomatoes sliced in half
2 T capers in juice
1/2 cup fresh lemon juice
1/2 cup green olives (I used Lemon Stuffed Olives from Star Foods)
4 garlic cloves sliced
1/2 cup onion diced
2 tablespoons olive oil (I used Star Foods Olive Oil)
1/2-1 cup of pasta water
1 teaspoon anchovy paste
pinch, crushed red pepper
4 basil leaves sliced
1/4 cup Romao Cheese
Instructions
Cook spaghetti and reserve 1 cup pasta water for the sauce.
Cut chicken into bite size pieces.
Heat skillet on high and add a tablespoon olive oil and garlic and onion and stir.
Place chicken in the skillet with tomatoes, lemon juice and anchovy paste scoop out a cup of pasta water stir and cook until chicken is fully cooked.
Add olives and capers and cook 2 minutes.
Mix with spaghetti.
Mix well, serve with grated Romano Cheese.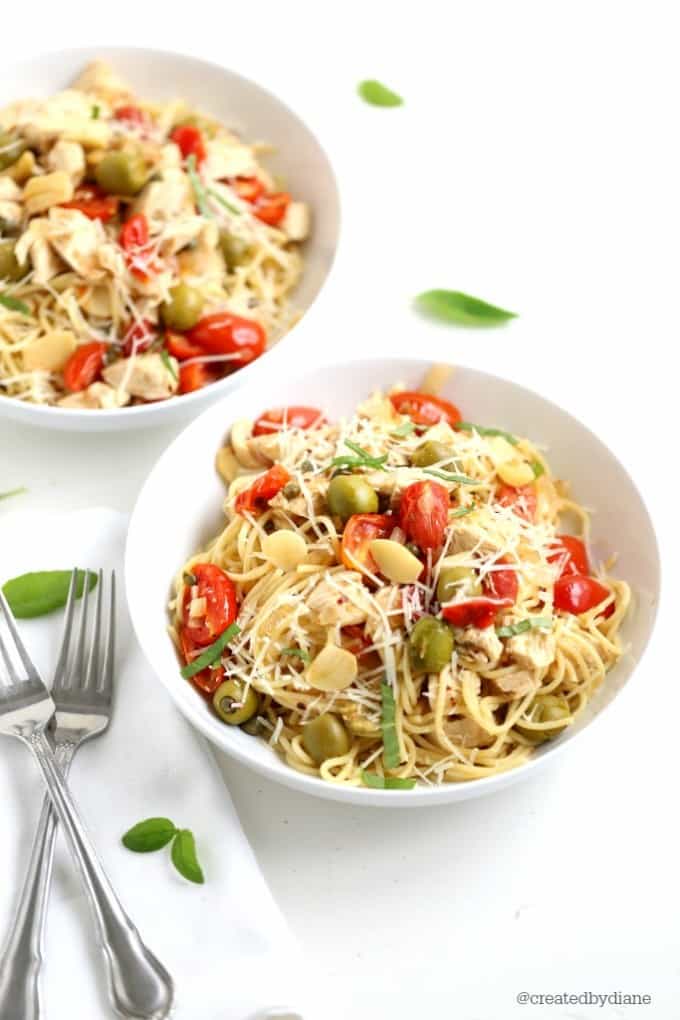 More of my LEMON recipes:
Shrimp Roll with Lemon Basil Aioli
I was not compensated for this post although I was provided items from Star Fine Foods and enjoy them and like including ingredients in my recipes and share them with you.