If you like Greek Salads, you will LOVE this. It's easy to make and out of this world delicious!
This Greek Chicken Salad with Greek Tomato Dressing is not only a great salad, it's an amazing meal!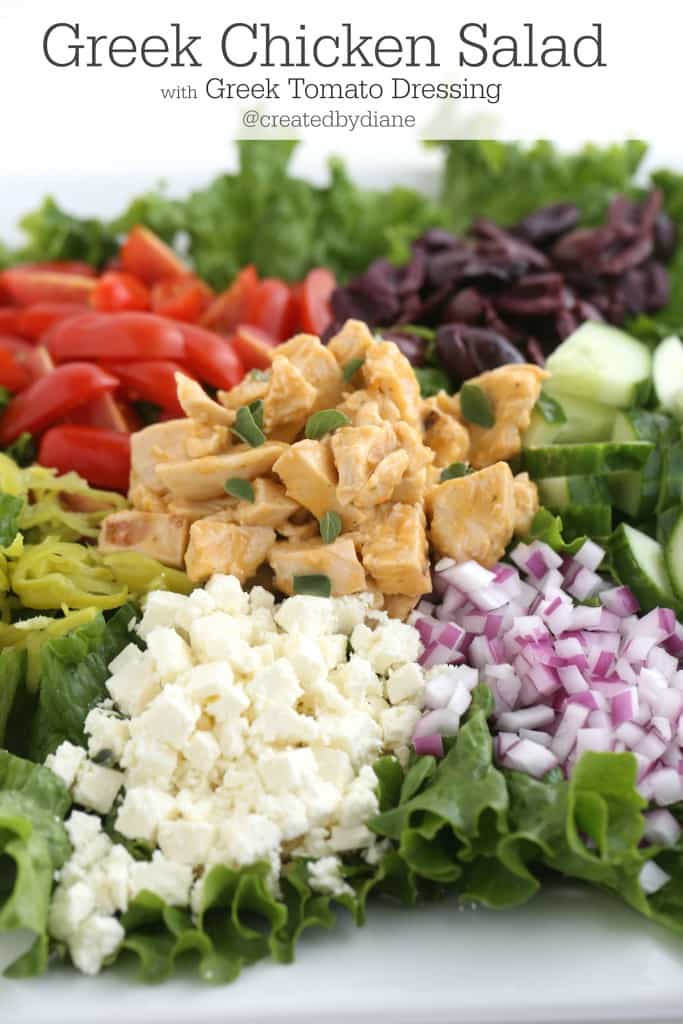 There is nothing better than bright vibrant colors in this salad.
This salad is perfect for lunch or dinner, it's full of all the deliciousness.
I will say Kalamata Olives and Feta Cheese are a must…but really there are no items here to skimp on when making this, you'll want it all.
I love the crunchy tangy flavors in a Greek Salad, and I made the dressing extra special. The dressing puts this salad into the over the top delicious category!
In only minutes you can have this gorgeous salad ready for company, a perfect dinner for any summer night.
Did I mention there was NO cooking involved here. That's right!
Take a look and see how…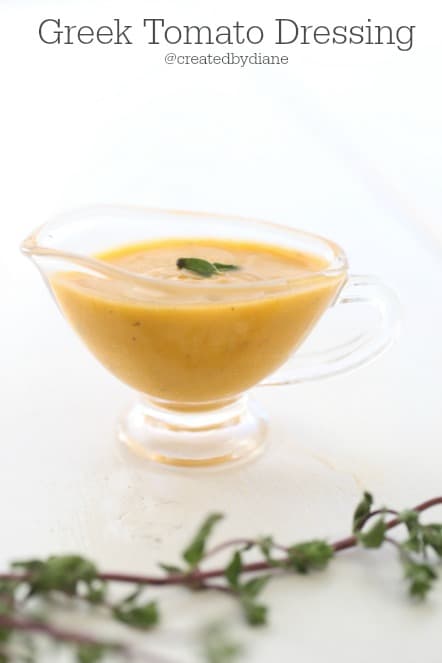 Greek Chicken Salad with Greek Tomato Dressing
Ingredients
3 tablespoons fresh lemon juice
1/2 cup red wine vinegar
4 grape tomatoes
2-3 cloves garlic minced or 3 teaspoons garlic paste
1/4 teaspoon dry mustard
1 tablespoon fresh oregano leaves
1/2 teaspoon salt
1/4 teaspoon black pepper
3/4 cup olive oil
Instructions
In a blender combine lemon juice, vinegar, tomatoes, garlic, oregano, dry mustard, salt and pepper.
Begin blending and drizzle in olive oil, it will emulsify and the dressing will become creamy.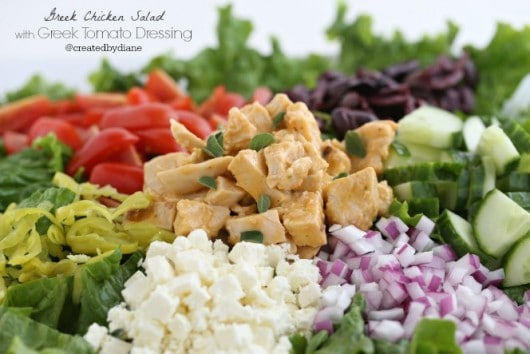 Now for the salad…
Displaying a salad all chopped up on a platter makes a beautiful presentation and is great when you will be having guest and want to fancy things up!
It's also a great way to make the salad ahead of time. Without blending it to far ahead of serving time the flavors taste great.
It's so great to have a go to meal that requires no cooking, don't you agree?
Foster Farms® Refrigerated Grilled Chicken Breast Strips are fully cooked, which makes them perfect for getting meals ready fast. Having protein cooked and ready to go in meals helps my whole family eat well. There are no steroids or hormones in Foster Farms Chicken.
Someone is always running out the door, so having a couple packages of these grilled chicken breast strips is a sure fire way to have them eating the foods I prefer.
Greek Chicken Salad
Ingredients
1-2 heads Green Leaf Lettuce cut into 2 inch pieces
1 package Foster Farms Grilled Chicken Strips
1/2 -3/4 cup crumbled feta cheese (about 3 oz)
1/4-1/2 cup diced read onion
1 english cucumber cut into slices and then quartered
1 1/2 cup grape tomatoes sliced in quarters lengthwise
1/2 cup sliced Kalamata Olives
14 cup drained pepperoncini peppers
1 teaspoon fresh oregano to garnish chicken
Instructions
Arrange lettuce on platter
Cut chicken into bite sized pieced and toss chicken in 1/4 cup Greek Tomato Dressing (recipe in this post)
Add fresh oregano to chicken
Arrange salad with all the items placed in piles over the lettuce
Place platter in fridge until ready to serve.
Serve dressing on the side, or toss the salad with dressing just before serving.
Foster Farms Grilled Chicken Breast Strips makes getting a meal on the table super easy, it's already fully cooked and ready to serve. Just think of all those recipes you see calling for cooked chicken you can use them in.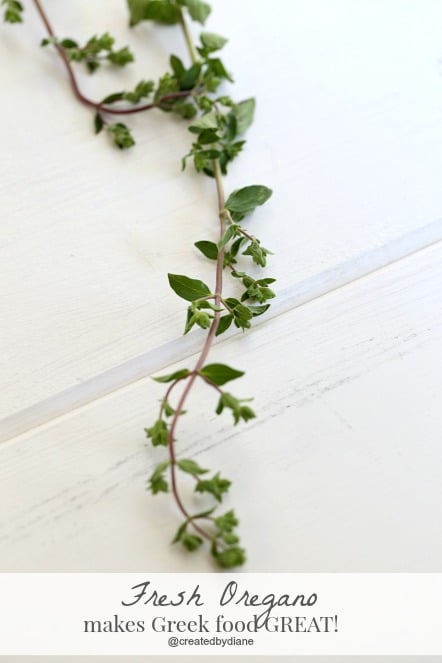 One of the best things you can do when making quick easy short cut meals is to add some fresh herbs. You won't believe how wonderful the flavors can be. Basil, Mint, Cilantro, and Oregano are my favorites.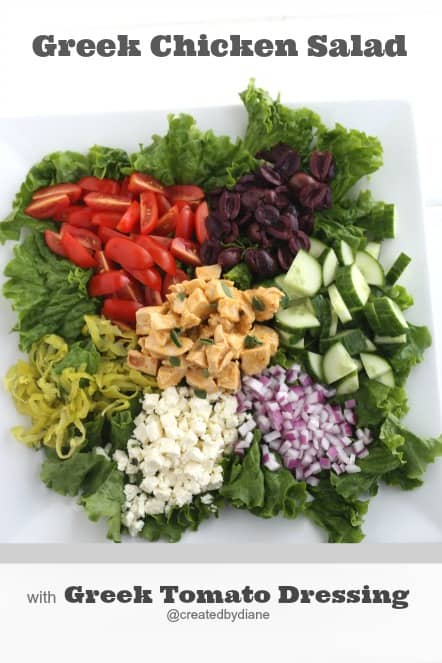 Don't forget to SHARE this post!
Thanks 🙂

This Greek Chicken Salad with Greek Tomato Dressing is sponsored by FosterFarms®  Grilled Chicken Strips. All opinions are my own.